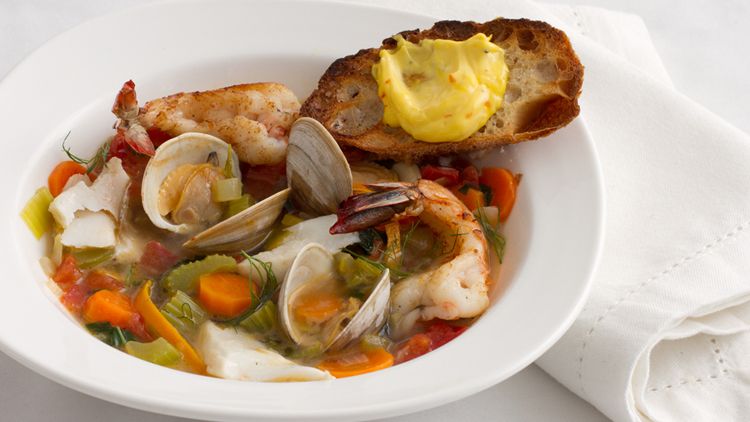 Photo Courtesy of All-Clad
Freezing temperatures have hit the world — well, seemingly everywhere but California — and it's no secret that when it's chilly, people turn to soup. This filling recipe for Alabama Bouillabaisse may fit the bill perfectly, with tons of hearty vegetables and seafood. Plus, it was created by the 2012 winner of James Beard's Best Chef in the South Award, Chef Chris Hastings (who also happens to be in the All-Clad Chef Ambassador Program, meant to inspire creative and adventurous cooking).
Alabama Bouillabaisse
Servings:12
Prepared In: All-Clad's d5 Stainless-Steel 5 1/2 QT Dutch Oven
Ingredients for Seafood Broth:
12 head-on large hoppers (or large pink shrimp)
12 snapper jowls
6 long, thin strips of orange peel, white pith removed
1 small leek, cut in half and sliced into 1/2-inch thick pieces
2 small carrots, peeled and roughly chopped (about 1 1/2 cups)
2 celery stalks, roughly chopped
4 Roma tomatoes, crushed
2 large garlic cloves, peeled
2 cups roughly chopped fennel fronds
4 fresh thyme sprigs
2 bay leaves
12 long basil stems, leaves removed
2 quarts vegetable stock
2 teaspoons toasted and ground Spanish saffron
Ingredients for Bouillabaisse:
1/4 cup (1/2 stick) unsalted butter, divided
1/2 cup extra-virgin olive oil, divided
1/2 cup minced shallots, about 3 shallots
3 tablespoons finely chopped garlic, about 4 large cloves
8 fresh thyme sprigs
2 cups cored and thinly sliced fennel bulbs, about 1 bulb
2 cups peeled and thinly sliced carrots, about 2 small carrots
2 cups trimmed and diced celery stalks, about 1/4-inch thick slices
2 cups halved and sliced leeks, about 1/2-inch thick pieces
1 1/2 teaspoons kosher salt, divided
1/2 teaspoon freshly ground black pepper, divided
2 bay leaves
6 long, thin strips orange peel, white pith removed
12 littleneck clams, scrubbed
6 Roma tomatoes, blanched, peeled, seeded and quartered
12 (1-ounce) pieces black grouper fillet
4 large stone crab claws, cracked (optional)
6 (2-ounce) pieces of bone-in triggerfish
2 tablespoons minced fennel fronds
1 cup finely chopped basil leaves
1 cup finely chopped flat-leaf parsley
6 fried soft shell crabs (optional)
Directions for Broth:
Peel the shrimp, leaving the heads and last tail segment intact. Set the shrimp aside to use for the bouillabaisse and reserve the shells.
Combine the shrimp shells, and six small strips of orange zest and the next 10 ingredients (from the leeks through to the vegetable stock) in a large, stainless steel saucepan. Bring the broth to a boil over medium-high heat, reduce the heat to low and simmer the stock for 40 minutes.
Strain the broth through a fine-mesh sieve, discarding the solids. Stir in the saffron and set the broth aside until ready to use.
Directions for Bouillabaisse:
Heat two tablespoons of the butter and six tablespoons of the extra-virgin olive oil in a Dutch oven.
Add the shallots, garlic, and thyme and cook, stirring, for two minutes; do not allow the vegetables to brown. Stir in the sliced fennel, carrots, celery, and leeks. Season the vegetables with 1/2 teaspoon of the salt and 1/4 teaspoon of the pepper.
Add the bay leaves and orange peels and continue cooking for about five minutes or until the vegetables are tender. Add the clams and tomato quarters, cover, and cook for two minutes. Stir in the reserved seafood broth, increase the heat to high, cover and cook for three more minutes.
Stir in the shrimp, grouper pieces, stone crab claws (if using) snapper jowls and bone-in triggerfish, cover and cook for a few minutes. Remove the lid and add the remaining two tablespoons of butter, remaining two tablespoons of extra-virgin olive oil, chopped fennel fronds, basil, and parsley. Season the liquid with the remaining teaspoon of salt and remaining 1/4 teaspoon of pepper.
Arrange the seafood and vegetables attractively in 12 wide soup bowls and ladle about 1/2 cup of the broth in each bowl (enough to come three-fourths of the way up the sides of the bowls). Top each bowl with 1/2 fried soft shell crab (if using) and one grilled sourdough crouton smeared with several tablespoons of rouille.
Serve immediately.