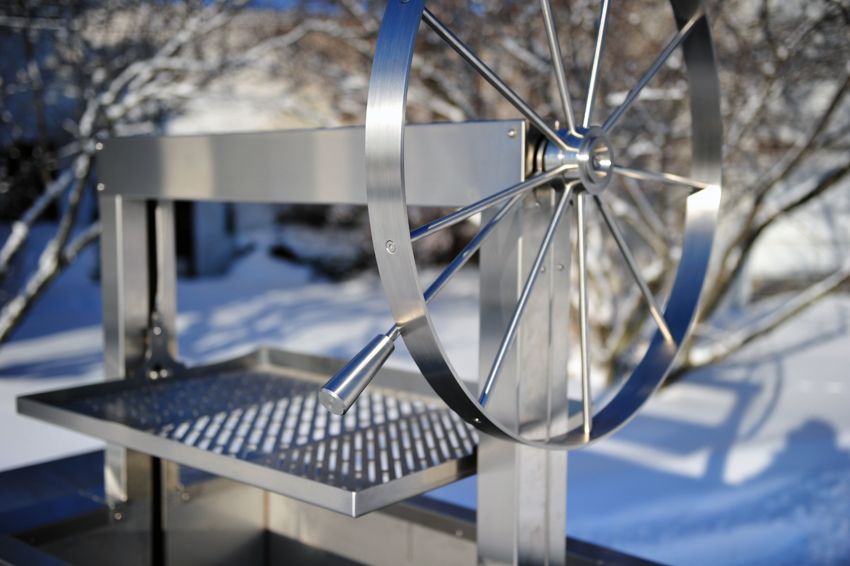 Photo Courtesy of Kalamazoo Outdoor Gourmet
Kalamazoo Outdoor Gourmet is at it again with their brand new Gaucho Grill, which they will introduce at the Architectural Digest Home Design Show in New York City on March 20-33. Calling it a "major rethink of the Argentinean/Santa Maria-style grill," the Gaucho has a gas-powered starter burner that lights the wood or charcoal, as well as a rotisserie, a deep-hopper funnel that removes ash, and several cooking surfaces made for meat, fish, or vegetables.
"It's almost as if we can't help ourselves. We see a perfectly good grill style and we are compelled to make changes to it," says Russ Faulk, vice president of product development for Kalamazoo Outdoor Gourmet. "It's just in our DNA to question everything and then make something that works better than the original design. We think we accomplished that with the Gaucho Grill."
The gas-powered starter burner is one of the biggest additions to the traditional grill, meant to make starting fires easier for cooking outdoors. All you have to do is add some wood or charcoal on top of the fuel grates and light the burner. Kalamazoo promises that you don't even have to wait around and supervise the growing flames, which allows you to do something else in the meantime.
The first thing you noticed when looking at the outdoor grill was probably the huge 36-inch stainless steel wheel, because it was certainly the first thing we saw. The wheel is one of the biggest ways the company highlighted the look of a Argentinean/Santa Maria-style grill, which is typically a big wood or charcoal fire and cooking surface that is raised depending on the type of temperature you need for cooking. Supported on a 30-inch-tall bridge, the wheel works to raise and lower a cooking surface tray. When lowered, the tray is level with the grill frame for high-temperature searing, and when raised all the way it is 18 inches above for slower, low-temperature cooking. You can also turn the cradle into a rotisserie by taking the tray out and inserting a roasting spit.
The interchangeable cooking trays are laser cut from quarter-inch slabs of stainless steel and designed specifically for what you're cooking. The vegetable grate has small openings, which keep things like green beans from falling through, while the fish grate has thin half-moon openings to keep the fish from drying, breaking, or flaking.
The deep-hopper funnel found beneath the fuel grates and burner is another new addition, allowing burnt wood and charcoal ash to fall through it and into a clean-out bin. With the funnel, you won't have to shovel ash out manually, which is a pretty dirty job. Kalamazoo also added shielding over the burner so it won't clog up from the falling ash.
The Gaucho is handmade to order in Kalamazoo, Michigan, and is available in two freestanding models and a built-in version. Pricing hasn't been released yet, but the company is planning to start shipping in late spring 2014.