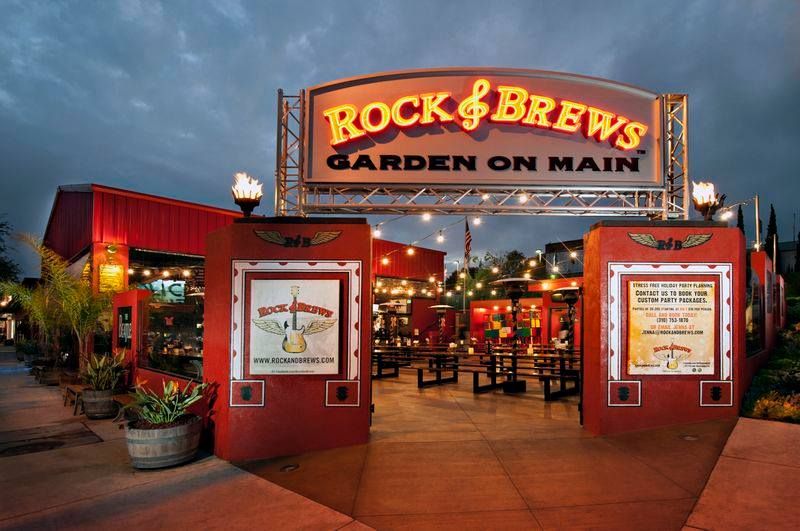 Photos Courtesy of Rock & Brews
Guess which rock stars co-founded Rock & Brews, a family-friendly brewpub chain? Here's a hint for you: It's their first foray into the restaurant industry, but they've been business moguls for quite a while.
It's Paul Stanley and Gene Simmons of KISS! If you didn't guess, don't feel bad. Although KISS-branded merchandise has been wildly successful for decades, the two finally decided to "celebrate the concept of rock" in this new venture, with their own identity being just one part of the whole.
Besides being inducted into the Rock & Roll Hall of Fame and debuting a brand-new reality show, they're rolling out Rock & Brews in fan-friendly cities around the country in 2014. And clearly, they're having some fun with the promotion.
"Fan-friendly" might not mean the markets you'd guess. Instead of choosing tourist hot-spots, the Rock & Brews team looked for locations that had, over the years, been the best on the concert circuit — rock-loving cities full of faithful fans. After putting down roots in the Los Angeles beach cities of El Segundo and Redondo Beach, they are now opening in Albuquerque and Kansas City this year.
And of course, Hawaii, because owning your own bar in Hawaii is living the dream. But you won't find a Rock & Brews in Honolulu or any ritzy resort. Instead, visitors to Maui's up-country hippie village Paia will have a new place to get pizza, burgers and 52 different beers (one for every week of the year).
"It's a community within a community. It has a charm and artistic personality that resonates with us," explains Paul Stanley.
The interiors are full of exciting music posters and art prints, all thanks to brand partners Dell and Dave Furano (who have been rock 'n roll merchandising moguls since the 1960s). With access to an incredible archive of iconic art and photography, the interiors "look back at a fertile era of music history." Iconic posters of Pink Floyd, John Lennon and the Police are mixed with many different KISS pieces. A laid-back, multi-generational vibe is achieved with the help of fifth partner Michael Zislis, a Southern Californian restaurant/bar owner.
If you think the guys behind KISS are an odd duo to start a restaurant chain, we'll have you know that Stanley is quite the accomplished and passionate home chef. After all, Rocco DiSpirito is his food "consigliere" on speed dial — though Rocco didn't teach him his greatest kitchen talent, which is hand-tossing pizza dough. That was all self-taught. Fans of Stanley will be getting a lot more insider scoop when his autobiography Face the Music: A Life Exposed comes out on April 8. Here's hoping he follows it up with a cookbook!
"Life is short. I wanna leave a big footprint," says Simmons. And he does. In the past two weeks, he's made headlines countless times – most for boldly pulling out of an upcoming Hall of Fame induction performance.
But while they've never shied away from controversy, the rockers remain ever-approachable to their "Kiss Army," advising fans that no matter where and when you see them: "Come on up and say hi!"