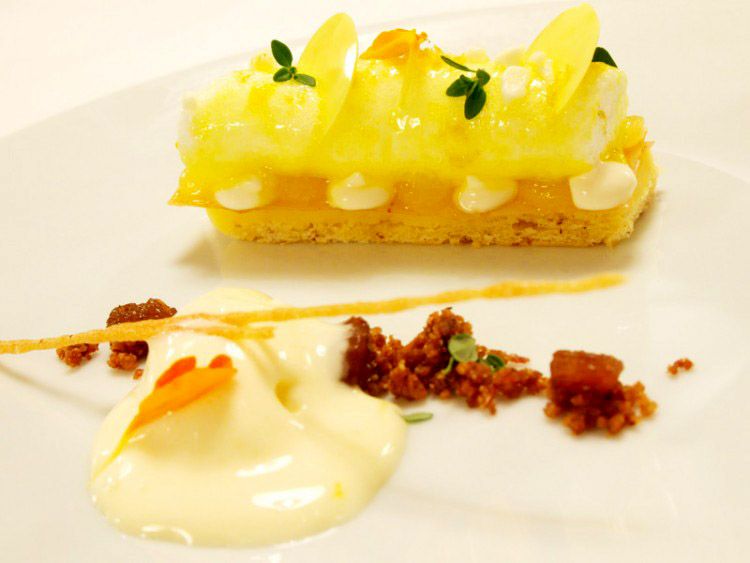 Photo Courtesy of Columbia Hillen
You'll find Restaurant Thierry Drapeau nestled among flowering fields, old stone, chateau-like outbuildings and a small lake with water lilies in the Vendée region of Pays de la Loire in France. As if the location wasn't enough to get bookings, the establishment also boasts a pretty great esthetic—with whitewashed walls, bare rafters and wood windowpanes contrasting with the shiny chrome lamps hanging above every table—and just so happens to be run by two-star Michelin chef Thierry Drapeau.
Designed by Sylvain Proyart, the restaurant retains elements reminiscent of the former horse stables that were housed there, such as the leather-like colors used and the materials hanging from the ceiling that are reminiscent of saddles. The unique table settings feature ceramic sculptures by Cath Cousseau of women shaped like vegetables (which lends a sense of surrealism) and crimson anthurium flowers in tiny glass vases that resemble inkpots.
Photo Courtesy of Restaurant Thierry Drapeau
While à la carte was offered, we opted for the Carte Blanche tasting menu, with the breadsticks and Parmesan crackers being foretastes of what was to come – baked as they were with warm sepia ink and served with rosemary and garlic suffused olive oil. Two types of Normandy butter (one with lemon and the other sea-salt) soon followed with 10 different breads including seaweed, tapenade brioche, quinoa and buckwheat, all homemade and presented on a cart wheeled right to the table. Speaking of presentation, not only does the food taste great, it's plated on a diverse range of dinnerware, from one plate reflecting the ocean in motion to one whose shape and smooth surface resembles a seashore stone.
A chef since he was 26-years-old, Drapeau is dedicated to bringing to plate the fragrances he discovers in his own garden and the natural tastes of local produce. "What captivated me first was the simplicity of trawlers coming back in the evening followed by the seagulls, the touch of prawns and fish still alive, the challenge of recreating au natural." While Chef Drapeau's creations are complex, the titles of the 11 courses (including the amuse-bouche) are a lesson in simplicity, with uncomplicated names such as Asparagus, Egg, Scallops, Salmon, Guinea Fowl and Duck.
Photo Courtesy of Columbia Hillen
One of the culinary techniques he uses is siphon emulsion, by which he creates airy foams such as the galangal for pan-fried scallops served on an oyster shell with Kombu (an edible kelp) confit and borage flower; or caramel and tonka foam set in a small glass—which is part of a pre-dessert tray that includes other delicacies such as confit citrus crisp, a horn filled with lime cream, lemon and coconut vacherine (tiny cream cheese coconut balls), orange tapioca verbena cream lime, and caramel macaroon balanced delicately on an exotic choux (a profiterole ball).
Another characteristic of Drapeau's style is herbal cuisine, the use of old or unusual traditional herbs to emphasize flavors. Examples are the sida cordifolia leaves (heart-leaf milkweed) in his amuse-bouche of marinated sardine of Saint-Gilles-Croix-de-Vie, red pepper and cucumber; the rosemary flower and Mouron des oiseaux (stitchwort flower) in the green asparagus of Sénas browned with marrow and ham of Vendée, truffle jelly and savory croquettes; or fennel leaf in a dessert entitled simply Apricot, which combines confit of fennel, orange slices, cardamom, apricot and carrot foam, and licorice crumble.
Photo Courtesy of Columbia Hillen
In terms of skill, it's hard not to be impressed by the dish called Egg, which features a hen's egg stuffed with morel and wild asparagus that is surrounded by meringue, more morel, spinach leaves, and draped in vin jaune (white wine from the Jura region in eastern France, similar to dry sherry) sabayon, all served with thin strips of morel bread.
And if that wasn't enough to satisfy even the most sophisticated of palates, a plethora of after-dinner goat, sheep and cow cheeses were brought on a hefty wooden cart. The spread ranged from Bleu du Bocage made at Maison Beillevaire (a small, nearby farm), to Corsican, French mainland, and even English Stilton. Each menu item was paired with wine, including Chardonnay and Chenin Blanc from the Loire-Atlantique region.
Photo Courtesy of Columbia Hillen
Taking inspiration from the rustic countryside of Vendée and varied produce from his own gardens, the avant-garde Chef Drapeau aims to create complex contemporary dishes out of natural, organic ingredients. Judging by our recent experience, he's definitely succeeded and has put Vendée on our foodie map.
Photo Courtesy of Columbia Hillen
Photo Courtesy of Columbia Hillen
Photo Courtesy of Columbia Hillen
Photo Courtesy of Columbia Hillen