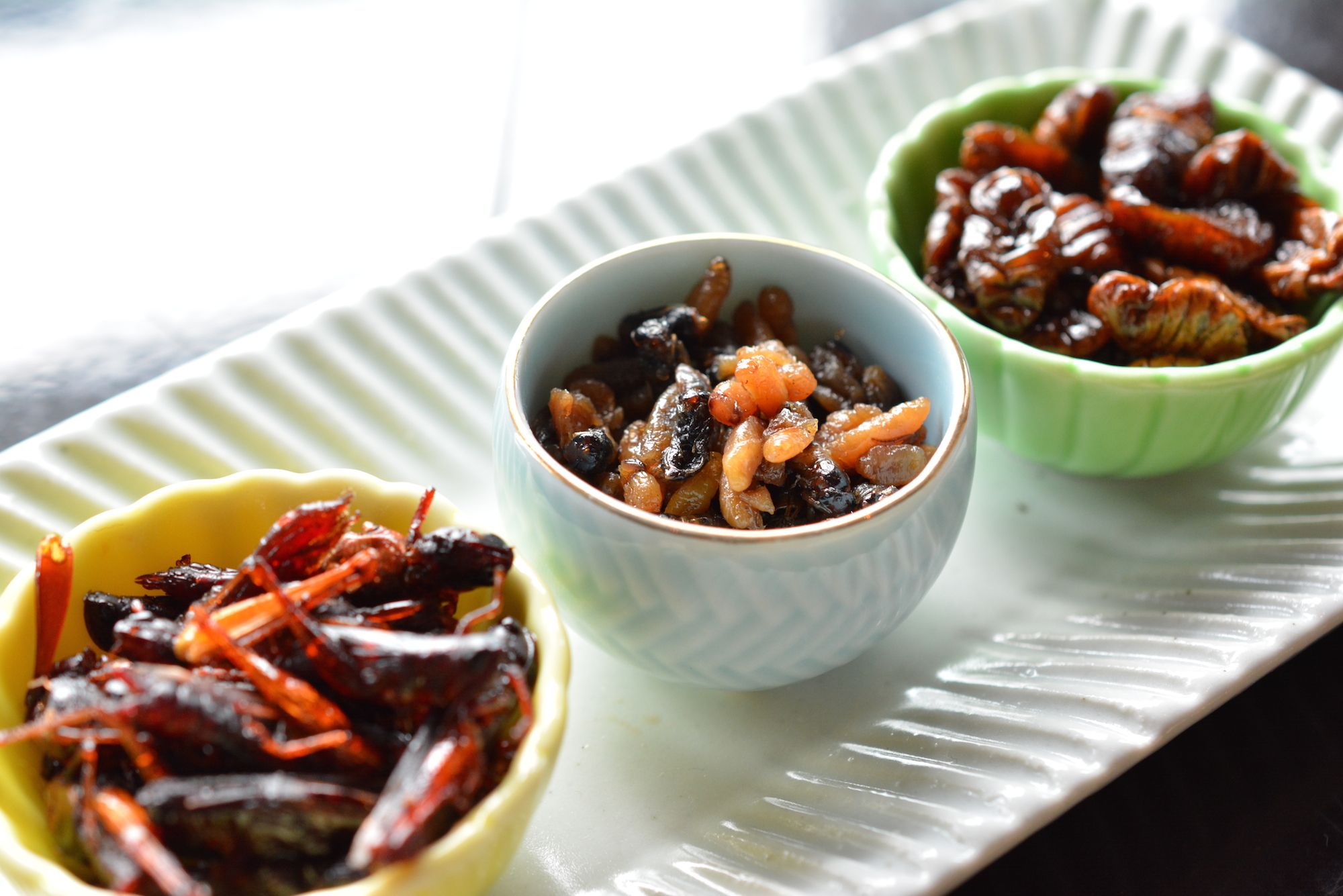 Photos Courtesy of Mandarin Oriental
While it's not every day that you find yourself with the option of sampling of insects with your evening cocktail, it's certainly possible at the Mandarin Bar at Tokyo's luxury Mandarin Oriental Hotel. Always curious to try new things, we were eager to learn more about these exotic bites. Thomas Combescot, Food & Beverage Director at the Mandarin Oriental Tokyo, was kind enough to give us a behind-the-scenes look at this culturally significant snack.
Always wanting to create unique experiences for the locals and tourists alike, the Mandarin Oriental went to the experts when developing their newest culinary offering. With the help of a 75-year-old woman from Nagano in the Japanese Alps, the luxury hotel was able to fully understand these ancient recipes and correctly learn the methodical preparation process. During your visit, the Mandarin Bar's award-winning bartender Yukiyo Kurihara can suggest her newest cocktail to compliment the cuisine, but Combescot confirms that the insects also pair perfectly with a local Japanese beer. However, should you choose to live life to the fullest, Kurihara's cocktail recipes will surely be a hit. Her Ringo No Utahimi ("Diva of the Apple") combines Coffey Grain Whiskey (which is also from the Japanese Alps), premium-grade local apple juice from a family-owned farm in Matsue, Japanese Pear Liqueur (known as Rien), sweet sake, and crushed ice for a truly local and refreshing cocktail experience.
Damon M. Banks: Is this cuisine just a limited time offering or is it scheduled to be a regular offering each season?
Thomas Combescot: We'll be offering insect snacks throughout the year, and in keeping with tradition, they will change seasonally. For the fall and winter, we have inago (grasshopper), hachinoko (baby bees) and silkworm pupae. Additionally, the insect gatherer will harvest zazamushi [aquatic insects] in December, for guests to start enjoying by mid-January. Zazamushi is a true protein staple of Nagano and translates to "insects under the slow current" because it refers to several species that live under rocks at the bottom of the river.
DMB: Can you provide more details on the process?
TC: The insects are "picked" in-season and boiled down with soy and sugar—a process called tsukudani—they're then stored in jars. We will be getting the insect varieties in a limited quantity, so once our initial supply is gone, that's it until next season.
DMB: Does the hotel expect the primary market to be locals or tourists?
TC: We of course expect a strong interest from our non-Japanese travelers since the program remains heavily authentic and because it's quite unique with its adventure, "I dare you," factor. But also, locals will appreciate the fact that these recipes originate from their neighbors in the Nagano region of the Japanese Alps. Locals will also be knowledgeable about the history—insects served in this way where consumed and considered delicacies by past emperors in Tokyo.
DMB: Any details on what to expect—after marinating, how are they prepared and served? For example, should someone expect a crispy snack or something served in raw form?
TC: The dominant flavors come from the soy and sugar marinade. The big difference between the insects has to do with texture and in Japan, food textures are an extremely important factor for cuisine.
DMB: Personally, what's your favorite and why?
TC: I have trouble deciding between the soft, pop-in-your-mouth baby bees and the small, crispy-crunchy grasshoppers. The latter is easier to handle with chopsticks...especially after a couple tastings of saké and whiskey! Most of them tend to have a sweet taste, so they go well with dry and savory drinks.