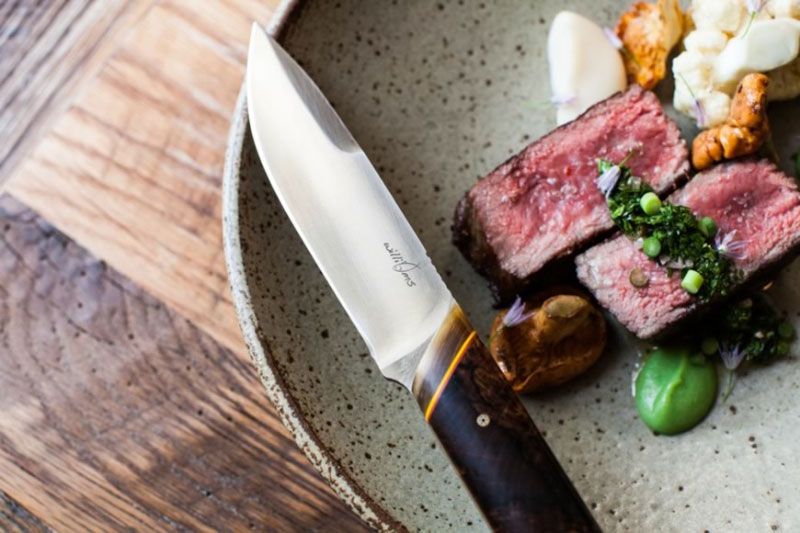 Photo Credit: Husk Nashville
Over the past few years, there have been a handful of restaurants that have lingered in my memory long after the fact. These include Nobu in Las Vegas, Addison at The Grand Del Mar in San Diego, Sea Side by Notos in Greece, and now, Husk in Nashville. More than just a dining destination, Husk is an epicurean journey.
Photo Credit: Husk Nashville
Husk originated in Charleston, South Carolina under the direction of James Beard Award-winning Chef Sean Brock of McCrady and the Neighborhood Dining Group. His second location, which opened in 2013, is housed in a two-story 19th century Victorian home that was renovated and designed by Michael Shewan of Michael David & Associates of Charleston, SC. Shortly after its debut, the restaurant received a nod from Esquire who named it one of the Best New Restaurants in America that year.
Photo Credit: Husk Nashville
On both levels, the main dining rooms offer original hardwood flooring, windows and walls, which makes for a very homey feel. We dined on the upper level where large bay windows filled the length of two walls. The beautifully-raw hardwood tables are left bare, most likely to showcase a more organic décor than the traditional white-linen tablecloths of many fine dining establishments. Husk's menu focuses on local, ingredient-driven cuisine through a menu that changes daily. Brock even goes so far as to say, "If it doesn't come from the South, it's not coming through the door."
To say that I fell in love with Husk would be an understatement. The restaurant wooed us from the start with a salad of grilled lettuce, cured egg yolk, Bottarga, and sheep's milk cheese. Who knew that such a simple dish could be full of so much flavor?
Photo Credit: Lauren Alisse Photography
I'm the kind of person who will try and eat just about anything; and for years I've been frustrated with not being able to enjoy oysters. However, being told that you just need to continue trying different varieties to find what suits you, I ordered the Grilled Rappahannock Oysters with Nduja butter and preserved lemon (five per order). A lighter version of oysters Rockefeller, these were by far the best, most flavorful ones I've tried over the years (hats off to you, Chef Brock). Husk was clearly flirting with us at this point.
Probably just as important as the food at a fine dining restaurant is the quality of service offered to guests. Maybe it's that whole "Southern hospitality" sentiment ingrained in its locals, but everyone was incredibly warm and friendly. The staff offered expert knowledge on all the menu items, how they were prepared, and pointed out which items could be made gluten-free for my companion with Celiac. Because the menu changes frequently, this was pretty impressive.
Photo Credit: Husk Nashville
For the main course, we chose shrimp and grits (an appetizer, but large enough to be an entrée), and Bear Creek Farm Beef with hearth-cooked onion, mushroom catsup and liver jus. The former has a great balance of cream and cornmeal, and really makes you feel like you're in the South. However, the beef was really the star of the entire meal.
Photo Credit: Lauren Alisse Photography
Chef Brock is very particular about the farms he partners with which makes sense that he would choose to work with Bear Creek Farm. The local farm raises all-natural, sustainable grass-fed, grain-finished Angus cattle in a responsible and humane way. It's no wonder that the beef was full of delicate, rich and fresh flavors that paired nicely with its counterparts.
Photo Credit: Husk Nashville
By the last bite of our entrées, it was evident that love was in the air. To seal the deal, we were brought coffee and dessert—a toasted marshmallow loaf with graham cracker and bourbon ice cream inside. Need I say more? I didn't think so.
Husk Nashville is open from 11:30 a.m. to 2:30 p.m. for lunch, Monday through Saturday and dinner from 5:30-10/11 p.m., Sunday through Thursday, and Friday to Saturday, respectively.