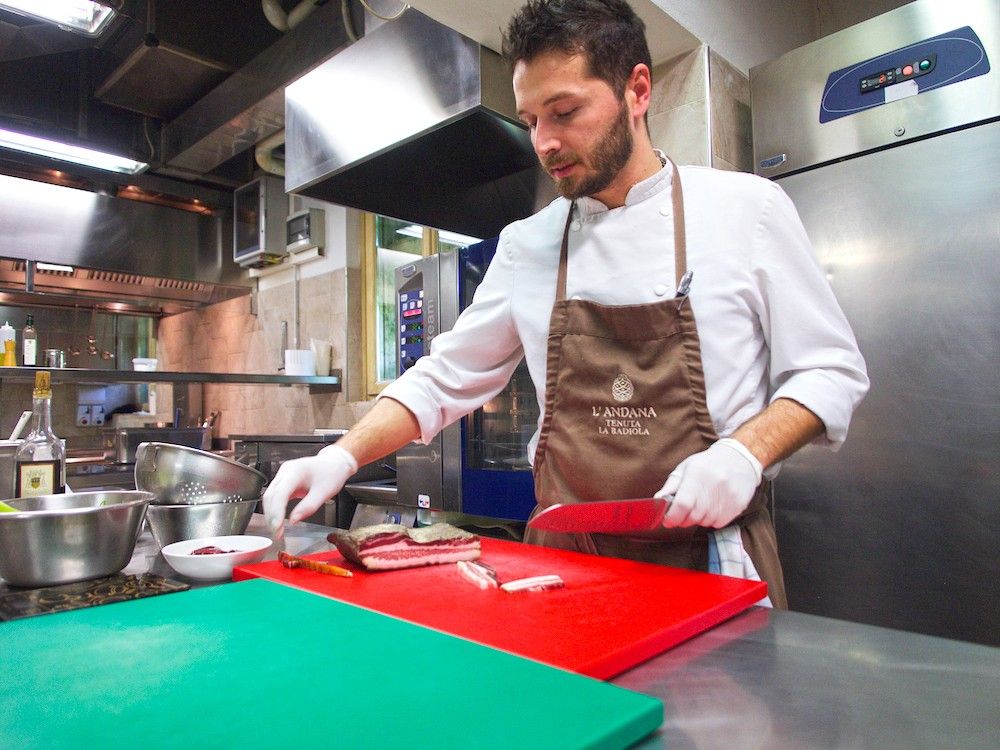 Photos Credit: Columbia Hillen
If you have been hankering for authentic Italian food and have maybe even wondered how the real deal is cooked, the 1,235-acre Tenuta La Badiola Estate in Tuscany may be just the place. Home to La Villa and the Michelin-starred Trattoria Toscana (which is the only Alain Ducasse restaurant in Italy), the resort is one you will definitely want to visit. Found near the Castiglione della Pescaia coastline and the Tyrrhenian Sea, the property is a member of The Leading Hotels of the World. It houses the L'Andana hotel and Casa Badiola Golf House, an ESPA spa, tennis courts, indoor and open-air swimming pools, and a driving range.
On a recent visit, we participated in a cooking class in the trattoria's cozy kitchen, which was once the granary of Grand Duke Leopold II of Lorraine. Chef Alessandro Battisti selected traditional dishes handed down through generations for our lesson: crostino di fegatini (rabbit pâté served on warm, unsalted Tuscan bread) and pappa al pomodoro (a thick Tuscan soup typically prepared with fresh tomatoes, bread, olive oil, garlic and basil). Commonly known as a "farmer's meal," the dishes are often prepared by housewives using leftover bread.
Italy offers so much more than pasta and pizza, which Chef Battisti proved during our enjoyable two hours in his company. Honing his skill from a young age, Battisti learned from his grandmother while working in a small town restaurant. The Roman chef showed us how to select the best pancetta and how to create a tasty meal out of lesser-used animal parts, which in this case was rabbit liver.
Being in Tuscany, wine obviously played a pleasing role in our culinary experience, both as a fine accompaniment and as an important ingredient. For instance, Vin Santo (holy wine) is used as a key element in the pâté, along with the pancetta, fresh fennel, onion and celery.
Our culinary experience was capped off with dinner at La Villa, a restaurant emanating a country-house atmosphere with views of the estate vineyard. The wines, categorized as Maremma Toscana appellation and promoted to Denominazione di Origine Controllata (DOC) status four years ago, reflect diverse personalities. We chose to pair an Aquadoro white made from the Viognier grape, which has a floral and herbal bouquet, with delicious homemade nettles and sage ravioli. The Acquagiusta 2012 red went perfect with our tagliata of Maremma beef, cut from the long-horned breed indigenous to the region. Served with arugula leaves and parmesan cheese, the tender steak was bursting with flavor, having been grilled slowly, barbeque style.
Our favorite wine of the evening, however, was a sparkling, rusty-colored Alicante Bouschet Andane. Somewhat akin to sherry, we enjoyed the wine with the rabbit liver pâté bruschetta we had prepared earlier in the day.
If you value a truly Tuscan meal complete with a range of locally-produced wines, traditional foods and a hands-on experience, La Badiola Estate may just satisfy your needs.