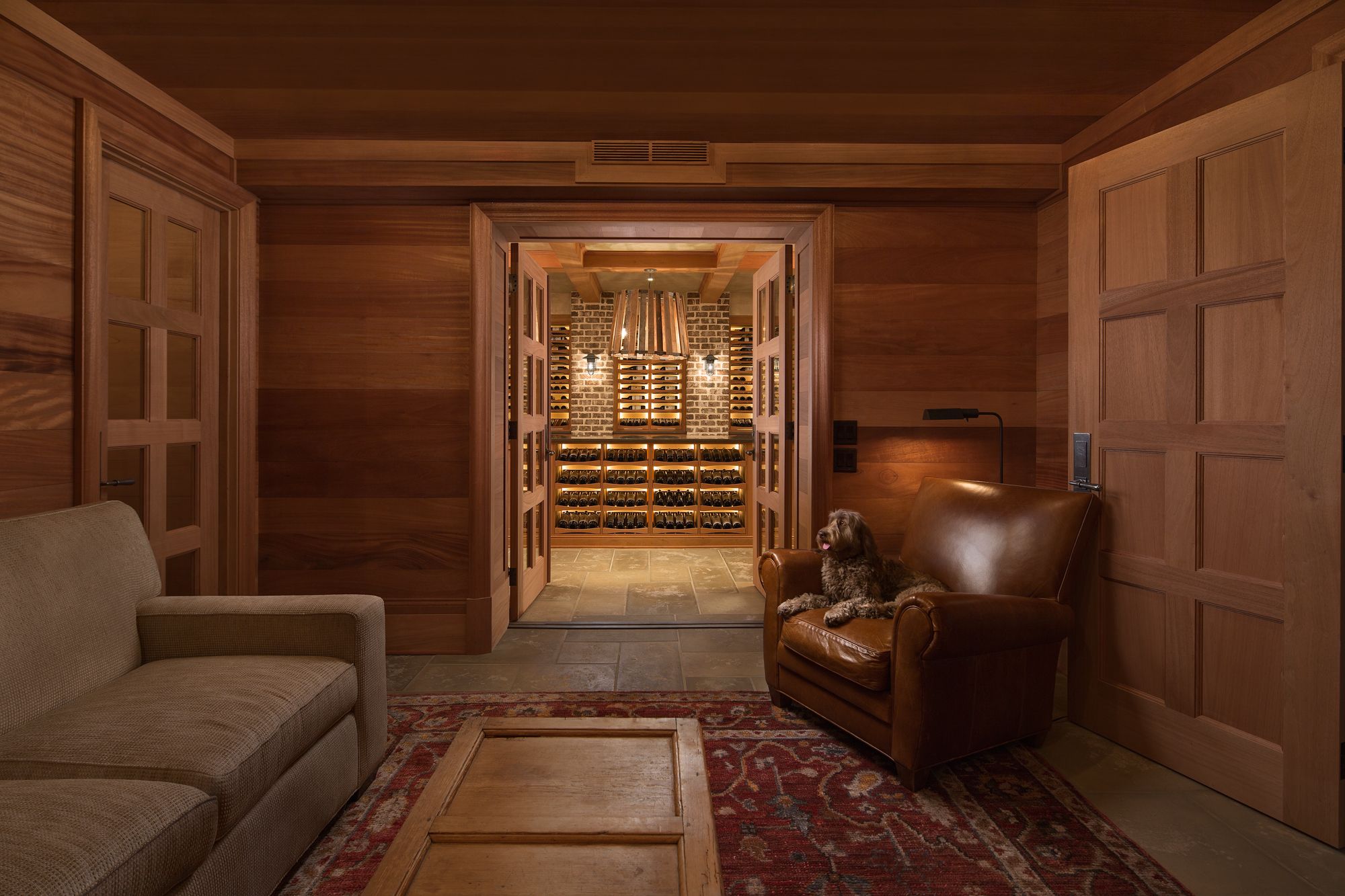 Photos Credit: Michael Patrick Shiels
The Holy Grail is the most legendary chalice in history—long sought-after by knights and scholars—and now the "Holy Grail" of wine cellars has been located, and it is in Memphis, Tennessee. The birthplace of the blues might seem an unlikely location for the world's best wine cellar, but Craig Weiss (a tech entrepreneur) spares no expense in babying his beloved bottles. Like a doting parent who, in a plush, carefully decorated nursery, tenderly lies his precious infant down in the most secure crib, Weiss can then gaze at his wines while they "sleep." He can smile wide and speak in hushed tones when he ushers in visitors to see his pride and joy, because he commissioned Revel Custom Wine Cellars, with their unique, proprietary design philosophy, to build this baby.
The result is a viticultural Vatican, an artistic homage to form-following-function by vino virtuoso James Cash, the design rock upon which Revel was built. "I loved working with Craig on this project because he [has] impeccable taste. We both lean towards the understated, timeless elegance end of the style spectrum," says Cash, who is Michigan-based but has, with the way he has reinvented the modern cellar, turned the wine world sideways. Put simply, Revel's entirely bespoke cellar system strikes a balance between density of capacity and ease of viewing the labels. In other words, the cellars smartly use whatever space is available to maximize storage, but celebrates those bottles by making them visible. Who doesn't want to walk through their cellar as if it is an art gallery of Pétrus, Romanée-Conti, Latour, Lafite, Mouton, Haut-Brion, and Margaux?
In 2012, Forbes named Revel's work as the "world's best" and Cash says Weiss' shrine to wine is his company's finest example yet, which must make it the world's best wine cellar. A dark, rick patina of Fijian Mahogany with no coatings or sealants (to avoid vapors harmful to the wine) provides a blended contrast to the brick and stone. Open-bottom drawers with "soft-close" mechanisms, "Lazy Suzan-style" stacked wine wheels, and case storage options present the wine bottles as much as they store them. The presentation allows for library-like ease of browsing and selecting without lifting, twisting or having to excavate bottles, which can scrape the labels.
"Craig commissioned the 17 x 21 cellar and then had the rest of his 12,000 square-foot luxury custom home built around it. Everything in the cellar matches the standards of the Revel custom cabinetry handmade by artisans and woodcrafters," explains Cash. "The climate controls, finishing and serene, warm, built-in LED lighting (which remains cool, as not to affect the wine) are the best that money can buy."
From the center of the cellar, 70 percent of the collection is viewable at a glance. The displayed orientation of the bottles and the ability for different sized bottles to be stored side-by-side allows for the wines to be organized in an uncluttered fashion by region or varietal without hanging identification tags. Every level of the wine wheels—which recover lost space in each corner—hold and display 18 bottles at the proper 15-degree angle to ensure the cork remains moist as the wine ages.
Cash speculates that the 3,000-bottle vino collection could be worth over a million dollars. For instance, there are original wood cases of Cabernet that are accessible only through private allocations from prestigious Napa estates—such as Dominus, Far Niente, Continuum, Harlan, and Opus One—are stored on Revel's sliding drawers, while iconic Italian cases of Sassicaia and Ornellaia are lit and displayed. "There are many large and valuable collections held in very rudimentary, unsightly spaces, but Craig's Revel Cellar has intelligent yet gorgeous custom space for various bottle shapes, sizes and cases."
In the end, Weiss invested more than $100,000 in the wine cellar, which sounds about right considering Revel's elite clientele (which range from international business barons and entertainment moguls to Hollywood actors and affluent wine aficionados) usually invest around $35,000 for a 1,000-bottle customized cellar.