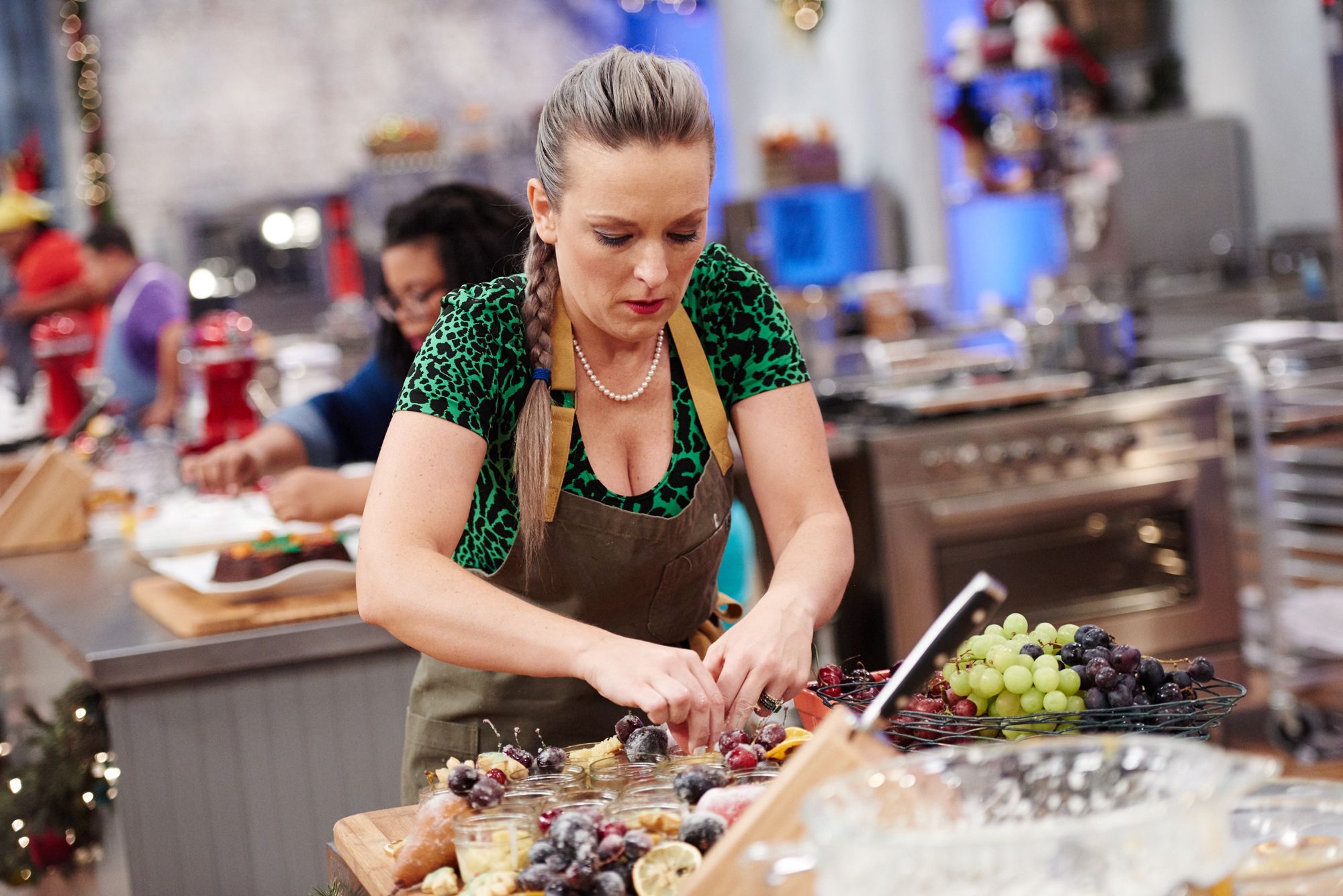 Photos Credit: Food Network
The Food Network's Holiday Baking Championship is our newest obsession and now that its second episode has aired, we've definitely found our favorite contestant. In its second season, the holiday-themed show brings 10 bakers (both professional and casual) together to compete for the $50,000 grand prize. While all the competitors are definitely talented, Maeve Rochford is the one who has caught our eye. As the owner and operator of Sugar and Scribe Bakery and Fine Food in San Diego, 36-year-old Rochford is quick to say that she was born baking. Originally from Ohio, she was born to an Irish mother and third-generation German father, spending much of her childhood in Ireland. Since she grew up steeped in traditional Irish baking, Rochford learned how to make everything the old fashioned way—from scratch. At her bakery, she doesn't just serve sweets, she also plays with incorporating Guinness in her dishes, perfects classic Irish recipes (like mincemeat pies) and has a long list of savory plates.
Rochford took the time to chat with us about what being on a reality TV show is really like, shared her view on baking VS cooking and explained how her background shines forth in her dishes at Sugar and Scribe. We certainly don't know how she will fair in the rest of Holiday Baking Championship, but we're definitely rooting for her.
Mila Pantovich: Can you tell me a little about your background and family?
Maeve Rochford: I spent so much time in Ireland with my family and [learned] how they prepare things, and how they do things is definitely very traditional Irish. I learned all their skills and techniques. Coupled with my life in the states, I think I'm a weird hybrid.
Whenever my mother and I were together, we were always in the kitchen, like two mischievous elves creating new things, from crêpes and cookies to very traditional Irish food. I am a culmination of a wide variety of women teaching and passing on the tradition of baking, from my Irish family with my mother, all of my aunts…and my grandmother teaching me different things, to a babysitter and to my neighbor. If there was ever a hybrid showing women teaching women, I'm the one.
MP: How do you view cooking and baking?
MR: When I think of baking, I don't actually think of sweet food. I just think of food in general, which probably makes me an unusual baker. I just see baking as anything that's coming out of an oven. Certainly, the Irish, we do a lot in the oven, whether its sweet pies or savory pies. I think that Americans think of a baked good as a cake or a cookie, but for me, baking is everything.
A lot of the things that we provide on our menu are still baked items. We have a farmer's pie [that] is a puff pie shell which has colcannon (which is mashed potatoes and kale; very traditional Irish) and then it has your pasty meat (which is ground beef in a gravy), sautéed mushrooms, oven-roasted tomatoes and then it has eggs that are baked into it…that is a very popular item that we bake daily. If somebody really sat down and [went through] my menu, I think they would really be quite surprised at how much I do in an oven.
I think that the art of the oven has been lost somewhere along the way, because people have just [wanted] faster-and-faster and 30-minute meals...But it all originally started in the oven somewhere along the way, no matter what your culture was. I think I'm trying to bring it back with my staff and with everything we do, to show people, "Listen, the oven's where it's at."
MP: How did you prepare for the show?
MR: You know when the Food Network calls you and you sign all the agreements, that you're doing the Holiday Baking Championship. Certain flavors and spices have to be a part of it. For me, I definitely put a lot of strategic thinking into it. What do I think they're going to think of? What spices are they going to challenge me with? I made sure that I watched season one and the Food Network is on top of their game, they're not going to do the same challenge twice. I practiced with my mother and a friend of mine, and…it's actually much easier when it's real and the cameras are live.
MP: How long did you have to prepare between the news that you were on the show to the start of filming?
MR: I don't know about other people, but I had two weeks. I think that the professional bakers, we definitely go into competitions like these absolutely having an advantage over the home bakers on one side, where we have disadvantages on others. The advantages of being a professional baker is that every day I need to constantly reinvent my menu, to keep people engaged with what I'm doing. I'm always in the mindset of new items, new process, where maybe a home baker isn't. The upside of being a home baker though is that they probably feel a different level of professional [stress] to do well. I'm thinking that I sell thousands of pies in November and if I don't do well in a pie competition on television, how are people in San Diego going [to react]?
MP: What is it like baking on a TV set? I've always wondered how it is set up and how much time you really have.
MR: When you see on TV [that] it is 90 minutes, it's 90 minutes. They only film for 90 minutes. So, it's not like they're pausing and…we really have four hours. Once you see us start running, that's a real go. We're really going. Sometimes you'll see some of the competitors be a little short in how much they want to talk to Bobby [Deen], because the clock is ticking. What makes the days longer is that you'll have diary sessions, where you're talking about how you feel and what it's like to be in that moment.
It's a very surreal experience. To some degree you're thinking, "My god, all of my time and all of my sacrifices have paid off. What an amazing compliment, I'm here on the Food Network." On the other hand, the reality is that if you're someone like me, I'm not the at-home baker. This is my life. This is my career. I'm also thinking of how my customers back home are going to see me. Do I come across [mean]? Nice? But in the other part of your head, you're thinking, "Do whatever you can to make the best thing you can and win this thing!" You have this internal conflict and…the Food Network sets it up so you have these diary sessions. It gives America an opportunity to see you when you're not in the heat of the moment when you're maybe a little bit more crazy-pants.
Holiday Baking Championship airs on the Food Network on Sundays at 9 p.m./8 p.m. central.

For more of the Best Restaurants in San Diego check out the dining section