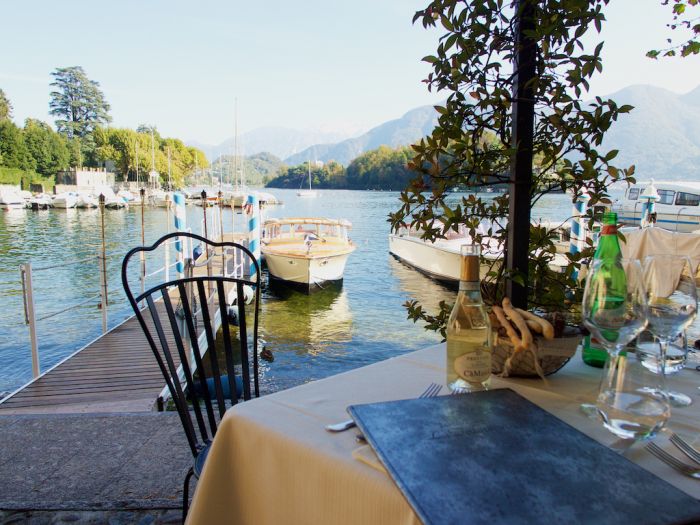 Photos Credit: Columbia Hillen
With celebrities such as George Clooney, Robert De Niro and business magnate Richard Branson having vacation homes in the area, restaurants along Italy's beautiful Lake Como serve up some very creative dishes. By far, the best way to enjoy this Italian gourmet tour is to rent a car and meander along the lake shoreline to stop off at the below leading restaurants.
La Colombetta
Established a quarter of a century ago by three Sardinian sisters, La Colombetta sits in the heart of Como in a building that was once a church. With jasmine decorating its façade, high ceilings inside and a gourmet menu, the space immediately wins diners over with charm and delicious food. Offering Sardinia-inspired plates with a strong focus on seafood, one of the highlights is the shavings of mullet bottarga (dried, cured roe) dish that is served on a bed of mashed potatoes. A tasty pasta choice is the pappardelle enriched by nero di seppia (squid ink) with generous pieces of blue lobster. Desserts are a delicious adventure, including mille-feuille with wild berries and chili pepper meringue. Once all done, there's no better way to end the meal than with a myrtle-flavored digestive from the central Sardinian region of Barbagia di Ollolai.
To add some sparkle to your meal, ask to be seated at the same table Robert De Niro is pictured at with his family in the framed photo in the entrance.
I Tigli in Theoria
Opened just three years ago in a 15th century building beside the Duomo in central Como, this Michelin-starred restaurant has been carefully renovated under the expert eye of Claudio Benzoni. With many original elements left intact and two upper levels converted into traditional stubes, I Tigli in Theoria features a downstairs space with two chef's tables that face the glass-front kitchen. Prepared by Chef Franco Caffara, the tasting menu is both sophisticated and diverse, with items in the fish category running the gamut from raw scallops with stracchino mousse and Baerii Italian caviar to crispy sepia biscuits and cod cappuccino (which is a cup with crumbled chocolate and coffee biscuit at its base, shreds of fish above with a topping of foamy mashed potatoes and a salted brioche on the side). The meat tasting options include Italian shabu-shabu, which is Vicciola beef (a variety of Piedmont cattle raised with hazelnuts) that's slow cooked in a ramen broth.
Gusto
This contemporary restaurant in the Sheraton Lake Como presents an international menu heavily influenced by Italian-style cooking and well-rooted in local tradition. Gusto's signature dishes include saffron risotto made from carnaroli rice, and fried turbot filet with celeriac cream and chanterelles mushrooms. If you aren't hungry enough for a full dinner, try the Sheraton Paired option, which matches small plates with craft beers and premium wines. Options include hummus and roasted octopus with garlic and rosemary, served with Jermann Chardonnay from northeastern Italy; and slow-roasted pork loin with mashed potatoes and rosemary served with Barbera d'Asti from the Piedmont region. We enjoyed the amber Aqua Dulza 3Mezzina craft beer paired with a crunchy treat of pork fat and spices, as well as the Innstadt draft with a typical Neapolitan savory biscuit with pork fat, pepper and almonds.
Locanda La Tirlindana
Family-owned Locanda La Tirlindana is quaint, with a cobblestoned terrace and cloth-draped tables offering views of Comacina Island. The interior is both elegant and esoteric, featuring furnishings such as a giant metallic clock and walls painted in vibrant colors. The restaurant's signature dish, made by matriarch Patricia, is homemade ravioli filled with mascarpone and lemon—the citrus flavor provides a refreshing twist to the creaminess of the cheese filling. If you visit during autumn, try the homemade taglierini (ribbon pasta) with fresh-picked porcini. Seafood offerings include fried baby calamari with a crust of breadcrumbs, parsley and garlic, while the desserts include creme brûlée, a salted caramel macaroon and panna cotta in a mini jam-jar.
La Terrazza
Inside the Grand Hotel Tremezzo, the strategic placement of La Terrazza leaves you feeling suspended over water, with clear views to the farthest shoreline, the rose-tinted Grigna peaks and the twinkling lights of Bellagio. In the evening, a score of candles in bell jars reflect off the glass walls to create a dazzling, three-dimensional effect. Changing seasonally, dishes are both creative and classic, featuring scallops with truffle hearts and salad; veal kidney Calvados flambé with a filet of veal, foie gras and black truffle; and tiramisu and crêpes Suzette served flambé. Italian staples include osso buco, which consultant chef Gualtiero Marchesi (along with the hotel's executive chef Osvaldo Presazzi) imaginatively pairs with saffron risotto that's been liberally sprinkled with flakes of parmesan.
Al Veluu
Nestled atop a steep hill just outside the quaint town of Tremezzo is Al Veluu, a restaurant and hotel that offers some of the finest views over Lake Como. The long-established family restaurant was founded in 1975 and evokes a warm, cozy feeling through flickering candlelight, varnished wood furniture, hanging copper pots and pans, and ornate Tuscany wall lamps. The menu features a strong local influence and even the bottled Chiarella water is from the town of Menaggio. Starters include baked honey goat's cheese from San Martino—where the hotel takes guests and tourists for enjoyable countryside hikes—penne pasta with black olives, fresh basil, tomatoes, tiny bits of pancetta and red chili peppers.