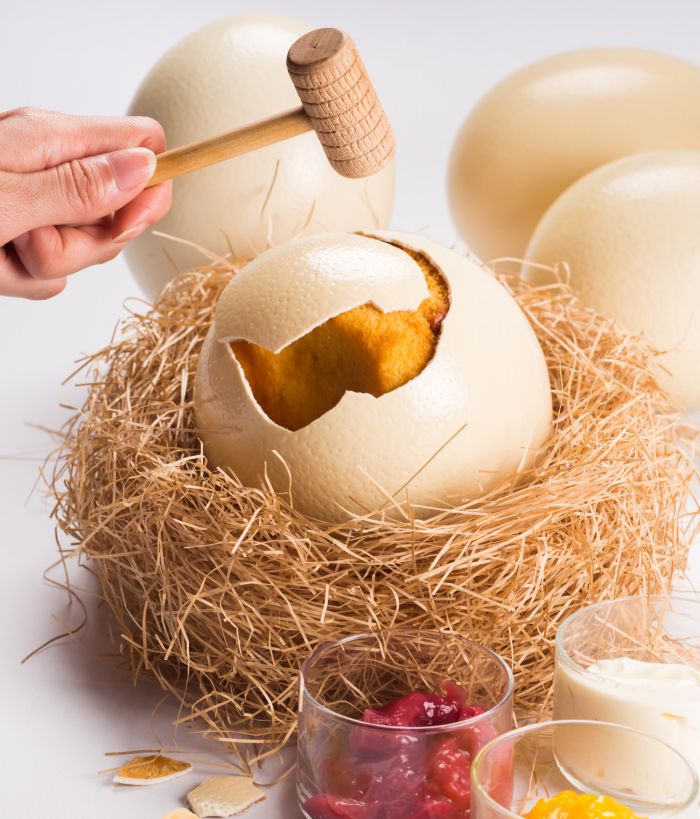 Photos Credit: Regent Taipei
Remember those little plastic Easter eggs your parents used to fill with goodies? Well, the Regent Taipei has taken that concept and blown it away with their unique cake-filled ostrich egg. Available at the hotel from March 25 to April 5, the one-of-kind treat is made by filling the large egg with fine cake batter and then carefully baking. When it comes time to enjoy it, guests are given a little wooden hammer to crack the egg open and freshly-made apple cinnamon compote or clotted cream for dipping. You can also opt for the dessert to be encased in a chrome birdcage and if kids are present, the hotel will even supply markers so the egg can be decorated first.
If you can't get to Taiwan, the hotel graciously offered the recipe so you could try making it yourself at home.
Ingredients:
Sponge Cake Dough
- 4 whole eggs
- 90 gm sugar
- 20 ml milk
- 8 gm butter (Isigny, if available)
- 38 gm thin power wheat flour (Japanese violet)
Dipping Sauce
(Mixed Berry Compote)
- 20 gm frozen strawberry
- 26 gm frozen raspberry
- 25 gm frozen cherry
- 13 gm sugar
- 5 ml lemon juice
- 0.5 gm vanilla stick
(Mascarpone Cream Cheese Dip)
- 60 gm mascarpone Cheese
- 3 gm sugar
- 20 gm whipped cream
- 0.5 gm vanilla stick
Directions:
Drill a hole through the eggshell to drain out the yolk and whites. Wash ostrich egg thoroughly then disinfect with boiled water and leave out to dry.
Preheat oven to 170°C and put the eggshell in to bake for 30 minutes. Pour a tiny spoonful of vegetable oil to thinly coat the inner eggshell to prevent batter from sticking.
Fill eggshell up to 4/5 full with sponge cake batter and bake egg with hole on top at 170°F for 40 minutes. Remove from oven to let cool and enjoy together with mixed berry compote and mascarpone cream cheese dipping sauces!