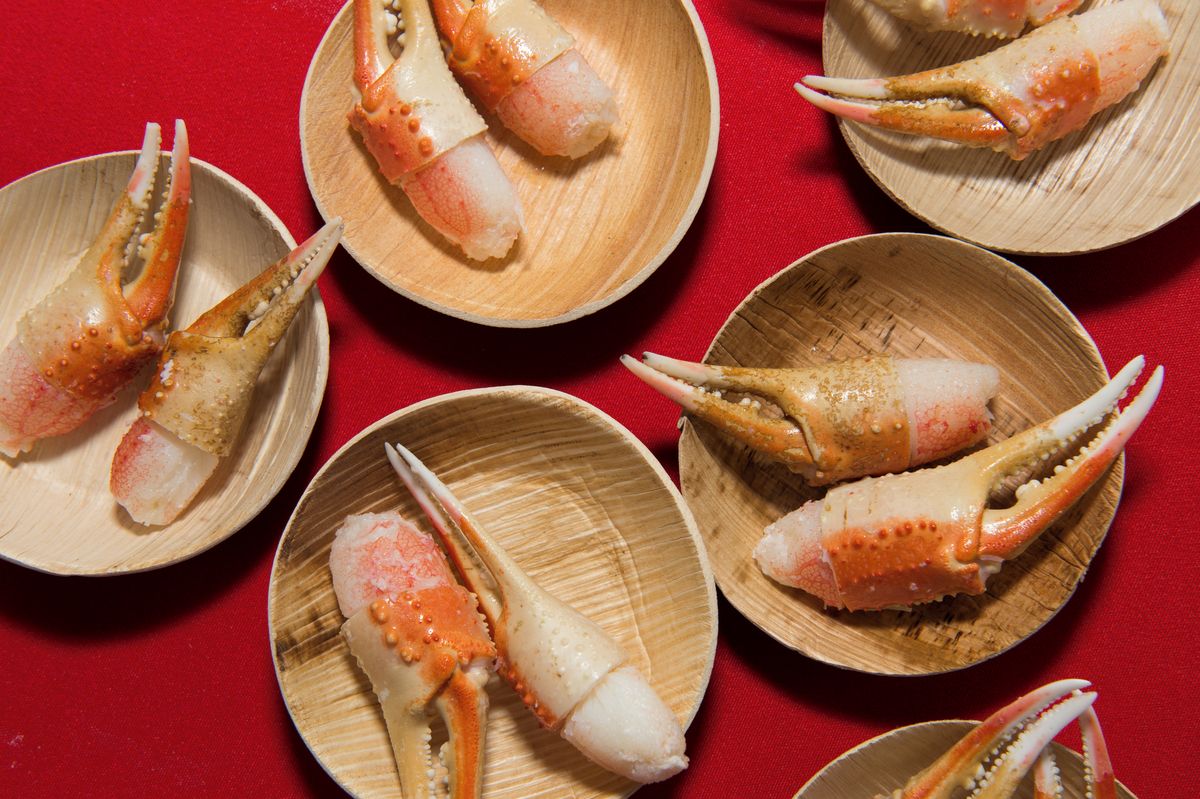 Photo Credit: Food & Wine Classic
There is no shortage of industry conferences if you work in food and wine. The one festival everyone wants to be at—and invited to participate in—is undoubtedly the Food & Wine Classic in Aspen. Every year, chefs, winemakers, distillers, restaurateurs and everyone who works with them gather in one of the ritziest resort towns to hang out, attend panels and network with some of the biggest names in eating and drinking. Lee Maen, owner and founder of the Innovative Dining Group describes it as, "the way the Oscars feels to the entertainment business—Aspen Food & Wine is similar for the restaurant business. Minus the statues, of course." Clos Pegase's Director of Marketing, Lesley Larson, echoes that sentiment. "[the festival] is to wine and food lovers what Cannes is to film lovers. Only with mountains." Though the Classic is star-studded, filled with excellent eats and a good time, what's it worth to the people who take time away from their fields, offices and kitchens to be there? JustLuxe asked some of the biggest players at the event about their experiences to see what they get out of it.
Chef Richard Blais knows the festival better than anyone, seeing as his career has grown up around it. Originally from Long Island, New York, Blais' culinary history began with a stint at McDonalds. "My first job was as a 'poissonier' at McDonalds, dabbling in the art of deconstruction when I 'accidentally' served my first batch of filet-o-fish sans top bun. I went on to graduate from the Culinary Institute of America; trained at The French Laundry, Daniel, Chez Panisse and El Bulli and competed on Cutthroat Kitchen, Guy's Grocery Games, MasterChef and Top Chef." It's that last bit he's best known for—he was a fan favorite on the reality television cooking competition, winning many of the challenges and wowing audiences with his penchant for molecular gastronomy. Though he came in second on his first Top Chef season, he went on to win Top Chef Masters, and his Food & Wine Classic appearances took off from there.
Photo Credit: Richard Blais
Top Chef employs the Classic as part of its prize package. The festival is so prestigious that, in addition to the cash prize and television presence, the exposure the winning emerging chef will get by participating in it is seen as an incentive all its own. Blais' first experience in Aspen left him star-struck: "the first thing you always notice is just how many celebrity chefs are around, just going about their business. I remember casually running into Mario Batali on the street like, 'no big deal.'" It was a big deal!"
Since that first go-around, Blais has only continued to rise in the ranks. "The last few years I guess I've been a headlining chef? Yeah, that sounds cool." Besides generating exposure for his restaurants—Flip Burger Boutique's four locations and Juniper & Ivy and Crack Shack in San Diego—he relishes in the live performances. "Performing live is my absolute favorite thing to do. With Aspen being a pretty big stage, that's a great part of the weekend. We do a high-energy live show, cook some food, take some pictures, run in the woods and generally hang out in the beauty of Aspen with some die-hard food fans."
Photo Credit: Jeremy Ford
Top Chef alumni attendance at the Classic remains strong; 2016 will be this past season's winner, Jeremy Ford's first time. "I couldn't be more excited. Attending Aspen is one of those bucket list items you have as a chef." Ford currently works at Matador Room, which is a Jean-Georges Vongerichten restaurant and says he receives a lot of support from Jean-Georges to do what he needs to do for his career, which includes going on Top Chef and attending the Food & Wine Classic. His excitement is palpable. "Top Chef was incredible, challenging and rewarding. Hearing the words, 'You are America's next Top Chef' was surreal. Now I'm in Aspen—I am privileged to be part of this event." What is Ford looking forward to most? "Everything. My itinerary is jam-packed, and I plan to take it all in. There are so many great events to attend, but rumor has it white water rafting is where it's at, so I'll try to sneak away at least one morning to experience all the hype."
To participate as a purveyor, you need to be invited. That means anyone who is exhibiting, by default, has already made some kind of a name for themselves in food and drink. It also means the list is tailored, in order to create the best experience for those attending. Lesley Larson thinks that for wineries, going to the Classic is crucial. "I think Aspen is THE event for wineries to attend. The difference between it and all other events is that we actually do business here. Deals are made at late night parties and while fly fishing." Larson also emphasizes that it's about more than just pouring wines. "For our family of wineries, it's also about giving back. We're launching the Rock Uncorked campaign at the Classic this year, and we'll be silent-auctioning a celebrity chef-signed electric guitar at our table. So they'll get to know our wines, but also help support Wholesome Wave, which is a chef-founded organization devoted to bringing fresh, healthy food to underserved communities."
Photo Credit: Food & Wine Classic
Smaller brands doubly benefit from the exposure the Food & Wine Classic brings them, even if they're only able to participate tangentially. Arik Torren, a New York-based Mexican spirits purveyor who represents Fidencio Mezcal, Koch el Mezcal, La Venenosa Raicilla and Derrumbes Mezcal chooses to go the satellite route, by participating in events such as the Heritage and Cochon series, which are technically off-festival food events that are well-attended and considered to be highlights of going to Aspen. "The exposure has been amazing. They [the curators of Heritage/Cochon] really believe in small brands and believe in the craft movement in food and beverage. Mezcal is something they're passionate about and there's no doubt my experience with Cochon and Heritage has been beneficial for my brand." It helps from a cost perspective, too. "Having access to the festival through Cochon is more affordable to me...but it brings the exact same people to my doorstep."
Publicists also recognize the impact participating in the Classic has on their clients. Alison Seibert, Principal of The James Collective has gone five years in a row on behalf of various clients: Cannonball Wines, Wines from Spain, Chef Jose Andres and his Think Food Group and Long Meadow Ranch. She said she's done it all—her biggest projects were throwing large parties for clients whose guests were top chefs, winemakers, industry insiders and key consumers. Seibert thinks that while it's a great opportunity for brands to market to the outside world, the real value is in bringing their peers into what they're doing. "People are rubbing elbows with media, buyers and clients but also meeting potential new business partners and experiencing what's new and trending in the industry," she explains. She mentions that winemakers, in particular benefit greatly. She's seen networking at parties turn into strong relationships with with national buyers, from companies like Whole Foods and Costco, that transforms their sales potential overnight.
Photo Credit: Food & Wine Classic
A different brand of publicists are also getting in on the action. National tourism boards have recognized the Classic's value, as well. The Trade Commission of Peru, based in Los Angeles, is returning for its fourth year as a sponsor. Peru has been making a big push on the international stage recently in an effort to boost tourism and cement its reputation as a culinary powerhouse. This year, the Commission is bringing Peruvian chef Nicola Allegretta of Mistura to cook classic Peruvian dishes like grilled octopus, sautéed shrimp in aji Amarillo, ceviche Nikkei, Ahi tuna causa, seared alpaca strip and a halibut tiradito. They'll also be teaching onlookers how to make the traditional Peruvian drink, Pisco Sour. For them, it's all about brining Peru to the world. Peru's trade representative for the Western United States, Ricardo Romero says, "The Food & Wine Classic in Aspen is an important event for Peru to participate in, as it's the premier culinary festival in the United States. It's a great platform to introduce influential chefs and industry professionals to our cuisine, further solidifying its growing popularity in the U.S."
Of course, the social aspect can hardly be understated. Lesley Larson says that in addition to celebrity chefs, there are plenty of non-chef celebrities milling around, as well. Apart from enlightenment, exposure and education, she loves the entertainment aspect and the chance to gather "stories for future dinner parties." Lee Maen offers up some names: "You'll see everyone from Danny Meyer, Mario Batali, Drew Nieporent, Todd English and Jacques Pépin to all of the newest and upcoming chefs." He says that his favorite thing to do while there is to, "have lunch below Ajax Mountain; sitting outside, drinking a nice bottle of wine and eating from a seafood tower with friends." San Antonio chef Jason Dady adds, "It's a great excuse to get away and 'work'—it takes drinking on the job to a whole new level." Naturally, a lot of chefs in one place means play time is likely to include some rogue cooking. Francis Derby of Los Angeles' The Cannibal described a late night party: "We had a late night ramen party in [Washington D.C. chef] Danny Lee's room last night! He brought a bunch of ramen along, and we rolled up to his room for him to cook it. It was great."
Photo Credit: Food & Wine Classic
If you scored a ticket for the weekend, which costs $1,550 for consumer and restaurant trade passes, what can you expect? Can't misses include the Wines for IPO Trillionaires, which is the third seminar of its kind from wine expert and entrepreneur Mark Oldman. Oldman drums up some of the most expensive wines on the planet and if you attend, you'll get to try some. Jordan Vineyard & Winery created their first 18 liter bottles of Cabernet Sauvignon for the occasion, which will require three people to carry and pour. If you're into meat, head to Heritage Fire, where Francis Derby and others will be cooking up wood-fired heritage breed animals. Grand Cochon is the season finale of the Cochon555 culinary tour, and the Saturday night gala at Viceroy Snowmass has 10 chefs going head-to-head and cooking all parts of the pig for a winner-takes-all. And, of course, there's the Grand Tasting Pavilion, which is where you'll sample all of the great wines and desserts exhibitors have to offer.
In the end, can you boil down an entire industry's worth of participation to determine the Food & Wine Classic's value? It seems the answer is yes. Dady sums it up best: "If you're not in Aspen, where are you? 'Cause everyone is here."