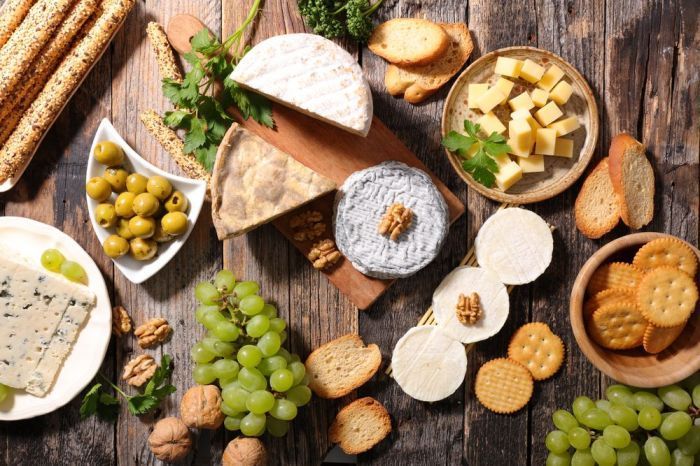 Photos Credit: Shutterstock
Summer is finally here, which means it's time to think about entertaining. Setting the tone is crucial to having the ultimate warm weather soireé, so you'll have to think about more than just what you're serving for dinner. Your guests will likely arrive to the party hungry, which makes cheese the perfect appetizer to serve alongside a cold, crisp white wine or rosé. To find out how to craft the perfect summer cheese board, JustLuxe spoke to Brent Delman, also known as The Cheese Guy, a Westchester, New York-based cheesemonger who produces over 25 vegetarian, artisan, family farm-run, kosher and organic cheeses. All cheeses from The Cheese Guy are made on small farms and creameries in the United States, Italy, Argentina and Israel. Delman offers suggestions for expertly curating a cheeseboard and provides suggestions for the best cheeses to serve during summer. Happy hosting!
Variety
Variety and representation are key. You'll want to provide a balance of flavors, like mild to sharp, for example. Texture is important, too, and you will want to represent the full spectrum of soft, semi-soft, semi-hard and hard. Among milks, you will want at least one for each type: cow, goat and sheep, as well as a variety of colors within. In general, five cheese varieties is a good number.
Extras
While cheese can easily be the main event, you'll be able to give it a little extra mileage by providing accoutrements to go with. Raw, salted or smoked nuts are a natural pairing, as are marinated olives, charcuterie and bread sticks. On the sweet side, fresh fruits like grapes, apples, berries and fresh figs add the perfect balance. Dried fruits, like apricots, or jam and honey offer a sweeter punch.
Preparation
Delman advises to remove the cheese from the refrigerator and let it sit on the counter for at least an hour, so it reaches room temperature before serving. Don't pre-slice cheese; this can dry it out. Provide a knife and let guests have at it themselves.
Presentation
If you're serving wheels or wedges, arrange them in assorted shapes for a more artistic look. While doing this, keep in mind that the cheeses should be arranged in order from the lightest and freshest to the ripest and most intense. Label each cheese and have a separate knife for each variety. Long cheese knives with forked tips are good for serving, and it also allows a good plane to make thin slices with. The cheeses should be arranged on a wood board or slate or marble slab.
Recommendations
Soft, bloomy rind cheeses: for example, Brie and Camembert, which are buttery, mushroomy. The longer they age, the runnier and more delicious they become. Don't be afraid to leave these cheeses out overnight, which will increase the intensity of the flavor profile.
Fresh young cheeses: this includes mozzarella, feta or queso fresco, which have higher moisture content, a softer texture and are usually quite mild. You'll want to eat these as fresh as possible.
Fresh or aged goat, or sheep cheese: fresh Chèvre, with or without herbs. Cheeses made from goat's milk tend to have a more "barnyard" and tangy taste than cow's milk cheeses.
Aged sheep's milk cheeses: Manchego or Italian Pecorinos contain more fat and protein and tend to taste sweeter, saltier and gamey.
Semi hard cheeses: Cheddar, Monterey jack and Gouda are aged longer and have less moisture than soft and fresh cheeses do.
Aged, hard (cow's milk) cheeses: good examples are Parmesan (Parmigiano), Gouda and Gruyère. These cheeses become harder and more crumbly with age, and their flavors intensify as well. They tend to be saltier and more full-flavored than other cheese, especially fresh varieties.
A blue-veined cheese: this is necessary for every cheese board. They tend to have more assertive flavors from the mold they are innoculated with, like Penicillium in Roquefort. Examples would be Stilton, Gorgonzola and Roquefort.