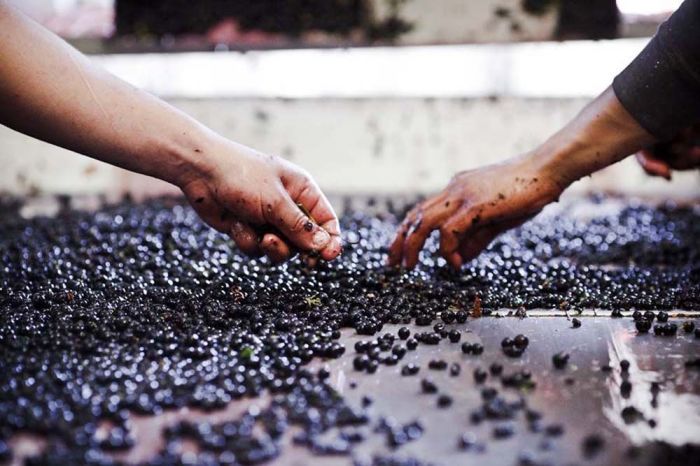 Photo Credit: Sandhi Wines
There are big changes afoot in the wine industry. Generally, what trends in food extends to wine and spirits—take the craft cocktail movement, for example. Spurred on by farm-to-table eating and using local, small producers, sourcing premium, responsibly-made and hard-to-find ingredients and liquors for cocktails has now become fairly mainstream. Following this trend, the organic movement is gaining steam in wine, as it has in food, for reasons of personal health along with environmental sustainability. If you're a wine drinker, no doubt you've heard the terms "natural," "biodynamic," and "organic" thrown around, but do you know what they mean? Is this latest fad in wine just that—a fad—or is it here to stay? Are they even any good?
There are many distinctions between the three types, but mostly, they fall under the same wide umbrella due to overlap in practices. For natural wine, there is no legal or official classification, but generally, there are industry definitions and practices that exist among winemakers and professional associations, for example the L'Association des Vins Naturels in France. The main idea is to buck the trend of conventional agriculture and to use as little intervention in the winemaking process as possible, which includes not using any additives with the exception of minimal sulfites.
Photo Credit: Quivira Vineyards
Understandably, organic wines generally fall under the category of natural wines. Organic wine is made from grapes that are grown in vineyards that don't use any synthetic agents: pesticides, fungicides, herbicides and fertilizers. Farms take great pains to preserve the integrity of the soil by allowing for biodiversity, which includes the use of other plants and animals to create a nutrient-rich soil environment. Biodynamic wines take things a bit further—in addition to following all criteria for organic farming, the farmer must also adhere to the principles set forth by the philosopher Rudolf Steiner, who first coined the idea. Steiner's aim was to apply a holistic approach to farming where every living being in it contributes to its well-being. To achieve this, he outlined nine preparations for soil enrichment and preservation all made from plant and animal material.
Ned Horton, Vineyard Manager of Quivira Vineyards in Sonoma County, California, further explains the thought behind biodynamic and organic grape growing. Quivira has been certified organic and biodynamic since 2005, and the past and present owners came to the practices because of a system of creeks that run through and border the property. The waters are home to two fish: Steelhead and the endangered Coho. The proprietors began to wonder what they could do in partnership with local, state and federal government agencies to make the habitat safer for these fish when they thought to look inward. "What could we change to mitigate the impact on the local and broader environment?" Horton recalls. The answer, to Quivira, was biodynamic and organic farming.
Photo Credit: Sandhi Wines
"Biodynamic farming is a very natural fit for winemaking," he explains. "In a sense, we're reinforcing or refocusing our terroir—what's unique about this place—by creating a feedback loop of what grows here and what's from here. One of the main tenets of biodynamics—and there are many— is the pursuit of quality over quantity. This is natural for winemakers and grape growers, if you overcrop a grape, you get a lot of yield, but the quality dilutes because you are asking the grape to produce too much of what makes it special—tannins, aromatics, pigments, et cetera. So, by not doing that, we have a method that creates the best expression of the grape and is also environmentally sound."
The world of natural, organic and biodynamic wines (henceforth referred to as natural wines for brevity) is marked by controversy; there is a strongly-held stereotype that they smell and taste "funky" and big players in the wine world, like Robert Parker, routinely dismiss the wines as unserious and not very good. This is an indictment that gets Andrew Yandell, founder and CEO of Trumpet Wines, pretty riled up. He manages a portfolio of intriguing, off-the-beaten path Spanish wines from small producers who don't use chemicals, ferment with naturally occurring yeasts and have minimal sulfur added to the wines.
Photo Credit: Trumpet Wines
Yandell is not interested in the general practices of large-scale wineries. He explains that in California, there are over 200 permitted additives to wine, which includes powdered tannins, enzymes, yeast, acids and more and that the practice is pretty widespread. "You would not believe the amount of junk that goes in to grape juice," he shares. "It really comes down to money. Grapes are an incredibly expensive and susceptible crop, which is a bad combination. Imagine you can take four pounds of grapes, crush them and sell that bottle for $300 in Napa Valley. So, every pound of grapes you lose—bam—that's $75 down the drain. So they will throw as many chemicals as they can to make sure that fruit stays healthy. Plus, once the grapes get to the point of processing, the winemakers are going to do all sorts of adding and doctoring to make it right."
On the flip side, he has to combat natural wine evangelists who eschew the use of sulfites along with the "big wine" lobby in the United States, who has made into law that no wine can have sulfites added beyond 10 parts per million (conventional wines are allowed up to 350 parts per million) in order to be certified organic. Yandell says that a slight hand with sulfites is not only perfectly fine, it's needed in many cases. "A lot of time, natural wines without added sulfites will taste terrible, like apple cider vinegar, which is called volatile acidity. Another taste you get comes from ethyl acetate, which smells like paint. Moderate use of sulfites combat these and other negative factors so your good wine can stay intact." And as for that old wives tale that sulfites causes headaches or allergic reactions? It's a myth, Yandell assures me. "By the way, sulfites are in tons of things we already eat. A carton of orange juice, prescription pills, cheese or three dried apricots—that's the same as the amount of sulfites in a bottle of wine."
Photo Credit: Sandhi Wines
Rajat Parr, who has moved up the ranks from hospitality student in India to James Beard Award-winning sommelier for Michael Mina to expert and lauded winemaker, also dismisses the misconceptions about natural wine's quality. "The whole idea of natural wine being bad, well, there's a lot of bad commercial and natural wine, and that just is what it is. If you do it correctly and conscientiously and believe what you do, the result is quite profound. It might take us a generation to figure it out, but from our experience, someone else will learn from it, and so on and so forth. But we have to start somewhere." It should be noted that Parr's wines are routinely included on various lists of "best wines" year after year.
For Parr and his business partner, fellow winemaker Sashi Moorman, what they are doing is far greater than just bottling grape juice to send off to a restaurant. "For us, this isn't a product. It's a living wine, every bottle we produce is alive. You don't make wine for today, you do it for tomorrow. It's bigger than yourself." He came to winemaking through being a sommelier and deeply respects the natural qualities of the fruit and its terroir. "What I love about wine is the mystery of the grapes—you find this area, it has nothing around it and you plant grapes. You have no idea what it's going to taste like, what it'll produce. That is amazing. That mystery."
Parr's labels—Sandhi, Domaine de la Cote and Evening Land Vineyards—are produced using the same philosophy. "All of our grapes are farmed either organically or biodynamically. We take the grapes, which have their magic and microflora and all the amazing stuff from the vineyard, and we bring it to the cellar and are hands-off: no enzymes, additives, nutrients…it's all natural. It goes into the fermenter, ferments and then gets bottled, where we finally add a little sulfur. Other than that, it's completely from the land. That's how we learn from it." Though he has strong ideas about how wine should be produced, he insists he isn't preaching. "I don't tell people what to eat or drink—that's not my job. I know who and what inspires me and that's what I follow. When you have your own vineyard, you can do whatever you want! When you taste the wine, you can taste how alive it is."
Photo Credit: Sandhi Wines
As for producers and whether they're moving towards producing wine more naturally or not, it seems it's more of a crawl. Both Parr and Horton emphasize that only a small number of growers are moving into the space. In the broad spectrum of grape growing techniques, Parr admits that biodynamic and organic farming make up only "a very small percentage," which is something Horton agrees with. "There was a surge of interest a few years ago, and you saw several vineyards 'switch over,' but it's plateaued a little bit. Interest is still growing, but now it's more gradual and sustained."
Restaurants are getting in on the trend too, but on a smaller scale and not without an uphill battle. Horton described recent trips he's taken with Quivira throughout the country, where he visited a lot of restaurants that were, "concerned with who their producers were and where the products came from. We're seeing a ton of increased interest from restaurateurs and chefs who care about that." Parr explains, "A lot of people want to know about natural wine. Restaurants, sommeliers and chefs want to know, if they're in New York, San Francisco or Los Angeles. If you go someplace else? They don't care. I'll say 99% of the world doesn't care. People who are worried about the environment, climate change, all the diseases around us, they care. It's a good start."
Photo Credit: Vino Carta
Patrick Ballow, who is a wine broker for Vance Erickson and proprietor of a wine shop in San Diego called Vino Carta, sells a lot of natural wines and has noticed the increased interest from retail consumers. He attributes this to people recognizing that wine is, in fact, a food product, and that people maybe didn't view it as such before. Because of that, drinkers are increasingly moving towards unadulterated products. He is cautious to draw the line, however. "It's not a dogmatic, 'no tampering' kind of thing. It's a curiosity that drives people towards the category, but they're not looking for something that's 100% without human intervention."
On the taste end, Yandell doesn't think consumers, especially luxury consumers, are going to buy into commercial wines for much longer, either. "Commercial winemakers are trying to engineer a wine that will be more pleasurable to a consumer's palate. To me, that's the exact opposite of what the luxury consumer wants. You can buy a nice, expensive bottle of wine that tastes just what you expect, but any idiot can do that. What a luxury consumer really wants is a special experience. These guys are trying to manipulate their grapes and terroir to make it taste like something I want. Any smart luxury customer is going to say no, I have good taste—whether they do or not—and it's only fair to let them decide for themselves." Also, he says natural wines are just more interesting and fun. "These wines are absolutely unique and people want that, they want the story and the experience to share with friends. Natural wines are much more romantic and rock and roll," Yandell says.
Photo Credit: Trumpet Wines
Ballow says that the interest in natural wines spans all age groups because there's a universal feeling behind it. "Wine has the ability to encapsulate a place and time and the human element should be the third and last component. Natural wines are thought to do that—evoke place and time more than a commercial wine can." He, Horton, Yandell and Parr agree that natural, organic and biodynamic farming techniques are here to stay—all of them mentioned that letting the grapes speak for themselves was the best possible expression of the land and the fruit and that it's the most environmentally responsible way to produce wine. Parr sums it up with a bold but straightforward claim. "I think organic viticulture is the future of viticulture and agriculture. It's important for people to know what you're eating and drinking."