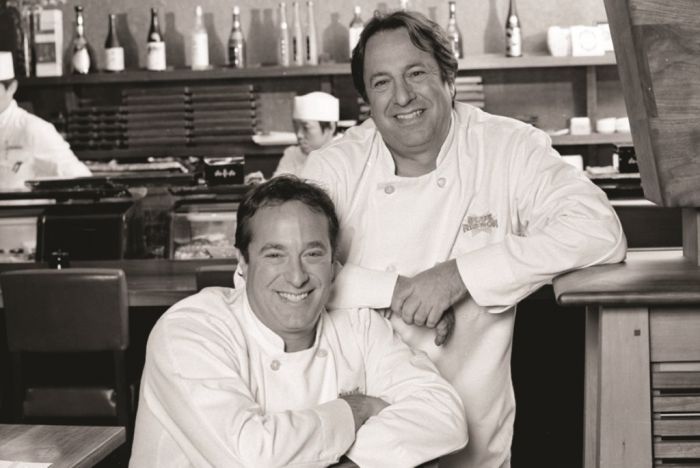 Bruce & Eric Bromberg, Photo Credit: Blue Ribbon Restaurants
Bruce and Eric Bromberg of Blue Ribbon Restaurants have been pioneering forces in the culinary industry thanks to their no nonsense menus incorporating contrasting flavors and experiences across their Blue Ribbon portfolio. The Jersey natives carved their foothold in the industry with personal twists on old favorites, infusing tried and true comfort food into upscale settings.
Beginning with Blue Ribbon Brasserie in 1992, the Brombergs have since introduced more than 15 distinct venues into the restaurant group's repertoire, reaching far past the confines of the Tri-state area. After recently opening a fifth Blue Ribbon Sushi Bar & Grill in Miami this year, and with new projects in Las Vegas and New York currently in the works, it's clear that the Bromberg Bros have no plans of slowing down. We caught up with Bruce and Eric to get their two cents on Blue Ribbon's past, present and the bright (blue) road ahead.
How did you get started in the food industry, and how did Blue Ribbon Restaurants come about?
We come from a family where food was omnipresent. Every trip, every weekend was focused on eating, so that really jumpstarted the whole process. We started cooking together as kids and love working together. We always knew we wanted to make something together, and food seemed like the natural choice. For Eric's 13th birthday, he got a Benihana Wok—complete with Chef's coat and knife and holster— which was sort of a catalyst for things to come. We both ended up in Paris for culinary school and it really was full speed ahead from there. In terms of Brasserie, we really just gathered a team of 14 dedicated cooks, waiters and dishwashers (many of whom still work side- by- side with us today 25 years later) and opened a 48-seat neighborhood eatery. We had no preconceived notions of what we were making. It was just another great project that we could work on together.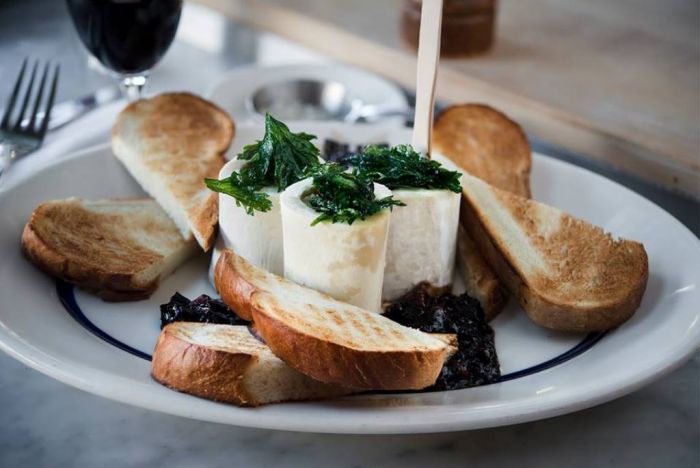 Bone Marrow & Oxtail Marmalade, Credit: Blue Ribbon Restaurants
JustLuxe: You began with the original Blue Ribbon in 1992, how has your portfolio expanded in cuisine?
Bruce & Eric Bromberg: With the originally Blue Ribbon, Brasserie, in particular, we weren't making a French restaurant; we weren't making a Spanish restaurant. We weren't making a fancy restaurant, or even an "American joint." We just wanted it to be a good place to eat and drink with friends, and a place that was fun to work at as well. We set out to change all preconceived notions of what a restaurant was and had to be. Since then, we've really aimed to diversify, and at this stage, we really feel that each of our now 19 Blue Ribbon Restaurants offers its own unique and authentic dining experience inspired by its surroundings. They range in scope from eclectic brasseries, a wine bar, a Japanese beer garden, casual fried chicken spots, the Brooklyn Bowls and, through our partnership with Sushi Master Toshi Ueki, six unique Blue Ribbon Sushi restaurants.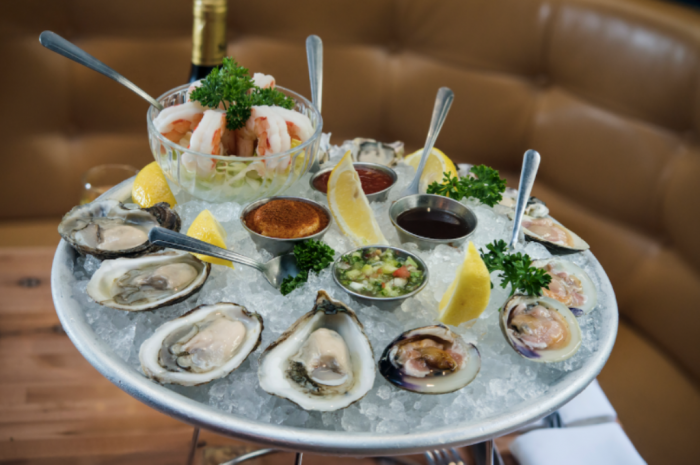 Seafood Platter, Credit: Blue Ribbon Restaurants
JL: From where do you draw culinary inspiration?
B&E: Largely from our dad, I would say, and our collective travels growing up. We're from rural Morristown, New Jersey, about 45 minutes from food- crazy New York City. We didn't rely solely on frequent trips to SoHo wine bars, Chinatown dumpling houses or even Little Italy's semi- authentic eateries for inspiration, but also our father's obsession with everything that is food. Weekends, bed time stories, road trips to summer camp and every vacation the Bromberg family ever contemplated were all guided by one thing only, and that was the search for the perfect meal. The night before we opened Brasserie in 1992, Bruce and I sat down in the dining room and wrote down every dish we could think of that we loved as kids. The only common thread is that we love to cook and eat each and every dish. That was really different then. A restaurant without a specified cuisine. When people asked what kind of restaurant Blue Ribbon was we said 'A good restaurant.'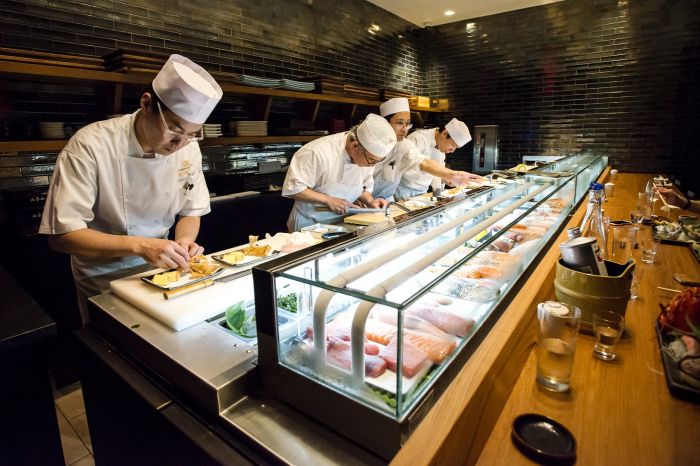 Blue Ribbon Sushi Bar & Grill Miami, Credit: Steve Hill & Blue Ribbon Restaurants
JL: Why the dive into sushi? And how did you make that transition so successfully?
B&E: Bruce and I have been obsessed with sushi ever since we lived in Paris, and have worked with some Japanese chefs who have taken us to experience the absolute best places offering sushi and Japanese cuisine. In 1994, we met a master sushi chef named Toshi Ueki, who eventually became a close friend, mentor and partner. We opened Blue Ribbon Sushi with him in 1995 and never looked back. Our love for has just kept growing, as has our number of sushi concepts!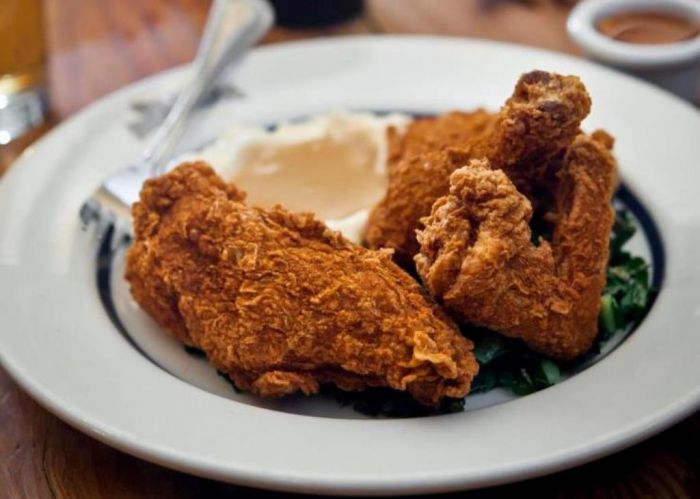 Fried Chicken, Credit: Blue Ribbon Restaurants
JL: The Blue Ribbon fried chicken is definitely a fan favorite, with its unique matzo meal breading. Why the choice to use such a unique breading?
B&E: It sure is! I don't know that I would call it a "mistake" in hindsight, maybe happenstance…but let's just say it was an experiment gone right.
JL: What kind of experience do you want for guests when they come into one of your restaurants?
B&E: We want people to feel welcome, and feel comfortable. We've always approached every aspect of our restaurants, from the décor to the menu to the staff, with the philosophy of "something for everyone."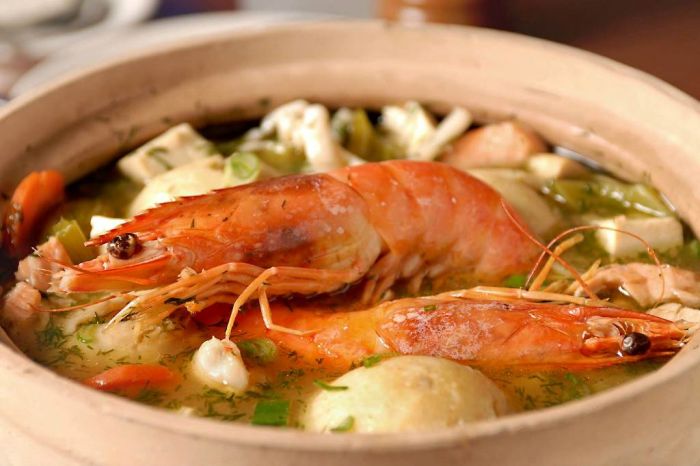 Matzo Ball Soup, Credit: Blue Ribbon Restaurants
JL: What new projects and restaurants are you currently working on?
B&E: In June, we opened a new concept at the Cosmopolitan of Las Vegas that was inspired by our original Blue Ribbon Brasserie in SoHo, NYC and just recently also opened a new location of Blue Ribbon Fried Chicken on the iconic Las Vegas Strip in the Grand Bazaar Shops at Bally's. As a matter of fact, we do have some new projects coming up as well. We have a new Blue Ribbon Sushi Bar location opening up on the Concourse Level of Rockefeller Plaza later this summer, as well as another Blue Ribbon Fried Chicken coming up in NYC, but nothing more to share on that one quite yet.