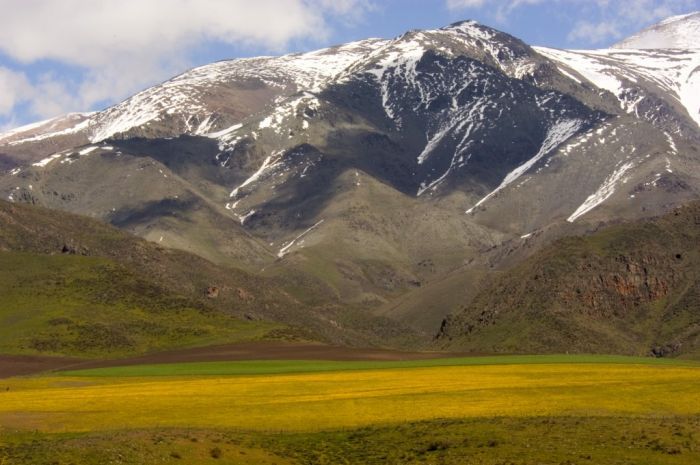 Photo Credit: Wines of Argentina
Argentina's rich wine making heritage dates back to the early 16th century, putting it in an entirely different league than neighboring new-world producers Chile and Brazil. Spanish settlers planted the first specimens of Vitis vinifera in monastic vineyards throughout Argentina's central, western and northeastern regions. Soon, an extensive agricultural irrigation system of ditches and canals, modeled after the Incas, drew water from melting Andes snowcaps into reservoirs that are still utilized to this day by vineyards granted government-regulated water licenses. Water access is crucial since most vineyards grow in semi-arid conditions with rainfall rarely exceeding 10 inches per year.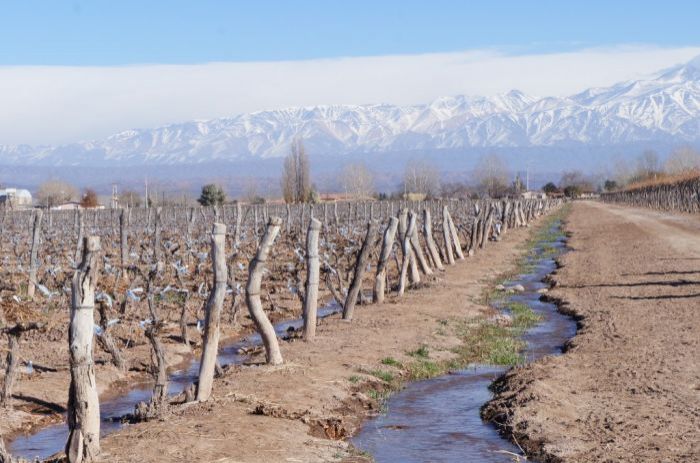 Photo Credit: Wines of Argentina
Irrigation methods evolved over time, starting with the centuries-old tradition of periodically flooding vineyards, which, along with the high altitude and low humidity, likely prevented phylloxera. Argentina had 5,000 acres of vineyards by 1873 and just several decades later, capacity mushroomed to 519,800 acres. This sudden growth was largely fueled by sweet, low-quality, high-yield Cereza, Criolla Chica and Criolla Grande table wines well into the 1970s, when soft drinks and beer thwarted its market share, spurring demand for better quality wine.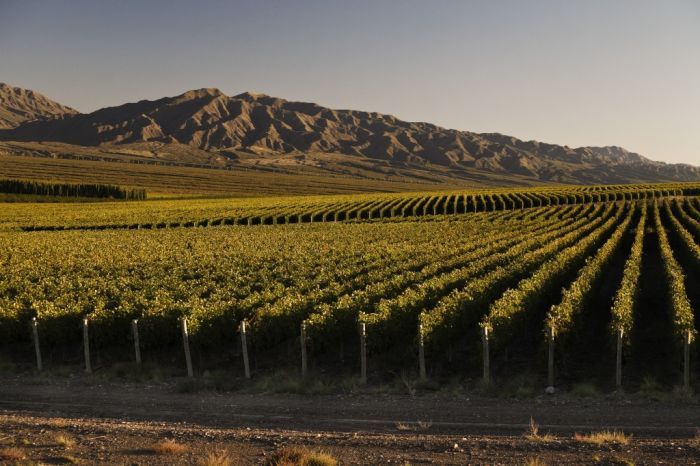 Photo Credit: Wines of Argentina
Since the 1990s, Argentina's wine scene has continually blossomed with fine Malbecs, the rediscovery of native Torrontes grapes, and the growing of totally unexpected varietals like Riesling and Pinot Grigio, by pushing into ever higher elevations, achieving crisper, more refined and aromatic tasting experiences. Cuyo and Patagonia are the top two regions to begin exploring Argentina's latest wine-making treasures.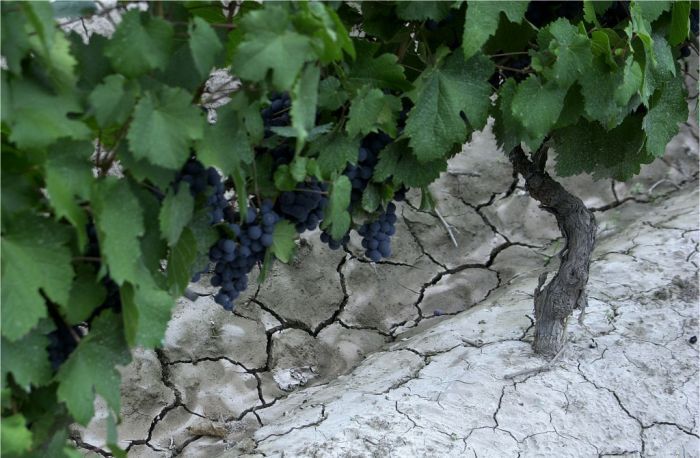 Photo Credit: Wines of Argentina
Cuyo
This arid, yet fertile region of alluvial, sandy soils, often banded with substrates of clay, gravel and limestone, Cuyo ("country of deserts") produces more than 80 percent of Argentina's domestic wine, on vineyards totaling nearly 395,000 acres, making it not only the most prolific grape growing region in Argentina, but all of South America. Within Cuyo, Malbec is king in the vineyards of Mendoza, situated in the Luján de Cuyo and the Uco Valley in the Andes' foothills between 2,800 and 5,000 feet above sea level.

Photo Credit: Catena Wines
It all started when wine maker Nicolas Catena Zapata first planted Malbec here in 1994. His success soon elevated Mendoza's international stature, attracting celebrity winemakers like Paul Hobbs, Michel Rolland, Roberto Cipresso and Alberto Antonini. Although the high yielding, pink-skinned Cereza and Criolla Grande grapes that historically dominated Mendoza vineyards still account for nearly a quarter of the region's total yield, Malbec is now the most widely planted varietal followed by Bonarda, Cabernet Sauvignon, Syrah and Tempranillo.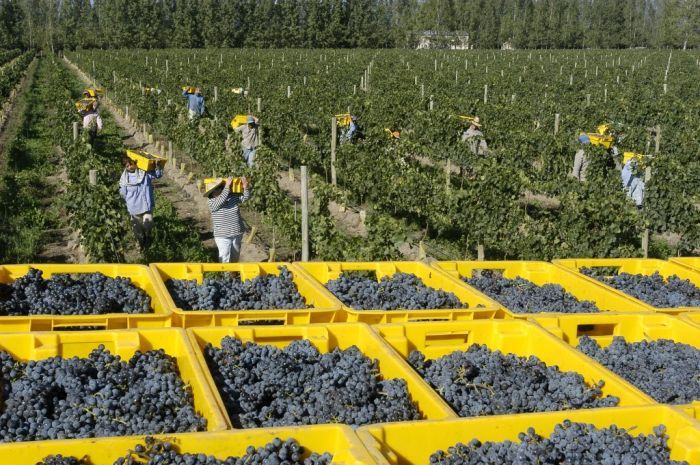 Photo Credit: Wines of Argentina
Characterized by a deep, ruby red color, intense fruity flavors and soft ripe tannins with a velvety finish, Argentina's Malbec grapes grow in smaller, tighter clusters than their French cousins due to wide diurnal fluctuations, as daytime summer temperatures often exceed 104 degrees Fahrenheit and drop to 50 degrees Fahrenheit at night. Here, smaller-scale wineries are innovating beyond their Italian immigrant forebears by easing up on the oak aging process, unmasking Malbec's countless delicate expressions while producing and blending more extraneous varietals like Barbera, Dolcetto, Freisa, Lambrusco, Nebbiolo, and Raboso.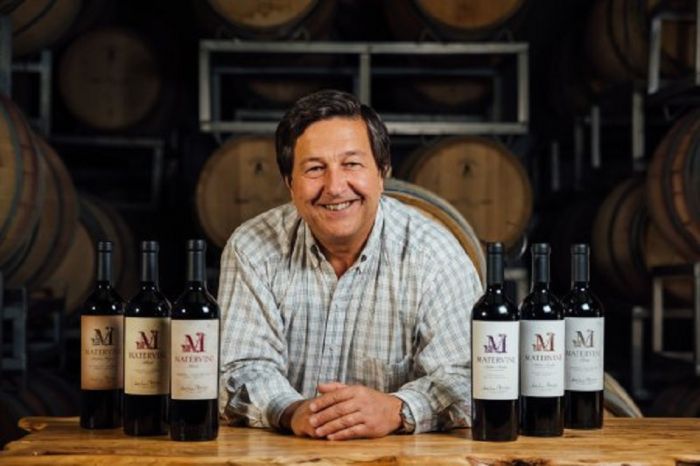 Photo Credit: Bodega Matervini
Can't-Miss Wineries
Matervini
Only a 20-minute drive from downtown Mendoza, Santiago Achával and Roberto Cipresso formed Matervini in 2008 with a mission to celebrate and promote Malbec's rich complexity. "Sourcing grapes from various regions each reflecting their unique personalities allows us to capture specific attributes from grapes growing in young to old geologies and from alluvial to non-alluvial soil," notes Achaval.

Photo Credit: Steve Mirsky
When it comes to production, traditional finca viticulture and modern sustainability join forces. Solar panels generate electricity and heat, while all organic waste is composted and returned to the vineyards. They give regularly scheduled tours and Mater House accommodates up to eight guests, including one matrimonial suite and two rooms with three beds each, making it perfect for family or group stays.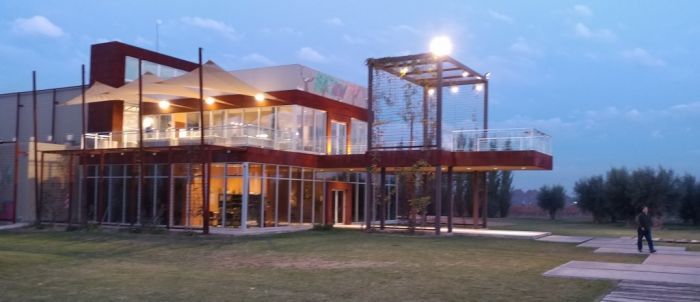 Photo Credit: Steve Mirsky
The winery itself is a modern architectural masterpiece featuring floor-to-ceiling, plate-glass windows, loads of Modernist paintings on the walls and built-in terraces—perfect for drinking in the views accompanied by wine samples. A perfect start would be their Antes Andes Valles Calchaquies, a Malbec sourced from Rupestre Vineyard in Salta that's fresh, full of fruit and has a definitive minerality projecting an underlying luscious saltiness. The only way to purchase their lineup outside Argentina is joining their Wine Club, which features free shipping to the U.S.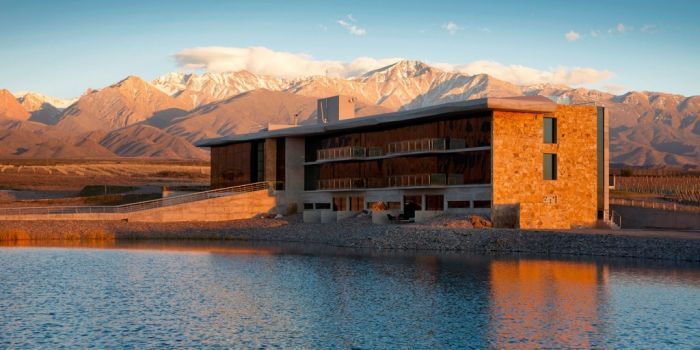 Photo Credit: Casa de Uco
Casa de Uco Vineyards and Wine Resort
Casa de Uco Vineyards and Wine Resort is completely devoted to wine making. Outfitted with a spa and a pool, this property is home to seven rooms, nine suites and a number of private, in-vineyard bungalows, all designed to blend with the surrounding topography. Guests are surrouned by vineyards as far as the eye can see and, on clear days, the snow-capped Andes appear as though merely several blocks away.
Photo Credit: Steve Mirsky
For dining, Executive Chef Pablo Torres created an Uco Valley-driven, yet internationally-inspired menu honoring seasonal organic ingredients sourced from on-site gardens and local farmers. Casa de Uco also offers true Argentine cooking experiences in the vineyard over open flames, asado style. Perfect pairing opportunities include their El Salvaje 2014 Malbec fermented with wild yeast and barrel aged (more for micro-oxygenation than oaking), yielding a wine that's lightly filtered with a more subdued acidity.

Photo Credit: Casa de Uco
Casa de Uco offers a collaborative membership program with partial vineyard ownership and capacity for members to make their very own vine under the guidance of head winemaker Alberto Antonini. "We want to advise wine lovers who may not be wine professionals. Our private vineyard project was created for wine enthusiasts to get hands-on experience making their own wine," says Antonini. "You can choose how much to become involved in the process, from the beginning stages of planting grapes, working alongside expert agronomists and enologists, to designing your personal wine labels and brand."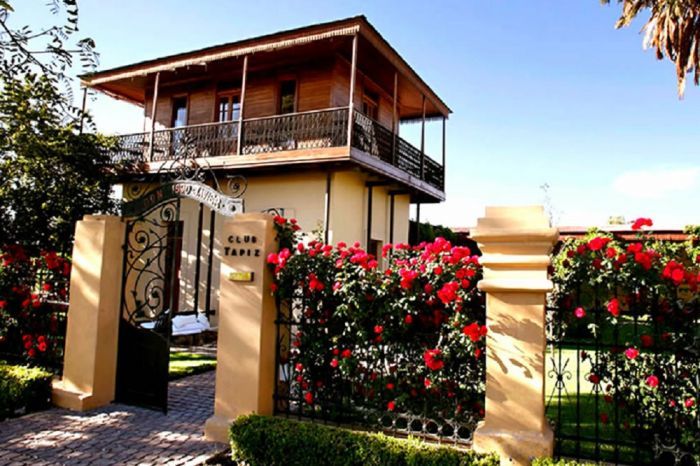 Photo Credit: Argentina Wine Hotels
Bodega Tapiz
Olive groves figure just as prominently as wine at Bodega Tapiz. Here, 35 acres of vineyards surround the historic grounds of Club Tapiz Hotel and Restaurant, including a circa 1890 building that was once an old wine cellar, and now hosts the salon Pour la Galerie. Featuring corridors flanked by large oak barrels and a magnificent mural by artist Sergio Roggerone, the space is also home to their olive oil processing facility and tasting room.

Photo Credit: Argentina Wine Hotels
Seven guest rooms with private bathrooms overlook a courtyard to the front, while in back, a patio outfitted with an in-ground pool and gardens leads to their spa. When it comes to dining, Executive Chef Soledad Nardelli and her team offer a seasonal farm-to-table menu that's simple and fresh using their house-made olive oil, herbs, and vegetables from their fincas and on-site organic garden in dishes like Rabbit in a Sauvignon Blanc Broth and Pancetta in a Melange of Pumpkin and Grapes.

Photo Credit: Argentina Wine Hotels
Tasty vintages usher forth from their 500-barrel cellar, like their single vineyard, single parcel Tapiz Black Tears Malbec wherein stone fruit and barrel aging blend well, while their Classic Torrontes is bursting with aromas of lime, jasmine, rose and orange blossom prolonged with a refreshingly long finish.

Photo Credit: Vina Cobos Winery
Viña Cobos
Paul Hobbs, founding partner and winemaker of Viña Cobos, is world-renowned in part by his exploration and identification of Mendoza's numerous terroirs, establishing himself as a leader in the single-block wine growing concept.
The second of 11 children born into a family of Upstate New York fruit farmers, Paul Hobbs gained early exposure to the concept of terroir, learning the variations in taste and texture of apples grown on the family's farms. Armed with a degree in Chemistry and a master's in Viticulture and Enology from UC Davis, Hobbs became one of the winemakers at Robert Mondavi Winery that made Napa Valley famous by improving the region's strength and quality of its wines. After visiting and falling in love with Mendoza's landscape in 1988, Hobbs once again distinguished himself by putting Malbec on the world stage as Argentina's signature varietal.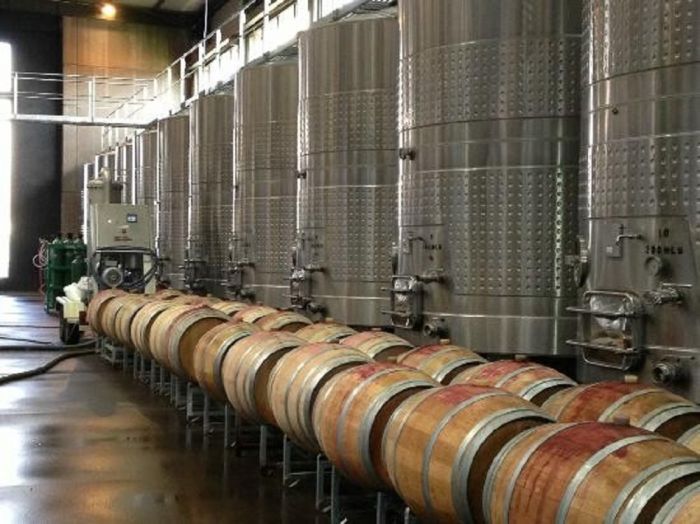 Photo Credit: Vina Cobos Winery
Sustainable vineyard management at Viña Cobos achieves top-quality fruit, yielding complex elegant wines like their Malbec Chanares Estate and Volturno Marchiori Estate which display subtlety and balance. After harvesting, grapes maintain their exact identity with labels of origin, enabling staff to accurately assess and realize their potential during production and blending. Fruit handling is done more gently via gravity flow to preserve fruit sugars, allowing them to achieve optimal fermentation. This results in wines with subtle, yet powerful fruit expressions enhanced by exacting aging periods in French and American oak.

Photo Credit: Steve Mirsky
Patagonia
Thought to be derived from Magellan describing Natives who left large tracks or patagon in the snow with an earlier version of the snowshoe, Patagonia today is a region of glaciers, prime trout fishing, spectacular hiking and the world's southernmost vineyards ranging from 1,000 to 16,000 feet above sea level.
Patagonia's Neuquén region is renowned not only for its Pinot Noir grapes used in Argentine sparkling wines, but also excellent Chardonnay, Malbec, Semillon, and Torrontés Riojano. More recently, Cabernet Franc has gained traction with hints of red fruit, elegant tannins and distinct peppery notes. New denominations of origin are still being created here.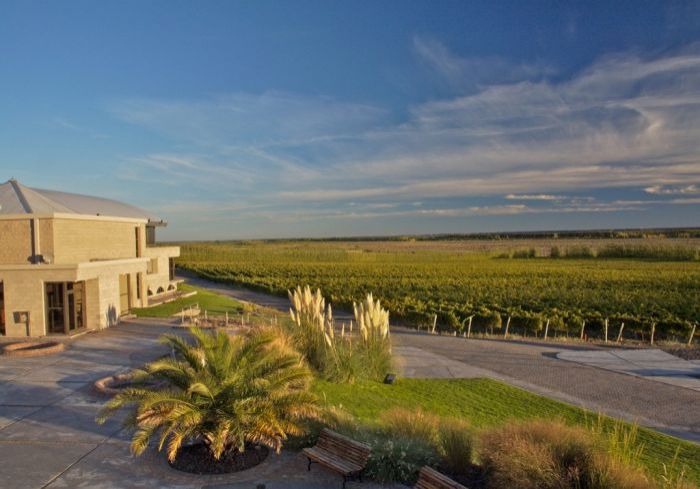 Photo Credit: Bodega Familia Schroeder
Soils here typically have more chalk than sand, and wines reflect the fruit more than the impact of any wine-making techniques. Shorter summers, colder winters and a higher day-to-night temperature amplitude than the rest of Argentina, along with frequent winds, provide exemplary conditions for low-yield, small bunches of thicker-skinned grapes. These factors combined with slow, prolonged berry-ripening, produce refined intensity, strong character, and definitive aromas.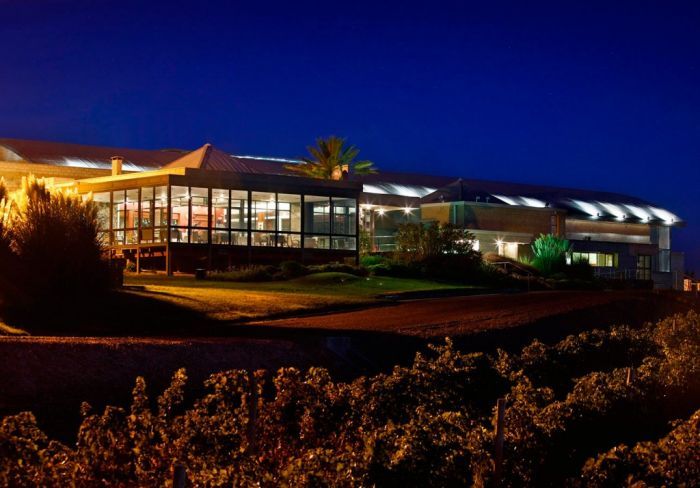 Photo Credit: Bodega Familia Schroeder
Can't-Miss Wineries
Familia Schroeder
An oasis of high-quality vines flourish in Bodega Familia Schroeder's arid, rocky soil thanks to generous ice-melt water irrigated from three different rivers. Established in 2001, their 346 acres of vineyards produce Malbec, Pinot Noir, Merlot, Cabernet Sauvignon, Cabernet Franc, Chardonnay, Sauvignon Blanc and Torrontés aged in 70 percent French and 30 percent American oak barrels. Now on display in the winery's basement, Panamericansaurus Schroederi dinosaur fossils, unearthed during construction, also serve as branding for Familia Schroeder's Saurus and Saurus Select wines.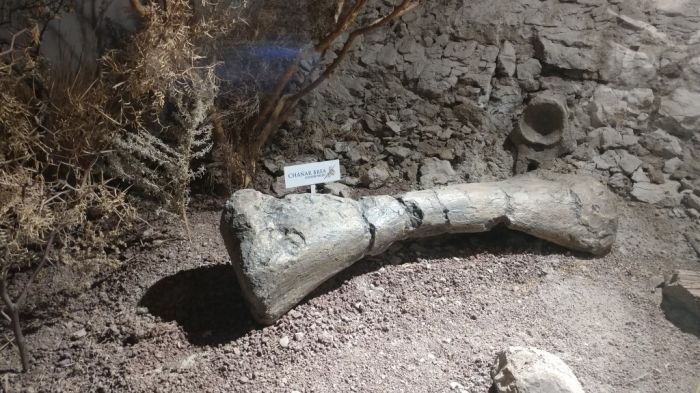 Photo Credit: Steve Mirsky
Facing southwest, in the direction of the region's strongest winds, the winery's aerodynamic roof simulates an airplane wing, minimizing wind friction while providing near constant shade for the winery's reception area. The entire operation's avant-garde architecture is also built into the side of a slope on five different levels, accommodating each stage of the wine making process by utilizing gravity, which not only makes it environmentally friendly by requiring fewer pumps, but results in finer quality wine.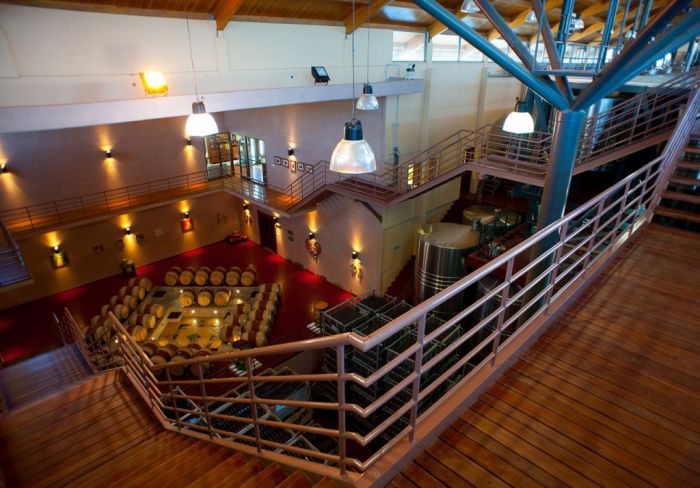 Photo Credit: Bodega Familia Schroeder
Vintages to look for here, especially when paired with dishes prepared in their on-site restaurant include their well-structured, fresh and fruity Alpataco Cabernet Sauvignon, their Familia Schroeder Blend 2011, which showcases a complex mouth feel tempered with delicate tannins, and their plumy punch Saurus Barrel Fermented Malbec 2016 which uses handpicked grapes aged for eight months in custom-toasted 60 percent American and 40 percent French oak barrels.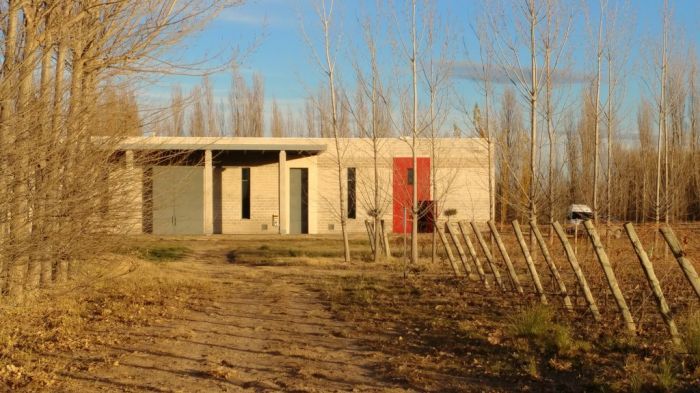 Photo Credit: Steve Mirsky
Bodega del Rio Elorza
The Del Río Elorza family purchased the nearly 100-acre Bodega del Rio Elorza estate in the Province of Río Negro in 2001, but it was first planted with vines at the turn of the 20th century. Starting in 2004, international wine-making consultant Hans Vinding-Diers teamed up with agronomist engineer Marcelo Casazza and enologist Agustín Ezequiel Lombroni to focus only on varietals best suited to Patagonia's climate as well as the estate's deep clay loam soils.
First, the abandoned vines planted nearly 100 years ago were recovered, and then new specially-selected Malbec, Pinot Noir, Merlot, Cabernet Franc and Chardonnay clones were planted at high density (5,500 vines per hectare). Next came a more efficient automatic drip irrigation, along with a sprinkler system to protect vines from frost. Cold winters and dry summers produce grapes that slowly and continuously ripen, reaching delectable balances of sugar and acidity, particularly as exemplified in their 2016 Chardonnay, aged in steel, sans malolactic fermentation.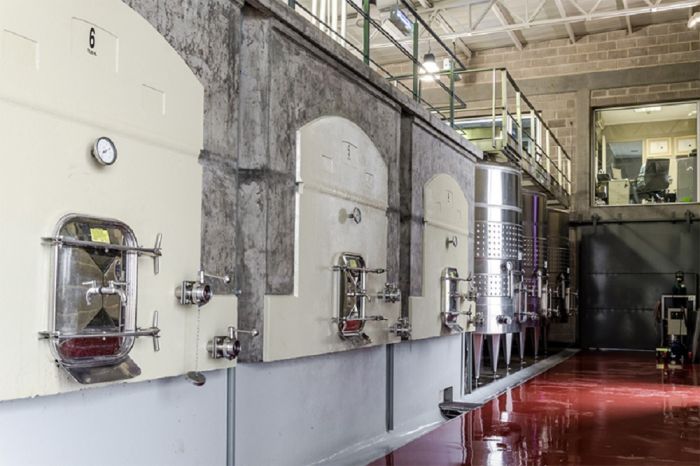 Photo Credit: Bodega Del Rio Elorza
Wine maker Agustín Ezequiel Lombroni says it's all about bringing the vineyard to the glass: "I like wines undressed without the makeup and not serving the tastes of the market." Describing his rich peppery 2016 Cabernet Franc, Lombroni is quick to point out that its minerality reflects the process of how the grape grows, rather than any particular geographical striations that may comprise the soil.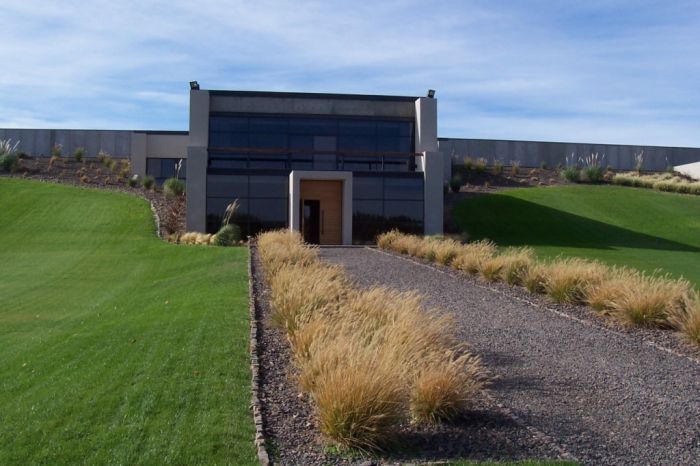 Photo Credit: Bodega Malma
Malma
Owned by the Viola and Eurnekian families outside Neuquén's San Patricio del Chañar, this winery capitalizes on specific grape varietals best suited to each micro terroir they're sourced from. Malma's extremely efficient wine-making technology enables a 475,500 gallon annual production which is remarkable considering they're a relatively modest operation. On-site Malma Restaurant and Casa Malma lodgings are perfect for hanging your hat awhile to sample the Malma Family Reserve Malbec 2015. Its intense purplish-red hue reveals blackberry aromas with soft violet notes. Light on the palate at first then growing in intensity, ripe fruit and prunes with hints of spices and vanilla linger on the palate. Also try the Malma Family Reserve Pinot Noir 2013. This intense ruby red is structurally complex offering a delicate bouquet of berries, marmalade and coconut building into a well structured mouth feel and elegantly smooth finish. The good news here is that this level of sophistication still has eight to 10 years of aging potential. Another favorite is the Malma Universo Blend 2012; aged in French oak, this Malbec/Cabernet Sauvignon blend has subtle hints of vanilla, nicely enriching the ripe plum and spicy black cherry on your palate.