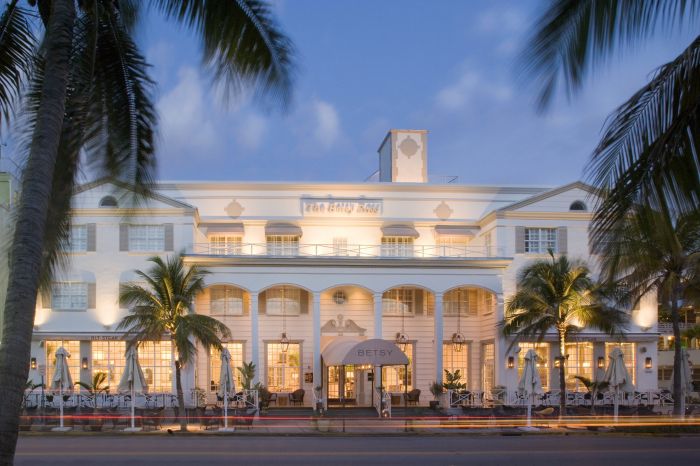 Betsy South Beach
It's no exaggeration to say at The Betsy is South Beach's most unique luxury hotel. The only Forbes Four Star and AAA Four Diamond rated boutique property in Greater Miami, the Ocean Drive landmark on the site of the Betsy Ross Hotel which first opened 75 years ago occupies the area's sole example of Florida Georgian architecture, a Colonial style. Following a two-year transformation and expansion it now includes another historic hotel, the former Carlton Hotel on Collins Avenue, a true Art Deco gem.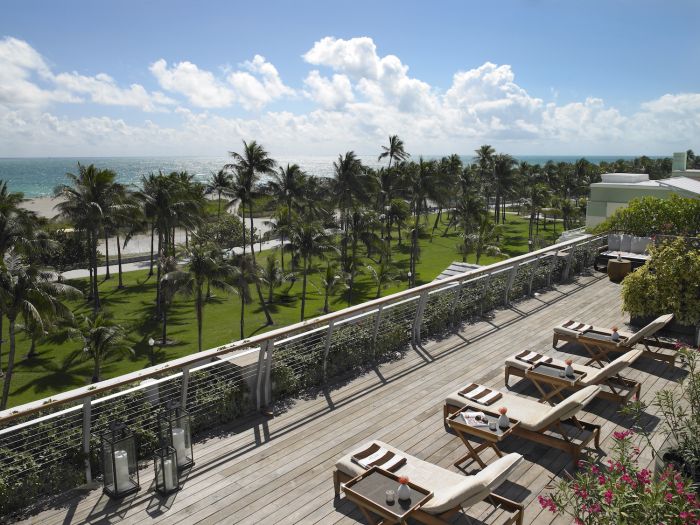 Betsy South Beach
The prestigious property at the quiet end of iconic Ocean Avenue, long known for its incomparable ocean views and graceful, welcoming architecture, is now also gaining a reputation for world-class cuisine and amenities. The completed project now features 130 guest rooms and suites, a restaurant by award-winning Chef Laurent Tourondel that's one of the city's best, an expansive rooftop pool complex, private library for guests, and more.
The Betsy retains its unique and independent character in large part thanks to its owners, Jonathan Plutzik and his wife Lesley Goldwasser, dedicated patrons of the arts who are committed to offering a form of hospitality that's increasingly rare as corporate-run hotels, no matter how chic, always feel somewhat cold. The expansion involved the preservation and rehabilitation of the two historic hotels and existing facades, refurbishment of the iconic Carlton lobby, the addition of new structures and a roof complex.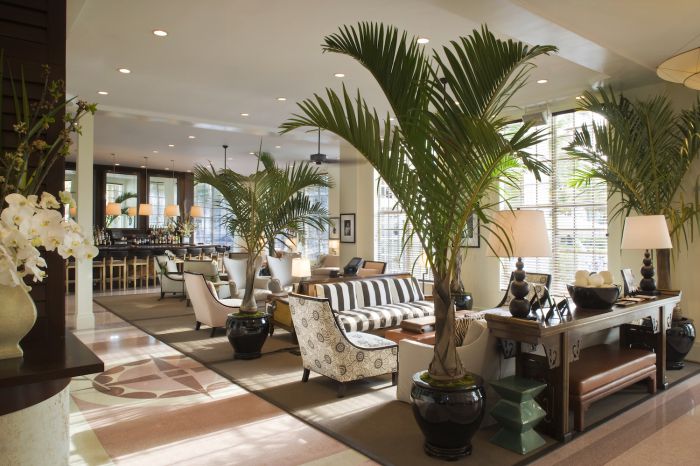 Betsy South Beach
The completed hotel includes the original Ocean Drive building now known as the "Colonial" wing and housing the main entrance, and the fully renovated Collins Avenue building now known as the "Art Deco" wing which houses the Panther Coffee Shop, a refined coffee bar that also offers a variety of craft cocktails, wines, locally-sourced beers, and pastries and sandwiches prepared fresh daily by Chef Tourondel's team. The two structures are joined as one unified hotel by a mirrored bridge, conceived as a piece of public art known as "The Orb".
The ambitious and perfectly executed expansion joined the work of two architects famed in the annals of Miami Beach: L. Murray Dixon, who designed The Betsy Ross in 1941, and Henry Hohauser, known for his quintessential Art Deco styling, who designed the immediately adjacent building, formerly known as The Carlton Hotel, in 1937. The Colonial Wing welcomes arriving hotel guests and houses the Ocean Front Deck, the Wellness Garden & Spa, Lobby Salon, the Lobby Bar, and Tourondel's LT Steak & Seafood.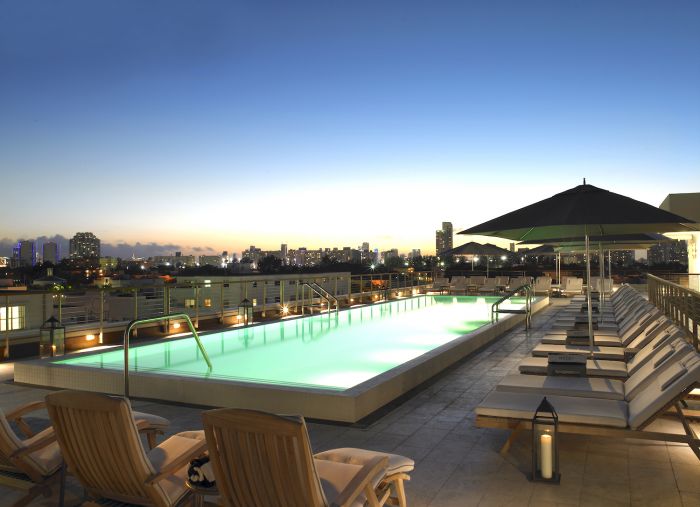 Betsy South Beach
The Art Deco Wing faces Collins Avenue and features The Conservatory, Library, The Gallery, the Skyline Deck, and a Rooftop Pool with 360-degree views. The suite selection includes an eye-popping 2,000 sq. ft. Skyline Penthouse and Terrace, as well as a two-story, four-bedroom unit with a private elevator and a 1,000 sq. ft. wrap around balcony. "Our goal with the expansion was [to] create a residential sensibility through a design that was accessible, comfortable and visually compelling," owner Jonathan Plutzik notes. "In that effort, we've created a diversity of unique spaces for both guests and locals to discover which we hope will inspire them to return again and again."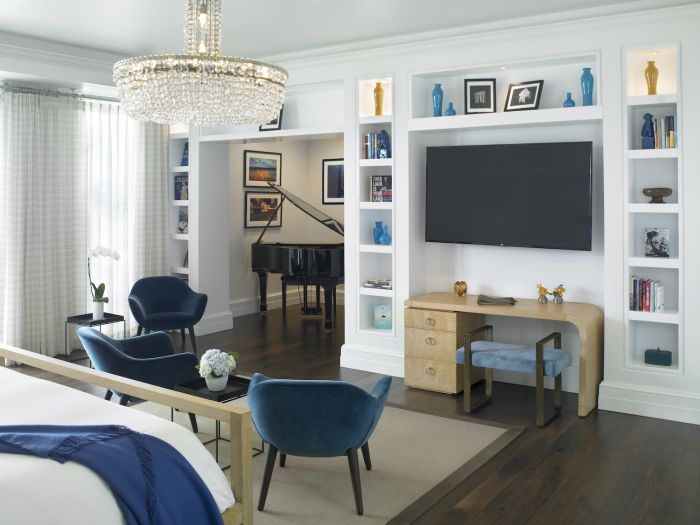 Betsy South Beach
The redesign of the guest rooms and suites accompanying the expansion kept the feel of The Betsy's signature timeless feel but added Art Deco elements with a color palette of white and ocean blue set off by whitewashed oak, raffia palm, and subtle pops of corals and greens for a quintessentially breezy South Beach vibe. Public spaces feature similar shades as well as polished walnut wood floors, and custom-designed furniture and light fixtures are a blend of wicker, teak, brass and mirrored details along with velvet, cotton, and linen fabrics.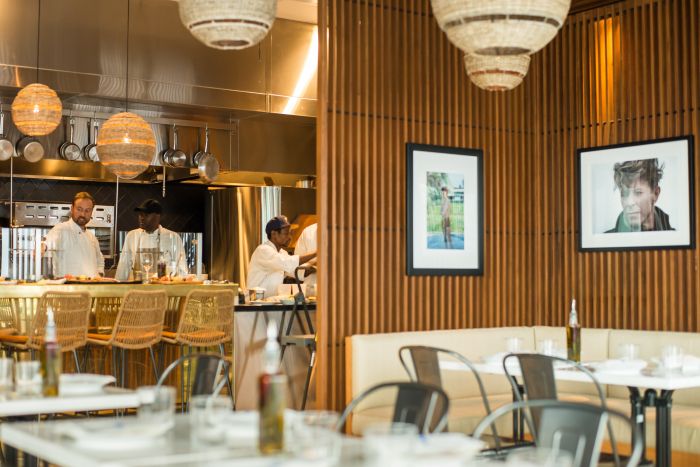 Betsy South Beach
Located in the Colonial wing off the Lobby Salon, Chef Laurent Tourondel's LT Steak & Seafood makes the most of seasonal bounty with of course the two tenets of cuisine in the name holding court. The chic, cozy interior is just as much a draw as the beautiful outdoor terrace on Ocean Drive, one of the city's very best al fresco dining options. Menu standouts include "Leche de Tigre" seafood ceviche with octopus, snapper, shrimp, scallops, coconut milk citrus, cilantro, onion, yuzu, and chili oil; local pan roasted Cobia with cara cara orange, cerignola olive, grilled radicchio, and toasted almonds; and a sizable selection of prime grilled steaks.
The newest addition to The Betsy is The Alley, a restaurant concept by Chef Tourondel that has already been named as one of the "Hottest Restaurants in Miami" by Zagat. Designed to be a sociable space featuring perfect brick-oven pizzas with unique toppings inspired by the local landscape, it also offers daily fresh pasta specials such as Wagyu bavette tagliata with Calabrian salsa verde, arugula, and fingerling potato, as well as wine tastings, cocktails, crepes and gelato. On the cocktail side we'd recommend the Noble Roman, with Casa Noble crystal tequila, Acqua di Cedro, Cocchi Americano, and prosecco.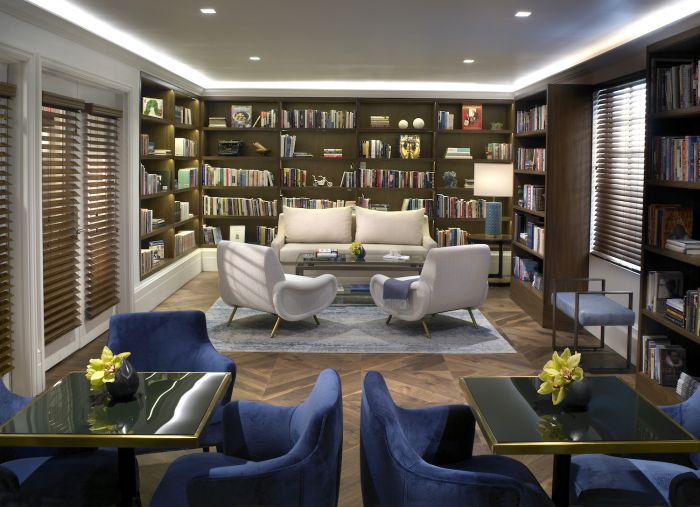 Betsy South Beach
Finally, furthering the Betsy's aim to "champion the power of community" via an impressive Arts & Culture program, the property recently kicked off its 2018 Summer Arts Festival with a calendar of events including live jazz in the lobby, a series of pop-up opera performances in collaboration with the Miami Music Festival, various poetry readings, art tours through The Betsy's current property-wide exhibition of over 700 works, and more. Visit https://www.thebetsyhotel.com/ for more information.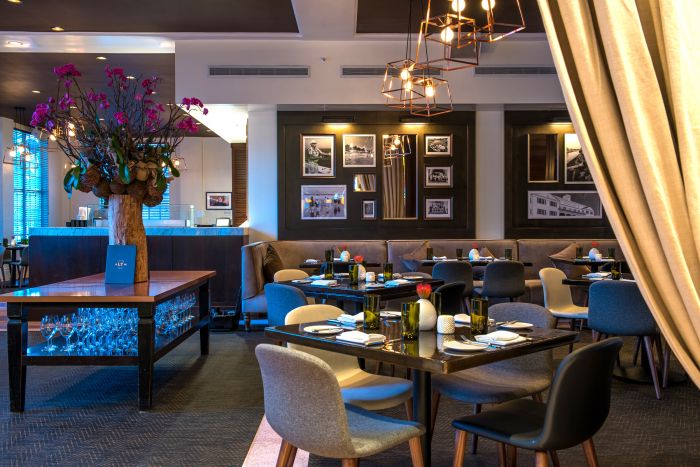 Betsy South Beach