Chad Chisholm
We've heard it all before: "farm-to-table," "from scratch" the newest being "farm-to-fork" but often these lines get blurred. Of course food comes from a farm to where you consume in a restaurant, generally on a table. However, once in a blue moon restaurants truly go the extra mile, their preparations diving deeper, the work tedious and not necessarily fiscally rewarding but it's done right. That's what's happening at Henry's Ocean View Dining, Huntington Beach, where the passion can be tasted in every bite.
I write on a lot of food, eating out for almost every meal. So when I found myself constantly thinking about the Rye Pancakes I had sampled at Henry's as their first breakfast customer, I knew I needed to return. As soon as possible. I actually booked a flight with pancakes in mind. I'm not even a really big fan of pancakes…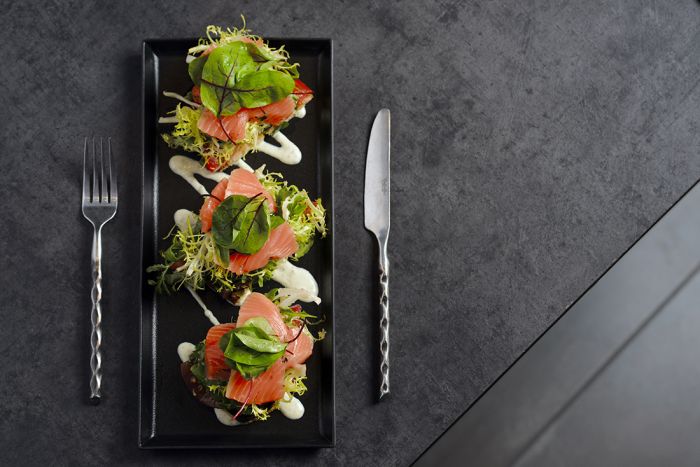 Chad Chisholm
Chef de Cuisine Kenny Seliger has been with The Waterfront Beach Resort, a Hilton Hotel since 2017. Previously managing the lounges for Qantas Airlines at LAX, he's no stranger to high standards. Before the airline lounges, he was at Montage Laguna Beach.
"The idea of making everything from scratch is something that has fascinated me from the moment I started cooking. I believe if you understand the work that goes into making something, you have much more respect for the product," explains Seliger, "the cool side of making everything in house is that you get to surprise guests with things like house made butter. Seeing peoples faces when we mention it never gets old." And the butter is good. Really, really good. Mine was slathered all over my Rye Pancakes alongside mixed berry compote.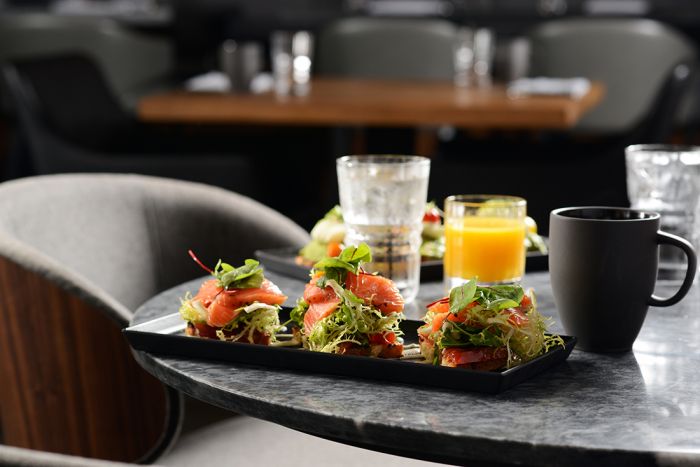 Chad Chisholm
The menu is peppered with items such as the Cured Salmon Toast with Cilantro Chimichurri, Caper Crème Fraiche and Grilled Sour Dough bread, all made in house, or the Henry's Eggs Benedict served with Two Poached Eggs, over a Zucchini Cake with Heirloom Cherry Tomatoes and Classic Hollandaise. Not only is the food flavorful and beautiful, the thoughtful design elements from plates and glassware to interior design flow seamlessly throughout the restaurant. Breakfast isn't a hotel afterthought, it's the star of the morning.
Ok, I have to get back to these pancakes. They are started with a sourdough starter. Her name is Harriett. I love that detail. While the Rye aspect and toppings change, Harriett is a heavy hitter for flavorful and distinct pancakes. Paired with some house cured sausage patties, crispy hash browns and a personal French Press of coffee—I'm in for the long haul as I take in the view from the patio overlooking the new pool deck and ocean beyond.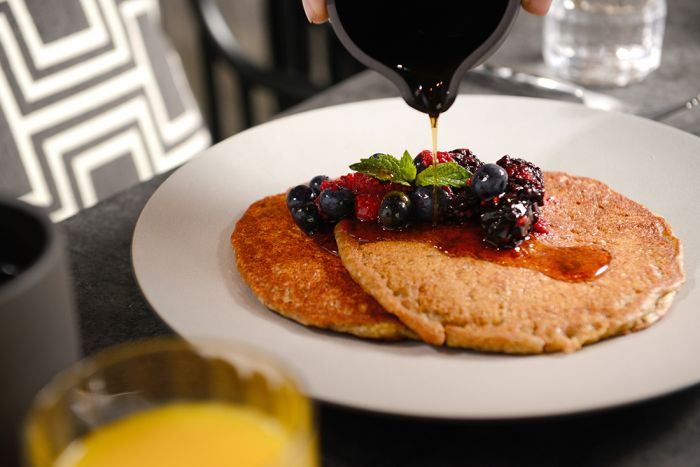 Chad Chisholm
Henry's is a homage to a local historic figure. "Henry Huntington and his 'Red Car' railway were instrumental to the development of Huntington Beach because it was the first mass transit connecting Los Angeles and Orange County," divulges Seliger "Our Owners are proud of their success in this city and wanted to pay homage to Mr. Huntington's legacy by naming their new premiere restaurant after him." I think Huntington would be proud.
The Henry's team has put a tremendous amount of work into this restaurant and it shows. Taking an unexpected reverent approach to breakfast certainly stands out on this menu. Not a breakfast person? They also serve dinner, which I also enjoyed. "Our GM Robert and I have been given a generous amount of trust from the Meyer Corporation and our GM Paulette Fischer, we would love to show off our work to everyone. We encourage anyone who plans to dine in Henry's to come with an open mind, this isn't your typical hotel restaurant."
Make sure to check out this Huntington hotspot for breakfast (or dinner). Reservations can be made by calling (714) 845-8450, visiting Opentable or at www.waterfrontresort.com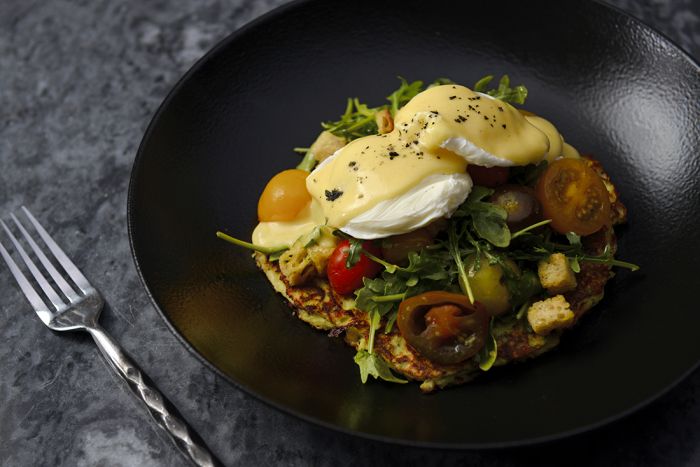 Chad Chisholm
Henry's Egg Benedict with Two Poached Eggs, Zucchini Cake, Heirloom Cherry Tomatoes and Classic Hollandaise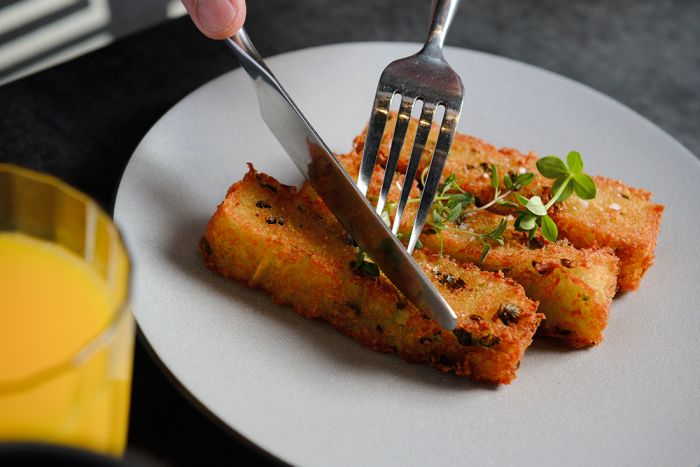 Chad Chisholm
Russet Potato Hash Browns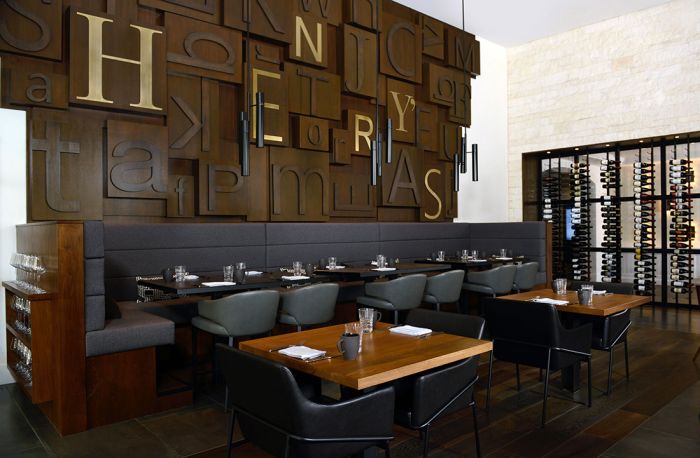 Chad Chisholm
Interior designed by Cora J. Design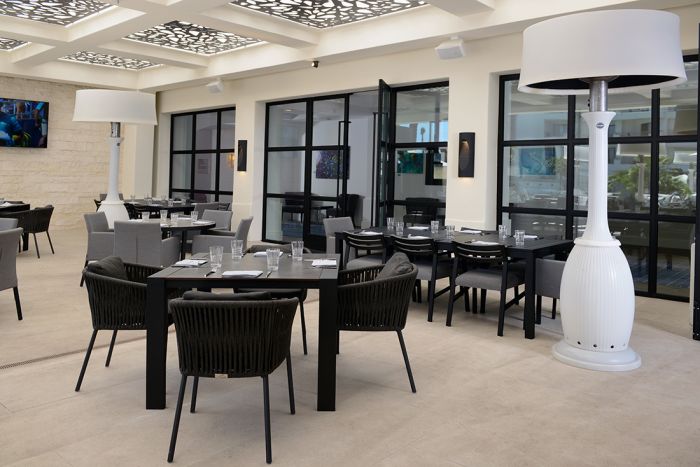 Chad Chisholm
Outdoor patio space