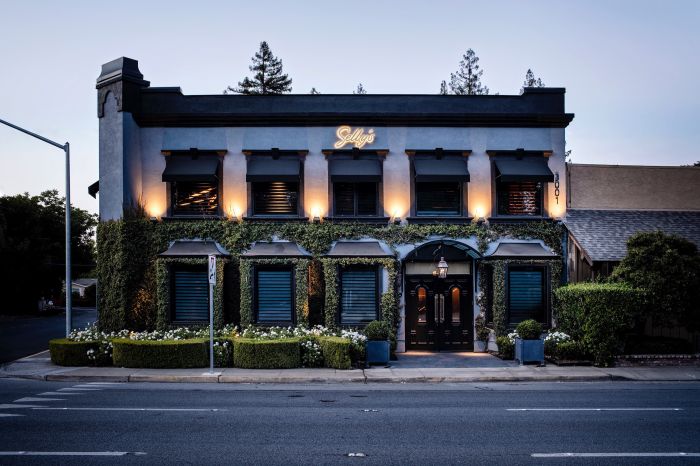 Ed Anderson
The savvy aesthete might notice something familiar about the Selby's 'S.' It's modeled after the S in Frank Sinatra's signature, providing a not so subtle hint that this new Atherton eatery is something special. A posh throwback inspired by venerated dining establishments such as Chasen's, Romanoff's, and New York's 21 Club, as well as by Hollywood's beguiling dining scene of the 1930s and 1940s, Selby's appears to be just what this tony South Bay town ordered.
Marrying the luxury of this romanticized time period with the genuine hospitality and warm service that are staples of its Bacchus Management Group-operated sister restaurants such as The Village Pub in Woodside and Spruce in San Francisco, Selby's matches and reflects the relaxed sophistication of its Silicon Valley locale.
"Our goal and intent in creating a restaurant is always to make it a valued part of the community in which it is located, a place where locals feel at home," says Tim Stannard, Bacchus Management Group Founding Partner. "That being said, we also strive to create coveted destinations, and our Wine Spectator Grand Awards and Michelin stars for both Spruce and The Village Pub are testaments to this ethic."
A South Bay resident, Stannard felt personal accountability in creating a restaurant that properly serves the community in which he lives. And as Atherton's lone eatery, the responsibility with Selby's was compounded. "We recognize that as the only restaurant in this town, we have an obligation to adapt to the residents' various needs," says Stannard. "We want our guests to maneuver seamlessly within Selby's, whether it's a stop in the bar prior to another outing, a business meeting, or a special celebration, we strive to serve every occasion."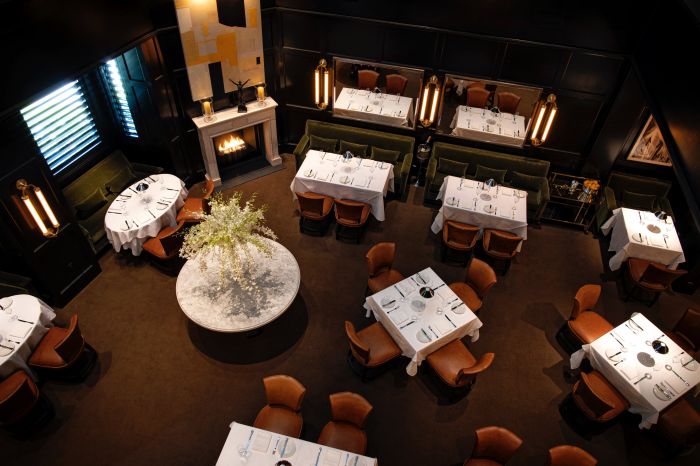 Main Dining Room, by Ed Anderson
The building's exterior is wrapped in decades-old ivy, boxwood hedges, and iceberg roses – a beautiful contrast to the striking glass and steel awning created by local artist, Magnus Schevene. Upon entering Selby's foyer, guests are greeted with a dramatic elliptical white marble staircase with handmade brass banisters set against olive-green mohair walls, club-style black paneled wainscoting, and chestnut leather furnishings – the vision of renowned interior designer Stephen Brady. Two custom avant-garde chandeliers, also by Schevene, interplay with a renowned collection of more than 175 original art pieces curated by Lost Art Salon owner Rob Delamater. The downstairs main dining room is anchored by a fireplace with a striking antique limestone mantle.
"When guests walk into this room, I want them to feel immediately at ease," says Stannard, who acknowledges that after just a few months in operation, Selby's has its flock or regulars. "And when they leave, I want them to look forward to their next visit."
Atop the stairs, guests can enjoy cocktails and conversation in a relaxed lounge-like area or dine in the grand mezzanine dining room with prime balcony views of the bustling downstairs. Three private dining rooms include a card room that has been thoughtfully designed to eliminate reflective surfaces that might interfere with a game.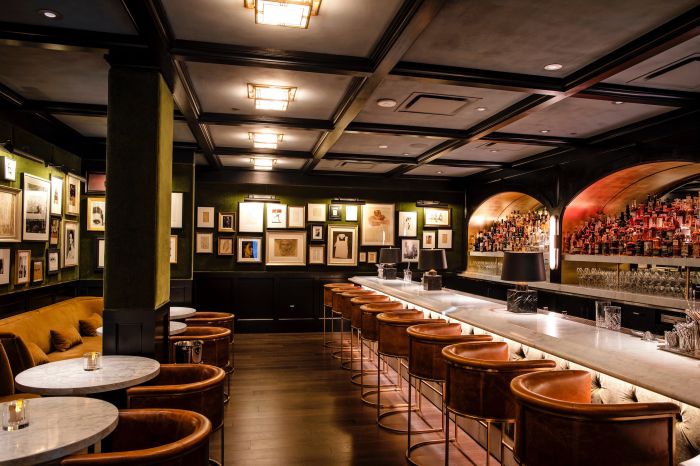 The Bar, by Ed Anderson
A destination in its own right, Selby's bar stuns with its expansive white marble top and glowing black arched back bar. Original black and white photographs of a young Audrey Hepburn, Lisa Fonssagrives, Truman Capote, and other icons grace the walls, creating a chic, nostalgic vibe. "There is both casualness and a sense of elegance in this room," notes Stannard. "The low coffered ceiling, the inviting seating, and the thoughtful spacing of the tables allow for easy conversation, making this the most intimate room in the restaurant.'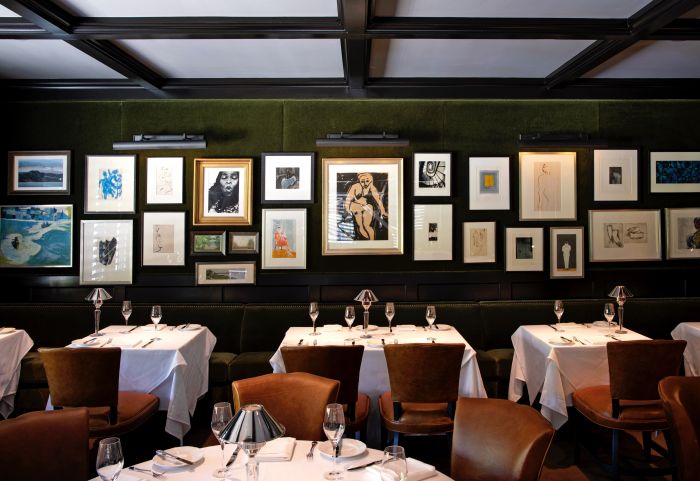 Mezzanine Dining Room, by Ed Anderson
The Selby's menu features dishes that range from a Black Label Burger to Grilled Whole Lobster, to hyper-seasonal vegetables with ingredients sourced from Bacchus' private farm SMIP Ranch. A number of items are prepared tableside, including a Dry-Aged Roast Crown of Duck for Two, Ratatouille Pithivier, and show-stopping flambéed desserts. The wine program boasts one of the most substantial wine lists in the U.S., with an impressive selection of nearly 20,000 bottles from first-class producers around the world. The cocktail and spirits program features a rare selection of bourbon and scotch. And don't miss the restaurant's signature brass martini cart, modeled after a vintage 1930s Parisian bar trolley and serving frozen versions of 'the coldest martini on the West Coast.'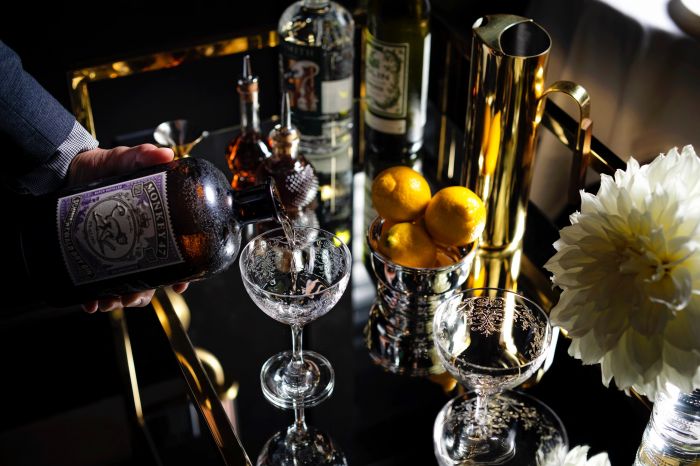 Martini Cart, by Ed Anderson
"We feel that Selby's represents the best of Bacchus," adds Stannard. "From its elevated cuisine featuring tableside preparations, to the exceptional bevarage program, to highly personalized service and distinguished design, Selby's is intended to welcome the local community and as well as destination diners."
Selby's: 3001 El Camino Real, Atherton, CA