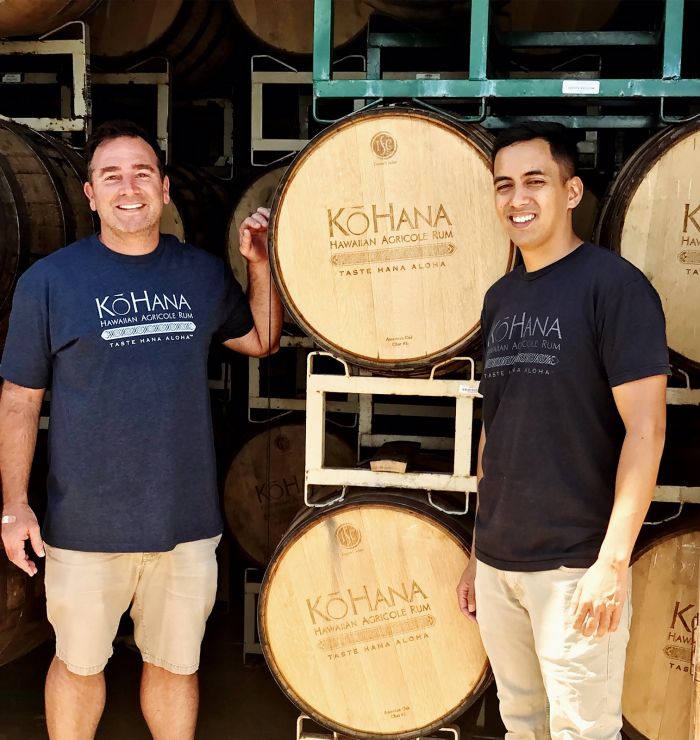 Jill Weinlein
Visitors to Oahu can now take an Ecotourism Ko Hana Agricole Rum tour, to learn how this unique and meticulously crafted farm to bottle spirit is made. Co-founders Rober Dawson and Jason Brand met on the agricultural lands of the Kunia Plains at a former Del Monte plantation. Soon they leased 35 acres of land and planted sugar cane to create one of the world's finest pure cane rums in the world. Their artisan rum is named Ko (Hawaiian name for sugarcane) and Hana (Hawaiian for work or craft) is made in single varietals that are hand harvested, pressed to juice and then distilled at their Manulele Distillers.
What makes this rum different from others, is the owners nurture and cherish their sugarcane. It's similar to how a craft tequila company takes care of their agave plants or how a winery cultivates their grapes. These Ko plants are progenitors from sugarcane the first Polynesians brought from other islands. They may have arrived from Papua New Guinea and Tahiti by canoe to the Hawaiian Islands hundreds of years ago. Sugar cane is a calorie-dense plant that provides hydration and potassium.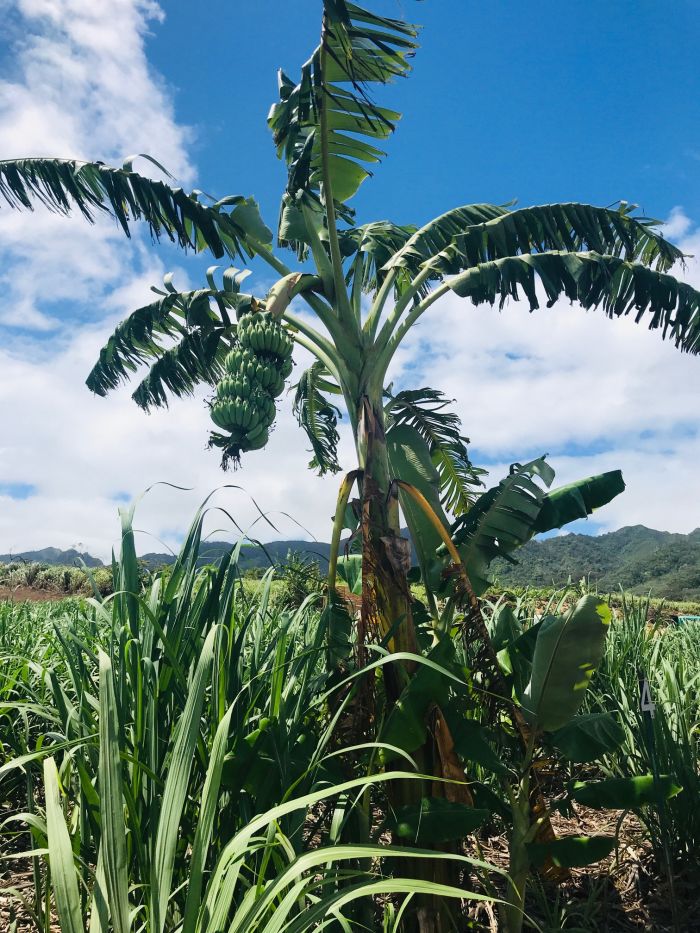 Jill Weinlein
Ko Hana grows 34 varieties of Ko on red volcanic soil. They don't make their rum traditionally from molasses, as the vast majority of the rum is made in the world. Molasses is the industrial byproduct of processed sugar manufacturing, instead they make their rum from pure sugar cane juice. It's more labor-intensive, however this rum is a labor of love.
Walking through the heirloom Ko plants on the tour, some have yellow and green stalks, while others have shades of purple and green. Rows of sugar cane grow among a scattering of banana trees.
Sugar cane was used as an offering to the Gods and in many Hawaiian ceremonies. In the ancient love ceremony Hana Aloha, as documented by Aunty Mary Kawena Pukui, Ko Manulele was one of three sugarcanes used to spark everlasting love.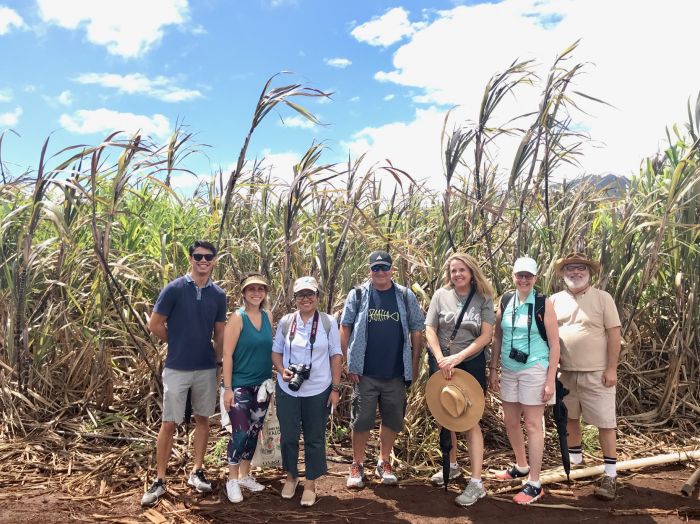 Jill Weinlein
Entering the distillery tasting room, one can see remnants of the former plantation store and post office. The old walk-in refrigerator now holds a variety of Ko Hana rum bottles. There is a pass through window where workers used to receive a hot meal. On the wall is an artistic 'message in a bottle' display where visitors can leave a comment about their rum experience.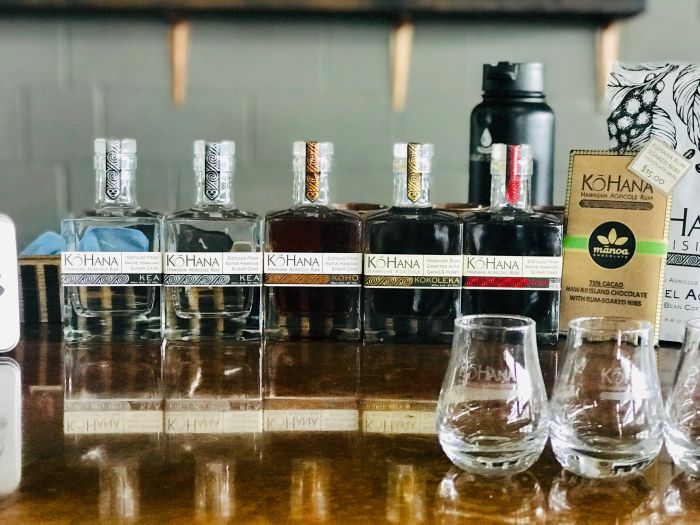 Jill Weinlein
Each rum flavor is taste-tested by Co-founders Brand and Dawson, along with brand manager Kyle Reutner and distillery manager Noah Lincoln. Every varietal has a story and flavor profile of its own. The tasting experience begins with a pour from four clear glass sqaure glass bottles holding 3.75 ml. The back label offers the color of the rum, harvest date and cane variety. This uniquely shaped bottle travels well and looks more like an elegant decanter.
The first pour is a clear Ko Hana Kea (unaged Agricole rum) harvested in December 2018. With one sip it offers a sharp herbal warmth and grassy notes. Guests are encouraged to take a deep breath and breathe in the rum's aroma, verses taking a big sniff from the tasting glass. The second tasting was from the cane variety Pakaweli. It offered a more peppery and well rounded smoothness with each sip.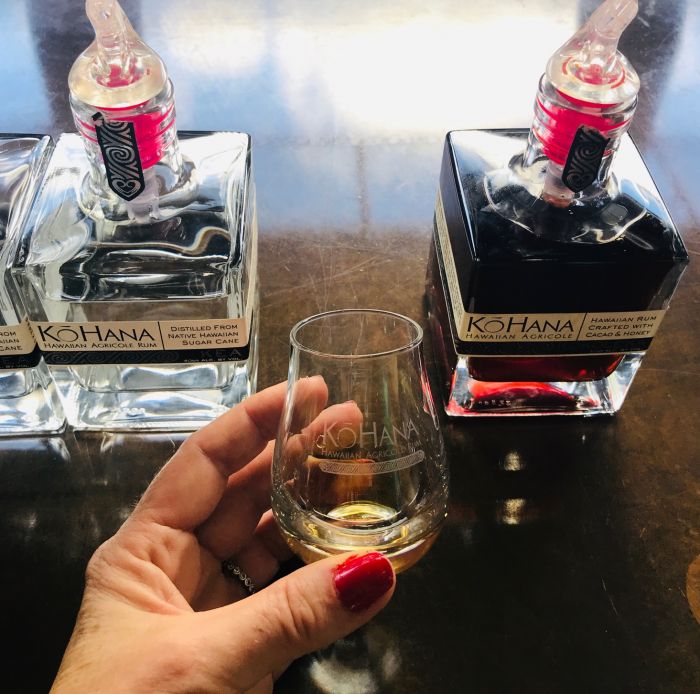 Jill Weinlein
Koho rum is one of the select portions aged in charred oak whiskey barrels, and KOA is finished in used Madera oak barrels to further develop and reveal the essence of the flavors. This overproof rum is at cask strength straight from the barrel. It offers a tingle on the tongue and is ideal with a large ice cube for slowly sipping.
The darkest rum they make is the Kokoleke, enhanced with local cacao and honey. Not only is this rum an ideal after-dinner drink, but its sweetness may also be enjoyed as a dessert drink or poured over ice cream.
After rum tasting, join others on the outside patio for wood-fired pizza and salad prepared inside a food truck.
Over 40 bars and restaurants in Hawaii serve Ko Hana rum. It's also available in Calfornia and their online store. Soon it will be available in Tokyo, Japan.