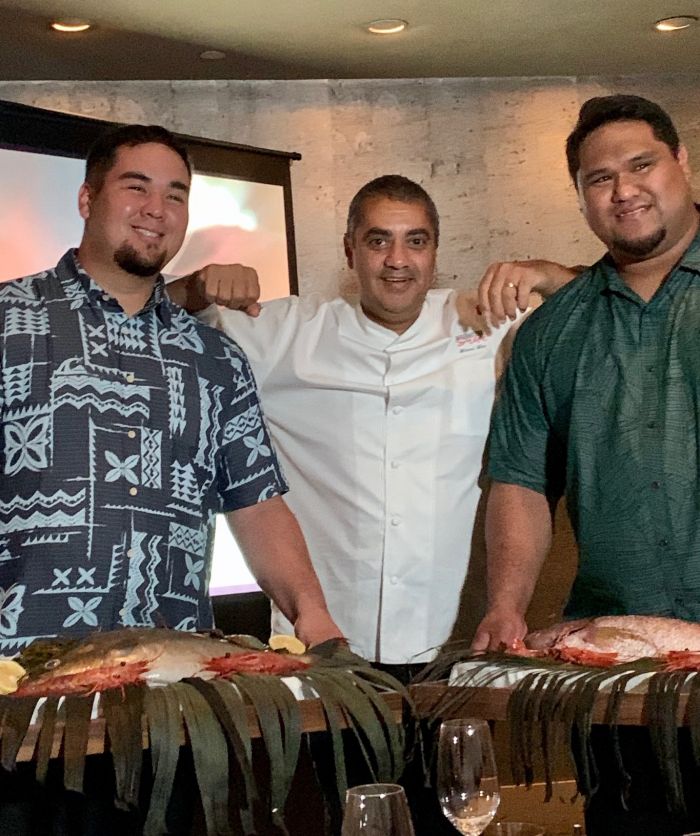 Chef Michael Mina and his two 'fish sommeliers.' Photo, Fran Miller
Mina's Fish House, located at the stunning Four Seasons Resort O'ahu at Ko Olina, is the island's premiere line-to-table beachside dining experience, and is the culmination of a dream for lauded James Beard Award-winning Chef Michael Mina. Featuring a vibrant, tiki-themed cocktail program and wines designed to elevate every dish, Mina's Fish House offers a unique beachside dining experience featuring a thoughtful seafood-centric menu that bursts with premium ingredients sourced from local waters, farms and ranches. The restaurant also offers something entirely unique – the worlds' first fish sommeliers.
What exactly is a fish sommelier? Think traditional wine sommelier, and substitute the wine for fish. The restaurant's two fish sommeliers, native Hawaiians Ryan Houser and Saui Matagiese, exhibit the same hard-earned knowledge and skill set as that of wine experts. Using their extensive knowledge of seafood and their congenial people skills, the duo matches the right fish with the right guest. Arriving tableside, Houser or Matagiese present the most exceptional whole fish options available each evening – selections caught that very morning. "Pairing fish to a guest is actually very similar to pairing wine," says Houser, whose role involves chatting with guests about their seafood preferences and making suggestions based on texture, preparation, and above all, taste.
Photo, Four Seasons Resort O'ahu at Ko Olina
Once selected, the fish disappears to the kitchen where Chef Garrick Mendoza works his magic to perfectly flavor and cook each dish. A house favorite preparation includes fermented black bean, ginger and scallion marinade. The fish is then hand carved and plated by the fish sommelier himself, a job both Matagieseand Houser truly enjoy. Each claim satisfaction in helping to expand visitors' culinary horizons far beyond Hawaii's well-known staples of mahi-mahi and the now globally renowned ahi-tuna poke. Guests learn that fish flavors can range from delicate and sweet, to rich, meaty and full. Local choices include opakapaka, opah, onaga, swordfish and kampachi.
Houser was brought on to the sommelier team by his lifelong friend and fisherman Jared Chang who was hand-picked by Chef Mina to be the world's first fish sommelier. Shortly upon opening of the restaurant, Mina recognized Chang's skill and passion and was intrigued by Chang's extensive knowledge of the local waters and the infectious manner in which he communicated his passion. Thus, the fish sommelier idea was launched and is one that makes a Mina's Fish House experience engaging and enriching – inviting a deeper connection to Hawaii's culture and spirit of aloha. "The idea behind Mina's Fish House is to offer multiple experiences that will continue to evolve," says Chef Mina. "That's the way it should be with fish. It's about meeting the amazing people that are out catching the fish every day, really understanding where it's coming from, and enjoying the best."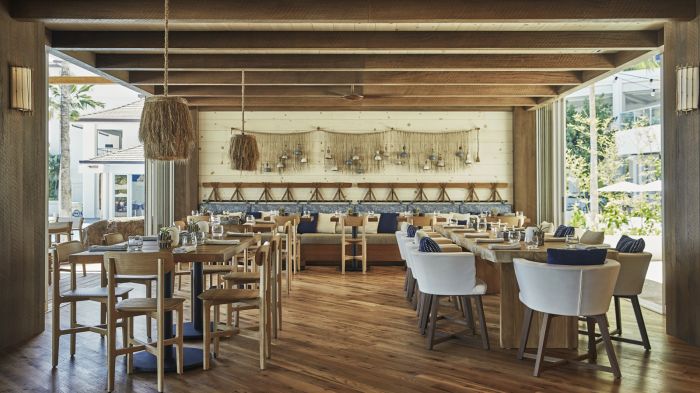 Mina's Fish House interior. Photo, Four Seasons Resort O'ahu at Ko Olina
Warm and welcoming, Mina's Fish House seamlessly connects the inside with the outside and gracefully plateaus from the interior bar and dining room down multiple exterior decks, ending with beachside dining options. Rustic, island-inspired design elements anchor the space, creating a convivial ambiance. The restaurant's lagoon-adjacent patio is the perfect vantage point for watching the resort's nightly torch lighting ceremony. Don't miss the 'If Can, Can' cocktail, a refreshing (and powerful) blend of rum, Orange Curacao, pineapple, Lilikoi, lime, and Orgeat, served whimsically in an orchid-adorned Spam can - a witty nod to the longtime staple of the Hawaiian diet.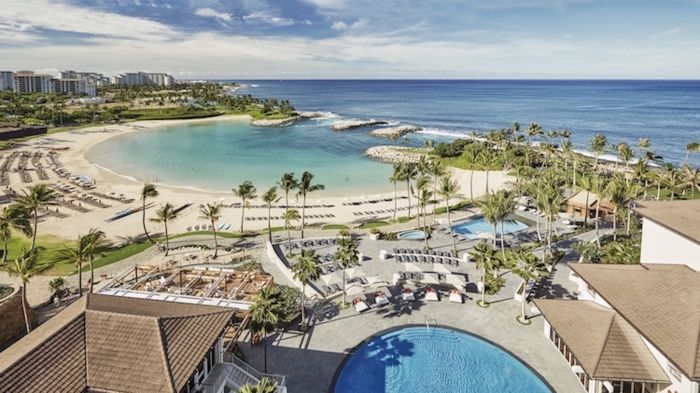 Photo, Four Seasons Resort O'ahu at Ko Olina