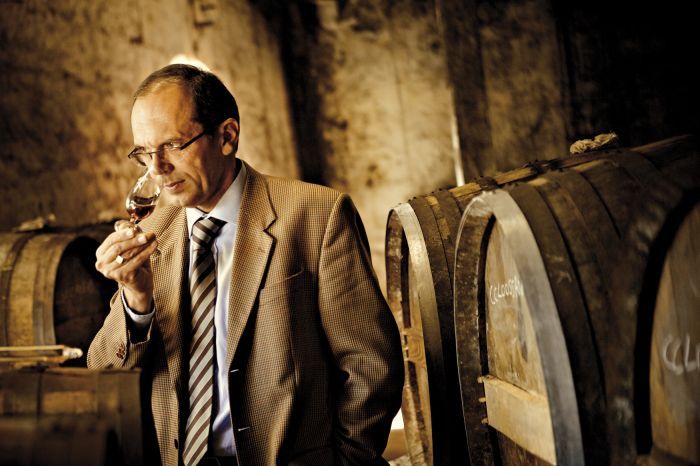 Courvoisier
Founded in 1835 with origins dating to 1809, Courvoisier is arguably the world's most famous cognac house. Based in the town of Jarnac, it became known as "Napoleon's Brandy" after Napoleon Bonaparte contracted with founder Emmanuel Courvoisier to supply himself and his officers with the spirit. Now owned by spirits powerhouse Beam Suntory, Courvoisier still operates from its stately chateau on the banks of the Charente river which was established in the 1800s, and which is also now home to a boutique and museum.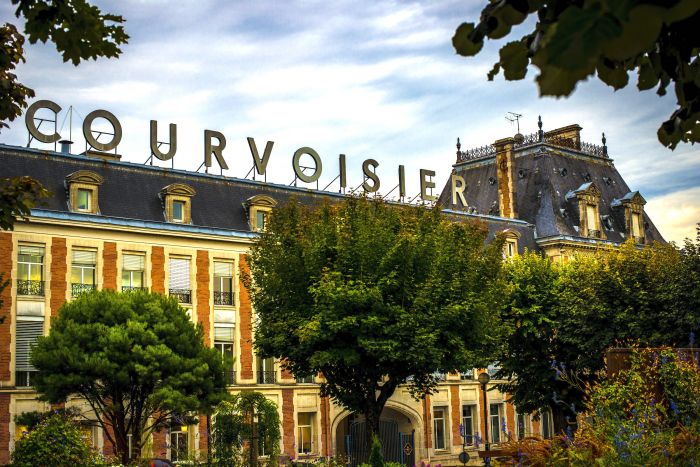 Courvoisier
Courvoisier sources eaux-de-vie from the crus of Grande Champagne, Petite Champagne, Borderies and Fin Bois to create its beloved blends. Its cognac is aged in barrels handmade from 200-year-old oak sourced from the Tronçais forest in France. Highly coveted special bottlings include Exclusif, Napoleon, Initiale Extra, Millennium, Courvoisier Succession J.S., Courvoisier Rosé, L'Esprit de Courvoisier and L'Essence de Courvoisier, which consists of more than 100 eaux-de-vie from the most exclusive crus in the cognac region. Here's our conversation with the maison's Master Blender Patrice Pinet.
What makes Courvoisier different from the other top cognac houses?
At Courvoisier, we believe we are a community, not a company. We implement a true craft approach to our production and remain one of the only cognac houses that controls the entire production process from grape to glass.
What defines Courvoisier's position as an essential part of luxurious living?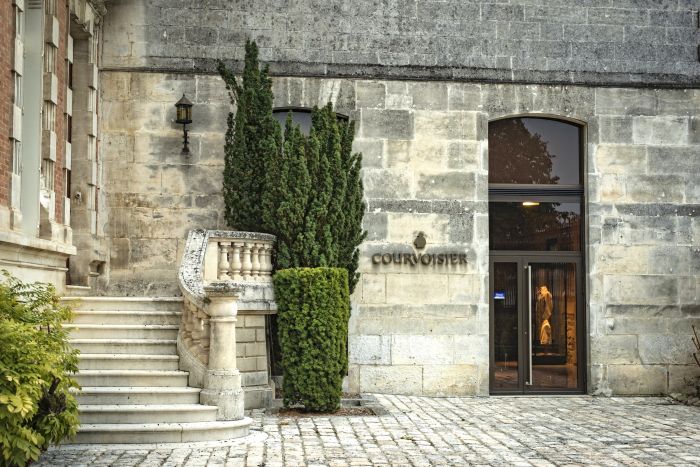 Courvoisier
As the most awarded cognac house and one of the major producing cognac houses in the world, Courvoisier has embodied luxury since it was founded. With prestigious offerings such as L'Essence, XO and Initiale Extra, Courvoisier provides an array of products that are considered aspirational and very popular among consumers due to their premium presentation and price point.
How does Courvoisier's rich history influence its operations today?
Courvoisier has a history rooted in a strong entrepreneurial spirit. Since the beginning, Courvoisier has believed in the power of the collective and continues to nurture our relationships with the artisans and wine growers that have helped us produce a high-quality, award winning cognac in our hometown of Jarnac for generations. Our award-winning liquid has not only earned Courvoisier its most awarded cognac house title but, more importantly, earned consumer's trust and dedication to the brand for more than 190 years.
How does Courvoisier balance tradition and innovation?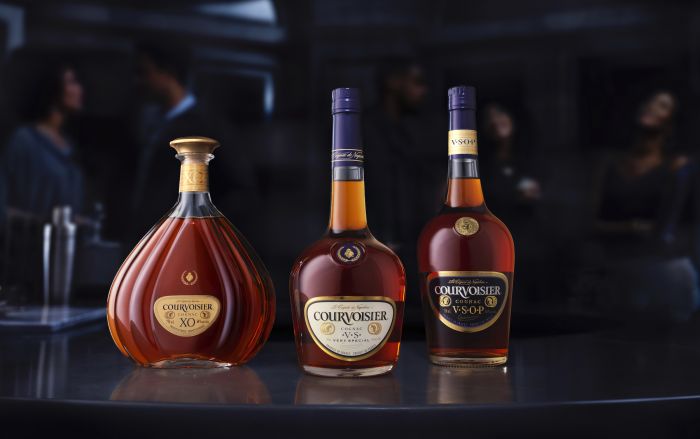 Courvoisier
At Courvoisier, we believe it's important to continue to push ourselves to innovate with new and interesting expressions, building on Courvoisier's rich history of category innovation. We are the first leading Cognac house to release a sherry cask finished expression, and we launched this unique Sherry Cask blend following the success of our Master Cask Collection in Europe. We're always looking at trends within the industry and finding ways to innovate to meet our consumers' needs.
How does the House of Courvoisier stay relevant in an increasingly chaotic world?
In the U.S., we've stayed in touch with Courvoisier's rich heritage and history in France, while utilizing our "Honor Your Code" campaign to reach our consumers. "Honor Your Code" celebrates the influences, life lessons, convictions and ideas that guide one's life choices. Courvoisier honors its code through our 200 year commitment to respecting and upholding the traditions of the house and creating a liquid that stands the test of time.
Courvoisier's expressions and its bottle design offer an unmatched quality that leaves behind a legacy that is reflective of our core values of dedication, quality, personal evolution and community. In addition, Courvoisier strives to align with well-known brand partners that are relevant to our consumer. This strategy is brought to life through our partnership with Def Jam Recordings, along with an upcoming fashion collaboration in the works for the holiday season.
Is demand for Courvoisier growing and why do you think that is?
We have seen continued growth from the cognac category and Courvoisier. Consumer interest in cognac has never been stronger and the growing interest in the category is an overall reflection of this. In fact, the cognac category continues to be one of the fastest growing in spirits, and when looking at our brand specifically, Courvoisier has seen 13 percent (based on Nielsen data) growth when compared to last year.
How has the consumption of Courvoisier evolved in the past few years?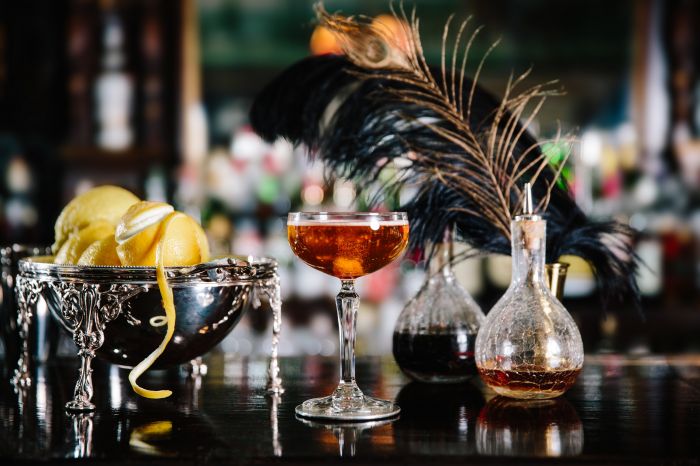 Courvoisier
Consumer demand for affordable luxury and the rise of cocktail culture have benefited the cognac category over the past few years. Because cognac is so highly regulated and can only come from the Cognac region of France, bartenders and consumers know they are using a product of exceptional quality and prestigious provenance. As the most awarded cognac house (based on 20 top spirits competitions in 2019) Courvoisier plays an important role within the category due to its exceptional quality.
Additionally, cocktail connoisseurs are now seeing cognac as more than its reputation of being an exclusive sipping drink, and can appreciate that its richness can give a meaningful base note to any cocktail. While there are many different expressions of our cognac meant to be enjoyed on their own, such as Courvoisier L'Essence and Courvoisier XO, Courvoisier VS and VSOP bottlings are made to be versatile enough for relaxed sipping or woven into a craft cocktail.
In what ways does Courvoisier appeal to younger consumers?
This year in U.S. the brand aligned itself with companies that mirror Courvoisier's brand purpose and support its ongoing "Honor Your Code" campaign, which highlights the influences and authentic life lessons that guide life's choice and inspires others to share their success with those who matter most. In May 2019, Courvoisier officially signed to Def Jam Recordings to create the "Amplified: Icons on the Rise" tour that showcased Def Jam's emerging artists across major cities in the U.S.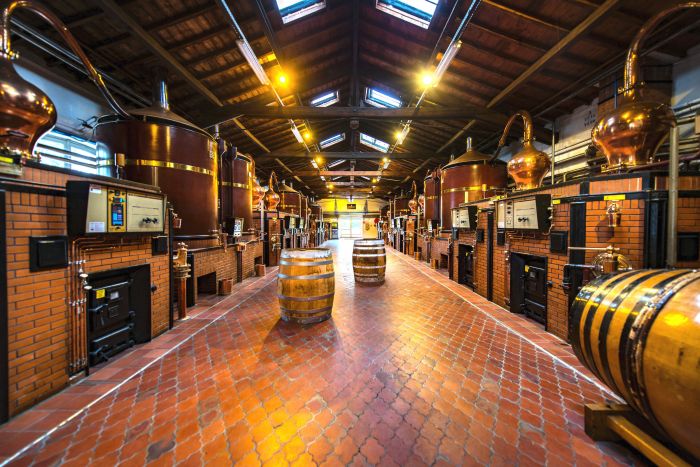 Courvoisier
In addition to Def Jam, Courvoisier partnered with Uninterrupted, the athlete empowerment brand founded by LeBron James and Maverick Carter, to create the "Uninterrupted Live: The Day Ones" content series. As part of the collaboration, Courvoisier and Uninterrupted empowered athletes and notable sports figures to toast to their "day ones," the individuals who have played an instrumental role in their journey to success.
What can you tell us about the latest bottle redesign?
Bottle branding and design is very important to the Courvoisier brand. Since its creation in the 1800s in France, Courvoisier has crafted cognacs to be as rich and sophisticated as the region itself. Therefore, it's important that our branding and design highlights Courvoisier's modern approach to luxury and is reflective of the quality of the award-winning Cognac. The design signifies the rich history behind the Courvoisier brand and defines what makes us unique in this category. We like to class our bottle design as iconic and recognizable.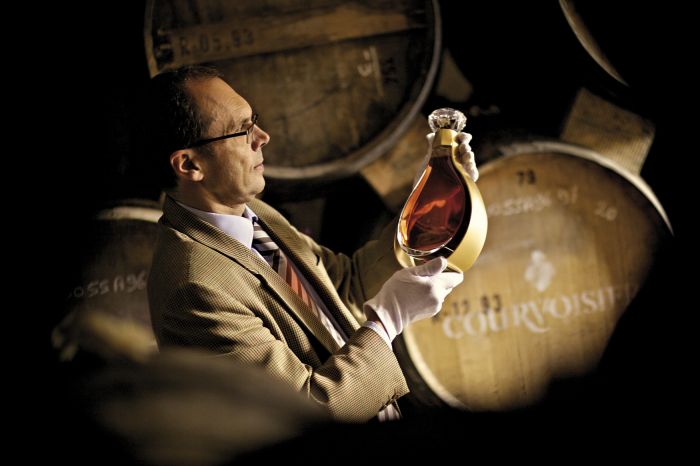 Courvoisier
In fact, to signify the difference between expressions and the different aging techniques used from VS to XO, the design and pattern becomes more intricate and elaborate as the Cognac expressions get older. Our most iconic expression is L'Essence de Courvoisier. The liquid for L'Essence de Courvoisier is housed in a teardrop-shaped decanter crafted by Baccarat meant to suspend the spirit in a timeless, elegant frame. The spirit brings together the traditional and the contemporary, representing both the heritage of Courvoisier, and its future. The packaging and spirit itself accurately capture our tradition, passion and innovation over the last two centuries.