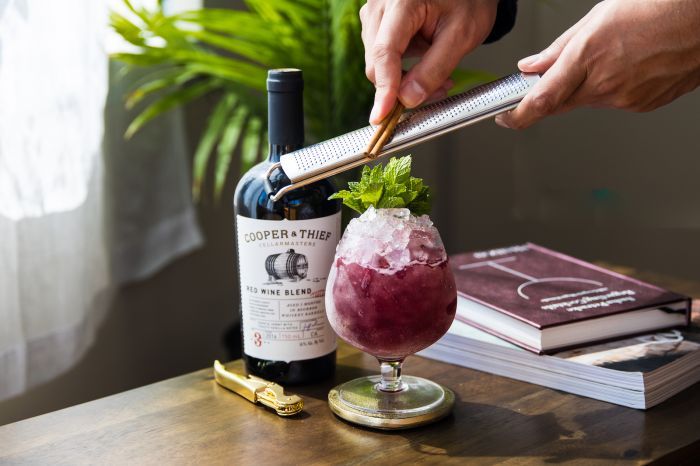 Photo courtesy of Cooper & Thief
Bold and rich, bourbon barrel-aged wines seem to have found a permanent niche within the wine and spirits world. Typically featuring higher alcohol percentages than classic wines, bourbon barrel-aged wines are targeted to adventurous imbibers, those who enjoy experimentation and aren't afraid to break with tradition.
Serving as 'cellarmaster' at one such wine brand is Chris Leamy. His California based Cooper & Thief Cellarmasters celebrates doing things a bit differently, such as aging its full portfolio of luxury wines in not only bourbon barrels, but also in carefully selected spirits barrels, achieving bolder flavors not typically found in regular wines.
A California native with more than 20 years of award-winning winemaking experience, Leamy graduated from the University of California, Davis with a degree in Biological Sciences. He first worked as a microbiologist, developing a keen understanding of the technical side of the food & beverage world. Following a foray into beer brewing, he turned his attention to the wine world as a lab tech in Lodi, California where he found his true passion. From there he transitioned to winemaking. He enjoys all aspects of the winemaking process, especially its ability to bring people together. Leamy's hope is that his Cooper & Thief wines get people talking, sharing and bonding. Here, he breaks down the bourbon barrel-aging concept, and explains what makes his brand unique.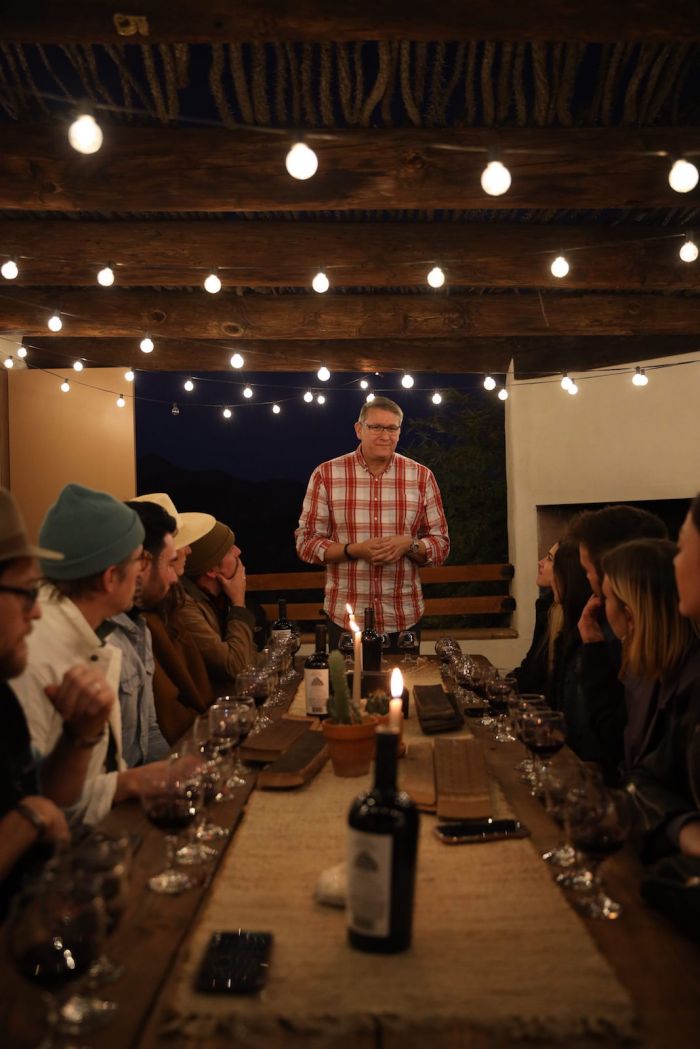 Chris Leamy conducts a seminar on barrel aging. Photo courtesy of Chris Leamy
What does Bourbon-barrel aged wine mean? How does this differ from normal wine aging?
Leamy: In addition to traditional barrel aging, we take a portion of the wine and age it for three months in used spirits barrels including bourbon barrels for our Red Blend, tequila barrels for our Sauvignon Blanc, and whiskey barrels for our Cabernet Sauvignon. The barrels introduce aromas and flavor characteristics that you won't find in other wines.
What are the challenges/considerations when making wine with this technique?
A challenge that we face with spirits barrel aging is ensuring that the purity of fruit is maintained and that the tannins are well integrated. Like a fine bourbon, Cooper & Thief Red Blend is smooth with fantastic balance, and has big bold aromas and flavors imparted by the barrel aging process with a long lingering finish.
I detect vanilla and spice in Cooper & Thief Red Blend. How and why?
Cooper & Thief is not your average wine. It is a dark, jammy red blend loaded with bourbon-inspired flavors and aromas. Aging for three months in used bourbon barrels gives way to soft velvety tannins, with a subtle heat (higher ABV at 16%). The combined result is a rich flavor with a long, lingering finish. The vanilla and spice is the bourbon influence from the additional bourbon barrel aging.
What else makes Cooper & Thief unique?
Everything! From aging the wine in carefully selected spirits barrels that impart bold, rich flavors to the high ABV, to the spirits-inspired packaging that stands out against regular bottles, Cooper & Thief wines taste and look different than anything else out there.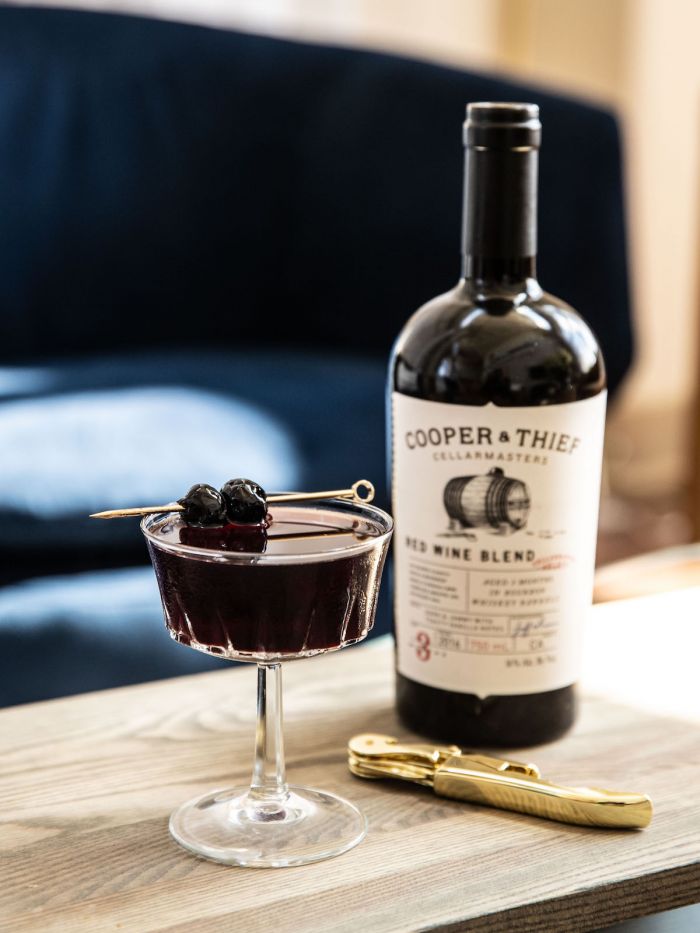 Photo courtesy of Cooper & Thief
How did the name Cooper & Thief come about?
The name Cooper & Thief stems from the influence of craftsmanship and the role of winemaking. Synonymous with the meticulous and artful craft of barrel making, the creed of the cooper is reflected in the creativity of the wine's style. The thief, a long-used tool of the trade, is used to steal tastes of the wine as it is aging. Both are reflected in the illustration on Cooper & Thief's label.
Any plans for aging in other types of spirit barrels and if so which?
We always have something up our sleeve. With the positive responses to our existing range of spirits barrel-aged wines, you can expect some more mischief in the near future.
What kind of foods do you pair with your wines?
High alcohol helps differentiate Cooper & Thief. In our tradition of doing things differently, we encourage consumers to experiment with their food pairings to find what appeals to them. The Cooper & Thief Bourbon Barrel-Aged Red Blend has silky smooth tannins that allow you to play with heat and spice in foods that other wines can't stand up to. I love to enjoy the Red Blend with dishes like Tonkotsu Ramen and various Thai cuisine.
Cooper & Thief wines can be found in restaurants, wine shops, and grocery stores throughout the country. A geographical search tool on the Cooper & Thief website allows for locating retailers and restaurants featuring the wines.