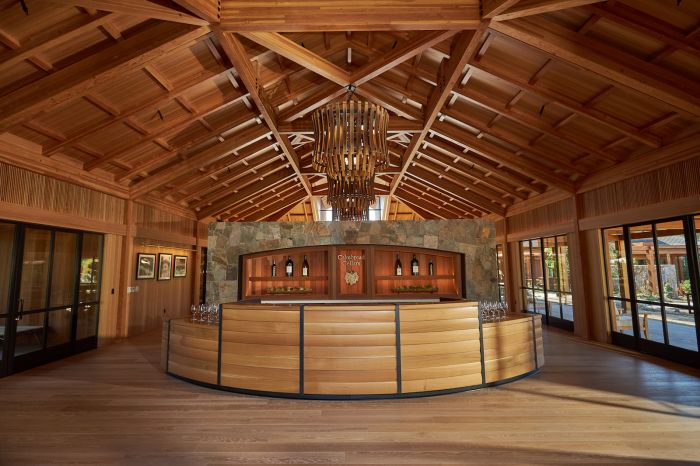 Photo: Cakebread Cellars/Rocco Ceselin
Cakebread Cellars, located on Highway 29 in the heart of Napa Valley and beloved for its stellar Chardonnay, Sauvignon Blanc, and Cabernet Sauvignon, was founded in 1973 by Jack and Dolores Cakebread whose sons Bruce and Dennis own the winery today. Throughout its 45+ years, the winery has built a reputation for exceptional wines and gracious hospitality. And now, with the recent opening of its new Visitors Center, the Cakebread family celebrates a new, forward-looking chapter.
The Visitors Center (situated on the original twenty-two acres along Highway 29 where Cakebread Cellars Founders Jack and Dolores first fell in love with Napa Valley in 1972) offers new spaces and experiences to delight both for longstanding fans of the brand as well as first-time visitors. Brought to life with the help of BCV Architecture + Interiors and building upon the master plan created by Don Brandenburger, the 10,000 square foot renovated space and 36,000 square foot addition immerses guests in the art of winemaking.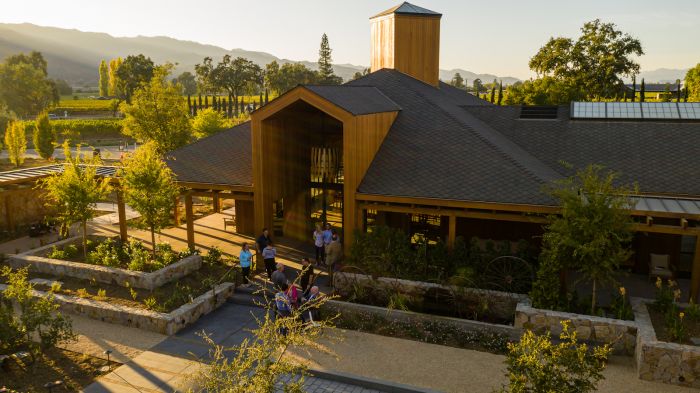 Photo: Cakebread Cellars/Rocco Ceselin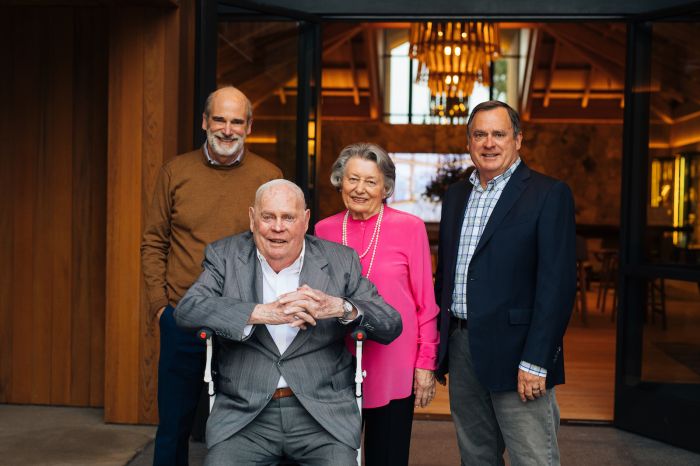 The Cakebread Family. Photo: Cakebread Cellars/Rocco Ceselin
Second generation Co-Owner and Chairman of the Board Dennis Cakebread described the multi-year project, "This new space is the coming together of our winemaking philosophy and our emphasis on hospitality. We've always felt that visitors to Napa Valley deserved an educational and personalized introduction to our wines. For the new Visitors Center, we wanted to maintain that same warm hospitality that has been a hallmark of the Cakebread visitor experience, while making it even better with inviting, lush spaces, and an unparalleled view into the winemaking process. We are thrilled that the new space will allow us even more unique ways to build a rich experience for our guests, from wine and food tastings to winemaking education, always in small, intimate groups."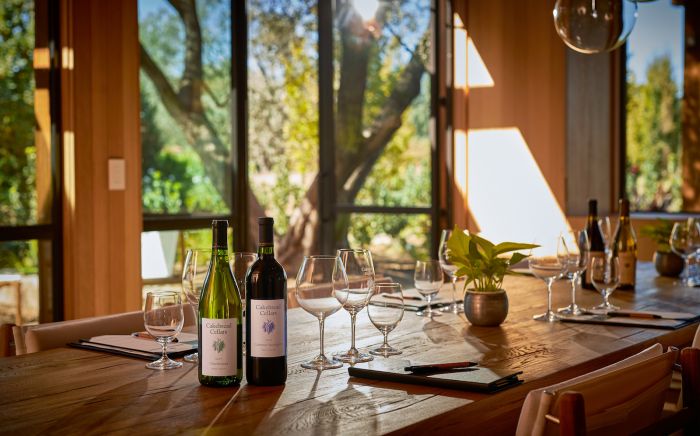 Photo: Cakebread Cellars/Rocco Ceselin
Exteriors of the new Visitor Center feature reclaimed redwood wine tank staves, an homage to Napa Valley winemaking tradition and in keeping with the classic wooden exteriors that clad the buildings of the original William Turnbull-designed winery facility. Guests first enter the new space through an expansive reception area, awash in natural light from large windows and a sky-lit cupola. The reception building features tokens from and images of Cakebread's history, including Jack's original camera, and one of his photographs of mentor Ansel Adams. Restored, midcentury-modern furniture imbues a rich warmth to the welcoming main room, where guests mingle under custom wine barrel stave light fixtures, fashioned from retired Cakebread wine barrels by Berland Design of Richmond, CA.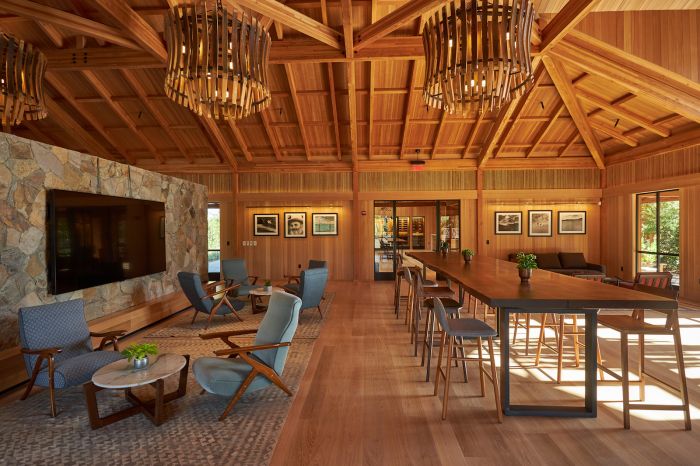 Photo: Cakebread Cellars/Rocco Ceselin
Experiences are personalized, with by-appointment tastings and activities taking place in nine new, carefully designed private tasting rooms. "Cakebread's focus on providing an immersive guest experience truly sets it apart," says Hans Baldauf, the project's principal-in-charge. "The winery has long eschewed large tasting bars in favor of more intimate experiences, so BCV was thrilled to create new spaces that offer an elevated and personalized visit."
The Visitors Center features two unique tasting areas - In The Lab and The Tank Room - as well as new tasting rooms named for seven of Cakebread's 15 estate vineyards:
• The Culinary Wing: The first three tasting rooms, Annahala Ranch, Suscol Springs, and Apple Barn, were created as educational spaces where veteran Chef Brian Streeter oversees Cakebread Cellars' signature wine and food seminars.
• Window to the Winery: Four tasting rooms, Doggwood, Foster Road, Dancing Bear Ranch and Cuttings Wharf offer educational wine tastings directly within the cellar, giving guests a window into the winemaking process. Foster Road and Dogwood are nestled within the fermentation hall and look over twelve newly custom-made concrete egg fermentation tanks. that line the space. The Dancing Bear club-like room was designed with seating at the axis of the cellar. Above, the second level Cuttings Wharf room gives guests a front row seat to the production facility, with winemaker and cellar crew in constant activity outside.
• In the Lab: The Lab was designed like the space where Cakebread's winemaking team perfects their 17 wine offerings. Looking out onto the bottling line, glossy white counter-height tables on a polished concrete floor create the perfect setting for technical tastings and workshops.
• The Tank Room: The tank room is the largest tasting space to comfortably host larger groups or special dinners. The space doubles as a live production space for the winery, with nine large, stainless steel fermentation tanks lining the walls.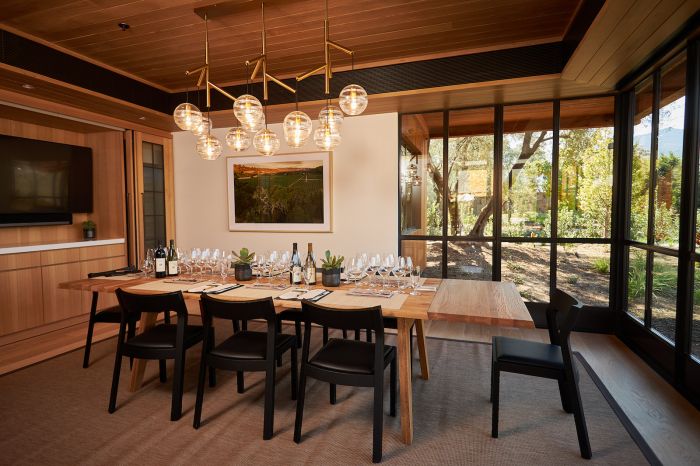 Photo: Cakebread Cellars/Rocco Ceselin
"At Cakebread, our dedication to producing quality wines has always been our top priority, so when we welcome guests to the winery, it's important to us that we connect our visitors with the craft of winemaking," says co-owner Bruce Cakebread. "Here, we have created nine distinct indoor tasting experiences that tell that story, from the vines to fermentation, aging, and bottling."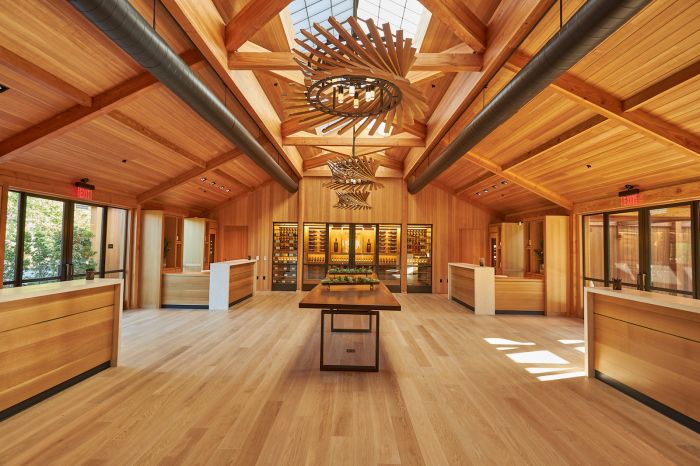 Photo: Cakebread Cellars/Rocco Ceselin
Cakebread Cellars Visitors Center visits are by appointment only and experiences include the Current Release Tasting ($25), Reserve Tasting ($65/$40 for wine club members), White Wine Tasting ($35/$25 for wine club members), Red Wine Tasting ($40/$25 for wine club members), a new Library Tasting ($85/$60 for wine club members), Wine & Food Pairing ($55/$30 for wine club members) and more. Reserve here.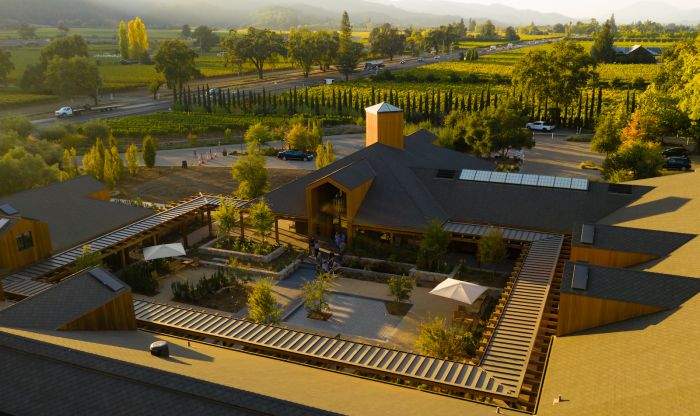 Photo: Cakebread Cellars/Rocco Ceselin