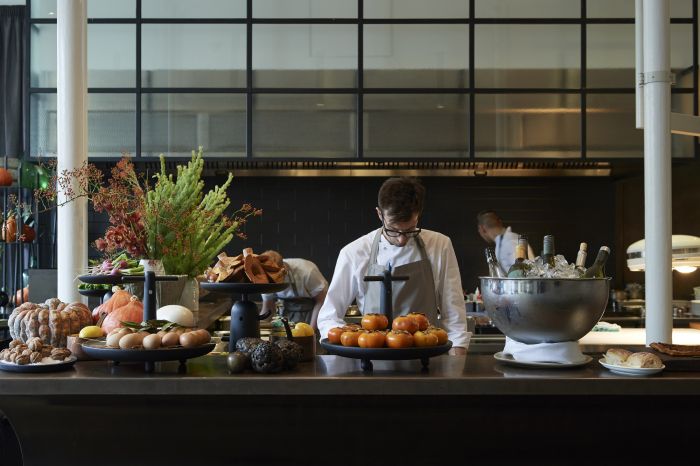 Credit Earl Carter
For the gourmand, we love exploring the next exciting and innovative food trend, to seek out the hot new restaurant or the latest creations of a touted chef. The variety is endless from Kaiseki to foraging along with the tricks of frothy spumes, nitro this, micro that, with the occasional table side flambee. From time to time, we find a rare gem that is not so much about the latest haute cuisine trend of the day but is more about you as the diner. These rare finds have the ability to do everything well yet keep the focus on creating a dining experience around the gastronomist as opposed to a focus on the theatrics or on the celebrity of the chef. Down under in Melbourne is such a place and it is the Cutler and Co.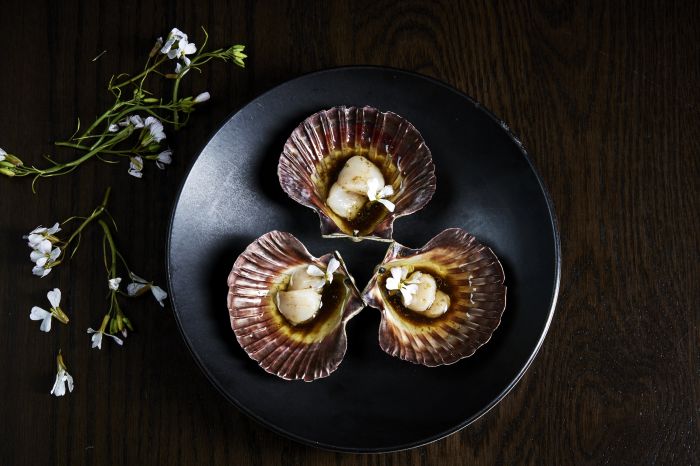 Image Credit: Kristolfer Paulsen
What has become one of Melbourne's favorite haunts for the discerning palate opened in 2009 in the hipster, shabby chic neighborhood, Fitzroy. Cutler and Co. is the flagship of one of the city's most acclaimed restauranteurs, Andrew McConnell, who has several other top-notch restaurants, cafes and a wine bar as well as a premium meats butchery.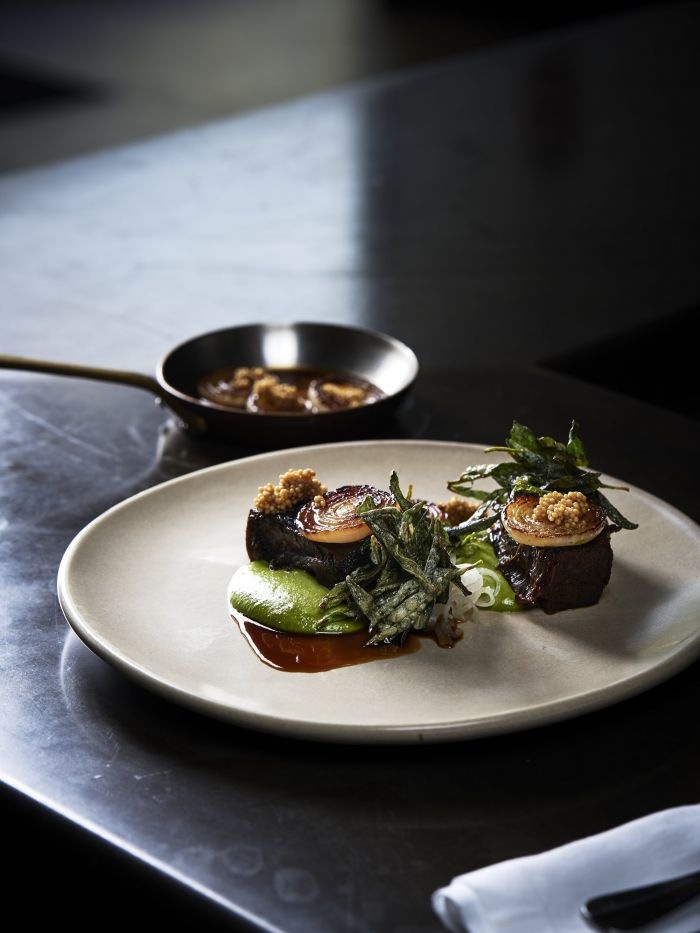 Image Credit: Kristolfer Paulsen
For over ten years, Cutler and Co. has become a cornerstone of the Melbourne fine dining scene by consistently producing an extraordinary dining experience. The focus of the cuisine is on an exceptional menu driven by local, seasonal and fresh ingredients and McConnell's relationship with his bevy of artisan producers. Where some restaurants may have their own herb garden, McConnel has his own butchery to ensure the quality of the meats provided at his restaurants. He has built a collaborative relationship with farmers, foragers, fishermen, and artisan producers that ensure the consistency and quality of ingredients and, in fact, several of his suppliers produce exclusively for his restaurants.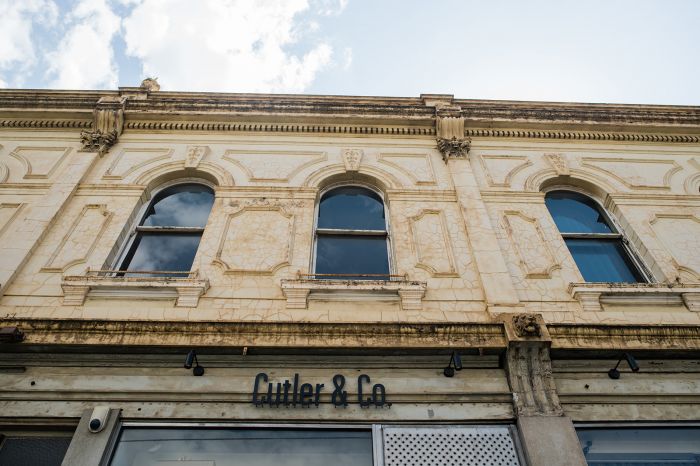 Image Credit : Cutler and Co.
Cutler and Co. is set in a building that was once a Victorian-era metalworks factory where remnants of its blue-collar past have been preserved in the exposed brick walls, rafters and arched windows. Today the setting is hipster cool without the tattoos, beards and hair gel. In contrast to the gritty neighborhood, inside offers a chic and sophisticated environment with art deco-inspired interiors, green marble walls, retro chandeliers, mood lighting, and candlelit tables as well as sultry music adding to the ambiance.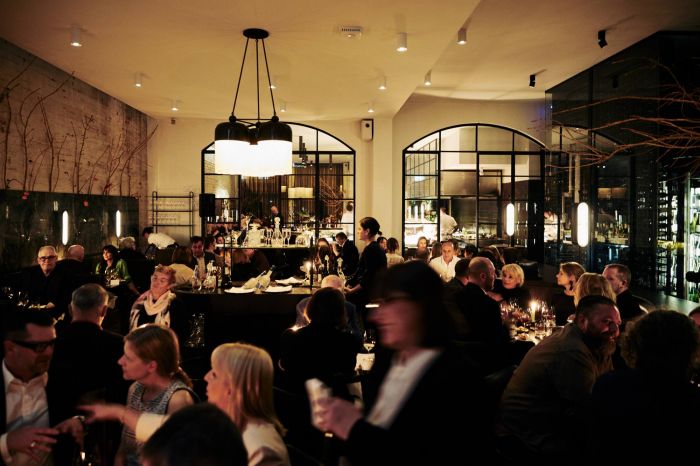 Image Credit: Kristolfer Paulsen
Guests will find the restaurant to be comfortable and warm without the pretense often associated with fine dining. The waiters are knowledgeable and friendly and never arrogant. The patrons are mostly well-to-do couples dining in cozy banquets while elsewhere friends gather at tables to celebrate a special occasion.
Image Credit: Jo McGann
Cutler and Co. offers an a la carte menu however, the gourmand will be wise to opt for the Chef's recommendation in their degustation menu. What guests will find is a seven-course menu of plates with class and elegance as well as innovative and technique-driven dishes. All are served with exquisite presentations, flavors and affect yet without so much bravado. There are no gimmicks or distractions here. Nothing flames, nothing smokes or has a lot of overcomplication, this is unfussy food where the freshness, authenticity and providence of those exceptional in-season ingredients play at the forefront of each dish.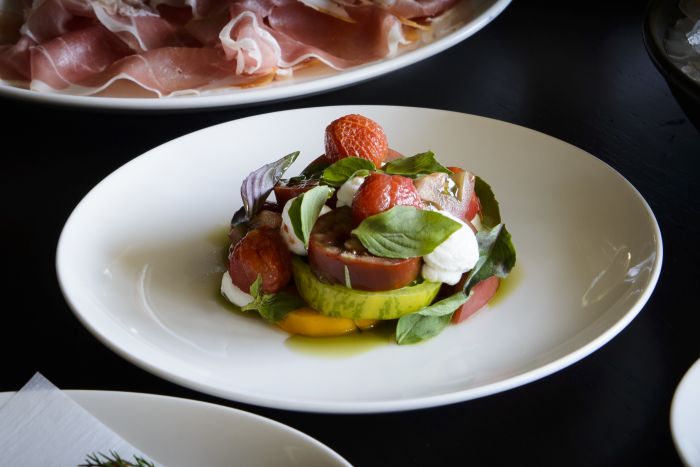 Image Credit: Jo McGann
One such example is the entrée of Ramarro Farm tomato salad, galotyri, blood plum & smoked chili. It baffles the mind that one dish based on just tomatoes can have such a beautiful presentation and complexity of taste and textures. The taste is a celebration of the just-picked farm fresh tomato with the medley of flavors that shift from sweet to acidic, tart to savory with the chili and blood plum adding to the contrast. To further surprise and delight the palate, do not expect any type of consistency. Each morsel is different based on the tomato, touch of chili or sauce that finds its way to your fork.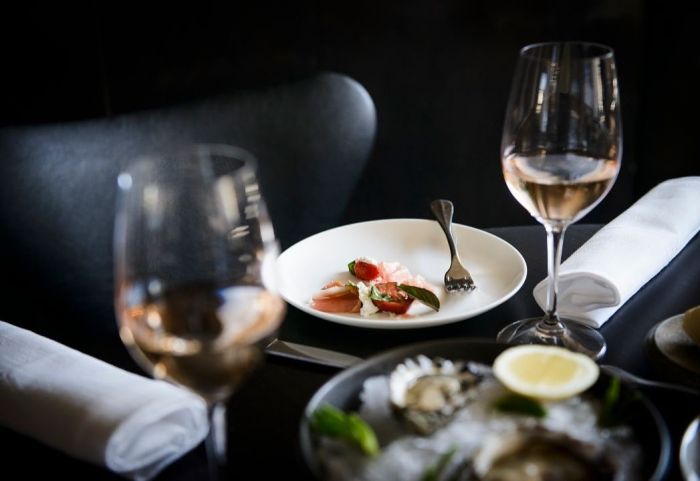 Image Credit : Cutler and Co.
The same ethos carries through with each dish. The Yellowfin tuna Crudo, smoked soy dashi and roasted buckwheat is a delight with a smoky soy complementing the freshness of the tuna and the roasted buckwheat adding to the sensation with a crunch, texture, and taste.
Duck takes center stage as the main with fowl from the nearby Macedon Ranges. Australia is adept at producing fine duck plates and one could argue, second to perhaps only to China and Cutler and Co. does not disappoint with their duck breast with blackberries and liquorish as the savory and intense flavor of the duck is challenged by the tart sweet surprise of the blackberries. The other comfort food dish that Australia is known for is their meat pies. Forget your wrongly placed perception of those horrid pot pies back home. This is gourmet cuisine at Cutler and Co. that elevates this comfort food tradition to haute cuisine with the complimenting textures and flavors of the crust, prune and fine herbs.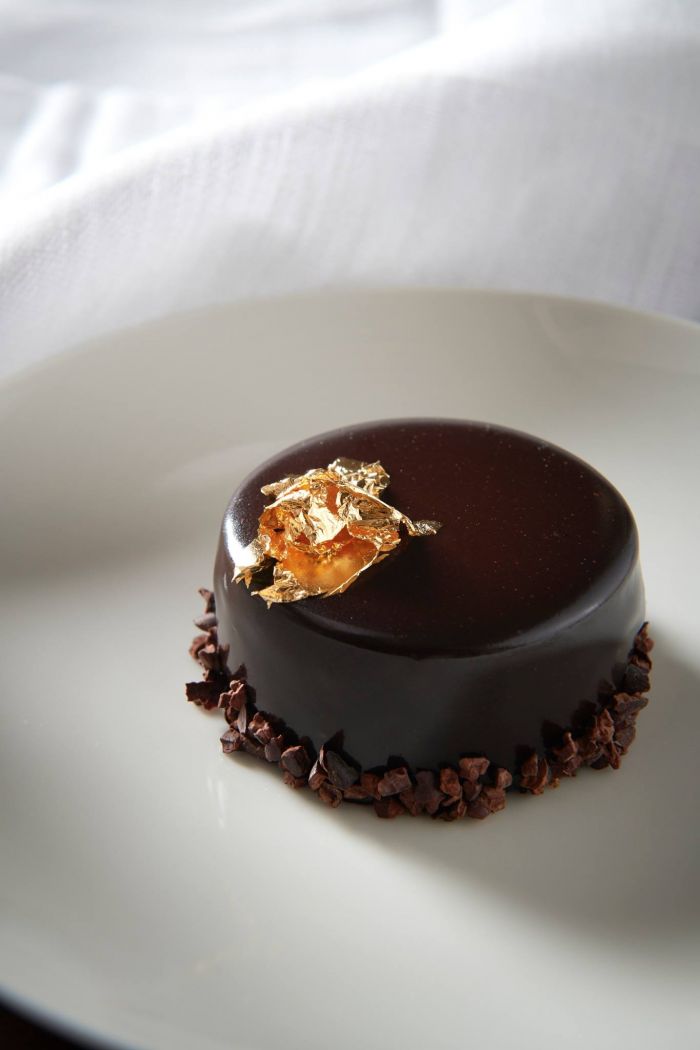 Image Credit : Cutler and Co.
For the sweet ending, the chocolate délice has the final say and looks as if it just came off the rack the finest boulangerie on the Champs Elysees. The chocolate délice sits upon the plate with a sheen of dark chocolate glaze with a brilliant gold foil while inside awaits a serving of pure heaven in the form of caramelia mousse, chocolate sponge, and praline biscuit.
There are seven courses with the degustation menu and that is plenty. After all, it's a meal and not a workout. Dishes are clever, presentations are delicate without over-relying on theater and, most importantly, each forkful is sure to please the palate.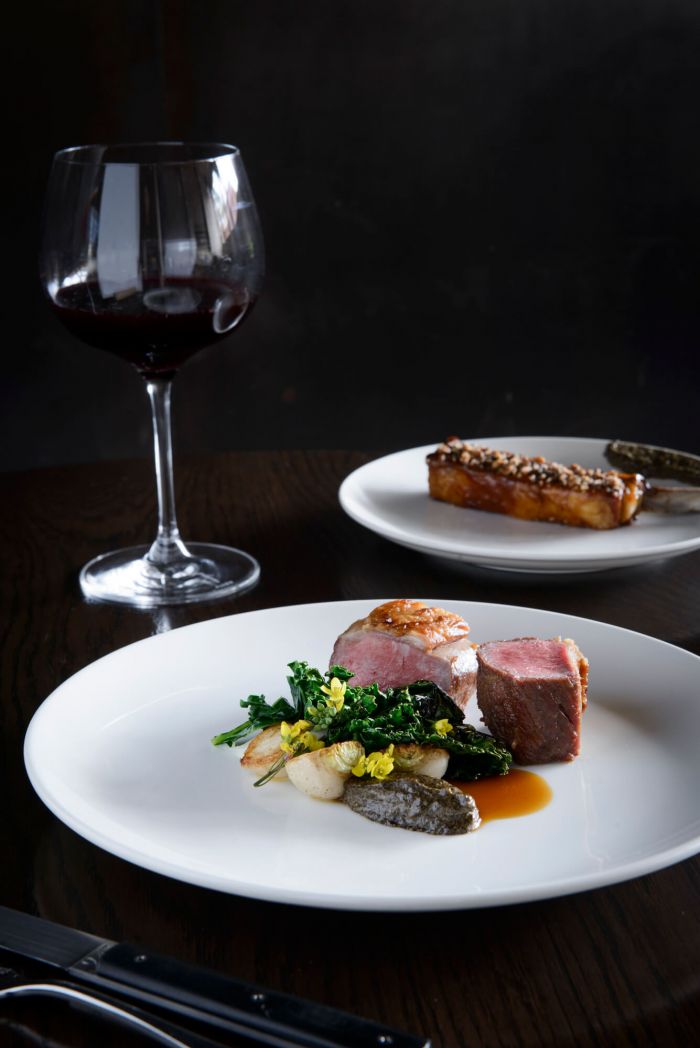 Image Credit: Jo McGann
The wine scene in Melbourne and in particular, Cutler and Co. is impressive. The Head Sommelier is Liam O'Brien who is extremely knowledgeable and approachable. He's a man who knows his craft, having built their award-winning wine cellar, and is confident enough to take some bold steps as well in his pairings. For instance, he may pair sparkling wine with an entrée. Who would imagine such a faux pas, yet it works so perfectly. Elsewhere along the evening to compliment your King George whiting with cucumber he may pair a cloudy light chardonnay from an upstart artisan producer that he personally knows. One would never imagine such a pairing once again he's spot-on with a wine that knows its place, not to overpower but to act as a supporting cast member to each dish's performance. Liam's been working with Andrew McConnell's restaurants for over nine years and it is readily apparent that he rivals McConnell's attention to detail and dedication to providing a fine dining experience.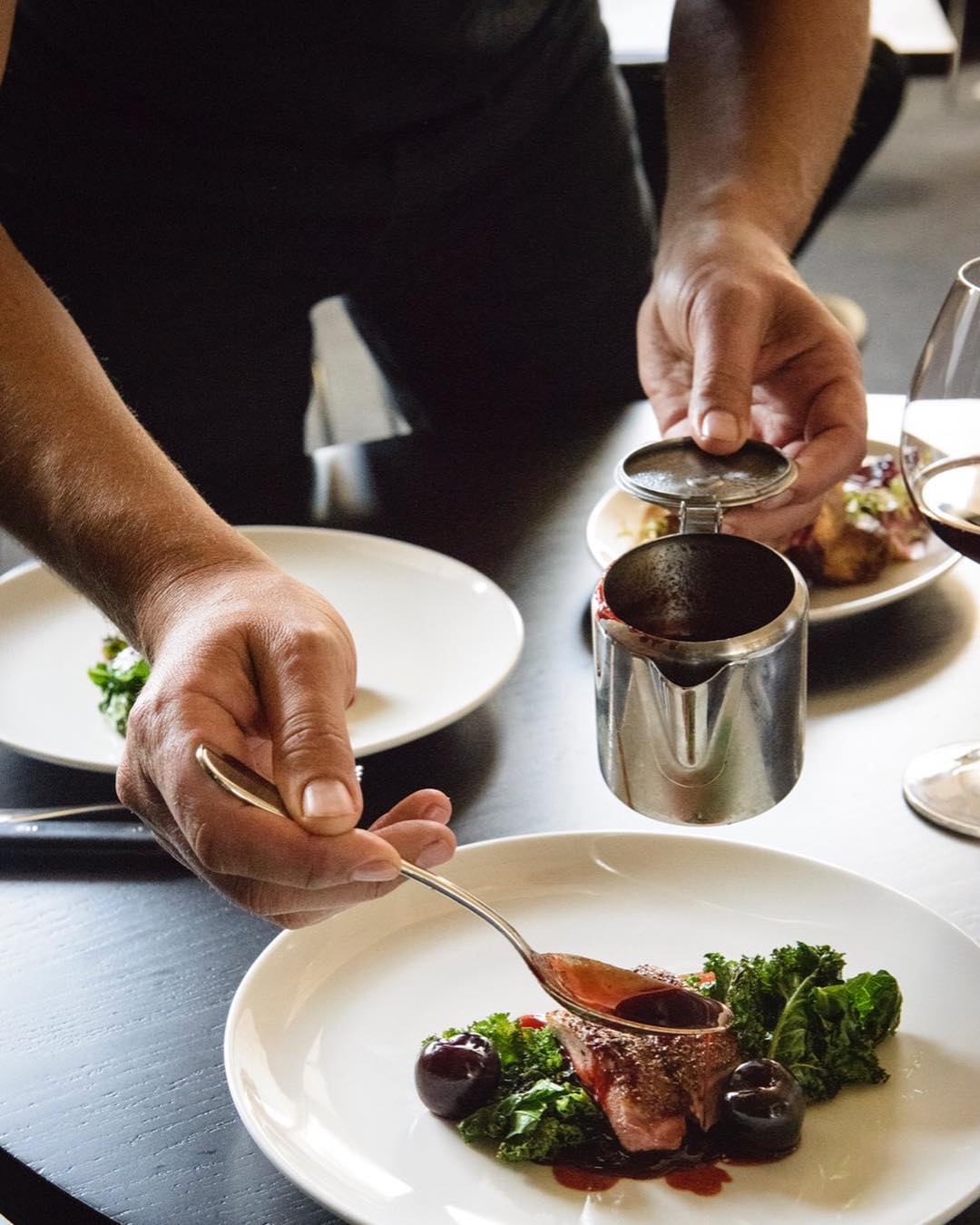 Part of the reason for Chef McConnell's success is that he never grows complacent. He is a man on a mission with a manic pursuit to constantly improve his craft and his restaurants. Whether it's a complete refurb of Cutler and Co. in 2017 or finding his next new dish. He is a student as well as the master, always in search of new ways to delight his guests and improve their experience.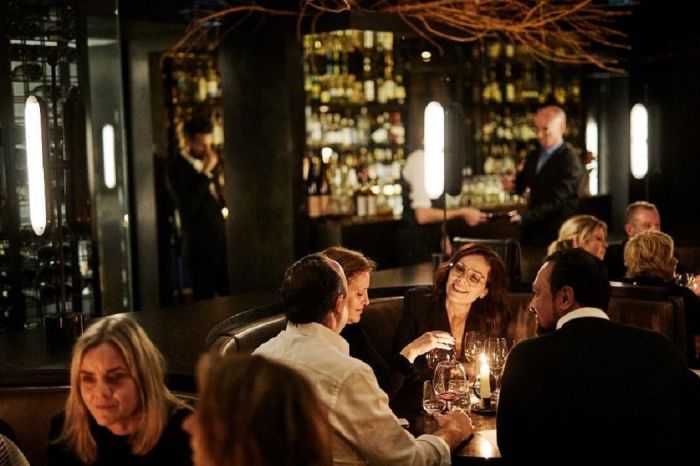 Image Credit : Cutler and Co.
This type of honesty and authenticity at Cutler and Co. has become a rare find, lost to those chefs seeking the spotlight vs. keeping the focus on the guest. Chef McConnell's formula has found a loyal clientele who look to dine on elegant yet unpretentious cuisine. While an endless parade of hot new food fads and big shot new restaurants will come and go, McConnell's vision, dining experience and cuisine has a reserved staying power and the proven ability to please each guest year after year and plate after plate.