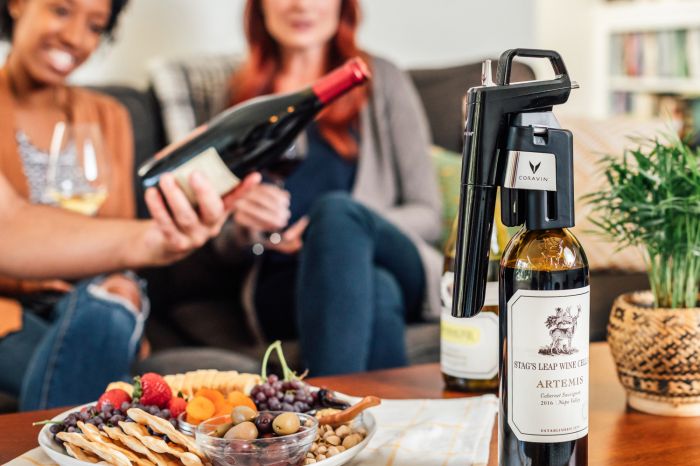 (credit: Coravin)
Since 2007 Coravin has changed the way the world drinks wine. As the first and only global wine technology company, Coravin set out to empower wine connoisseurs as well as novice drinkers to explore the wonderful and mystical world of wine, with any bottle, at any time. From the Model One all the way now up to the Model Eleven, their award winning Coravin Wine Preservation System enables wine lovers to pour any wine, in any amount, without removing the cork.
According to Wine Industry Advisor, US Drinkers Have Increased Wine Consumption During Lockdown as the nation is finding "new occasions for wine drinking" with "a significant growth in online shopping across all age groups." Without a professional sommelier picking the right bottle or properly aerating and pouring the perfect pour, those opening up a bottle of wine at home can turn to Coravin for assistance. "Thankfully for the wine category, their intention seems to be replacing big treats like vacations and big events with small treats like a nicer bottle of wine," said Lulie Halstead, CEO of Wine Intelligence.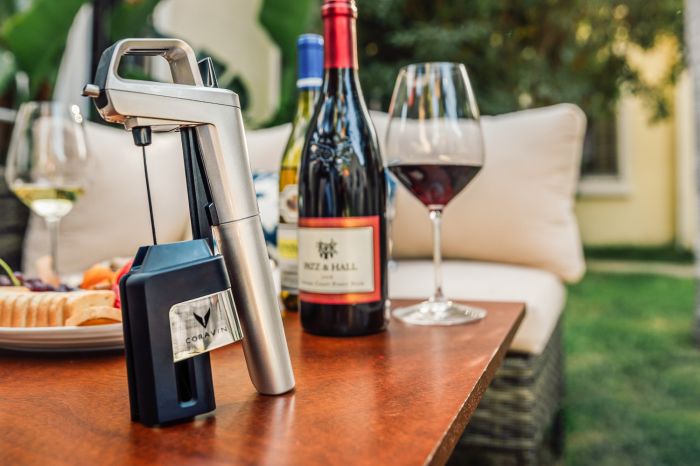 (credit: Coravin)
With Memorial Day this weekend, Father's Day around the corner and summer just a month away, life may seem distant and people can turn to wine to bring each other together. From Zoom dinners with family and friends or just indulging on a home-cooked meal, the groundbreaking Coravin device is not only super easy to use, but it allows for quick mastery of opening and pouring a crisp, bold glass of wine.
Simply align theSmartClamps™(which was expanded throughout the entire Coravin line this past April)over the bottle and push the handle down, which sends the non-stick needle in the cork trapping the air in the bottle, then tilt and press the button that releases gas and voila, wine can be poured. What is even more ingenious, is that when you are done with a pour (or half the bottle!) simply pull the device out and the cork remains intact allowing you to pour another glass at a future date.
"Coravin lets you explore wines by the glass without ever removing the cork, so your last glass is just as fresh as the first," says Greg Lambrecht, Coravin Founder. "From wine enthusiasts, restauranteurs, to wine shops and wineries, users now have the independence in their wine drinking to enjoy any glass, whenever they want, without committing to just one bottle."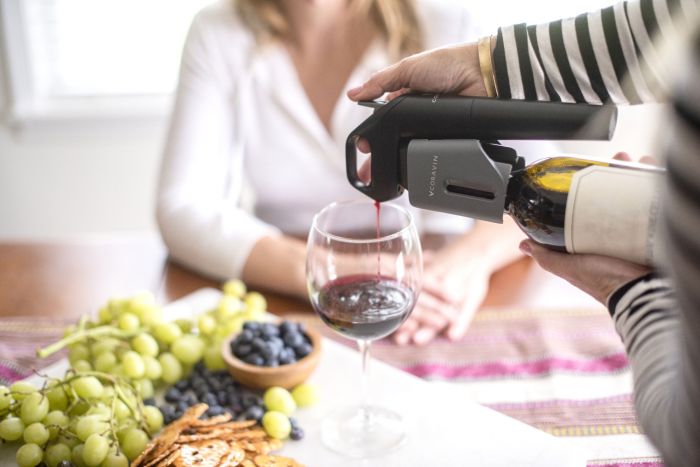 (credit: Coravin)
Two of their most recent wine preservation systems include the Coravin Model Eleven ($649.95) which is perfect for the tech-savvy, wine aficionado who is all about the coolest apps and the Coravin Model Six ($399.95) is the perfect choice for savvy and stylish wine connoisseurs. The Coravin Model Eleven is the first Bluetooth connected and fully automatic wine preservation system within the Coravin family. Its intuitive LED display allows you to optimize your argon gas usage, with a press of a button, and lets you know when to charge your system or replace the Coravin capsule.
Furthermore, it connects to the Coravin Moments App, which allows users to craft unique wine moments with food, music and more. Available in an assortment of luxurious high gloss metallic finishes (piano black, candy apple red and high gloss silver), Coravin Model Six is a sleek and easy-to-use wine preservation system. Enhanced by chrome accents and a patterned grip and metal spout for endless use, this model allows for effortless pouring.
Say goodbye to your corkscrew, as Coravin provides the best way to drink any bottle of wine.