Waterbar
Five-Star Restaurants With the Most Amazing Views
As we sit inside our homes this summer trying to stay safe and healthy, we've imagined all the places we could go, from beachside locales to historic cities, all with amazing food and even better views. But we don't need to get our passport stamped to enjoy some of the best fine-dining in America with killer views to match. If you're looking for five-star cuisine with five-star views, here are our favorite places stateside to grab dinner and a one-of-a-kind panoramic show.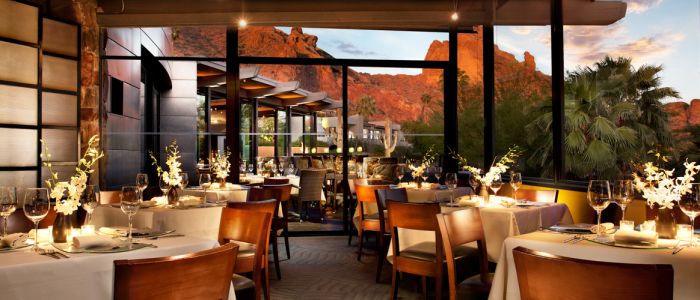 Elements
Elements—Scottsdale, Arizona
The American Southwest has captured the hearts of the imaginative and adventurous for centuries, and at Scottsdale's elements restaurant at Sanctuary Resort, this beauty comes out in all its splendor. Diners have a one-of-a-kind view of the golden hues of Paradise Valley with floor-to-ceiling glass walls that offer unsurpassable sights from every seat in the house. The award-winning restaurant serves up farm-fresh American cuisine with Asian inspiration from Food Network star Chef Beau MacMillan and features innovative seasonal menus made with local, organic produce, sustainable seafood and hormone-free meat.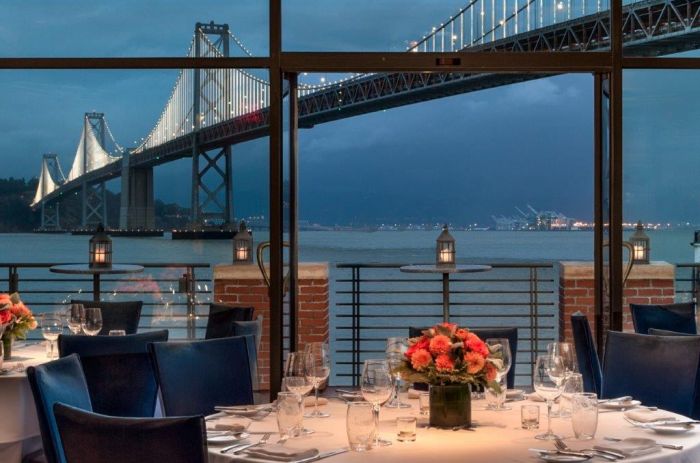 Waterbar
Waterbar—San Francisco, CA
San Francisco is home to hundreds of restaurants many of which offer stunning views, but for an unexpected look at the city, dine at Embarcadero's Waterbar. From inside the dining room or their beautiful outdoor patio, you'll have unobstructed views of the bay, Bay Bridge, Treasure Island and the San Francisco skyline. With a menu presented by Chef Parke Ulrich, Waterbar offers up a daily-changing menu of fresh-caught, sustainably-sourced fish and shellfish as well as the most expansive selection of oysters on the West Coast. For those who can't enjoy dinner without dessert, note their famed pastry chef Erica Land, known for her Sticky Toffee Pudding will be going head to head with Chef Bobby Flay this month on the Food Network.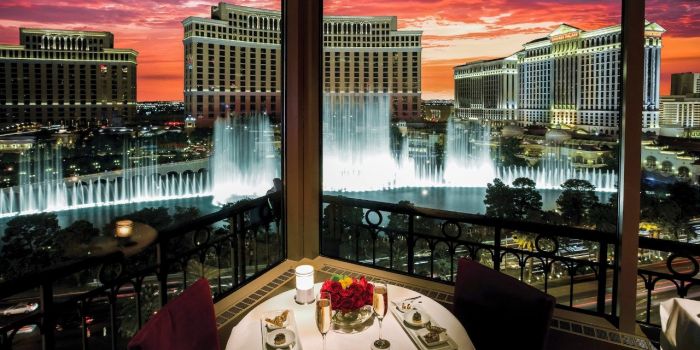 Caesars
Eiffel Tower Restaurant—Las Vegas, NV
If you're missing the real Eiffel Tower right now, take a trip to Las Vegas. Sin City offers some of the most amazing dining destinations in the world, and one of the most noteworthy spots to dine on the Strip is in full view of the Fountains of Bellagio. Many restaurants surround the fountains, but for sky-high views, the sights at the Eiffel Tower Restaurant can't be surpassed. Floor-to-ceiling windows offer stunning views of the Strip and the food refuses to take a backseat to the skyline. Chef J. Joho's serves up a carefully curated menu of upscale takes on French classics, such as a Rossini-style filet mignon with truffle sauce and foie gras torchon with duck prosciutto and fig.

The River Cafe
The River Cafe—Brooklyn, NY
For over 40 years Michael O'Keeffe's Brooklyn restaurant The River Cafe has been a destination for romance, beauty and exceptional cuisine. This Michelin-starred restaurant is known for its elegant dining room, live piano music and one of the most outstanding wine lists in the world. A popular wedding spot, the menu here includes award-winning flavors including char-grilled Portuguese octopus, sauteéd Rougie duck foie gras, crispy duck breast with lavender roasted Georgia peach, toasted hazelnut and celriac confit, and a summer peach sorbet.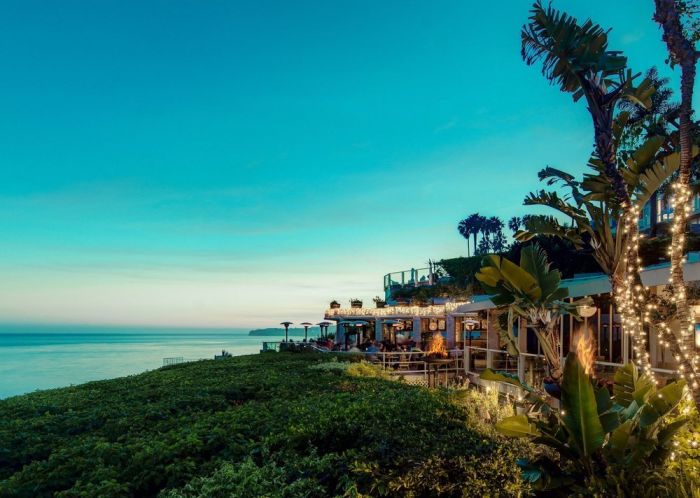 Geoffrey's Malibu
Geoffrey's Malibu—Malibu, CA
Once a historic hotel that was a favorite of names like Frank Sinatra, Lana Turner, Marilyn Monroe, and John F. Kennedy, Geoffrey's Malibu is now an iconic restaurant known for its coastal cuisine and breathtaking views of the Pacific. From the cliffside restaurant, every table was designed to offer views of the sea, so you always have the best seat in the house. Here, Executive Chef Bijan G. Shokatfard serves up California cuisine at its finest—from brunches with crab cakes and seasonal oysters and lunches with Maine muscles and kale salad to dinners with Pacific swordfish, seafood paella and surf 'n' turf.