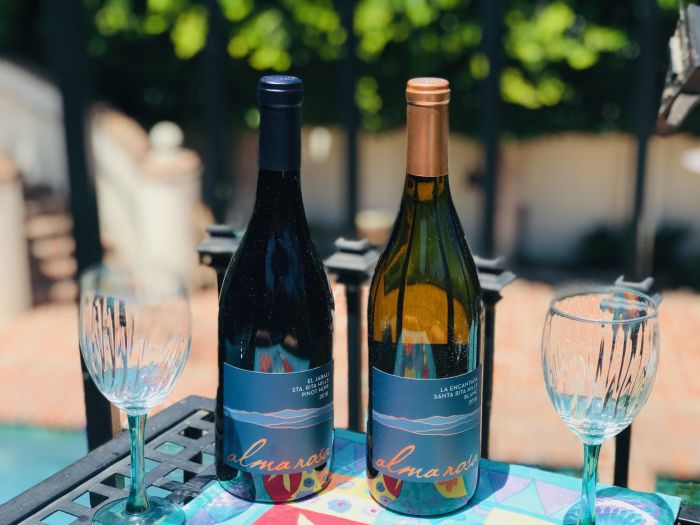 Jill Weinlein
To celebrate the announcement of Sta. Rita Hills Wine Alliance 2020 Vintner of the Year, the public was invited to purchase two of wine pioneer and winemaker Richard Sanford's special wines: the 2018 Alma Rosa Winery La Encantada Blanc, and not yet released 2018 El Jabali Pinot Noir to taste and toast with others on a special virtual Facebook presentation.
For nearly five decades, this well respected and revered oenophile grows his Pinot Noir and Chardonnay grapes in one of the greatest places in the world. Known as the "Godfather of Central Coast Pinot Noir," Richard Sanford and botanist Michael Benedict were the first to get a shovel and plant Pinot Noir grapes along the Central Coast in 1971. His estate-grown Pinot Noirs were produced at the Sanford & Benedict vineyard from 1976 through 1980.
Grown on vines receiving cool Pacific Ocean breezes, funneled through the unique east-west transverse mountain range of the region in Santa Barbara County, the morning fog breaks when the sun peeks out around noon warming the vines. His success growing grapes in this location unleashed a passion for others to nurture, craft and bottle outstanding wines.

Photo courtesy of Alma Rosa Winery
In 1981, he launched Sanford Winery with his wife Thekla, earning local and international acclaim for over 25 years. Sanford Winery became one of Santa Barbara County's most iconic wineries, helping to establish the region as a wine country travel destination. Now in his 80s, Sanford is reaping the rewards and awards for his inspiration and leadership.
Richard established and planted many of the Sta. Rita Hills' most revered sites, including La Rinconada, La Encantada and Alma Rosa's current estate, El Jabali.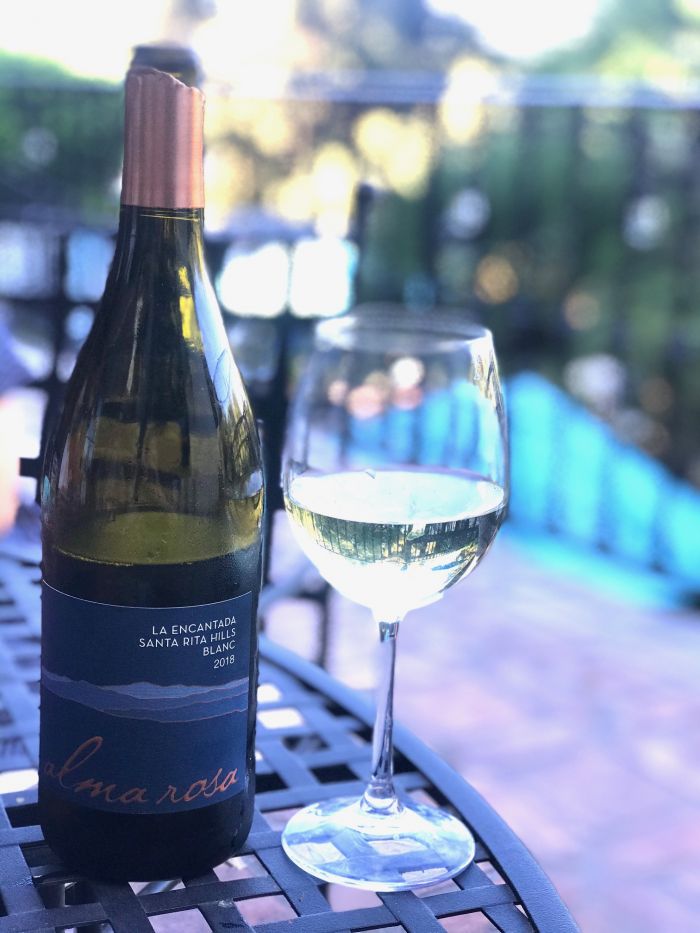 Jill Weinlein
While sipping the 2018 Alma Rosa Winery La Encantada Blanc, I learned that this wine is crafted with two wine varietals - Pinot Blanc and Pinot Gris grapes. The grapes were gently whole-cluster pressed after being night-harvested in September 2018. Each was fermented separately in stainless steel and oak barrels before being blended together and aged in a combination of stainless steel (75%) and new French oak (25%).
Location: The fruit to make this delicious wine is sourced from the famed La Encantada Vineyard, that founder Richard Sanford planted in 2000. Comprised of gravelly clay soils with a slight westward exposure, the vineyard is situated two miles west of the Alma Rosa estate in the Sta. Rita Hills. These grapes are the only Pinot Blanc and the vast majority of the Pinot Gris planted in the Sta. Rita Hills appellation.
Color: Golden
Aroma: Refreshing notes of honey and jasmine.
Taste: A medium body wine with nice acidity offering an essence of citrus and crisp pear with a minerality finish.
Alcohol %: 13
Production: 236 cases
Pairing suggestions: Arugula, nectarine and almond salad, goat cheese and cranberry crostini, sauteed halibut with roasted potatoes and asparagus.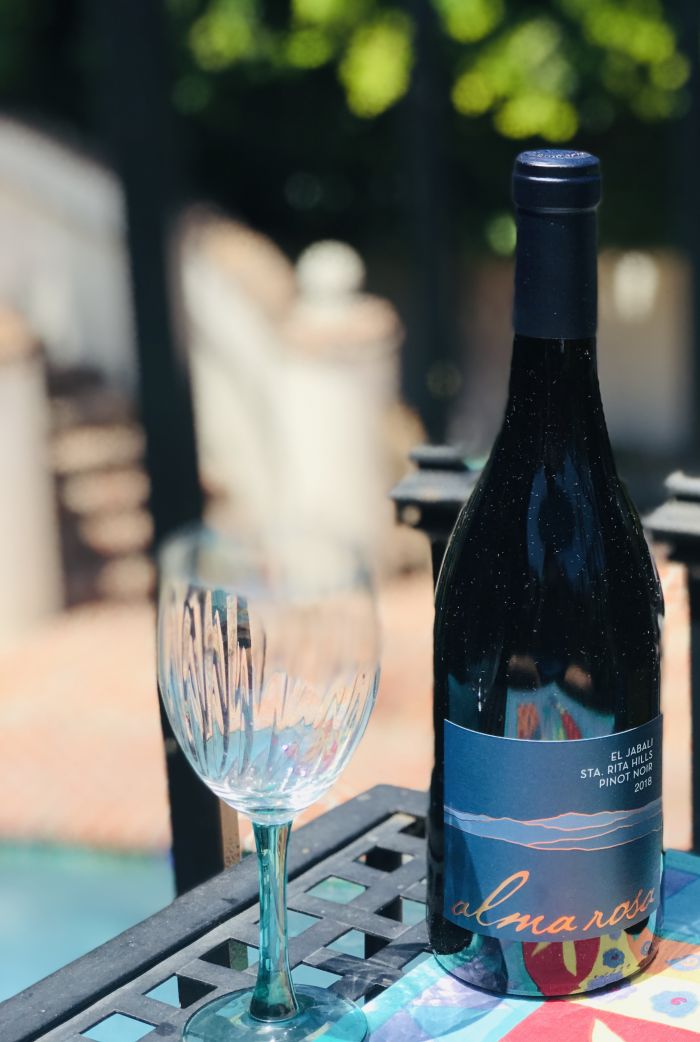 Jill Weinlein
The label of the 2018 Pinot Noir El Jabali depicts the Sta. Rita Hills where the vines planted in 1983 grow beautiful grapes. This vineyard is known for producing wine that evolves for several years after the vintage. Farmed organically under CCOF certification on 3.3 acres of Mt. Eden clone Pinot.
Color: Alluring garnet red.
Aroma: The wine from these old vines at the El Jabali estate vineyard delivers aromas of fig, rose petals and violets. Earthy and herbal notes are some of the characteristics of these 30+-year-old vines.
Flavor: On the palate, it's fresh offering bright red cherry and cranberry flavors that is balanced by smoky tannins for a long and satisfying finish.
Pairing suggestions: It's an unfiltered wine that should be served with grilled meats. Save in your cellar for several years to enhance the savory aromas that are classic to this special vineyard.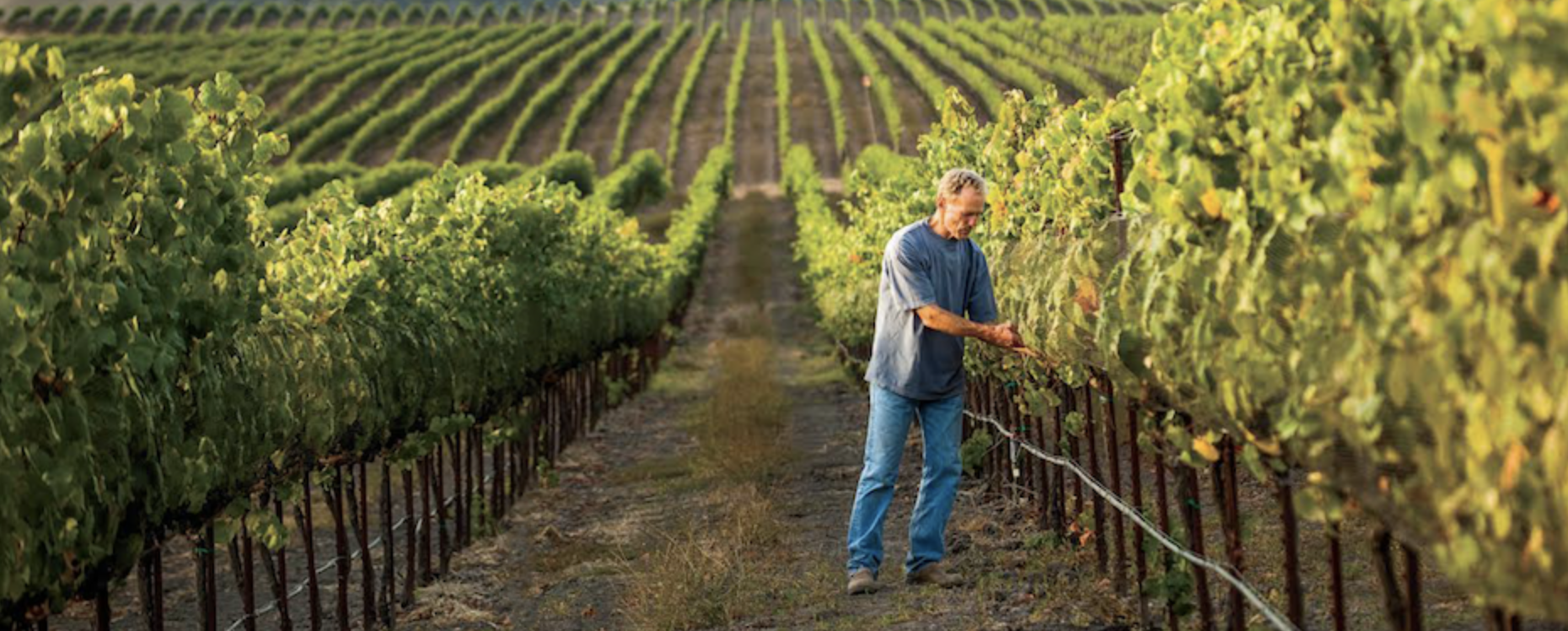 Photo courtesy of Cal Alumni Association
In 2005 Richard and Thekla founded Alma Rosa Winery, which they sold to Bob and Barb Zorich in 2014. The Sanford's continue to live at the Alma Rosa estate, where Richard serves as a winery ambassador and continues to be active as one of the leading advocates for the Sta. Rita Hills AVA.