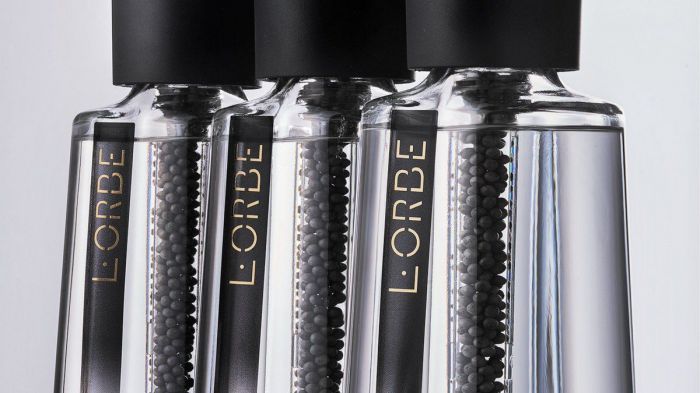 Image courtesy of L'Orbe
Inspired by concepts of sensory experience and an increasingly sophisticated consumer palate, L'Orbe Caviar Vodka was created by Pernod Ricard's experimentation branch, Breakthrough Innovation Group (BIG) as the first premium vodka (and white spirit) naturally infused with caviar. A perfect libation for the holiday season, L'Orbe delights the taste buds and invigorates the senses by bringing an extraordinary complexity to the flavor profile of traditional vodka. Subtle combinations of buttery and nutty notes blend with the fresh and unexpected umami taste of the sea resulting in a flavor structure that is sure to impress and intrigue even the most discerning of connoisseurs.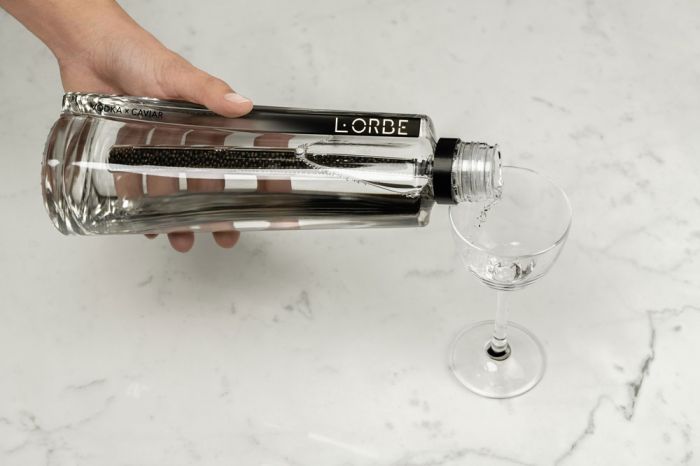 Image courtesy of L'Orbe
Holding the distinction of being one of the most sought after caviars in the world, the Royal Baerii caviar used in L'Orbe Caviar Vodka is harvested from Siberian sturgeon and known for its firm texture, savory taste and woody aromas. The infusion of Royal Baerii caviar creates complex natural flavors in the vodka which are enhanced by individual characteristics of both ingredients. Made using single estate Dankowski Diamond rye, L'Orbe's vodka is filtered twice then infused with caviar contained within a transparent tube that runs vertically down the center of the sculpted glass bottle. The transfer of flavors is completed using a method known as micro-encapsulation, an innovation adapted from the beauty industry, which allows the flavor of the caviar to slowly infuse its distinctive flavor profile into the vodka over a period of six weeks. All-natural, this technique uses no artificial flavors, additives, or stabilizers so that the caviar's natural integrity stays intact along with the clarity of the vodka which remains unaffected during and after the infusion. This patented innovation allows the finest of spirits and the rarest of ingredients to come together for unique culinary pairings and cocktails that beautifully complement the nuances and subtleties of other flavors.
While the vodka is certainly the main attraction, the bottle itself earns its position on any top-shelf. L'Orbe is packaged in an art-deco inspired sculptural vase-like vessel designed by the interior architecture firm Studio Nocc. According to its designers the bottle represents "fusion between elements and shapes that fit together and find balance featuring the circle." A fitting tribute to a monumental new addition to the world of luxury spirits.
For unique holiday cocktail recipes, a list of retailers, and more information on L'Orbe's new vodka and caviar combination, visit www.lorbe.com