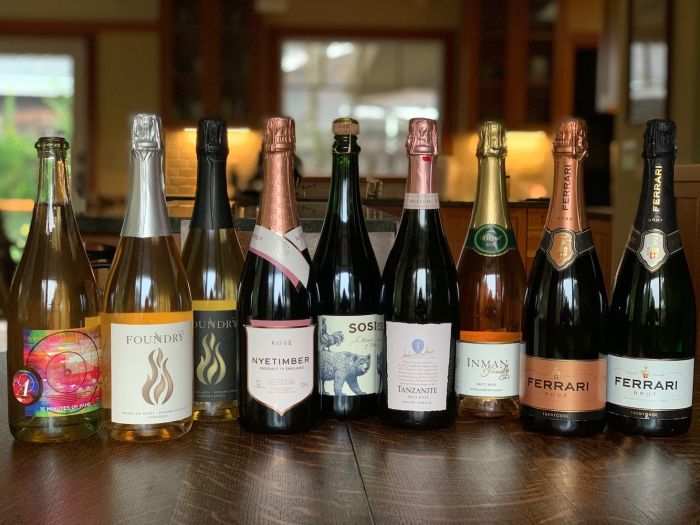 Photo: Fran Miller
Whether your Valentine's Day plans entail time spent with a special someone, or a relaxing evening alone at home, the occasion provides a time to reflect on all of the love in your life. Celebrate that love with a toast to those who are always there for you, and fill your flute with one of these wonderful sparkling wines. Enjoyed with another, or relished solo, these bubbles can't help but beguile.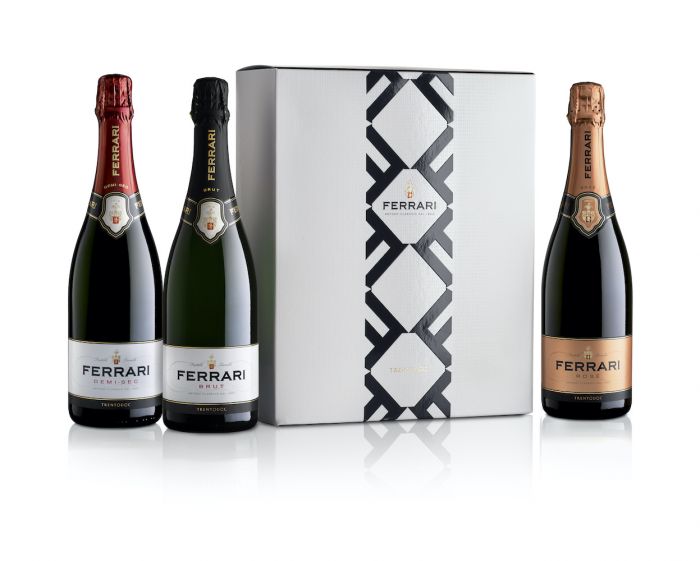 Photo courtesy of Ferrari Trento
Ferrari Brut NV, Trentodoc (SRP $26.99) Winner of 'Best Italian Sparkling Wine' at The 2020 Champagne & Sparkling Wine World Championship, Ferrari Brut was the original sparkling wine, made from the first Chardonnay grapes planted in Italy's Trentino mountains by Giulio Ferrari in 1902. The warm days, cool nights, and extreme altitude of the region give this wine a character different from its French counterparts, with notes of golden apple and luscious yeasty tones. Unleash the great history of Ferrari by popping open a bottle of this delicious 100% Chardonnay Blanc de Blancs.
Ferrari Rosé NV, Trentodoc (SRP $35.99) Coppery and tending towards old rosé, Ferrari Rosé is dry, clean, and elegant, but with the freshness of wild strawberries and sweetness of almonds. 60% pinot noir and 40% chardonnay, it features refined hints of redcurrants with a sensation of hawthorn flowers, underpinned by a delicate note of crusty bread derived from its more than 20 months' aging on the yeasts. Fun fact: Ferrari is the official sparkling wine partner of America's Cup team Luna Rossa Prada Pirelli of Italy.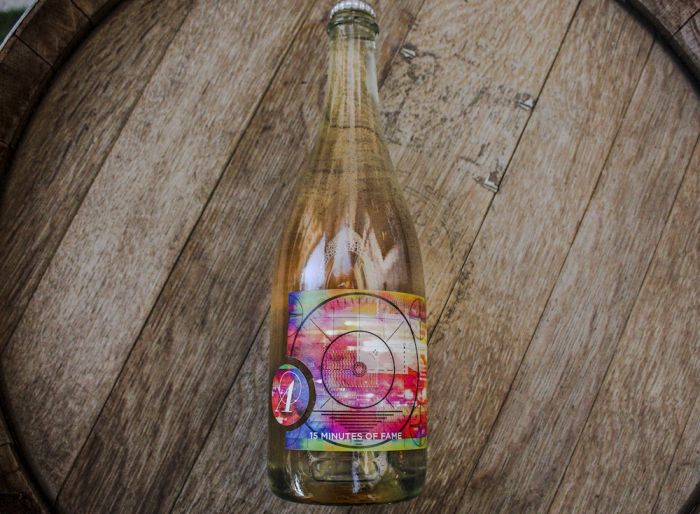 Photo courtesy of Anarchist Wine Co.
Anarchist Wine Co. 2019 15 Minutes of Fame (SRP $32) We love the television set signal label and the soda pop top on this hip bottle of bubbles. A pink cacophony as it's poured, this chic frizzante hits the palate like a cascade of shooting stars. A glorious moment, here and gone, but lovely just the same. Dazzling aromas tickle the nose with wild jasmine and freshly picked pineapple.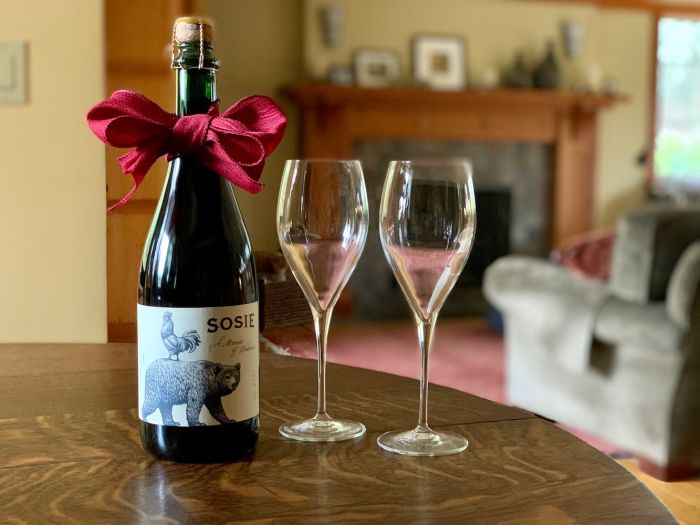 Photo: Fran Miller
Sosie's 2018 Sparkling Red Wine, 'A Moment of Weakness' (SRP $35) With its saturated hue and tiny bubbles A Moment of Weakness is inherently celebratory. Made from 100% Syrah grapes from the Vivio Vineyard of Bennett Valley in Sonoma County via traditional méthode champenoise, this wine is festive in the glass with red fruit berry characteristics, savory notes of bacon, and a lovely acidity. A dry sparkler, it is the perfect pairing for salty starters of salami, prosciutto, and Pecorino Romano as well as main courses such as a hearty bowl of cioppino or a rich Bolognese sauce.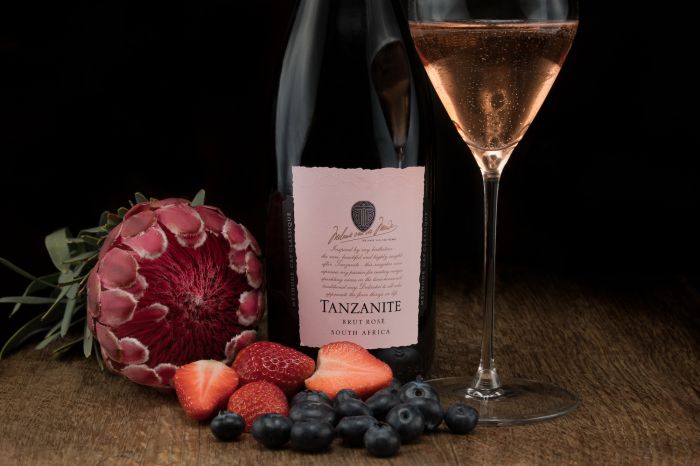 Photo courtesy of Tanzanite Wines
Tanzanite Brut Rose Method Cap Classique (SRP $40) From the Western Cape of South Africa, this sparkling wine is made from 60% Pinot Noir and 40% Chardonnay, and has a sumptuous and luminous pink appearance and a delicate red fruit aroma. Only 6,000 bottles are made annually. The nose is generous and elegant. With maturation, the wine will become soft, creamy, and elegant. It pairs well with roasted white meat, game, tapas, ham, and smoked salmon.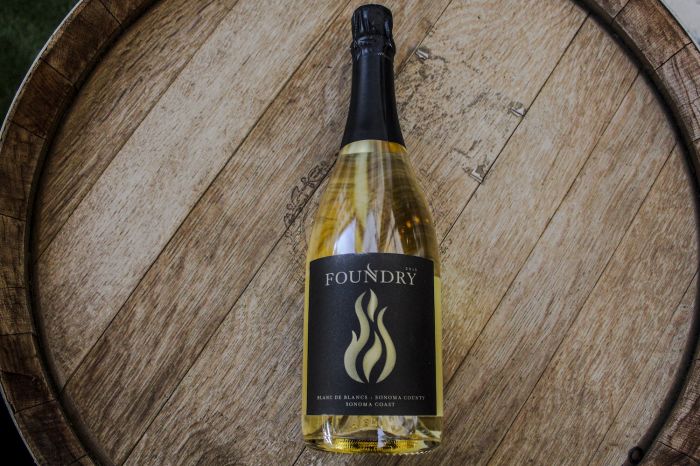 Photo courtesy of Foundry Wines
Foundry 2015 Blanc de Blancs (SRP $55) Winemaker Patrick Saboe crafts Foundry Wines using only the highest quality fruit sourced from world-class growing regions and proven vineyards in Napa, Sonoma, and Mendocino. From one of the best sites for Chardonnay in Northern California comes this wine that pairs beautifully with caviar on toast points, strawberries with crème fresh, or an opulent platter of chilled seafood. Crafted in small quantities using méthode champenoise, its delicate bubbles carry tantalizing aromas of brioche, with glimmers of Buddha's Hand, pear flambe, and green apple.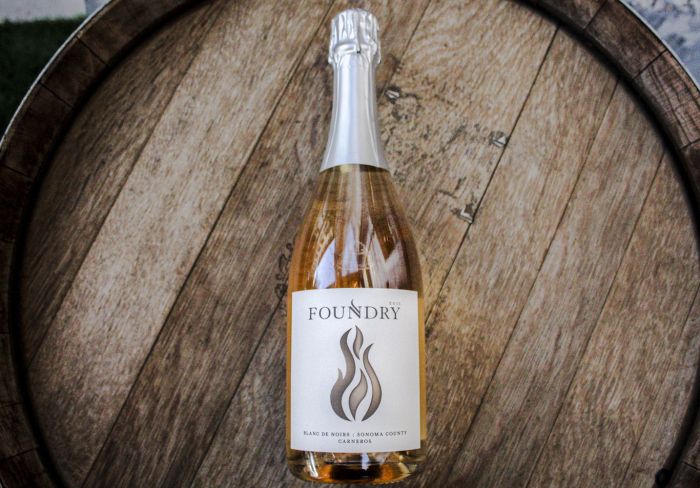 Photo courtesy of Foundry Wines
Foundry 2015 Blanc de Noirs (SRP $58) From the Sangiacomo Vineyard in the Sonoma Coast AVA, this wine is the guest everyone wants at the party. With its elegant pink hue, this méthode champenoise sparkling lights up the room with dancing aromas of honeydew, melon, cantaloupe and kiwi. The palate follows in step with delightful brioche, apricot gelee, and notes of springtime tropics.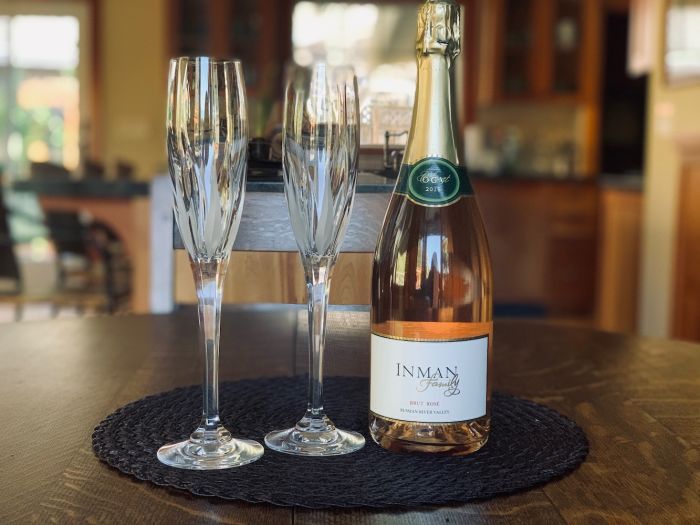 Photo: Fran Miller
2018 Inman Family Brut Rosé (SRP $68) Inspired by France's Grower Champagne model, Kathleen Inman produced one of the first single-vineyard and single-vintage sparkling wines from California, a Brut Nature Rosé from her Olivet Grange Vineyard (OGV) in the Russian River Valley. This small lot, méthode champenoise sparkling wine is made from 100% Pinot Noir, with a focus on balance and elegance. The color is the palest of pink; the nose has all of the hallmarks of Olivet Grange fruit, including hints of fresh citrus, raspberry, gala apples, quince, and brioche.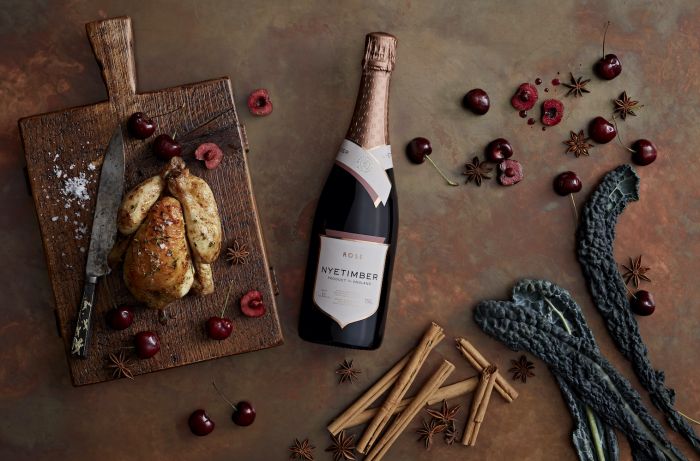 Photo courtesy of Nyetimber
Nyetimber Rosé Multivintage (SRP $80) History buff? If so, this one is for you. This blushing rose gold bubbly hails from the unexpected region of Sussex, England. The grounds and the Nyetimber name date back beyond the Norman invasion by William the conqueror. The estate is named in the Domesday Book of 1086 and was strongly tied to the ancient Priory of Lewes. Henry VIII obtained it through the Dissolution of the Monasteries in 1536 and passed it first to Thomas Cromwell, and then to Anne of Cleves as part of their annulment settlement. It was also served at Pippa Middleton's wedding. With shortbread and British summer fruit flavors, this rosé offers a unique combination of aromas, including British summer fruits and shortbread. Its creamy texture and red currant, raspberry, and cherry flavors give it an elegant and silky finish.