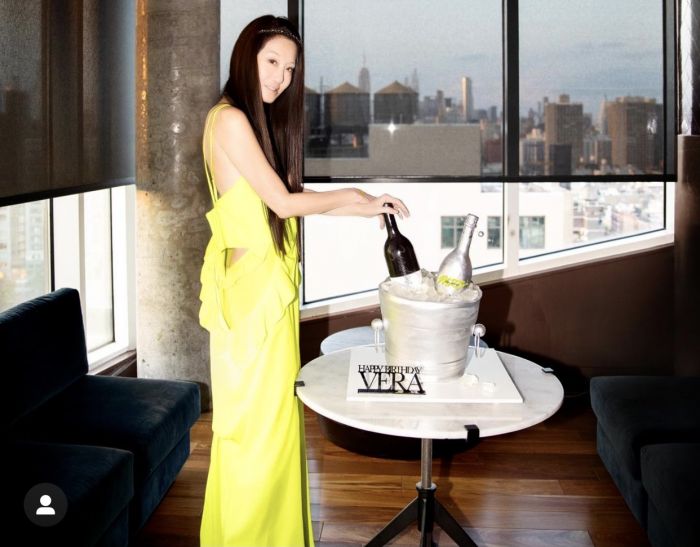 Vera Wang Instagram
Iconic fashion designer, entrepreneur and brand builder Vera Wang has dedicated her life to enhance celebratory moments in life, not only does she design stunning wedding dresses, but now she has created a Vera Wang PARTY sparkling wine for jubilant events. The premium Italian prosecco is made for celebrating life's moments, big and small.
Vera Wang's career started when she was 23 years old, and named the youngest-ever Vogue fashion editor and stylist. She remained at Vogue for 16 years before moving to Ralph Lauren as a design director. When she designed the gown for her own wedding, Wang discovered her love and natural talent for bridal design.
She opened her flagship store in Manhattan's Madison Avenue in 1990, providing a wedding destination for contemporary design and refined details. Soon she became one of the most renowned bridal designers and opened boutiques all over the world.
Vera Wang has been honored with "Womenswear Designer of the Year" in 2005, and the CFDA Lifetime Achievement Award in 2013. Today her brand has grown to everyday fashion, luxury home goods, fragrances, jewelry and now sparkling wine.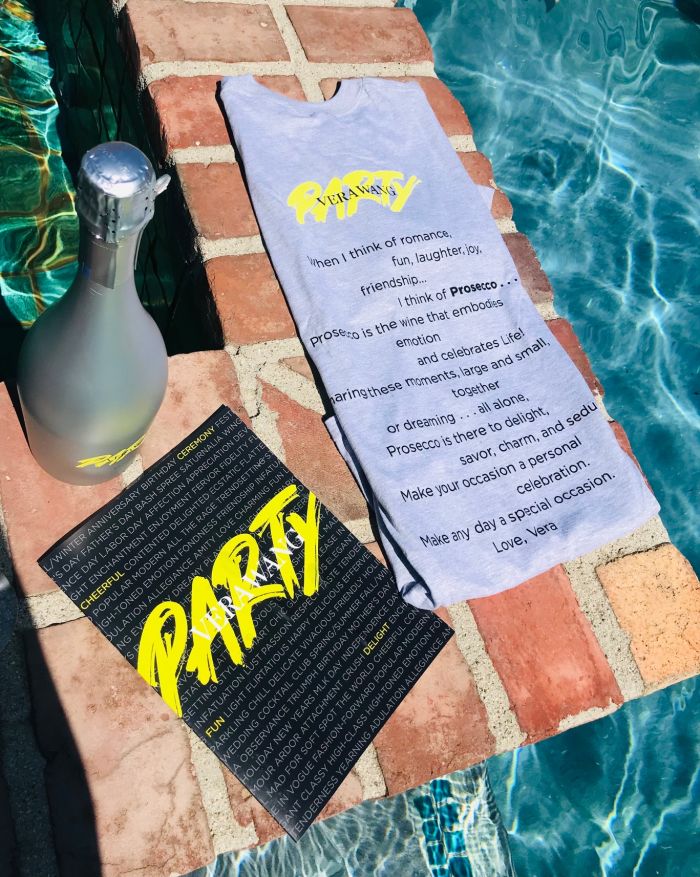 Jill Weinlein
To craft PARTY, Vera Wang searched for a winemaker with both heritage and pedigree. She discovered Araldica in the sparkling winemaking region in Piemonte. Founded in 1954 by Livio Manera, the high-quality grapes from its 230 grower members, produce the best-selling Moscato. Situated in Castel Boglione, in the heart of Barbera d'Asti territory, second-generation winemaker Claudio Manera is one of Italy's fastest-growing producers and most forward-thinking winemaking co-operative.
'At Araldica we celebrate our roots, land and people, balancing our drive for innovation with respect to tradition,' said Manera in an interview. 'Vera Wang has our same philosophy, making this collaboration organic for us. This wine speaks to her fresh perspective, taste, passion and dedication to crafting a premium prosecco.'
PARTY is a Prosecco Doc Brut made from 100% Glera grapes harvested in the province of Vicenza in the Veneto region of Northern Italy. The grapes are harvested by hand, gently crushed and soft pressed before being transferred to the winery for primary alcoholic fermentation. The second fermentation is at a low temperature lasting over two months. The sparkling wine is finished with maturation on yeast lees for three months before bottling.
On the silver wrapped bottle, Vera includes a note that reads, 'When I think of romance, fun, laughter, friendship, I think of Prosecco... Prosecco is the wine that embodies emotion, and celebrated Life! Sharing these moments, large and small, together or dreaming...all alone, Prosecco is there to delight, savor, charm, and seduce. Make your occasion a personal celebration. Make any day a special occasion. Love, Vera.
The light straw yellow color offers appealing aromas of peach, apricot and apple. On the palate this sparkling wine offers fresh acidity with a soft fruity finish. It's ideal when well-chilled as an aperitif or paired with a cheese plate. Enjoy with sushi, fried chicken, pasta dishes with bright sauces, freshly grilled seafood or even Chinese takeout.
Mix with peach juice of the ultimate bellini during Sunday brunch or a day by the pool.
Vera Wang PARTY retails for $25 and is imported by Royal Wine Corp. It's available at Total Wine & More, Warehouse Wine and Spirits, and KosherWine.com.