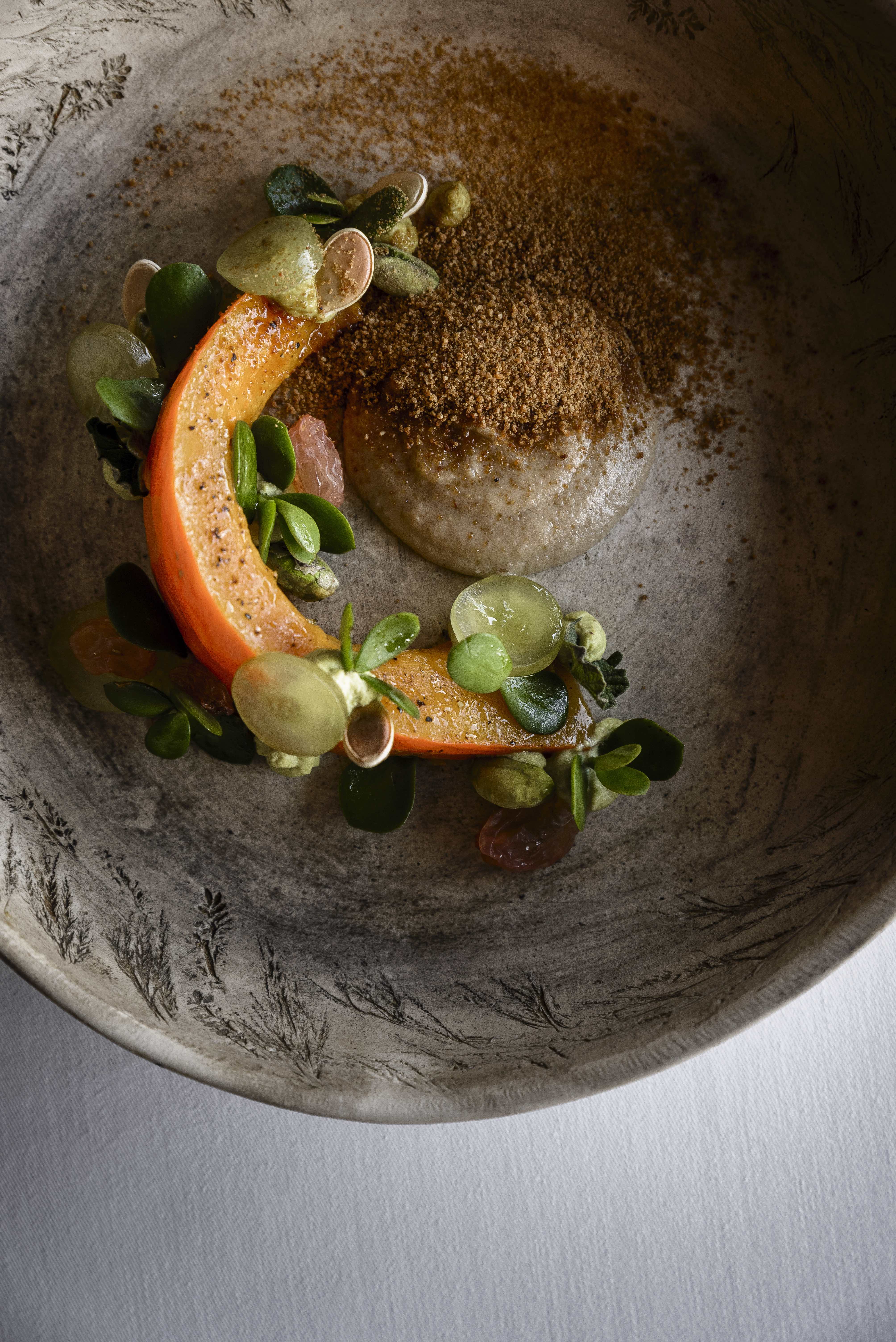 Tswalu Klein Jan/Adriaan Louw Photography
From South Africa's most innovative dining experience at Tswalu's Klein Jan to the colorful local food markets of the French Riviera, experiencing local cuisine is an amazing way to explore and enjoy a new place. Here are our favorite places around the globe to experience immersive dining.
Thai Street Markets - The Ritz-Carlton, Koh Samui
Guests at The Ritz-Carlton, Koh Samui, on the site of a former coconut plantation, can enjoy an immersive cultural and food experience with the property's Fisherman's Village excursion. Lined with old wooden houses and shops dotted with decorative red Chinese lanterns, Fisherman's Village comes alive Friday nights with a festive street market featuring locally-made apparel, souvenirs, food, and more. Guests are invited to stroll through the open marketplace, enjoying the delightful waterfront eateries and authentic Thai evening. Following their visit, travelers can enjoy The Ritz-Carlton, Koh Samui's unique Baan Talat outdoor dining experience that offers an array of authentic Thai street food dishes, including Pad Thai, Gai Pad Krapow and Crispy Pork Belly served with fragrant jasmine rice. Various market stalls are also set up to recreate the lively atmosphere of a Thai street market, similar to Fisherman's Village, offering local favorites in a vibrant and stylish setting.
Experiential Restaurants — Marchay
The most immersive and ground-breaking restaurants can be booked via Marchay, a curated, membership-based travel service and community for the most sophisticated travelers. Recognized as one of the premier luxury travel services, Marchay's model provides a unique approach and complete solution to manage its member's high-end travel needs. For example, Marchay's Travel Manager Valentina Robayo recommends El Cielo, a molecular concept-based Colombian restaurant with locations in Bogota, Medellin, Miami and DC. The tasting menu is based on Colombian local products and traditional dishes. Other recommendations include Eleven Madison Park's new vegan tasting menu and Casa de Chá da Boa Nova outside of Porto in Portugal. The Michelin-starred restaurant by Chef Rui Paula was designed by Pritzker Siza Vieira and focuses on locally sourced seafood.
Local Food Markets and BeefBar Experience - Hotel Lou Pinet
The Gulf of Saint-Tropez overflows with quality produce and subtle flavors that have famed the gastronomy and wine of the region. The village's famous open air Place des Lices Provencal market, open every Tuesday and Saturday, attracts tourists and locals alike with the wide range of colorful food and suppliers. The market is a massive square where locals gather to sell their fresh products and produce. The market is a lovely space for visitors to enjoy an immersive culinary and traditional, cultural experience in Saint-Tropez. Hôtel Lou Pinet, a luxury hideaway in Saint-Tropez embodying the bohemian charm of the iconic village offers their own immersive culinary experience onsite at their famous Beefbar, a sophisticated concept based on premium cuts of meat, created by Riccardo Giraudi in 2005. A successful mix of quality produce and chic, super modern simplicity, Beefbar brings a touch of excellence to one of the most beautiful places on the planet. While the Black Angus Prime, Wagyu WX and Kobe beef remain the menu's guest stars, other less carnivorous and more Mediterranean influences bring some added flavor.
Klein Jan – Tswalu Kalahari
After three years of research into the culinary traditions and ingredients of the Kalahari, South Africa's first Michelin-starred chef, Jan Hendrik van der Westhuizen, opened Klein JAN at South Africa's Tswalu Kalahari. Every aspect of Klein JAN has been carefully designed and curated, including the chairs made from repurposed French oak wine barrels. A glass wall opens up in fine weather, creating a fully immersive dining experience in the undulating plains of the Kalahari that the Tswalu team strives to conserve. Other features of Klein Jan include a subterranean root cellar, located 13 feet below the ochre sands of the Kalahari. To access the cellar, guests step back in time at the 100-year-old Boscia House before opening a door to the descending helical staircase infused with the unmistakable scent of petrichor.
Land of Darwin and Cacao Tour - Quasar Expeditions
Taking place in the Andes, Ecuador and the Galapagos Islands, Quasar Expeditions offers an exclusive Land of Cacao and Darwin experience, in partnership with Pacari. Aiming to retrace the steps of the Mayo-Chinchipe-Marañon culture of 3,300 B.C., guests explore the land where the Cacao plant was first turned into the food of the Gods. Travelers venture into the hot humid environment that is essential to grow the most flavorful cocoa beans on the planet, follow chocolate's progress throughout history and discover the artful process involved to turn the cacao bean into the prized and varied delicacy enjoyed today. Following the chocolate exploration on the mainland, guests venture deep into the land of Darwin as they explore the Galapagos Islands in style.
Scottish Highlands Wild Food Foraging and Hearty Meals — Niarra Travel
Niarra Travel, a start-up premium travel company offers a number of immersive travel experiences and fun itineraries that include discovering the different cultural gastronomies of the world. On every trip booked with Niarra, their team encourages travelers to get beneath the surface and experience a destination as a local, and that means eating and drinking as they do. In the Highland mountains of Scotland, Niarra offers a taste of local sustainable cuisine and inventive cocktails. With Fife Arms, a partner property, boutique hotel and Braemar Landmark, Niarra can arrange wild food foraging with the hotel's resident forager to learn about the local plants and vegetation of the area. Niarra Travel is a next generation tour operator that operates according to its two guiding principles of transparency and purpose to ensure that each trip has a positive impact on the ground.
On-Board Sushi - Fregate Island
One of the most revered hideaways in the Seychelles, Fregate Island offers complete privacy and seclusion with 17 beautifully crafted villas throughout pristine nature. Guests can spend their days on Fregate's private yachts snorkeling, diving and fishing where Fregate Chefs can turn the catches of the day into fresh sushi and sashimi for guests to enjoy.
Sustainable Farm-to-Table Offerings — Singita Sabora Tented Camp
The newly redesigned Singita Sabora Tented Camp, is an entirely new approach to an African safari dining under canvas, and the camp's food experience is one of the most innovative elements of its reinvention. Building on the sustainable, farm-to-table approach that underpins Singita's approach to cuisine, Singita Sabora offers guests total flexibility around menus and meal times. Guests can fill up wicker picnic baskets with gourmet treats from the lodge's all-day "Guest Deli" and enjoy on private decks or at one of the secluded dining spots around the camp. And, each tented suite features a personal pantry, perfect for in-room meals.