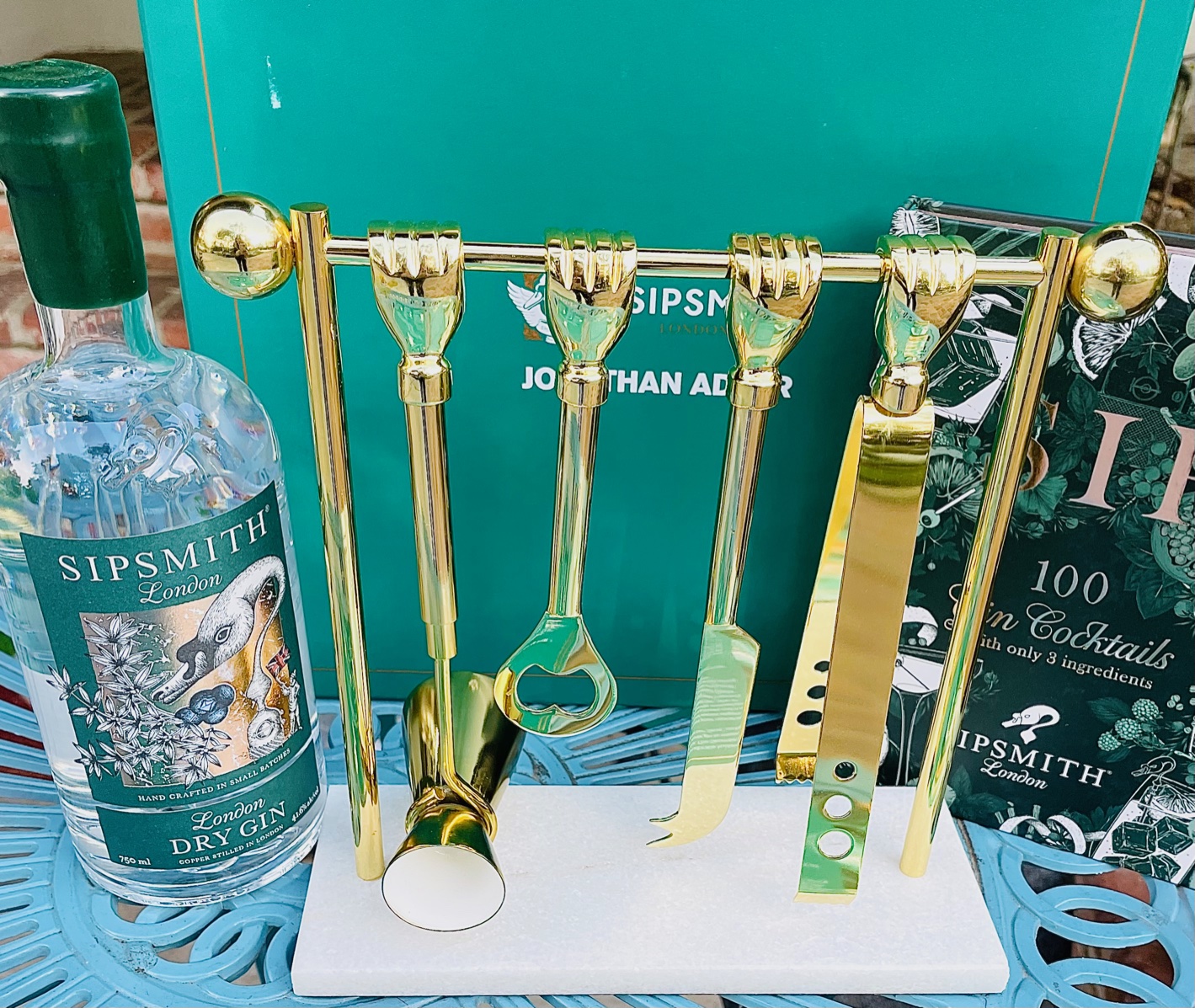 Jill Weinlein
The micro distillery Sipsmith London Gin, known as the first copper-pot distillery in London since 1820, recently collaborated with renowned designer Jonathan Adler and his creative British partner, Simon Doonnan. Together they designed the "Perfect Your Serve" cocktail kit.
Sipsmith started as an idea in 2007 by two childhood friends, Sam Gallsworthy and Fairfax Hall. When they met Jared Brown at a Negroni party, this power of three united to make the world's best London Dry Gin. After a few snags, including a petition to change a British Law in 2008, they perfected their gin-making skills and bottled Sipsmith in 2009.
Since Adler and Doonnan are fans of Sipsmith Gin, they were excited to work with Sam, Fairfax and Jared on a special kit designed for gin lovers and design enthusiasts.
Beautifully boxed, this ultimate handcrafted sipping set includes a classic marble and brass Barbell Bar Tool Set. "Simon and I are thrilled to partner with our favorite gin to release a special edition holiday collection cocktail kit," said Adller. He and his team designed and sculpted each prototype by hand in Adler's Soho studio.
Jill Weinlein
Also included in the green box is Sipsmith's Master Distiller and award-winning author, Jared Brown's botanical looking book 'SIP - 100 Gin Cocktails with only 3 ingredients.' The book was written to inspire cocktail lovers to learn how to make elegant gin drinks from recipes created in the eighteenth and nineteenth centuries. The easy-to-follow recipes will have you making a Negroni, Hot G&T, and Holiday Martini.
To order this one-of-a-kind Adler barware with 'SIP' book, click on Jonathan Adler and Sipsmith. Have Sipsmith London Dry Gin delivered to your door in under one hour on Drizly and get $5 towards your first trial order of Sipsmith London Dry Gin with code SIPSMITH5.