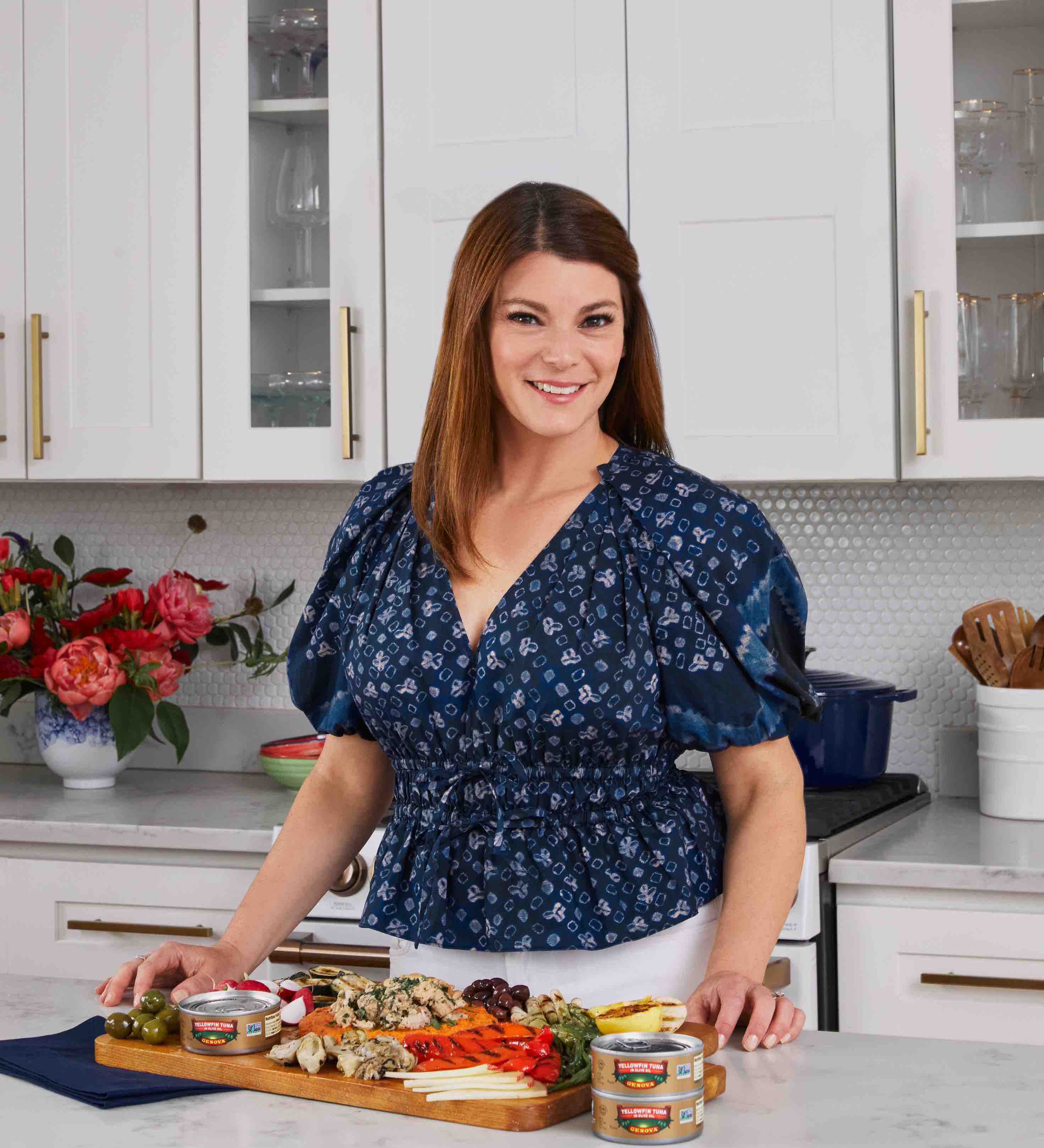 Genova Premium Tuna
June is Mediterranean Diet Month and Genova Premium Tuna has paired with Top Chef judge Chef Gail Simmons to curate the perfect dinner party collection including easy-to-make recipes and beautiful table settings inspired by the Mediterranean lifestyle. After learning Simmons was a fellow Canadian, I was even more happy to chat with her about the collaboration, living a Mediterranean lifestyle and, of course, Top Chef.
Most people think a Mediterranean diet is based on Greek food.
What is your take on a Mediterranean diet?
GS: Dishes based on a Mediterranean diet span much wider than just Greek cuisine.
Dishes come from a huge area of coastline all across Western into Eastern and into the Middle East, really starting from Portugal and running through Greece, Italy, France and even into Croatia.
What are the health benefits of a Mediterranean diet?
GS: The Mediterranean diet has been studied for years because people who live along that coastline have traditionally lived longer, remained healthier and have much lower rates of heart disease than other parts of the world.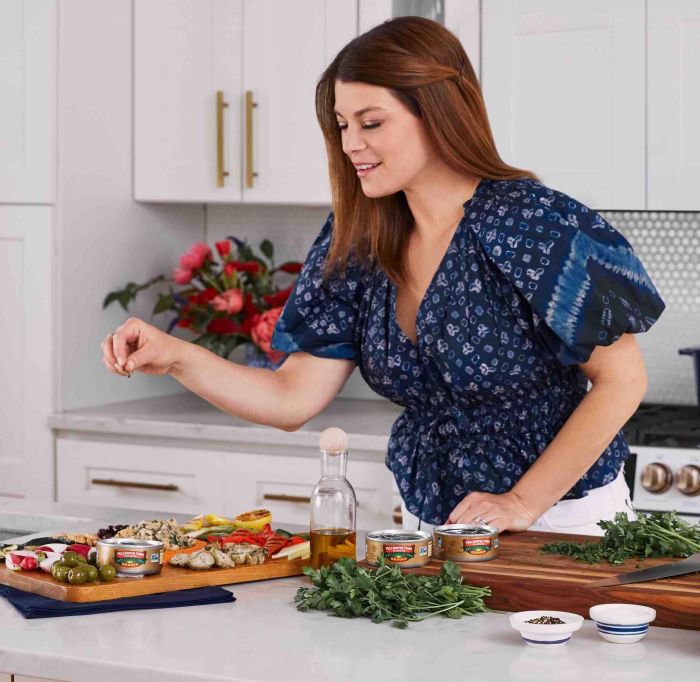 Genova Premium Tuna
What are the basics of a Mediterranean diet?
GS: Mostly a plant based diet based on fresh vegetables, fruits, whole grains, legumes and poultry, fish and seafood at least twice a week. The main source of fat comes from olive oil.
I am not a dieter in any way, but I use the Mediterranean diet as a guideline for eating healthier for myself and my family.
What are a few of your favorite dishes in a Mediterranean diet?
GS: At this time of year, being able to eat fresh ingredients lots of big salads and grilled vegetables. I've worked with Genova Tuna to develop some great recipes. One of my favorites is a fun Genova Tuna Romesco Salad Board which is a fun take on a charcuterie board. It includes great summer vegetables and also healthy Genova Yellowfin Tuna in olive oil. This is a great recipe because you can do most of the work before any guests arrive and then just assemble it and it is light, healthy and fresh.
I also love to cook great sauces and condiments and then use good shortcuts such as beautiful fillets of albacore or yellow fin tuna.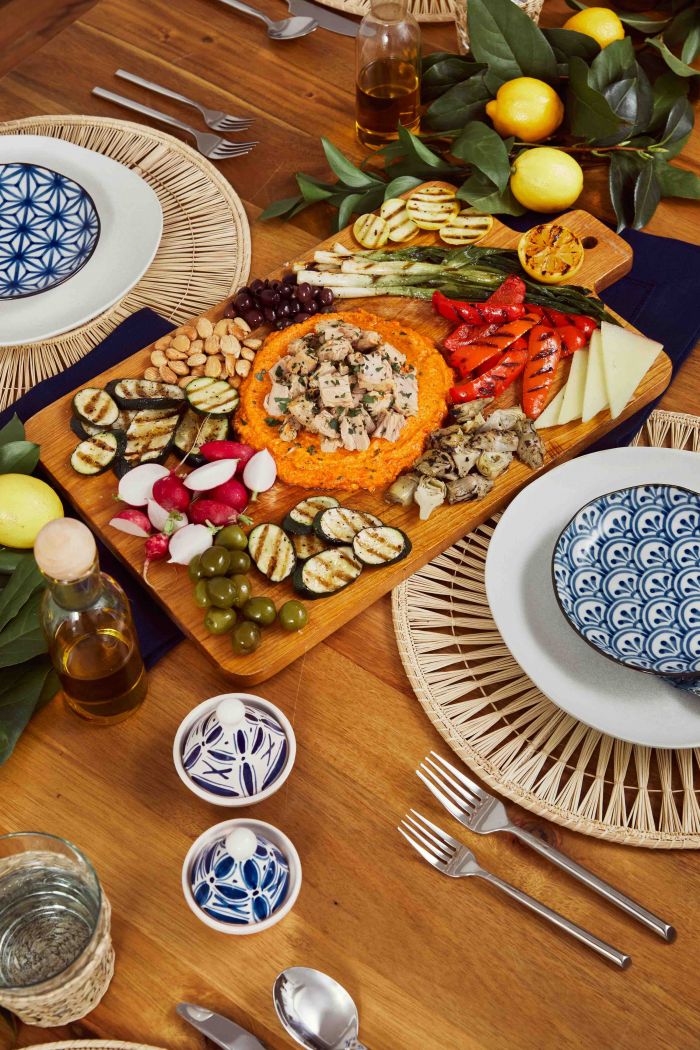 Genova Premium Tuna
Do you have a few tips for beginning home chefs who might want to throw a Mediterranean inspired dinner party?
GS: You don't have to take on a seventeen-course meal to host a beautiful dinner party. You want to be able to spend as much time at the table with your guests as possible and less time in the kitchen. You can also do fresh salads with faro or quinoa, summer vegetables and high quality tuna. You can also make crunchy vegetables with great dips and use tuna with summer pasta dishes. These all take about fifteen minutes to make, you can find many recipes at https://www.genovaseafood.com.
The advantages of using high quality tuna like Genova tuna is that it is lean protein and healthy packed with Omega 3 vitamins and it is perfect for any diet.
Can you tell us a bit about the Genova Mediterranean Dinner Party Collection giveaway?
GS: Yes, it is a great way to transport your party guests to the shores of the Mediterranean without leaving home. It includes four cans of Genova Yellowfin Tuna in Olive Oil , recipes. A giant salad board and luxury dinnerware and décor for a perfect dinner party. You can enter to win one of 75 collection kits at https://www.genovaseafood.com/DinnerPartyCollection. now through June 30, 2022.
And, a few questions about Top Chef:
What surprised you the most about taping Top Chef in Houston?
GS: I had never been to Houston before we shot last season and it was incredibly eye opening. The thing about Houston we discovered was that we weren't shooting in Texas, it wasn't really about the state it was about the city of Houston. The city has a very unique immigrant community, geographic location, history and food culture. It really is a city that lends itself to so many different layers of cuisine. It also offers a lot of variety of seafood because it is close to the coast. The food also has a connection to the Creole and Cajun history of the South. There are also large Nigerian, Indian, Thai and Vietnamese communities with fantastic dishes. Especially in are off time, to be able to dig deep into the food scene and experience that was fantastic. Houston is really a food destination to visit.
I heard rumors that Top Chef is going international next season. Is there anything you can share about that?
GS: I can share that it is true! We are going international for our 20thanniversary. We are going big. Let us surprise you, it is going to be great and something we have never done before.