Restaurant trends may come and go, but there is no denying the eternal appeal of the classic steakhouse. How else to explain Harris' Restaurant's nearly four decades of ongoing success? The San Francisco mainstay is more popular than ever, thanks to the veracity of the adage that 'everything old becomes new again.' Few can resist a prime cut, paired with an ice cold martini or a glass of rich Cabernet, as evidenced by the crowd gathered on a recent, equally classic, foggy San Francisco evening.
The steakhouse genre in San Francisco is nearly defined by Harris', where in 1984, Ann Lee Harris opened her restaurant with a desire to create an atmosphere of traditional elegance and charm – a vision achieved via a lush atmosphere of dark wood, high ceilings, brass chandeliers, and tufted leather booths. She hired a muralist to adorn the main dining room walls with bucolic landscapes, and the bar area with iconic San Francisco scenes, the bright green hue of which makes for a lively Instagram backdrop.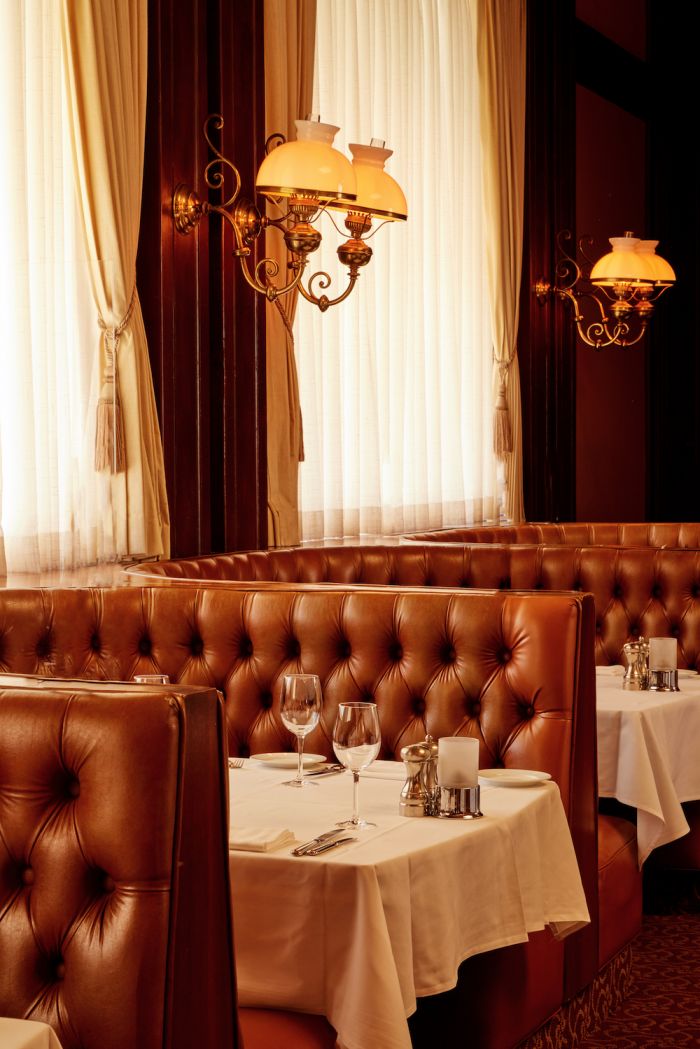 Harris' Restaurant Dining Room
Little has changed within the interior over the years, accounting for much of the restaurant's charm. The same can be said for the kitchen, where Michael Buhagiar has helmed the grill as executive chef since 1991. Now also owner of Harris' since 2003, Chef Buhagiar continues to oversee the culinary side of things while his two sons Marc and David manage the house, ensuring that Mrs. Harris' vision continues to thrive. And thrive it has.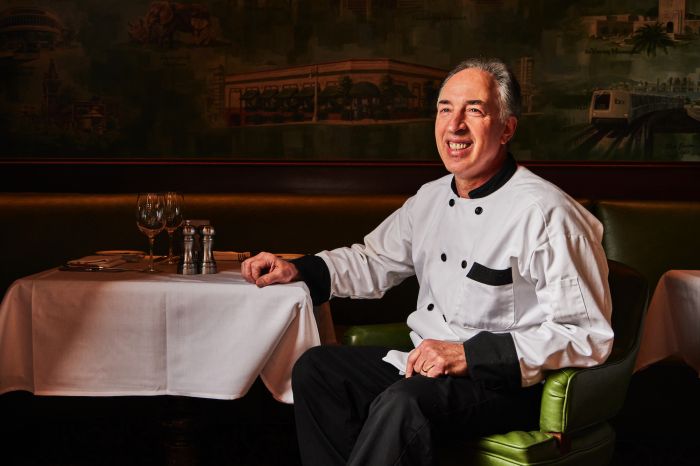 Harris' Restaurant Owner and Executive Chef Michael Buhagiar
Almost like theater, Harris' Restaurant provides a swank and glamorous transportive experience with a timeless 'if these walls could talk' ambiance. With a historic Van Ness address where first-rate meals have been served for nearly 90 years (the site previously housed Grison's Steakhouse, opened in 1936), the scene is complete with live jazz nightly, outstanding cocktails, an award-winning wine list, and a menu of more than a dozen aged beef selections. Reserve a banquette in the main dining room, or walk-in to the equally spacious bar to watch the 'show:' nattily attired bartenders perfecting their craft, a pianist and bassist whose soft jazz riffs allow for conversation, and bow-tied waiters expertly attending to gastronomic desires.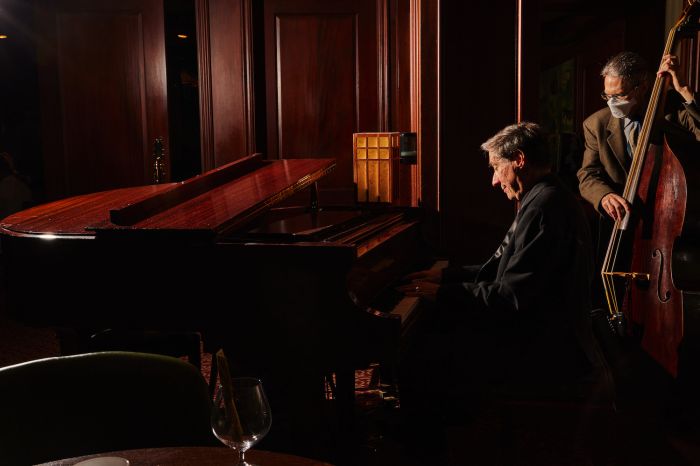 Harris' Restaurant Features Live Jazz Nightly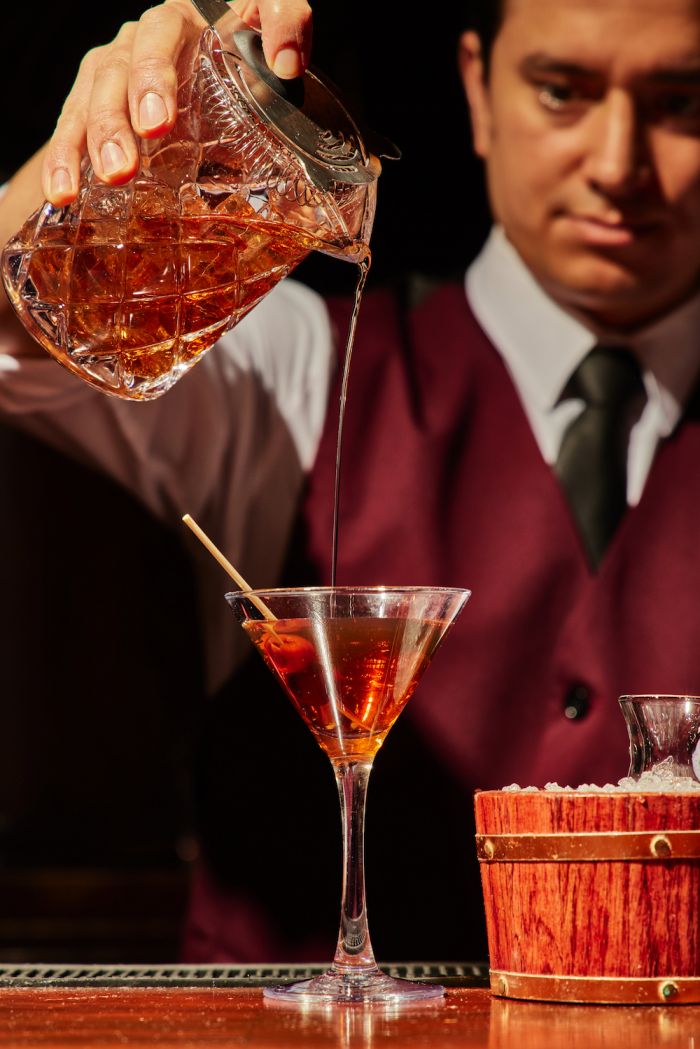 Harris' Restaurant 1753 Manhattan
Start with steakhouse masterpieces such as Oysters on the Half Shell, Smoked Salmon with Dill Cream Cheese and Toast Points, Dungeness Crab Cakes, or a classic Caesar. For mains, choose from Wagyu cuts, or mid-west aged cuts such as "The 49er," a 16 oz. boneless New York, or the 24 oz. Porterhouse, or an 8 oz. Filet Mignon – each served with a potato dish (mashed, scalloped, or baked) and vegetable side - increasingly a steakhouse rarity as many restaurants at this level charge for side dishes. Elevate your choice with one of Harris' steak sauces: Bearnaise, Brandy, or Truffle Madeira. Or go rogue and order the fresh salmon filet, steamed whole Maine lobster, or pan roasted breast of chicken.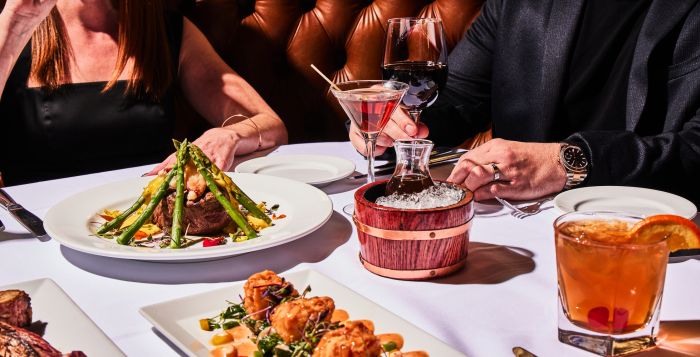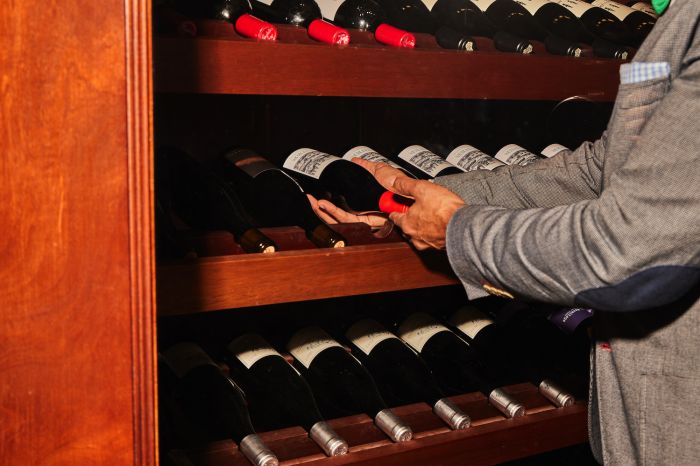 Harris' Restaurant's Wine Cellar Features Labels From Around the World
And if still hungry, the selection of timeless desserts (cheesecake, Baked Alaska, Pavlova, etc.) will more than satiate. This is comfort food as its very best – delivered within an environment that also nourishes the soul.
Harris' Restaurant Classic Cheesecake with Seasonal Topping
2100 Van Ness Ave., San Francisco, CA
All photos by Michelle Min, courtesy of Harris' Restaurant, the San Francisco Steakhouse