La Marchande Seafood Tower. Photo by Liz Clayman
Wall Street. The name likely evokes images of tailored suits, silk ties, and a certain officiousness hinted at in countless movies and television productions. 'Sultry French bistro' is probably not the first thing that comes to mind when the historic financial district is mentioned. But that might soon change, if Michelin-starred Chef John Fraser has his way.
Fraser, best known for IRIS and North Fork Table & Inn, has opened La Marchande in the new and very swank Wall Street Hotel, located on the site of the original New York Stock Exchange. Perfectly illuminated and featuring a mood-inducing soundtrack of jazz riffs, La Marchande is a spot in which to swoon, not only over a date and the décor, but also over the stellar food and drink. Fraser once lived in Paris, working at the revered Taillevent and Maison Blanche, and he definitely knows how to set a scene. While La Marchande is a destination, it is also approachable, providing a home-away-from-home vibe for those who live and work in the neighborhood.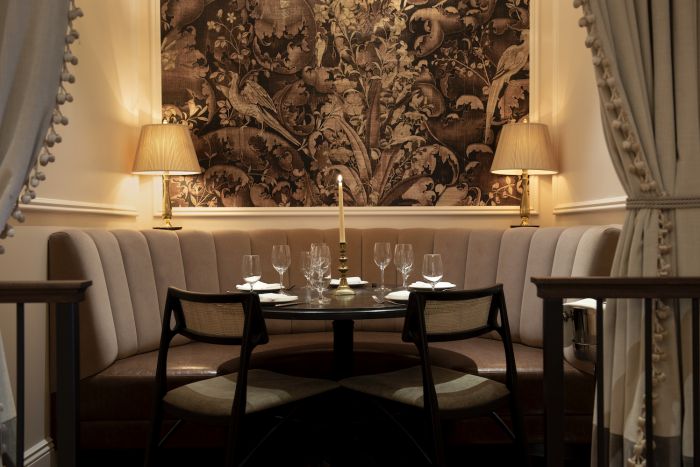 La Marchande Interior. Photo by Liz Clayman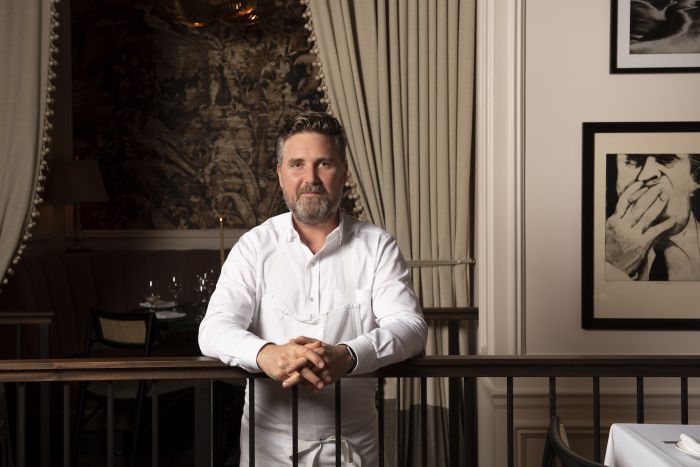 Chef John Fraser. Photo by Liz Clayman
The dining room, designed by Vicky Charles of Charles &. Co., conjures a Café Society, brasserie vibe with an ornately carved wooden bar accented with green marble, brass and antiqued mirrors. Brass pendant lights in the shape of palm fronds cast soft light on the scalloped pink marble floor tiles. Cozy, curtained banquettes line the walls, while other tables provide a view of the stunning mother-of-pearl-lined raw bar from which elaborate fresh seafood towers emanate.
Fraser and his executive chef Rick Horiike (a second-generation chef and 15-year veteran of top kitchens) offer a culinary program that embraces the classics of French brasserie cooking, while reimagining and lightening them with ingredients and techniques from around the globe. The duo embraces vinaigrettes and broths rather than heavier traditional sauces, resulting in a lighter take. Think inventive rice paper rolls filled with unconventional ingredients like beef tartare, or steak au poivre prepared in a wok. A grilled lobster dish, for instance, is an interpretation of Lobster Americaine, utilizing coconut milk rather than butter and cream.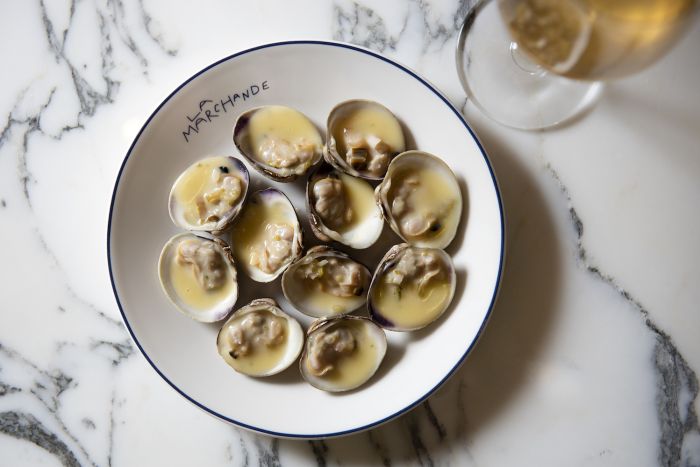 Photo by Liz Clayman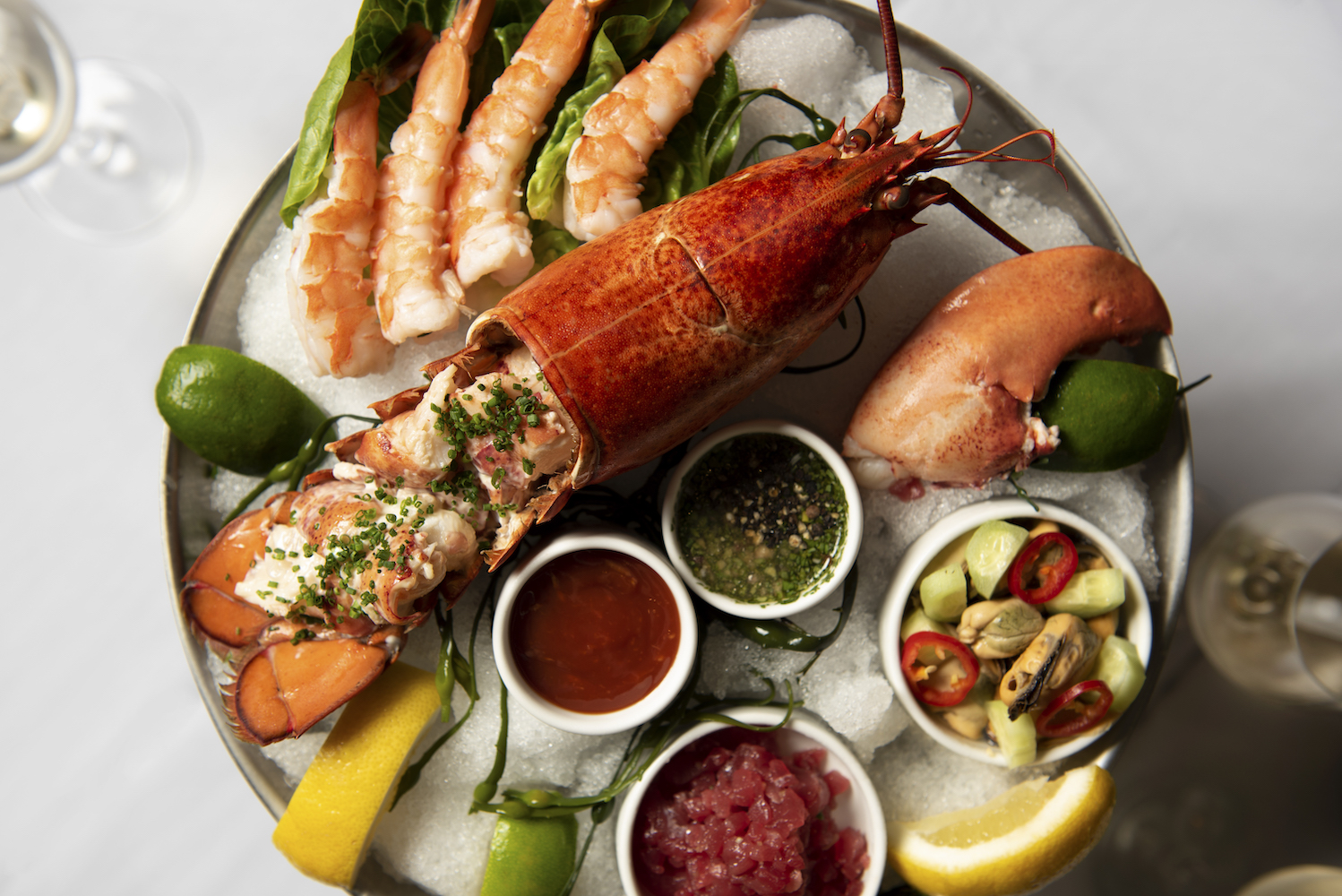 Photo by Liz Clayman.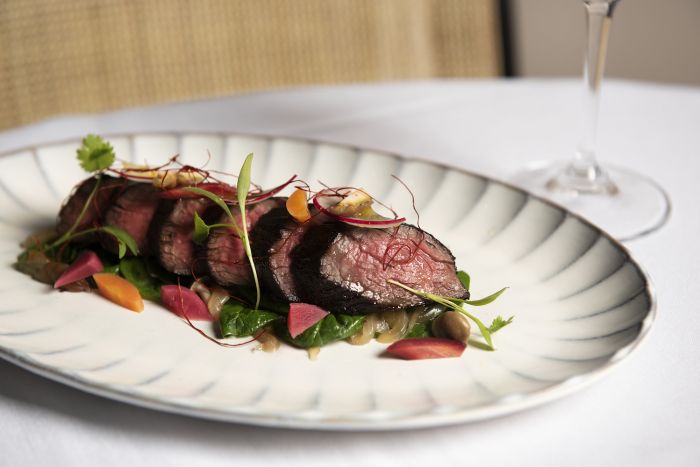 Photo by Liz Clayman
On the drinks side, Beverage Director/Advanced Sommelier Amy Racine curates a unique 120-bottle wine list focused on France. The line-up includes 16 wines by the glass, and the formidable by the bottle selection spans Pétillante Blanc, Pétillante Rosé, Blanc, Rosé et Orange, Rouge and Doux.
"Beyond robust French offerings, the list includes Australian bottlings to salute our owners, the Paspaley family, as well as wines with no direct French equivalent," said Racine. "We pour some great grower Champagnes, such as Champagne de Sousa et Fils Brut Rosé. For those seeking value, we have bottles like the Domaine Zind-Humbrecht, Gewürztraminer, Alsace 2020 at $20. Those wanting to splurge can indulge in the Château Cos d'Estournel, Cabernet Sauvignon blend, Grand Cru Classé, Saint-Estèphe 1986 at $995."
The cocktail list, also by Racine, celebrates France's gift to cocktail culture, vermouth, though the bar serves a full complement of liquors. "My vision is to create drinks that are squarely in France, but with global accents that surprise and delight. And vermouth is what links everything together," said Racine, who created a menu of Boozy Amis, mini cocktails that pair perfectly with the raw bar dishes and complement their acidic mignonettes.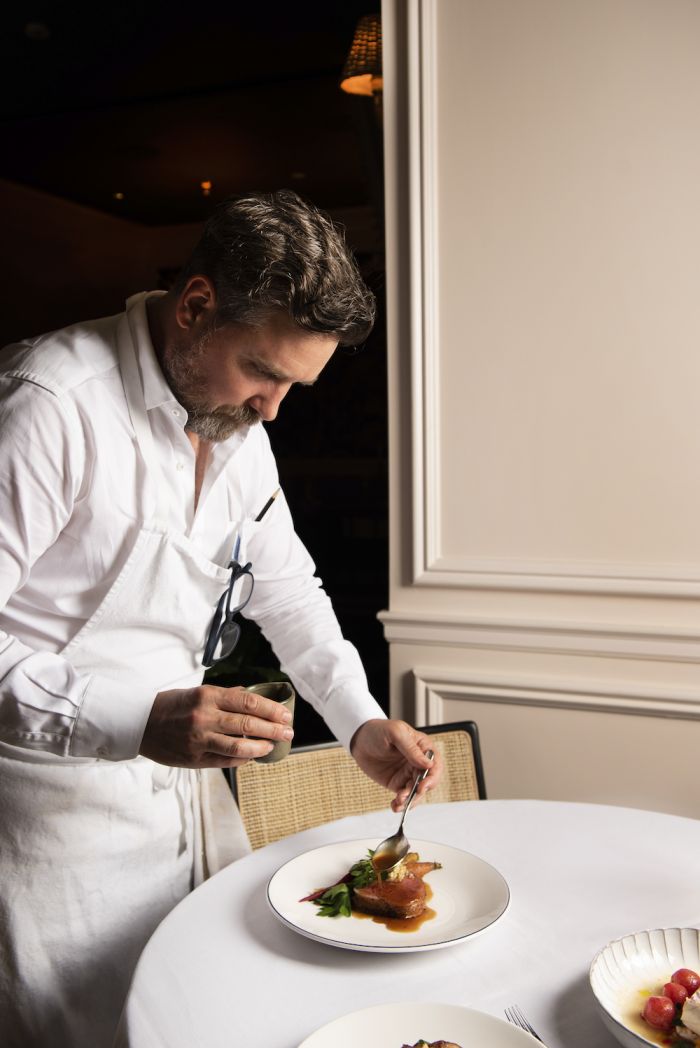 Chef John Fraser prepares a dish. Photo by Liz Clayman
"Having worked and lived in France for several years, spending extensive time there, I've always wanted to open a French brasserie, but do it in a sultry, modern way with a fun New York sensibility," said Fraser. "The fact that this historic building was the center of global trade for Manhattan was a point of inspiration. I thought, if I were a chef seeing new ingredients and ideas arriving at port, and wanted to incorporate that global pantry into my food, how would it influence our kitchen? The answer is La Marchande, and it was a pleasure to collaborate with Chef Rick and the culinary team to bring a contemporary edge to this classic cuisine."
La Marchande, 88 Wall St., New York, New York