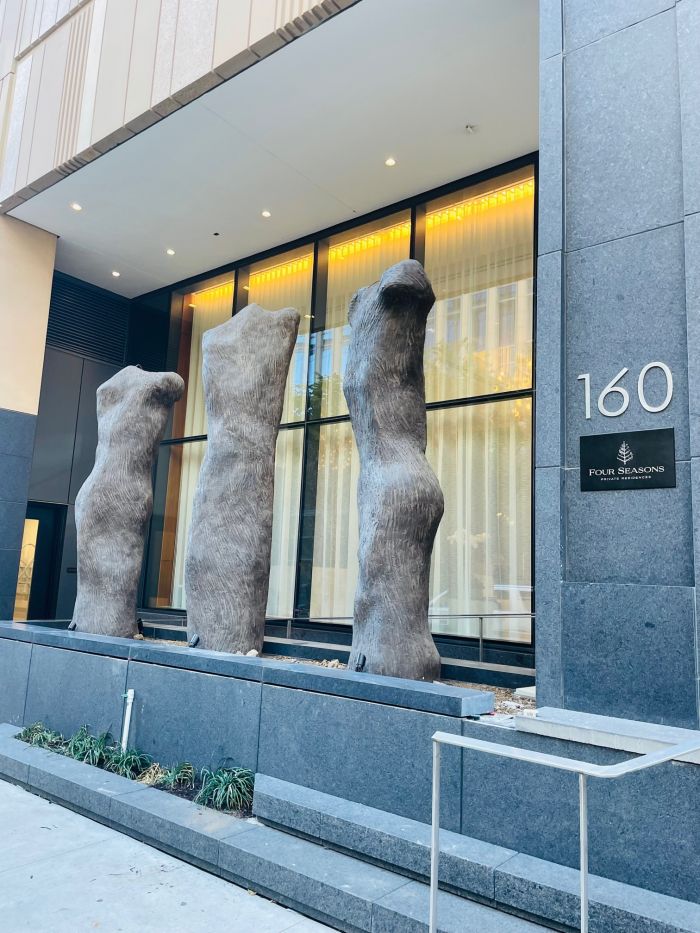 Alan LeQuire's Dream Forest - Photo by Jill Weinlein
Walking up to the new Four Seasons Nashville, a new social hub of the downtown SoBro neighborhood, artist and sculptor Alan LeQuire's Dream Forest welcomes guests at the entrance. The three tree-like statues resemble elongated human torsos on a colossal scale.
South of Broadway (SoBro) offers a vibrant music, sports and entertainment scene. Guests staying at the Four Seasons Nashville can walk to big-name country and rock acts at the open-air Ascend Auditorium. The area is also filled with lively bars, cool restaurants and fine dining opportunities. The hotel's new culinary gathering place, Mimo is a stylish dining venue offering relaxed social spaces to connect with others. By night, the vibrant dining room atmosphere is fueled by a lively bar and restaurant serving creative and delicious fare.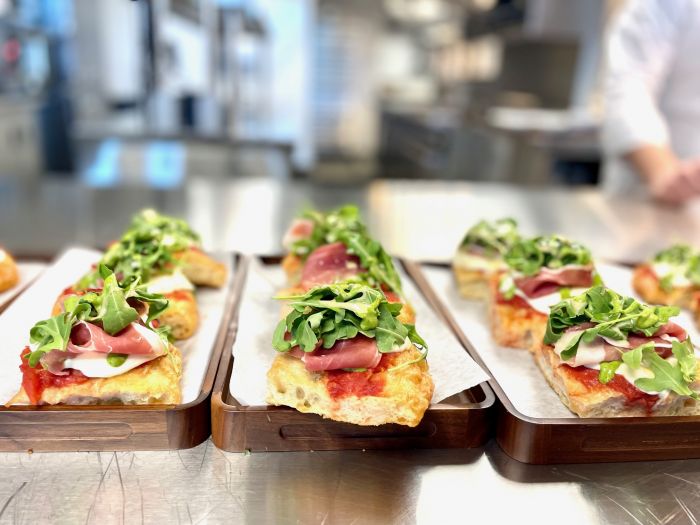 Jill Weinlein
Guests can feel the rhythm of the Music City in the Four Seasons' vibrant restaurants, led by Director of Food and Beverage, Alex Hernandez. He oversees all food and beverage operations of the hotel, including its flagship restaurant Mimo, special events and banquets.
Mimo is where Southern Italian Cuisine meets Southern Hospitality thanks to a stellar team of culinary and hospitality greats.
"We have attracted highly talented and passionate food and beverage professionals to create exceptional dining experiences throughout the Hotel and within our signature restaurant, Mimo Restaurant & Bar," said Richard Poskanzer, General Manager of Four Seasons Hotel Nashville. "Every inch of the property from Mimo to in-room dining, to our incredible event spaces, will offer world-class selections with exciting takes on classic dishes, alongside fresh and creative seasonal options.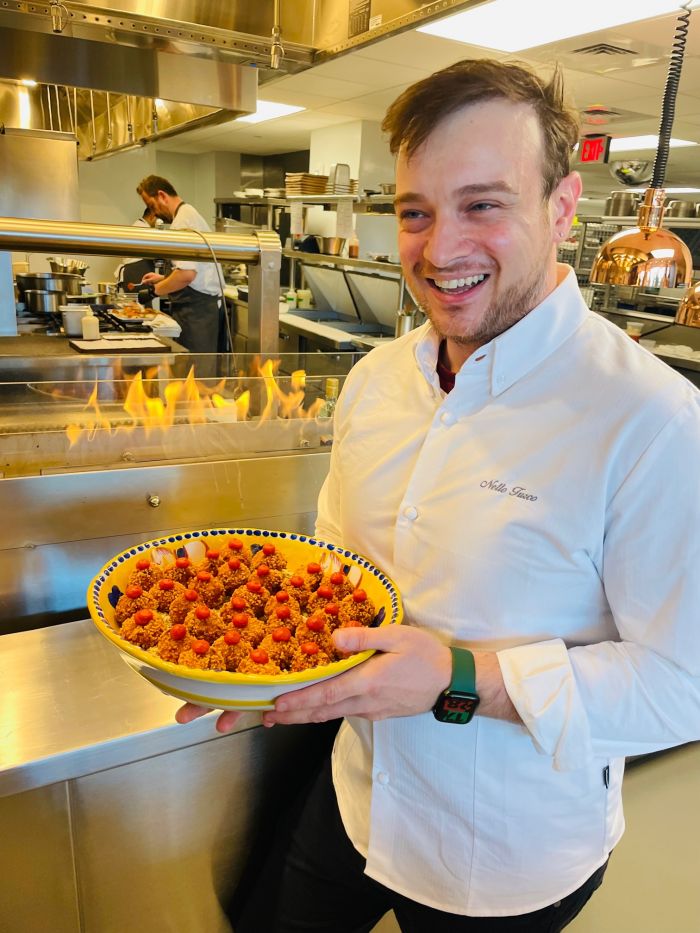 Michelin star Chef Nello Turco - Photo by Jill Weinlein
Poskanzer welcomes Michelin-starred Chef Aniello 'Nello' Turco to Mimo Restaurnt & Bar. 'We're thrilled to welcome aboard a seasoned staff that will allow us to deliver on the highest of culinary standards while creating memorable experiences from breakfast to dinner that only Four Seasons can offer," said Poskanzer.
Working in the kitchen with Executive chef Chef Nello Turco is Sous Chef, David Gutierriez. As Turco's right-hand man across the entire hotel property's culinary operations, Gutierriez has more than 15 years of experience working in five-star resorts and Michelin-starred restaurants. Prior to joining Four Seasons Hotel Nashville, Gutierriez worked as Sous Chef under Chef Tristan Baker at Four Seasons Hotel Chicago.
"It's an honor to work alongside a chef as accomplished as Chef Nello," says Gutierriez. "He brings such a strong vision and so much experience to the kitchen. I'm grateful for the opportunity to partner with him on bringing Mimo to life."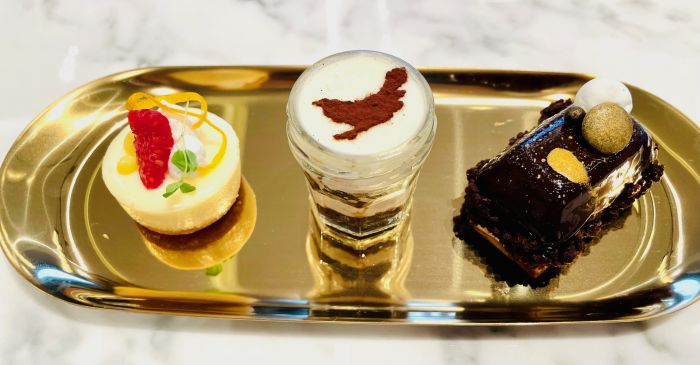 Desserts at Mimo - Photo by Jill Weinlein
Desserts are quite a visual treat at Mimo as Pastry Chef, Zach Bryant is responsible for the entire pastry department and team at Four Seasons Hotel Nashville. Bryant's mother worked for a baking company and his father and brothers were chefs in Philadelphia, so Bryant aspired to be a baker from an early age. His first job was at a bakery when he turned 16. Bryant continued learning at the Baking and Pastry Arts from the Culinary Institute of America. During his time at CIA, he worked at Apple Pie Bakery Café and the classic French-inspired Bocuse Restaurant, two of the student-run, faculty-led teaching restaurants affiliated with the school.
Bryant also completed an internship at Orlando World Center Marriott in Florida before graduation. Next, he worked as an assistant pastry chef at Talula's Table in Philadelphia for three years, and served as the pastry sous chef at Gaylord Rockies Resort & Convention Center in Denver, Colorado. Most recently, he spent a year as the pastry chef of the Grand Hyatt Nashville.
"I'm thrilled to work alongside such a strong culinary team at Four Seasons Hotel Nashville," says Bryant. "From crafting individual desserts at Mimo to constructing cakes and confections for private events, we always want to wow our guests with something modern, elevated and fun."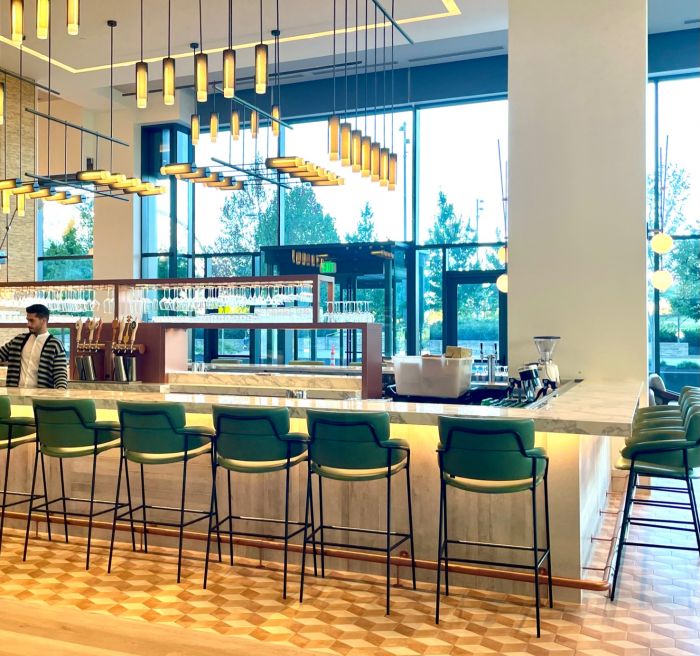 Stunning Mimo bar area - Photo by Jill Weinlein
As Bar Manager, Michael Geffin leads the beverage program of Four Seasons Hotel Nashville across all outlets. After graduating from hospitality management from the University of Central Florida, Geffin worked for Walt Disney World Resorts for three years before joining Four Seasons in 2017.
"Having the opportunity to open a new bar in a city with such a thriving food and beverage scene is really exciting," says Geffin. "We want to create a sense of home at Mimo, so guests feel relaxed and welcome every time they visit."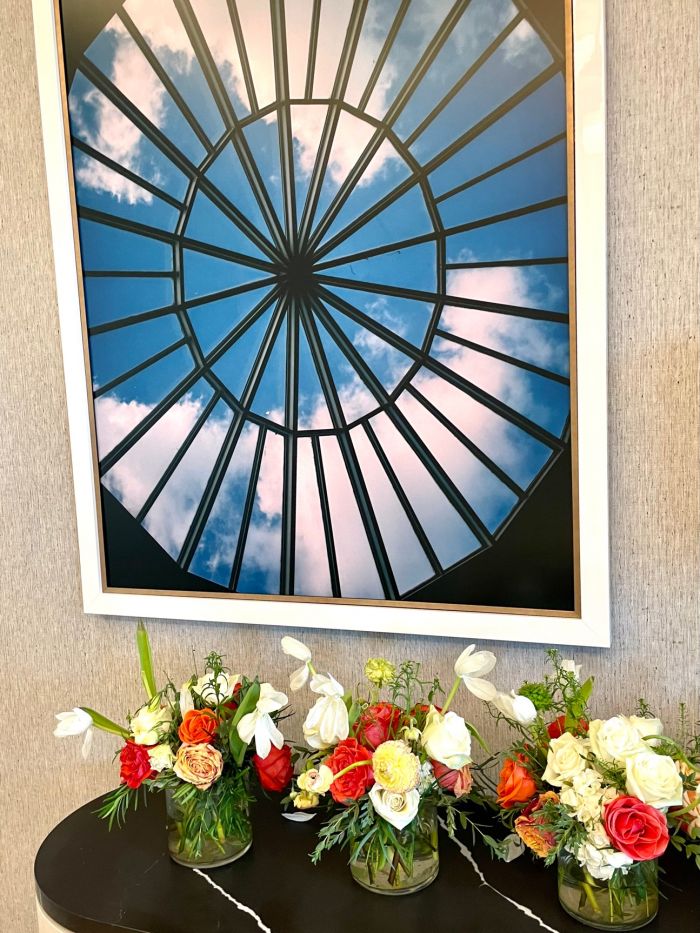 Art is everywhere you look - Photo by Jill Weinlein
There are 193 guest rooms and 42 suites at the 40-story Four Seasons Nashville. Art is everywhere you look with 700 reproductions of art in guest rooms and corridors. There are over 44 original pieces of art featured throughout the hotel.
The Presidential Suite located on the highest hotel level, offers wrap-around city and river views. The spacious living area with lounge seating is ideal for entertaining in your suite, especially with an exquisite dining table for eight, and a private bar area and a modern fireplace. The stunning bedroom offers a large dressing area and walk-in closet. The sunlit en suite bath is spacious and filled with luxurious amenities. This suite can also be available in two and three bedrooms.

Rooftop pool - Photo by Four Seasons Nashville
Before or after a meal at Mimo, harmony can be enjoyed at the 2,300 sqft infinity rooftop open air swimming pool on the 7th floor.
Reservations for Four Seasons Nashville are available now.