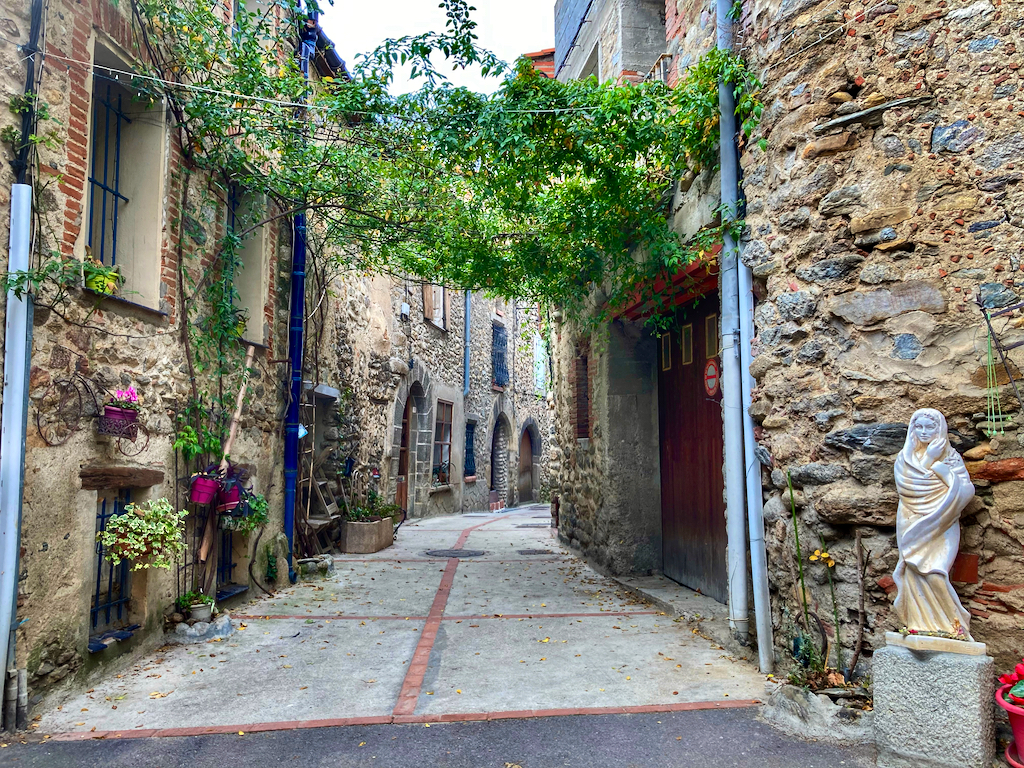 Columbia Hillen
Brimming with orchards, olive groves, vineyards and charming stonewall villages with the steep slopes of Canigó mountain as a majestic backdrop – the Pyrenees-Orientales region of southern France seduces visitors with its sheer natural vitality.
Here are just a few highlights to enjoy in one of the sunniest places in mainland Europe, lying between the Mediterranean and the Pyrenees.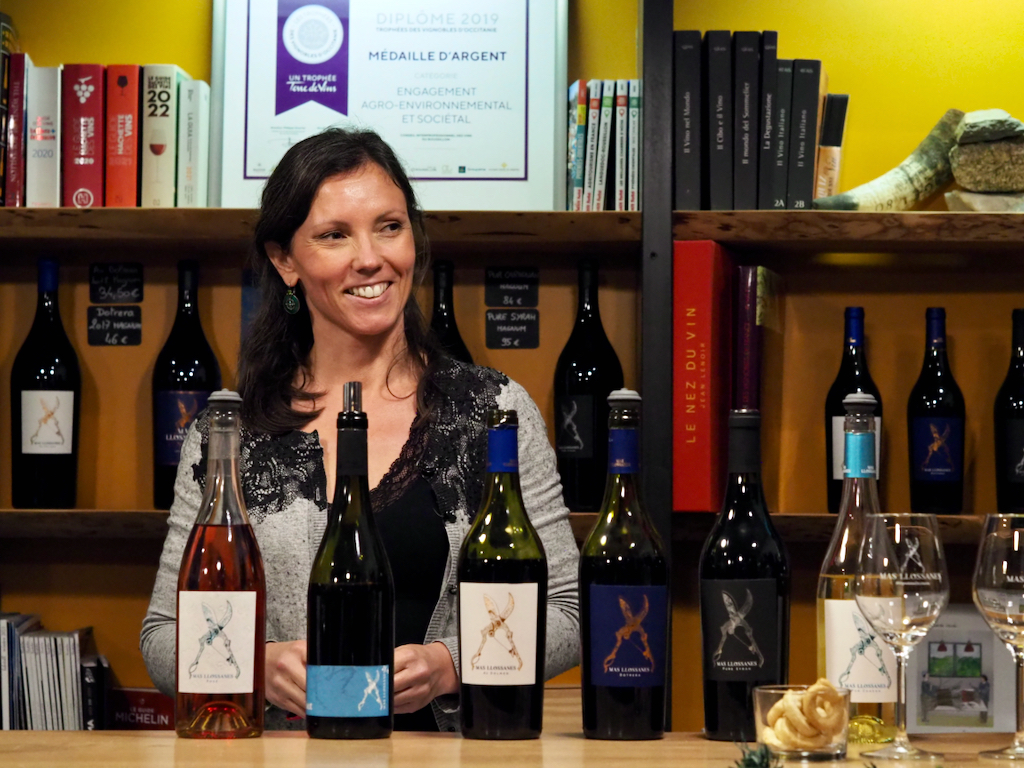 Solenn Genot presenting a wine tasting. Photo by Columbia Hillen
Taste of the Grape
With 320 days of sunshine each year, this region is a patchwork quilt of vineyards, a paradise for wine lovers, whether they be reds, whites, rosés or the region's fortified sweet varieties known as vins doux naturels.
Among the many vineyard choices is Mas Llossanes, meaning 'Holy Ground,' a boutique, 11-hectare domaine owned and operated by couple, Dominique and Solenn Genot. Producing around 30,000 bottles a year using native grape varieties, including two rare ones, chasan and chenanson, it is one of the highest vineyards in France at 700 meters above sea-level.
Having gained much of their viticulture experience working in Italy, New Zealand and elsewhere the friendly couple took the plunge and purchased their estate about six years ago, gradually converting it to biodynamic status, one of around 400 in France. A distinct feature of their land is an ancient dolmen that stands in the heart of the vineyard.
"We don't use any product of chemical origin and we harvest exclusively by hand," said Solenn, a former school teacher before training in viticulture and also becoming a sommelier.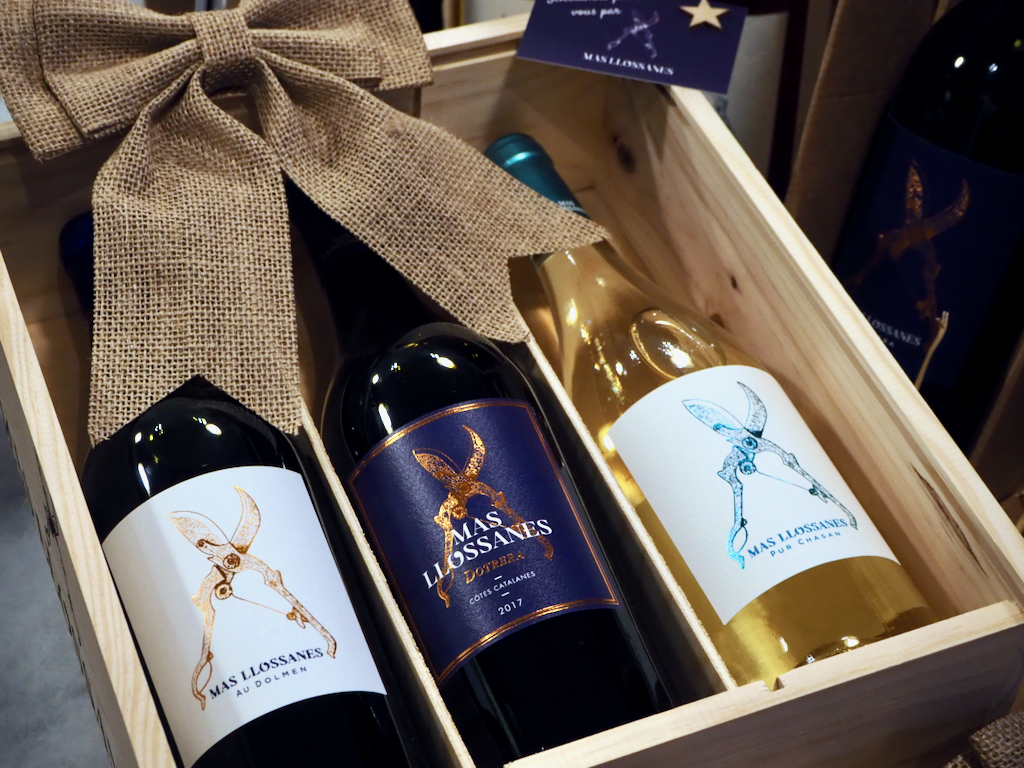 Columbia Hillen
The emblem on the label of their bottles is a pair of pruning shears, a key symbol of what the couple consider is their precise, handcrafted work. Under conditions they describe as "low yield, high quality," they've created seven distinct brands in all, with around 90 percent of their production being reds, but also some whites and rosé.
The couple chose the Pyrenees-Orientales region due to its excellent terroir, which they say, produces "well-structured wines, powerful and high in tannins."
Having purchased the vineyard, the couple took over cellars which had belonged to the local wine co-operative in the nearby town of Marquixanes since 1931. The cellar closed twenty years ago and the Genots reconverted it to suit their purposes, both as a shop in front for wine tasting and storage in barrels and vats in the rear.
Among wine selections at Mas Llossanes are La Haut, made from pure Carignan, with a fresh fruity flavor; the flagship Dotrera, mainly Grenache and Carignan, Syrah and Chenanson which spends two years in oak barrels and has aromas of raspberry and blackcurrant with powdery tannins and a subtle oakiness; and Pure Chasan, a brilliant, straw yellow color with a rich bouquet of citrus fruits and honey.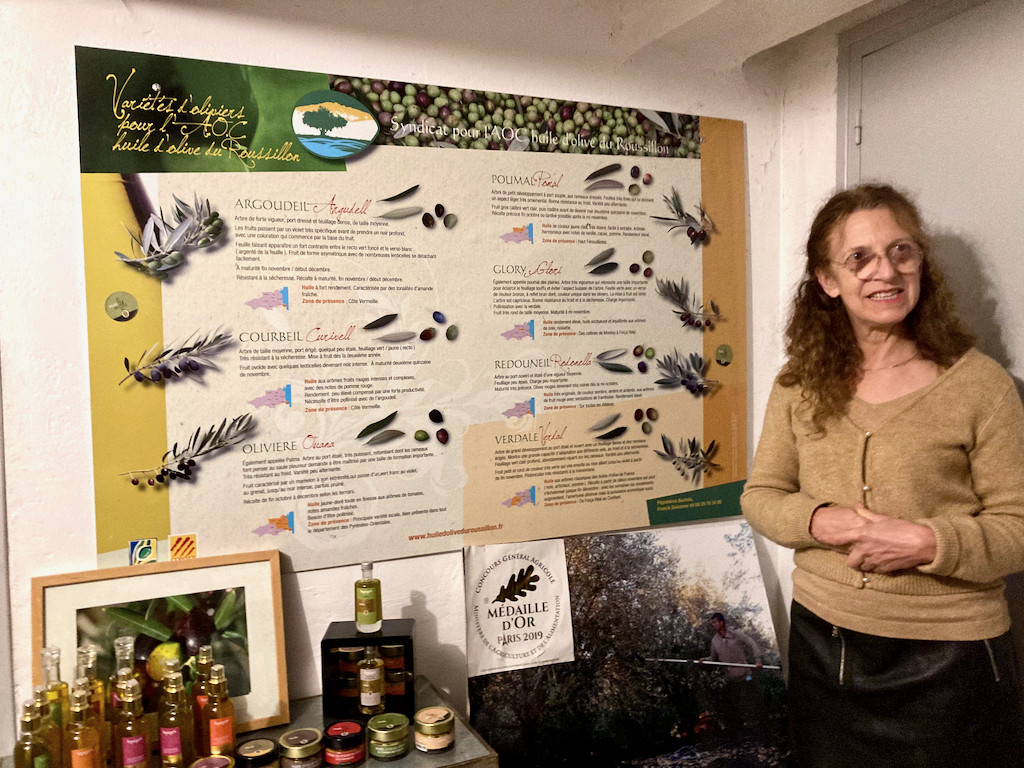 Marie-Neige discussing the varieties of olive trees used to make the olive oil. Photo by Columbia Hillen
Oil of the Gods
Long considered a sacred liquid and used in medicine as well as food, olive oil has become an important aspect of life in the Pyrenees-Orientales, with an increasing amount of land being re-planted as olive groves.
Huile Des Orgues is one such place.
Located near a spectacular ochre-colored geological feature known as 'The Organs,' land here was once covered in peach trees nurtured by farmer Noël Fabre for more than fifty years. But seven years ago, Fabre started planting olive trees and harvesting them by hand.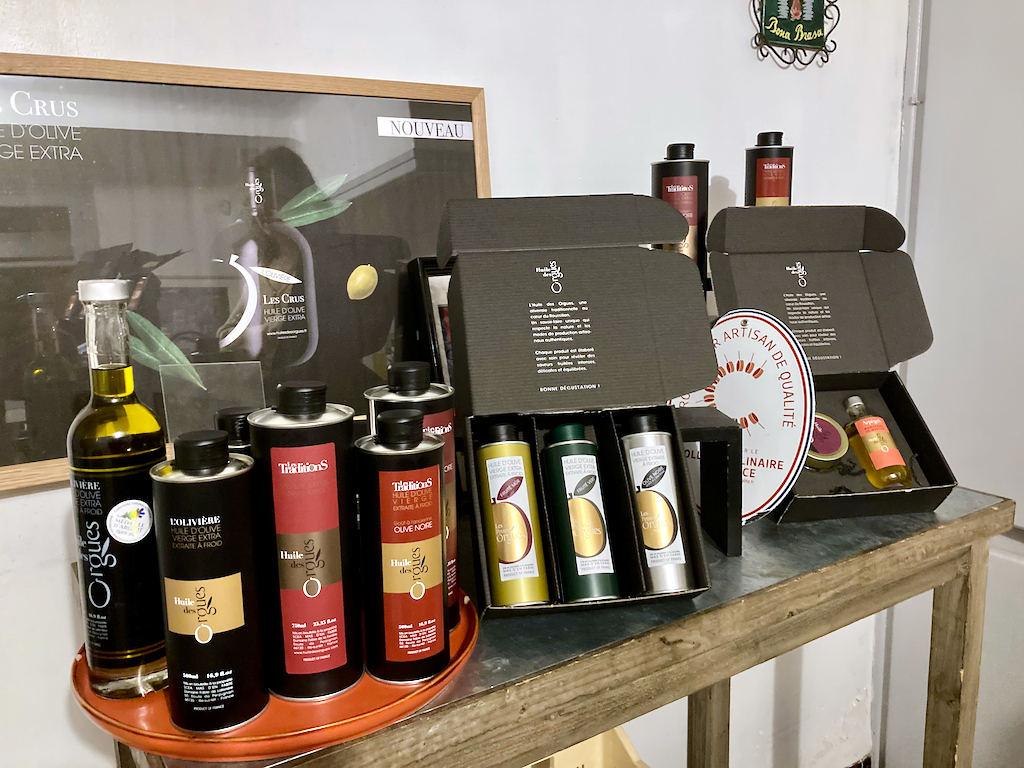 Columbia Hillen
Assisted by his daughter, Marie-Neige, her husband Philippe and Lily, an agricultural engineer, they now produce around 10,000 liters a year resulting in over forty different products. Their focus is reviving indigenous cultivars such as the Olivière, a traditional variety from Roussillon with a harmonious taste and hints of dried tomatoes, as well as others such as Verdale, Redouneil, Glory, Courbeil and Argoudeil. Huile des Orgues make a range of flavored oils too with truffles, fruits and herbs.
The award-winning oils are much sought after by leading chefs and restaurants. You can visit their location and enjoy a special tasting. Marie-Neige and Philippe are now working on developing a state-of-the-art interpretative center to promote the ancient art of olive-oil-making.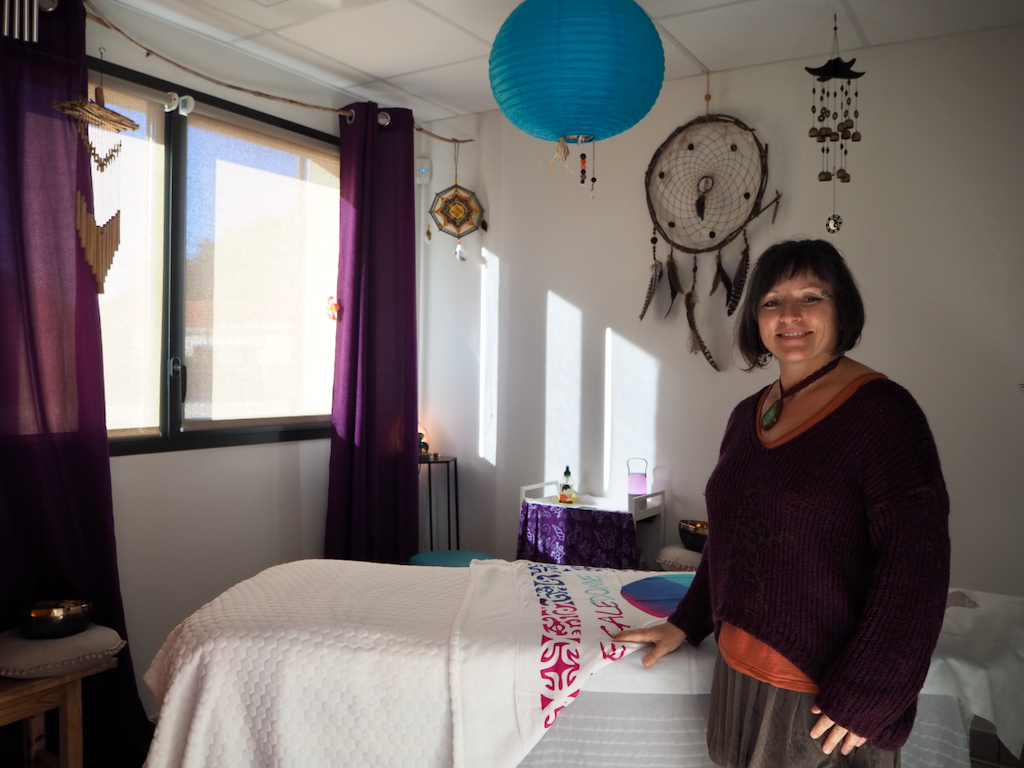 Therapist Monique Lafitte. Photo by Columbia Hillen
Rest and Relaxation
Being a tranquil, bucolic region, relaxation could be simply a leisurely meander along the stony pathways in the hills above the pretty village of Eus or near the 9th century Abbey of Saint-Michel-de-Cuxa.
For something different, however, visit 'Espace Feel Good,' a project launched several years ago by Cédric Marteau as part of his 'ALTER ET GO' association dedicated to well-being and personal development.
It was here, I enjoyed wonderful massages by skilled therapist, Monique Lafitte. A physiotherapist by training, Monique with colleague Christina Harmonic, offers various sensory therapies including meditation, hot basalt stone, sound and draining massages, Japanese facials and energy harmonisation. The center also hosts workshops in a range of subjects including dance, singing, intuitive painting, book binding and Native American weaving. The center offers overnight stays facilitated in several comfortable houses built on the hillside site close to Marquixanes.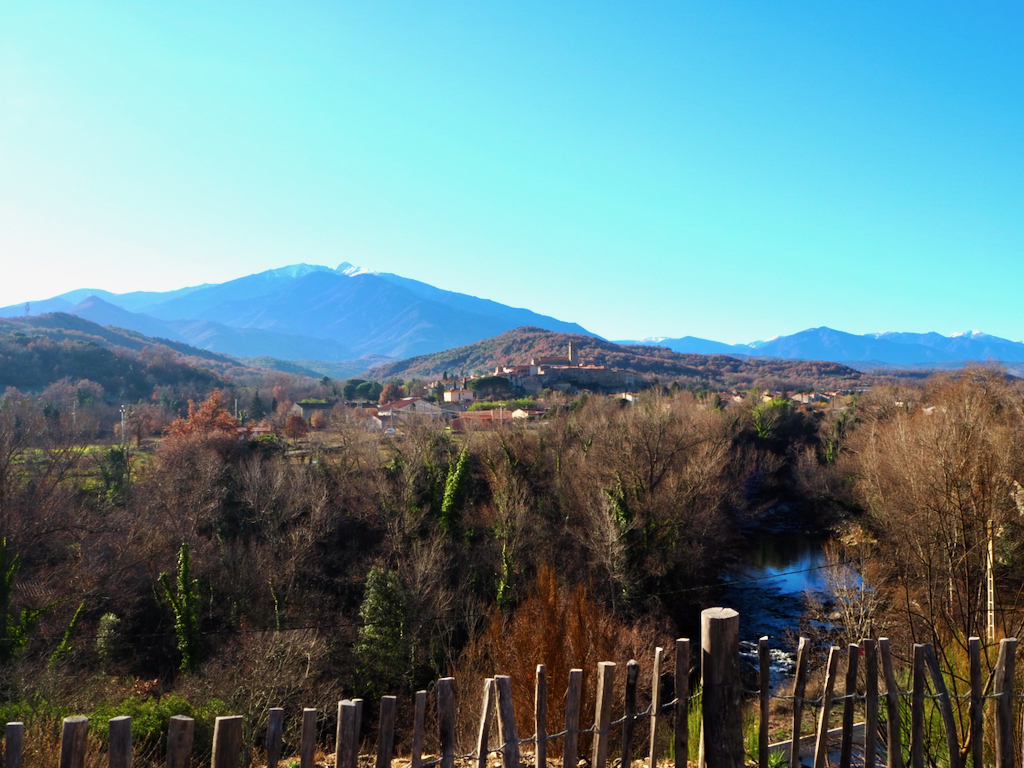 Columbia Hillen
Another option is to travel to the Baths of Saint-Thomas, a 20-minute drive from the walled medieval town of Villefranche-de-Conflent, and soak in open-air pools of sulfurous hot water with horizontal and vertical jets, all housed within a stone amphitheater in the mountains. The wellness area adjacent to the pools has a hammam with essential oils, sauna, an evaporarium with sulfur and a jacuzzi. Different types of massages can be enjoyed including watsu (relaxation in thermal water), herbal, Pijat Bali, hot stone, Tibetan and various body scrubs.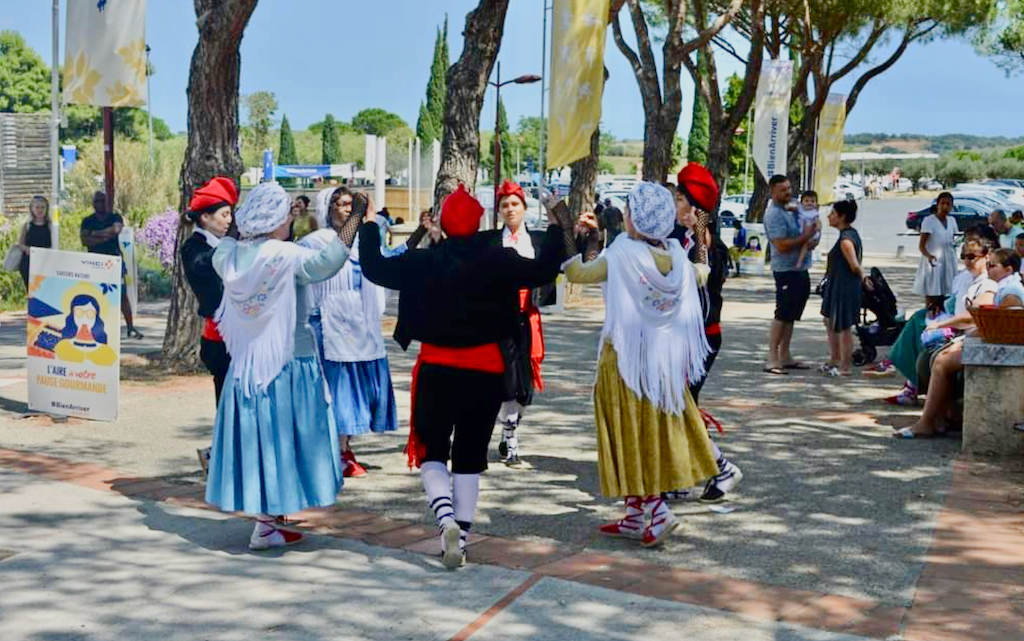 Photo courtesy of Els Dansaires Catalans de Thuir
Dance for the Heart
Catalan dance and music is flourishing in the Pyrénées-Orientales region and if you're fortunate you may catch a performance by one of the many cultural associations such as Els Dansaires Catalans de Thuir.
Created in 1958 and with around 30 members led by its President, Jeannine Farran (65), it comprises children as young as four to people in their 60s. Dressed in traditional costumes or comarques, members perform such dances as the popular Sardana, symbolizing fraternity, often accompanied by an orchestra, or cobla, with music played on instruments including the tenora, tible, flabiol trumpet, fiscorn, trombone, and three-string contrabass.
Jeannine and colleagues including her daughter, Florence; Jocelyne, the association's most senior member; and Fanny Pla, an historian and tourism guide in Villefranche de Conflent, say their aim is to "transmit and perpetuate proud Catalan culture and traditions for future generations."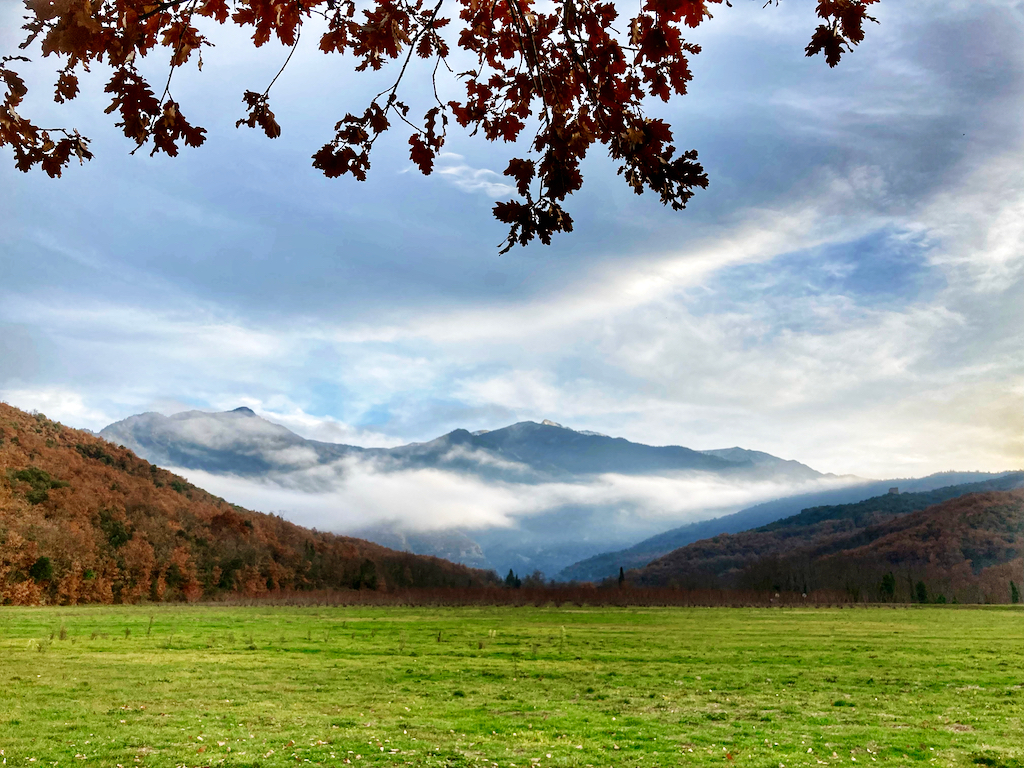 Columbia Hillen
The above being only a few gems of this southern French area, a friendly and knowledgeable source for other activities is the office of tourism Conflent Canigou. The efficient staff there can provide information on a wide range of other activities from guided visits, walking trails to farmer markets and artisans shops.