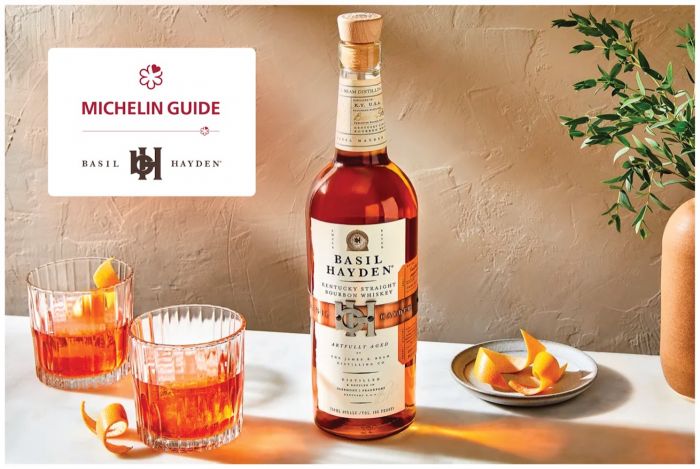 Basil Hayden continues to shine a light on what bourbon can be by becoming the official American whiskey of the MICHELIN Guide U.S. Built on shared values of elevated standards of excellence, the two brands look forward to showcasing refined culinary and spirits with their affiliation that invites consumers to unlock MICHELIN Guide-worthy experiences.
The partnership with the MICHELIN Guide is the latest example of how Basil Hayden redefines traditional bourbon tropes with their approachable yet refined recipe. Crafted in 1992 by Booker Noe as part of the Small Batch collection, Basil Hayden introduced a more subtle side of bourbon compared to its counterparts, offering cocktail devotees an unexpected, whiskey aperitif opportunity.
"Consumers seek out MICHELIN and Basil Hayden for similar reasons: They want an elevated experience," said Cara Cornelius, vice president of food and travel experiences for MICHELIN Americas. "We know, however, people sometimes assume these experiences are out of reach, kept behind an expensive bill or impossible reservations. Our goal for this new partnership is to bring MICHELIN-level events to the consumer and show how sophistication and quality can be enjoyed by all."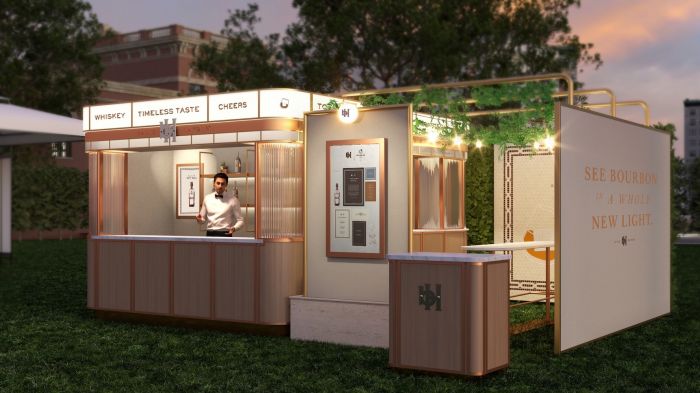 Basil Hayden/MICHELIN Guide U.S. tasting garden. Rendering courtesy of Basil Hayden/MICHELIN Guide U.S.
One of the most anticipated events is an immersive "tasting garden" that will travel to popular food festivals across the U.S. Kicking off in June, the co-branded footprint will feature a diner-inspired exterior that gives way to a surprise, high-end cocktail bar where attendees of legal purchase age or older will enjoy Basil Hayden craft cocktails paired with MICHELIN-inspired small bites. Designed as an inclusive entry point into the world of Basil Hayden and the MICHELIN Guide, attendees will depart having discovered perfect pairings and new occasions for bourbon.
In addition to the pop-ups, Basil Hayden will serve as an official partner of the 2023 MICHELIN Guide ceremonies and will present the MICHELIN Exceptional Cocktails Award. The partnership also includes a suite of initiatives, including a sweepstakes where a lucky winner will get to experience a Michelin Star weekend – inclusive of fine dining and luxury accommodations.
"We are honored to be the official American whiskey of the MICHELIN Guide," said Jonathan Marks, senior marketing director for Global Small Batch Bourbon at Beam Suntory. "Both the MICHELIN Guide and Basil Hayden celebrate excellence in our crafts while creating unique experiences for consumers, making this the perfect partnership. At Basil Hayden, we aim to unlock experiences to make them accessible and approachable – just like our whiskey. Basil Hayden's refined yet welcoming taste profile makes it appeal to both whiskey novices and seasoned bourbon drinkers."
The Basil Hayden and MICHELIN Guide pop-up tour kicks off this summer and continues through the fall:
Chicago, IL – Taste of Randolph, Jun 16-18
Denver, CO – Cherry Creek Arts Festival, July 1-3
Louisville, KY – Bourbon & Beyond, Sept 14-17
Atlanta, GA – Atlanta Food & Wine Festival, Sept 21-24
New York, NY – New York City Wine & Food Festival, Oct 12-15
San Diego, CA – San Diego Bay Wine & Food Festival, Nov 11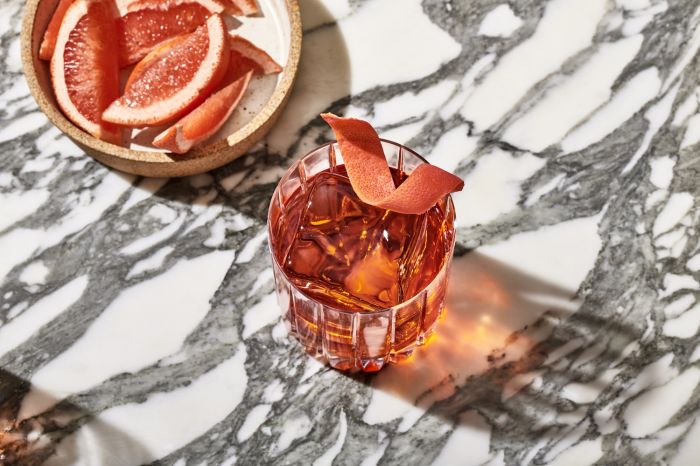 Basil Hayden 'Golden Hour' Cocktail. Photo courtesy of Basil Hayden
Make your own Basil Hayden cocktail at home with this recipe for the 'Golden Hour:'
1 part Basil Hayden® Kentucky Straight Bourbon Whiskey
3/4 part Lillet® Blanc
3/4 part Aperol® Aperitif
Grapefruit peel
Method
1. Combine ingredients over ice in a mixing glass.
2. Stir thoroughly.
3. Strain into a chilled cocktail glass over a single large ice cube.
4. Garnish with grapefruit peel.