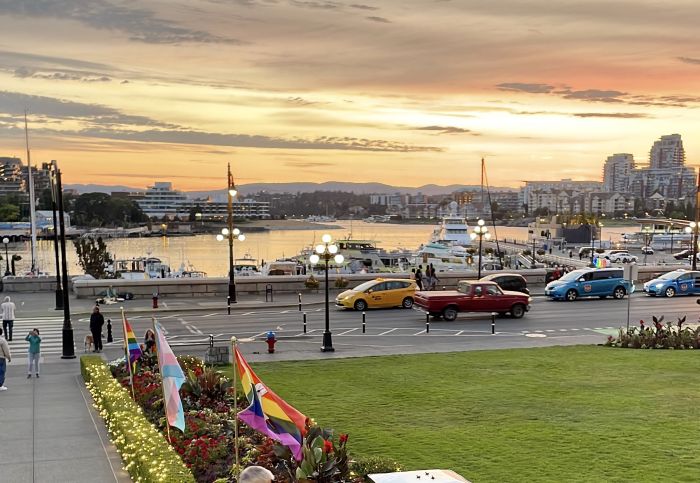 Victoria's Inner Harbor
Victoria, the waterfront capital of British Columbia, is experiencing a boom in its culinary, beer and spirits scene. New restaurants, pubs and food tours are popping up across the city in 2023.
A fun fact is that Victoria has more restaurants per capita than any other city in Canada. Named after Queen Victoria, the city is one of the oldest in the Pacific Northwest. British settlement started in 1843, and throughout the city the influence of the Queen resides everywhere one looks. The city has also been crowned the "Brunch Capital of Canada," as dining continues to blossom.
A celebration of farmers, chefs and the food they create takes place on August 5 at Food Day Canada.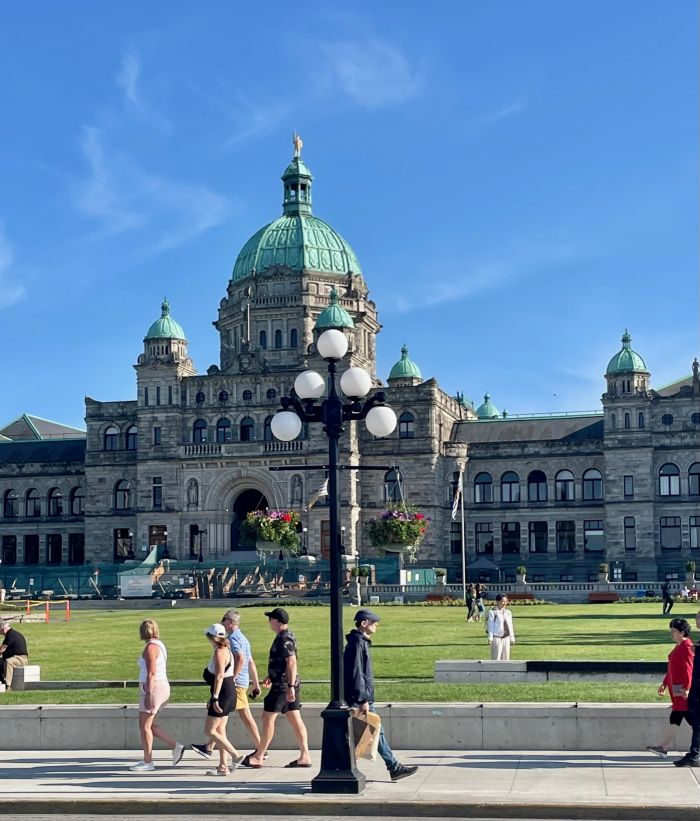 Legislative Assembly - Jill Weinlein
Off the Eaten Track offers a three-hour walking tour with stops along the way to enjoy a progressive four-course meal from some of Victoria's top restaurants. It's a great way to get familiar with the city, while enjoying some local farm-to-table dishes.
Recently the company launched a new Fine Dining Evening Tour this summer. Participants meet inside the historic Steamship Terminal building and start walking and learning about the historic sights in the city. The first stop is the trendy Bar 500 for a sparkling glass of BC wine and an amuse bouche.
Next the food tour guide leads foodies along the inner harbor to the award-winning The Courtney Room inside the Magnolia Hotel. Chef Brian Tesolin presents an array of appetizers, using foraged and seasonal farm grown ingredients. This moving dinner includes two appetizers, a main course and dessert. Optional wine pairings is an additional fee.
Other progressive food tours by Off The Eaten Track include a Modern Chinatown Food and History Tour, Eat Like a Canadian, and a Downtown Food and City Tour. Private tours can be arranged too.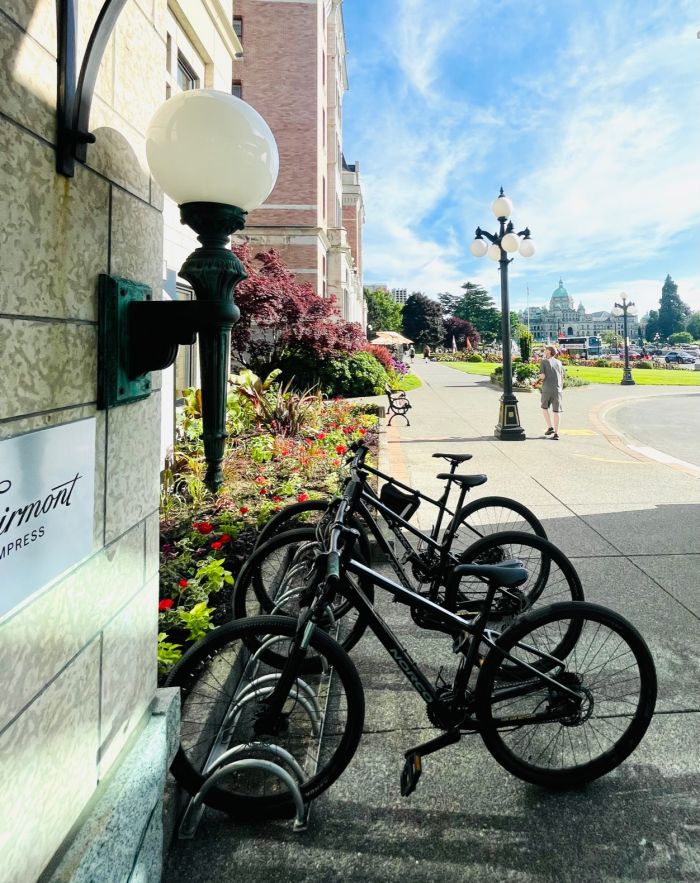 Pedal around Victoria - Jill Weinlein
The Pedaler in Victoria is a bike rental and bike tour company that is collaborating with Off the Eaten Track for an 'Eat, Drink and Pedal tour.
Guests will be fitted for a helmet and receive a bicycle or e-bike. During the tour, guests will discover some of Victoria's trendiest neighborhoods, while sampling delicious food and drinks. Visiting Victoria's beloved Root Cellar grocery stores, participants will sample their famous green sauce, voted one of the best things to eat in the city. It's so good they serve over 25,000 tubs of it each year. This special sauce is served with in-house roasted chicken or seasonal vegetables.
Next pedal to BoomTown to sample their iconic burritos. Sit out on one of the largest al fresco patios in Victoria, to enjoy the flavors of Mexican cuisine while watching the people walk and ride by. Afterward, riders will explore historic Fernwood to receive a slice of pizza at Fernwood Pizza and a taste of the homemade smoked sriracha dip.
Back on the bikes, participants will pedal to lovely Fairfield for a special cookie from the charming Deer & Dough Bakery, before riding along the stunning waterfront for a stop of coffee or locally made soda with in-house hand roasted peanuts at For Good Measure.
The Pedaler is also offering a new Evening Experience for cruise passengers who want to explore Victoria's food scene during their stop ashore. There is also a Hoppy Hour Tour for those who enjoy pedaling and stopping at a local brewery and park for refreshments and views. The Castles, Hoods & Legends tour rides to iconic landmarks. Visit the narrowest street in North America and the tallest freestanding totem pole along the ride.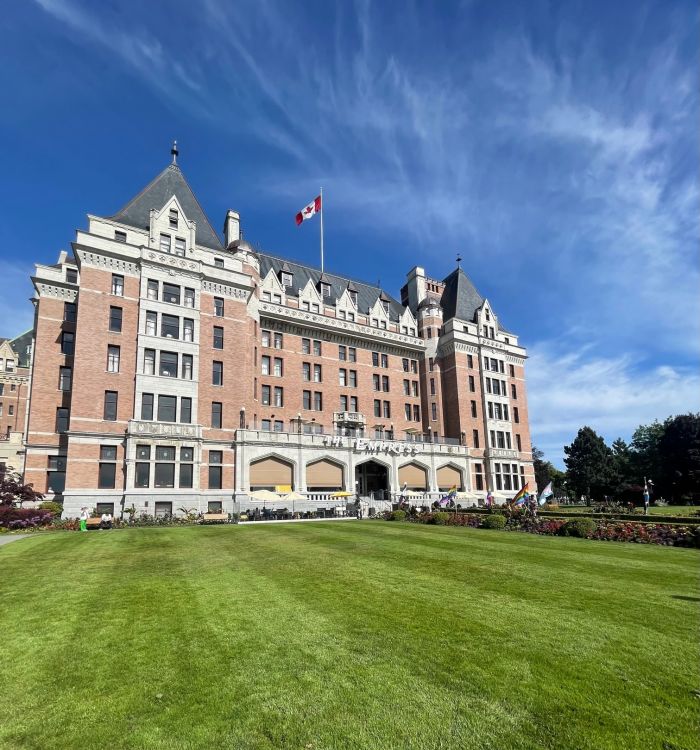 Fairmont Empress Hotel - Jill Weinlein
Every visitor in Victoria BC, should stay or stop into the historic Fairmont Empress Hotel for an elegant afternoon tea ceremony or their new Sunset Sips. Guests have a choice of 21 elegant loose-leaf teas served in royal china, a gift from her Majesty in 1939. Tiered towers hold savory and light tea sandwiches, fresh fruit and pastries during the afternoon celebration. This has been a tradition at the hotel for more than 115 years.
In the evening, clear glass teapots pour tea-infused cocktails into glass tea cups, as guests enjoy savory tapas and sweet treats on a three-tier tower during Sunset Sips.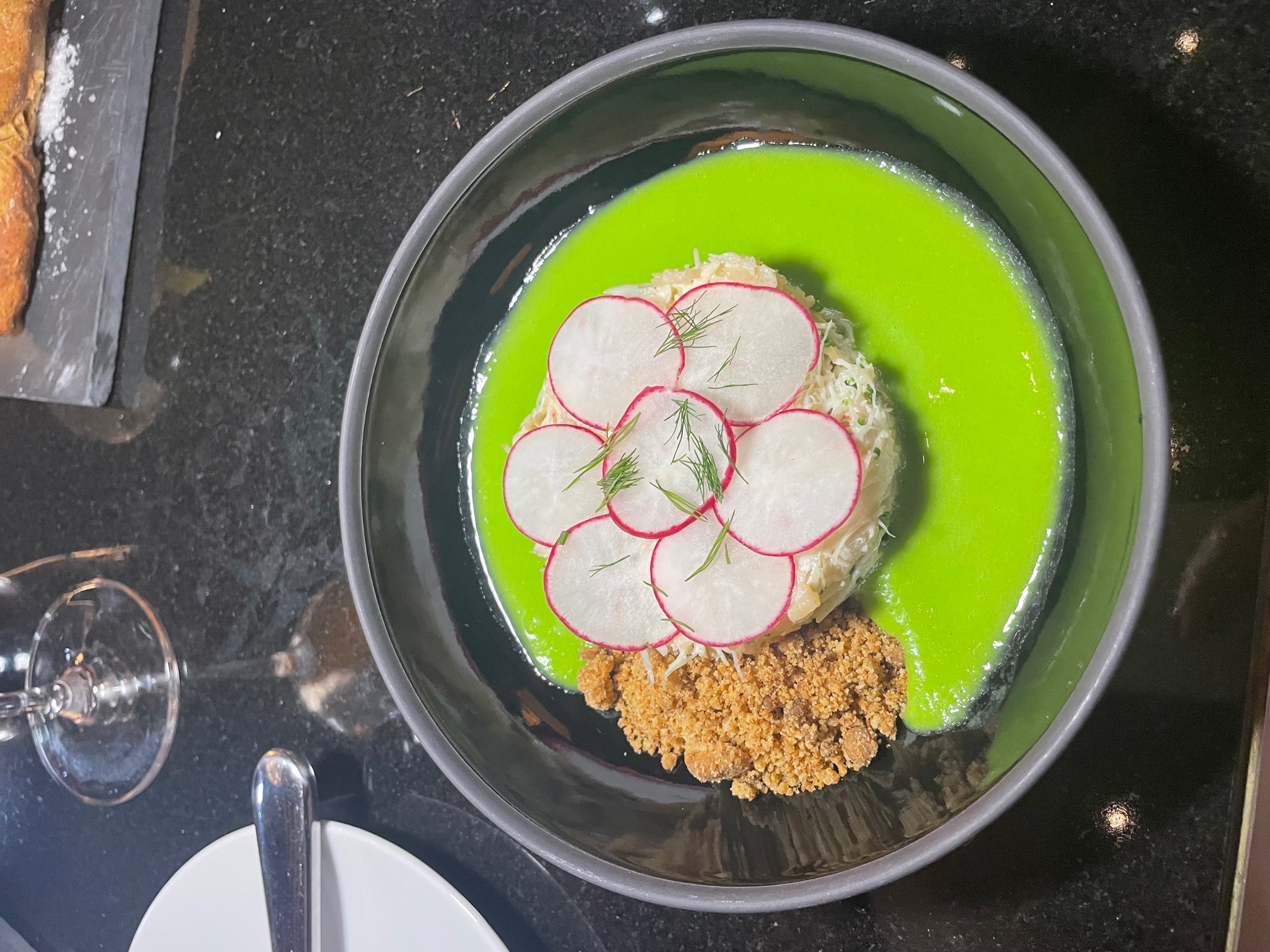 Dinner at Q at the Empress
Victoria has recently welcomed several new chefs and restaurants in 2023, including Q at the Empress. Oozing opulence with rich cherry wood ceilings and spectacularly detailed moldings honoring the past, Q at the Empress is a nod to Queen Victoria, with a playful modern twist on royalty.
Located in the most storied room in Victoria, it is a must-visit culinary experience for Pacific Northwest cuisine. Chefs provide regional ingredients in each dish based on their partnerships with local farmers and artisans. They also utilize their own chef's herb, vegetable anf honey bee garden to ensure a fresh and unique meal.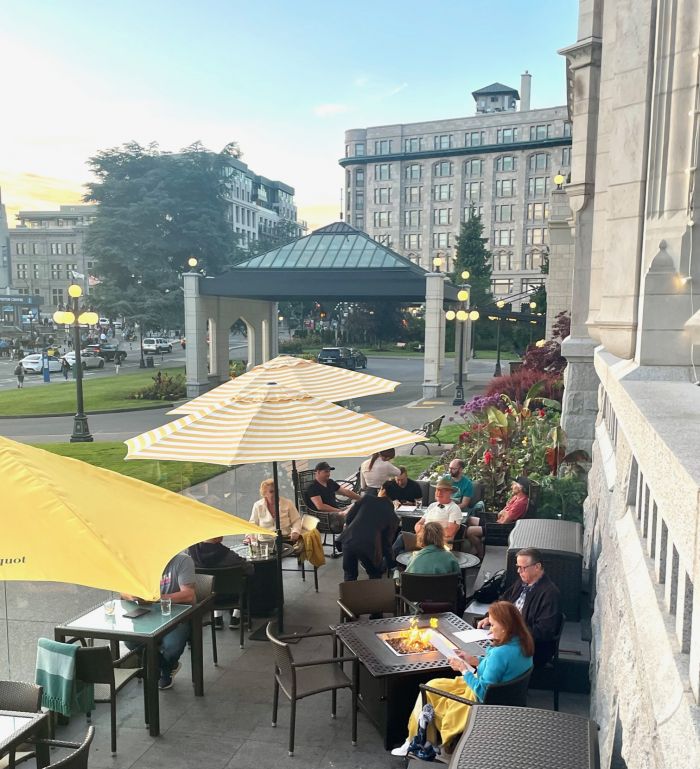 Dine outside in Victoria - Jill Weinlein
Other restaurants worth visiting include Fathom at the Hotel Grand Pacific offering a seafood-forward menu. New chef Peter Kim takes inspiration from the rugged West Coast in preparing sea-to-table fare.
Touted as one of the most elegant fine dining experiences in Victoria, Ugly Duckling is located in one of the beautiful heritage buildings in Chinatown. Gathering ingredients from Vancouver Island to make everything by hand.
The new tapas and wine bar Bray's offers a unique dining experience with seasonal small plates paired with local and internationally-renowned wines.
Vancouver Canucks and TopTable Group owners opened the new Marilena Cafe & Raw Bar on June 28, 2023. Guests have a choice of nigiri, sashimi and sushi rolls from the raw bar led by Chef Clark Park.
Those looking for gluten-free options, The Art of Slow Food bakery and cafe utilizes local organic ingredients and traditional gluten-free methods of food preparation.
Visit Tourism Victoria for helpful suggestions of where to stay, eat and explore.