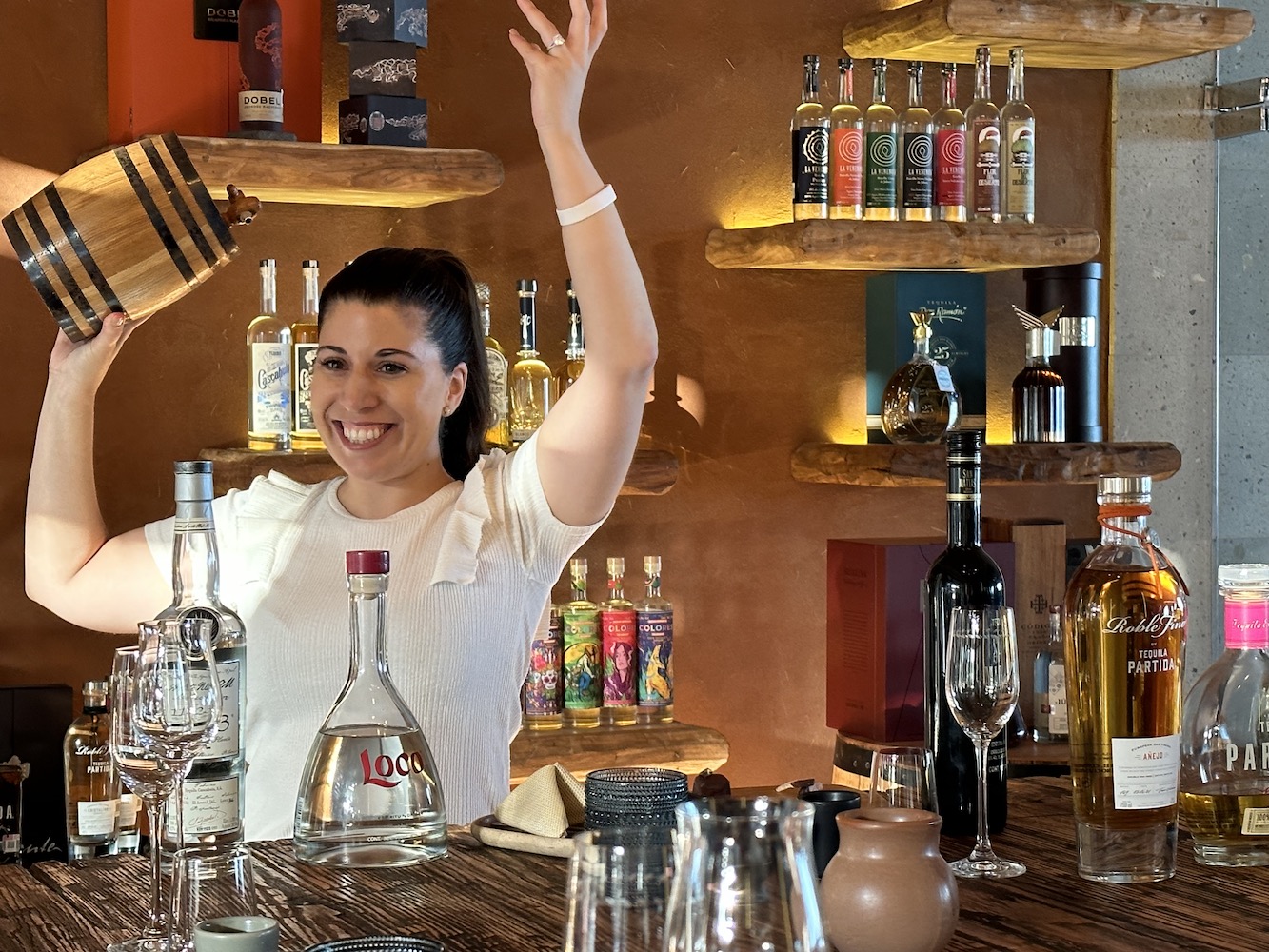 Hilton Los Cabos Tequila Master Ana Martinez conducts an agave spirits tasting. Photo by Fran Miller
If you think that tequila is simply an additive to your favorite margarita, Ana Martinez will change your perception. The resident tequila master at Hilton Los Cabos conducts agave spirits tastings within the resort's Sotol Bar and its La Biblioteca, where a museum-like display of luxe tequilas and mezcals surrounds a high-top bar table. Martinez's joy and enthusiasm is infectious; she loves agave spirits, and after her one hour class, you surely will too.
Martinez has studied Mexican tequilas, mezcals, and agaves in the same way a wine sommelier has studied vinification. A leading expert, she loves sharing her knowledge with Hilton Los Cabos guests. She shares her firsthand knowledge of flavor profiles and the region's master distillers, along with ample samplings and small bites while discussing the history of various Mexican regions that grow agave plants and distill their spirits.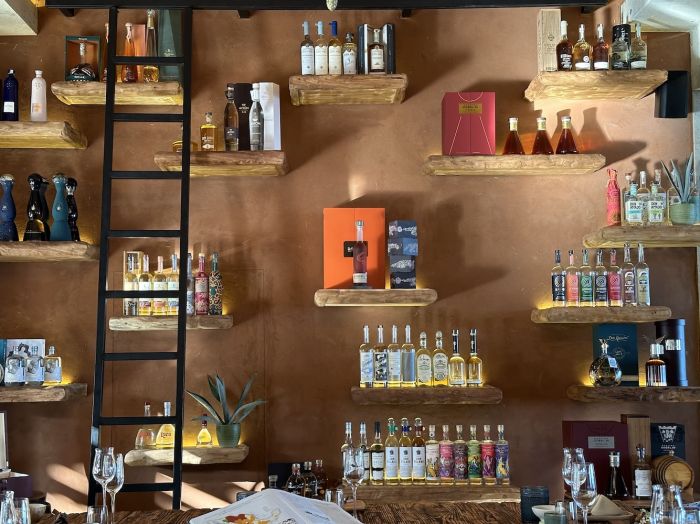 Tequila & Mezcal display at Hilton Los Cabos' La Biblioteca. Photo by Fran Miller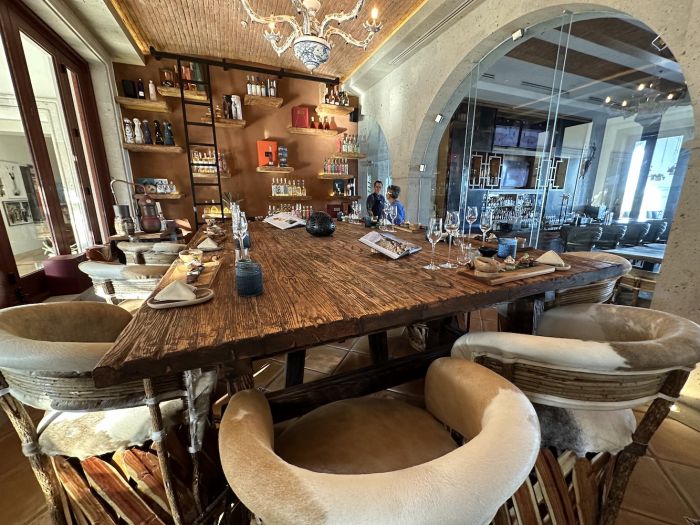 Hilton Los Cabos La Biblioteca. Photo by Fran Miller
While not only clarifying how and where tequilas and mezcals are made (tequila must come from the tequila region in the Mexican state of Jalisco and must be produced from Weber Blue agave; mezcal can come from anywhere in Mexico, from more than 30 types of agave), Martinez shares tips on how to select your favorites at home. Hint: while there are nearly 2000 registered tequila brands, there are only 200 distilleries. If you like a particular brand, chances are good that you'll like another that is crafted in the same distillery, the concept being similar to finding a winemaker you like who crafts varietals for many different wineries.
Martinez covers the origin of the nasty tequila/mezcal worm. She explains the "why" behind the unique curvature of the varied sample glasses, one of which is of her own design. She describes how to read and interpret a tequila label, and she is not bashful about revealing her own agave spirits preferences, and her reasoning. (She loves ultra-premium brand Loco for its boutique quality and pure agave essence sans oak or other added flavors that are found in many other brands.)
Hilton Los Cabos Tequila Master Ana Martinez with one of her favorite tequilas. Photo by Fran Miller
In addition to her role as resident tequila master, Martinez serves as the resort's assistant director of food & beverage; she can create a signature agave cocktail for a special occasion, such as a candlelit, beachfront dinner overlooking the Sea of Cortez. She can consult on a curated bar for larger group events that might take place within one of the resort's varied restaurant venues, each with panoramic ocean views. And she will also gladly lead guests through Sotol's "Agave Bible" which lists tasting notes for nearly 200 agave spirits.
"I enjoy the opportunity to create experiences and to share everything I know about agave spirits with our guests and team members," said Martinez. "I love being able to teach the cultural part and traditions of small communities and explain that there is more to agave spirits than the big brands that have a larger presence in the market. The part of conducting a tasting that I enjoy the most is being able to transmit how the generations and the historical taste of a community is perceived in the final product of the agave spirits."
Hilton Los Cabos Agave Spirits Tastings are held on Monday, Wednesday, and Friday. Private tastings are available upon request. Advanced reservations are required.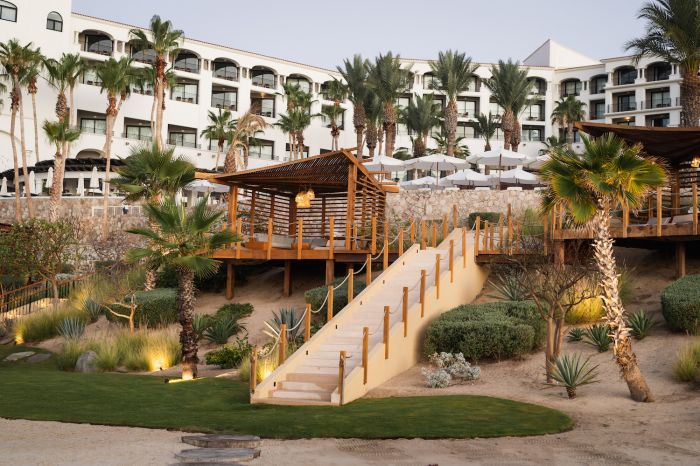 Hilton Los Cabos. Photo courtesy of the hotel