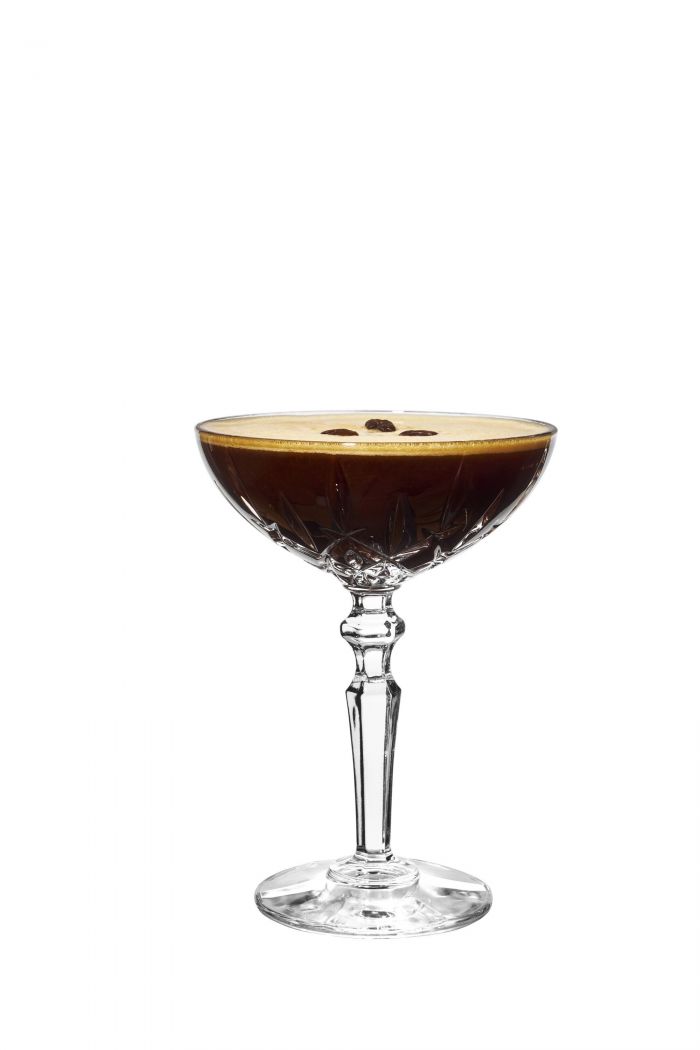 Cazadores/Espresso Martini
It all started with one hard-working visionary, Don José Maria in 1922 in the highlands of Jalisco, from the town of Arandas, Mexico. During these 101 years, the recipe was a closely guarded secret passed down by word of mouth, for generations, until the early 1970s, when the visionary's grandson opened a distillery to share the tequila recipe with more people than only his family members. But, the name of the tequila became "Cazadores," or "The Hunters," named after the majestic stags that roam the agave fields, symbolizing years that the Don José Maria spent searching for the perfect tequila recipe. Tequila CAZADORES® is made with 100% Blue Agave grown, harvested, and distilled in the highlands of Jalisco, Mexico, now recognized as the premier agave growing region in the world. The Tequila CAZADORES® brand is part of the portfolio of Bacardi Limited, headquartered in Hamilton, Bermuda.
Now, and in honor of National Tequila Day, July 24th, CAZADORES® has announced the release of a new innovation to their portfolio of tequilas made with 100% agave: CAZADORES® Café. The bold yet smooth tequila-based coffee liqueur is now available across the U.S. as Tequila CAZADORES® Café Coffee Liqueur.
Tequila CAZADORES® Café Coffee Liqueur delivers a tequila-based liqueur with the rich flavor of coffee. Made with 100% agave Tequila CAZADORES® Blanco, richly roasted coffee and agave nectar, this premium tequila coffee liqueur offers deep and rich flavors with a subtle sweetness featuring vanilla and chocolate notes. It can be sipped neat, served on the rocks, or used as a drink mixer for cocktails like an Espresso Martini. One can also pair this coffee drink with your favorite desserts for a rich, delicious experience. The tequila CAZADORES® Blanco undergoes a two-stage fermentation and double-distillation process in small copper lined pot stills with no aging. It also follows the traditional seven-step zero-waste process.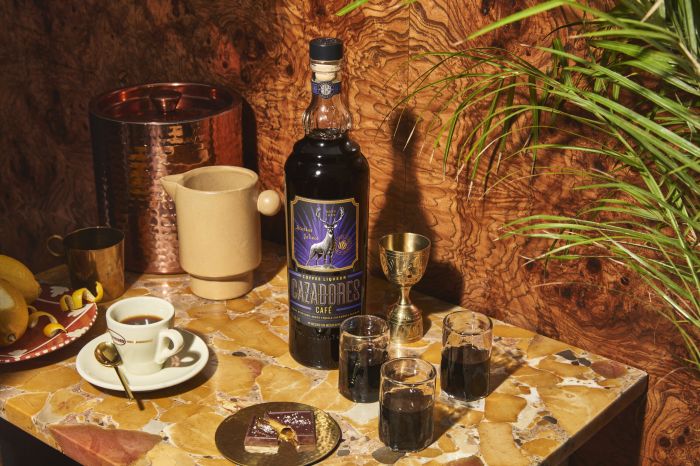 Cazadores
Jimadors start by harvesting the piñas, and then extract 99% of the raw agave juice through a unique 24-step diffusion process rather than cooking them first.
During the long fermentation process, it is said that Mozart played to soothe the yeast and water particles, so they create the most memorable taste for the tequila. Then, as the final step to create CAZADORES® Café, they infuse the liquid with coffee and agave. This creates a blend and finish to the liqueur, ensuring all the tasting notes and aromas come through in each sip.
Now it is ready.
"We're excited to introduce CAZADORES® Café this summer. Following the trends we've seen in coffee-based cocktails and the popularity of the espresso martini, we wanted to create a tequila-based liqueur that would appeal to a wide range of cocktail enthusiasts in a new and innovative way," says Jay Needham, Tequila CAZADORES® Brand Director.
National Tequila Day was July 24, and Tequila CAZADORES® brought a private 3-day pop-up in New York City at 164 Mott Street, to celebrate the launch of CAZADORES® Café. The Mexican-inspired CAZADORES Café Cantina ran from July 21st - 23rd and featured authentic Mexican light bites, as well as a variety of daytime cafe beverages and nighttime cocktails to experience the versatility of CAZADORES Café. Guests of the private event were among the first to taste the new Tequila-based coffee liqueur.
With tequila continuing to be a most popular spirit, Tequila CAZADORES® wanted to create a product that could stand by itself as well as make the perfect addition to one of the most popular cocktails at the moment: The Espresso Martini. Within this Martini and other Cazadores cocktails, the following tasting notes were highlighted: richly roasted Mexican coffee, vanilla, and chocolate. We are grateful that the Café shared its recipe for the Espresso Martini:
CAZADORES® Café Espresso Martini Recipe
2 oz. CAZADORES® Café Coffee Liquour
2 oz. Fresh Brewed Coffee or 1 oz. Espresso Coffee beans
Method: Combine ingredients with ice, shake and serve in a cocktail glass.
Garnish with 3 coffee beans.
Salud!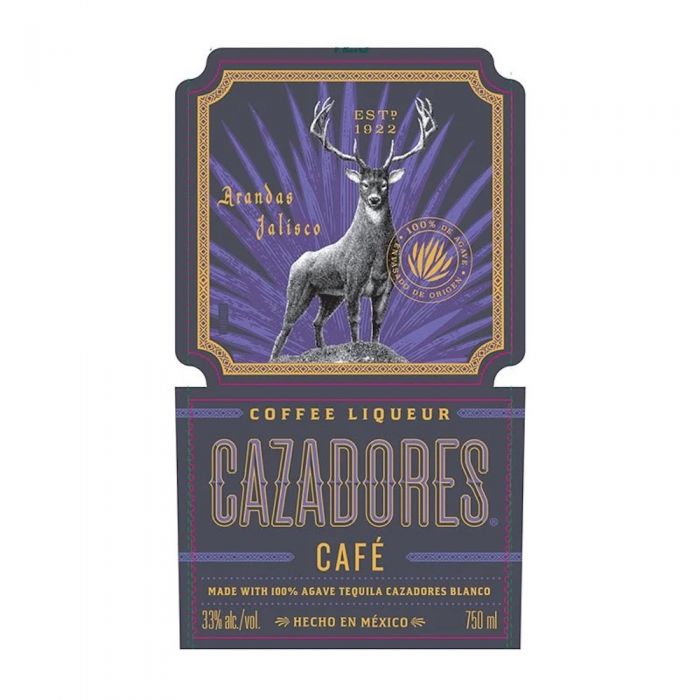 Cazadores
Cazadores Cafe label with Stag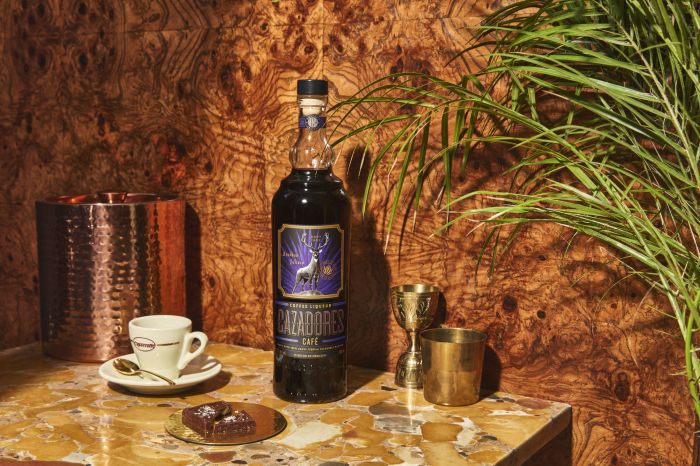 Tequila Cazadores Cafe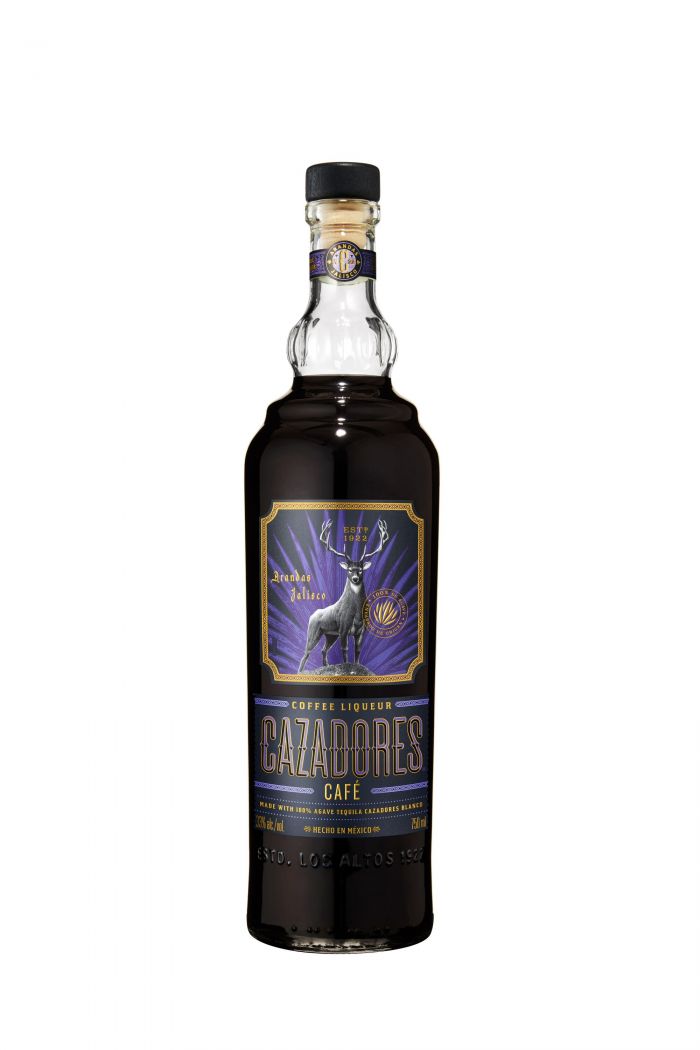 Cazadores
Bottle of Teuila Cazdores Cafe.