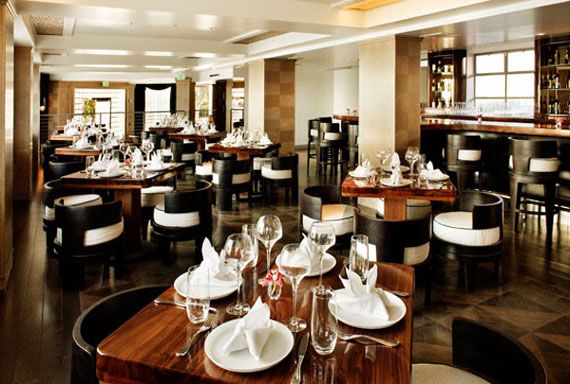 Restaurant Review: Santa Monica's iconic Hotel Shangri-La offers more than just admirable accommodations amid a spectacular seaside setting. The venerable property also offers divine dining options both indoors and out.

Indeed, Hotel Shangri-La allows its guests to dine alfresco at The Courtyard located next to the hotel's swank new pool deck. This outdoor culinary experience is an extension of the hotel's famed indoor restaurant, The Dining Room, which serves up relaxed and friendly gourmet fare skillfully planned and executed by Executive Chef Dakota Weiss. The Dining Room offers a concise yet adroit "small plate" style menu with something for everyone – seafood devotees, meat-eaters and vegetarians, alike.

Known for changing up the carte du jour based on farmer's market finds, some staples of Chef Weiss' menu include raw bar and seafood items like Market Fresh Oysters with Citron Vodka Marinated Watermelon and Coriander Salt, and Grilled Octopus Ceviche with Smoked Paprika Toast Points. My favorite on the seafood menu by far is the Lobster and Brie Sliders with Basil and Tomato Confit. Absolutely amazing. As a counterpoint, I also thoroughly enjoyed the robustly flavored Short Rib Sliders with Horseradish Cream and home-made Sweet Pickles.

A number of other notable small plate items exemplify what sets The Dining Room apart from other restaurants in the area, such as its house-made Grilled Lamb Merguez Sausage with Slaw Harissa Mustard; Goat Cheese Stuffed Dates with Smoked Almond Pesto; and Truffled Egg Toast with Fontina Cheese. Entrée highlights include Crispy Orrata with Oregon Bay Shrimp and Creamed Corn Cannelloni; Black Truffle Omelet with Chive Crème Fraiche; and the Steak Frites Top Sirloin "Coulotte" with Parmesan Garlic Fries that I also ordered and savored every bite of – a prime cut of beef cooked to utter perfection and able to be cut with a butter knife. Also on the menu are a range of innovative and classic salads like the Tasso Ham and Fava Bean, sandwiches, and signature flatbread creations like the Crispy Duck Confit with Pecorino. Side dishes like the Spring Squash Caponata or the Tomato Gnocchi with Caraway and Goat Cheese perfectly round out a meal.

Desserts at The Dining Room are equally divine. Among the sapid selections is a Sticky Toffee Pudding with Vanilla Bean Gelato; a Strawberry Rhubarb Crisp with Vanilla Crème Fraiche; and Artisanal Cheese with Marcona Almonds and Truffle Honey. Let's not forget the freshly ground coffee and espresso brewed to perfection.




The Dining Room also offers first-rate breakfast, brunch and lunch. Some of the breakfast highlights include house baked croissants, market berries, organic fruit with mango honey yogurt, fresh-squeezed juices, and hearty breakfast entrees, such as Lemon Ricotta Silver Dollar Pancakes and a California Omelet with Goat Cheese, Basil and Baby Tomatoes. Brunch combines a selection of popular breakfast items like Eggs Benedict with choice of Ham, Smoked Salmon or Sauteed Greens with salads, sandwiches and seafood items along with those amazing grilled flat bread selections, like the one with Wild Mushrooms and Fontina.

For lunch, I indulged in the Chopped Chicken Salad with Smoked Almonds and Herbs de Provence along with a generously portioned Goat Cheese Guacamole and, separately, Grilled Steak Lettuce Wraps all offered on The Courtyard outdoor dining menu. Pool side snacks are, in fact, a standout at the Hotel Shangri-La. Be sure to grab a Deviled Eggs Platter featuring Curry, Chipotle, Black Truffle selections.

Throughout all of its dining services, the Hotel Shangri-La has made an impressive commitment to operating with a "green" philosophy. That means that it focuses on local and sustainable produce, meat, seafood, and other food products in order to support families and businesses that fuel the local economy and that meet specific sustainable development guidelines. Other "green" initiatives at the property include $5 discounts on valet parking for hybrid vehicles, bottled water from Natura Waters, Natura Green bath amenities, organic cleaning products used by housekeeping, an electric cart for hotel errands, and a solar heated pool amongst many socially responsible operations.

To consider a culinary adventure of your own at the Hotel Shangri-La or for more information visit: shangrila-hotel.com.

Merilee Kern is JustLuxé.com's "The Luxe List" Executive Review Editor. She scours the luxury marketplace for new and captivating product, service and travel "musts." Submissions are accepted via e-mail at Merilee@JustLuxe.com. View all of Merilee's Luxe List articles from here (scroll to page bottom) and follower her on Twitter here: http://twitter.com/LuxeListEditor.