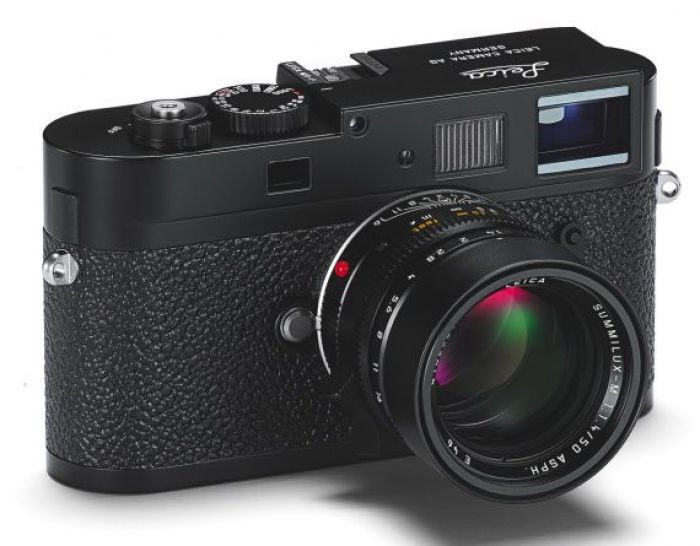 Photo Courtesy of Leica
Germany's famed Leica Camera has unveiled the M9-P. It is an ultra-discreet version of the famed
Leica M9 digital camera
, the latest addition to its rangefinder portfolio.
Distinguishing features of the model, priced at $7,995, are its compact size, full-frame, 18-megapixel sensor, sophisticated image processing and tough-as-nails - in addition to minimalist or "stealth" - styling, highlighting its most essential characteristics.
The blacked-out M9-P is designed to allow photographers to capture the decisive moment as discretely as possible. The Leica red dot logo and the M9 lettering on the front of the camera have been omitted and replaced with the Leica name in classic script form engraved on the top plate.
Finished in vulcanite leatherette, the external covering of the body of the M9-P is particularly resistant to wear, featuring a coarsely-textured finish that ensures a steadier grip when shooting. The Leica M9-P also includes a scratch-resistant, sapphire crystal covering on the LCD screen.
Produced using special diamond cutting tools, the screen is fashioned from one of the world's hardest and most resilient materials. Extremely resistant to wear, and almost unbreakable, the sapphire glass LCD cover offers many years of reliable use.
The new model will be available in two different finishes, black paint or traditional silver chrome. Leica has long been the choice of famous photographers ranging from Henri Cartier Bresson and Diane Arbus to Nan Goldin. Visit
US.Leica-Camera.com
to see more.