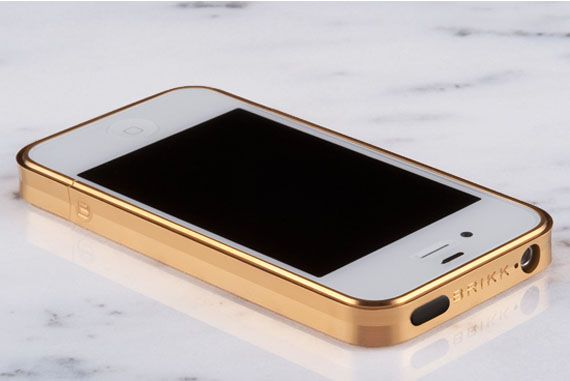 Photo Courtesy of Brikk
Luxury design company Brikk recently launched a collection of limited edition high-end iPhone cases, profits from which will be converted to metric tons of rice to be donated to benefit those in need around the world.
The limited edition premium collection centers on the theme of "Altruistic Precision" and launches with the Trim series of pure titanium cases for the
iPhone 4 and iPhone 4S
. Brikk claims that for every Trim case sold one metric ton of rice will be distributed to those in need through select NGOs. Rice donations will be given to each Brikk customer as a tax deduction for the purchase of their Brikk iPhone case.
The luxury cases are available in gold, platinum, "black DLC," and "grey stealth" finishes and cost from $3,000 to $4,500. The raw titanium, an uncoated and unfinished - or matte - iPhone case retails for $2,630.
In exclusive information provided only to JustLuxe, Brikk CEO Cyrus Blacksmith divulged that in January 2012, Brikk will debut the World?s Most Expensive iPhone Case ? dubbed the Brikk Trim Couture. This case will retail for $100,000+ (exact price TBD), and will be custom-made in collaboration with each customer, and feature their choice of 600 stunning black or white diamonds, with a total weight of six carats.
Customers will work side-by-side with the Brikk team to help custom-design their Brikk case complete with diamond color and sizing specifications, engraving details, and more. Brikk claims as much as 25 metric tons of rice will be donated for each case purchased. Additionally, as early as November 2011, Brikk will be releasing the Trim Deluxe iPhone case encrusted in laboratory-made sapphire glass. Three metric tons of rice will be donated to needy nations for each of these cases sold.
Brikk Trim iPhone cases are initially only available for purchase in-store at Roseark shops in Los Angeles but product roll-outs in New York, Tokyo, Paris and London will eventually follow. Outside of Los Angeles, you can purchase a Trim iPhone case for iPhone 4 or iPhone 4S directly from Brikk by calling 1-855-55-BRIKK or see
Brikk.com
for more information.