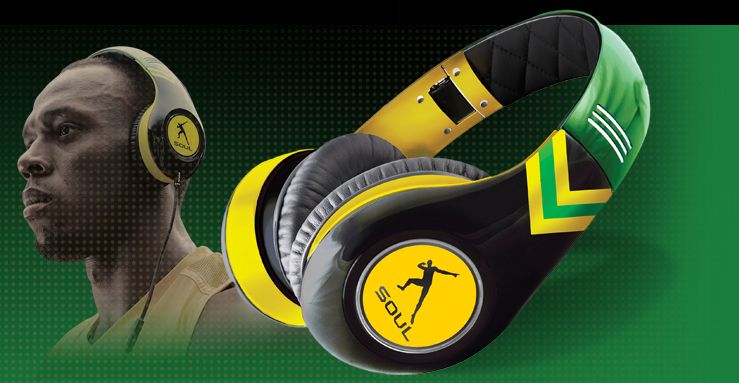 Photo Courtesy of SOUL Electronics
With the 2012 Olympics underway in England, many companies are releasing products (cue the snow globes) in support of the games and Ludacris'
luxury headphones
line SOUL Electronics has done so without being overly dramatic or flashy. The company partnered with three-time Olympic gold medalist Usain Bolt to release a new set of headphones, the SL300, that promise to cancel surrounding noise so well even the "World's Fastest Man" can train without intrusion.
"Bolt's accomplishments as a three-time Olympic gold medalist showcase what a driven and exceptional person can do when they are motivated and striving for greatness," says Len Davi, Executive Director of SOUL Electronics. "He's a perfect representation of what SOUL stands for, and an ideal Brand Ambassador."lltitle=Olympic Headphones### llcontent=Now that the 2012 Olympics have begun you may want to check out SOUL Electronics headphones inspired by Usain Bolt. The Olympic gold medalist had input in the colorful look, ending up with headphones not only promising hi-def noise canceling, but stylish design.
The luxury gadget is said by the company to deliver a very high quality and balanced sound, making them great for anyone in the music industry. The padding along the earcups and head band ensure a comfortable fit, while also being great for actual athletes due to the promise of being sweat proof.
The design of the set is definitely inspired by the champion runner, who was also on hand to give the design team suggestions. With bright yellow, green, and black, the colors are an homage to Bolt's home of Kingston, Jamaica. The familiar colors also make the SL300 great for any Bob Marley fans.
The Usain Bolt Signature headset are a part of the company's "SOUL of Greatness" video series (one of which is seen above), each meant to inspire people all over the world to reach for greatness. We love the message of hope and inspiration instilled within the product, and think it's a great way to market a product.
The Usain Bolt Hi-Definition headphones cost $349.95.
For more information visit
SoulElectronics.com
.