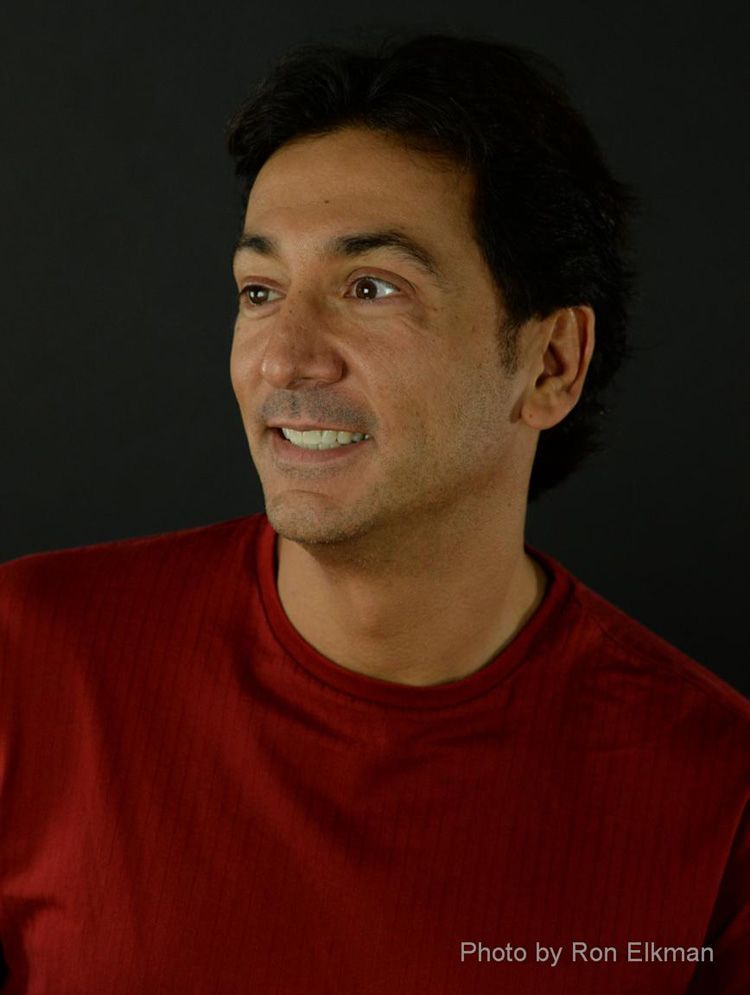 Photo Courtesy of David Frangioni/Ron Elkman
A lot of kids dream of being a rock star, begging their parents to give them a guitar or drum kit and promising to never practice afterhours, but few actually make it to a band. And of those who do, even fewer make a lifelong career out of it. David Frangioni is one of the lucky ones, but the direction his life took isn't one you might expect — unless you were expecting one of the most renowned and respected people in the world of music technology.
Having started playing the drums when he was just two-years-old, Frangioni was taking lessons by eight and playing nearly five days a week in bands at 12. Soaking in everything he could about music, he was quickly drawn to the technical side of things and at 16, he shifted gears away from playing in bands to more behind-the-scenes work. Without any connections, Frangioni started from the bottom and followed his passion for music into an incredibly impressive career with some the biggest musicians around on speed dial.
Photo Courtesy of Audio One
Using his depth of knowledge to create Audio One, a sound and video company that does everything from home theaters and music studios to home automation, Frangioni is now at the top of the custom electronics industry. He has carved out a long referral-driven client list (including the likes of Aerosmith, Ozzy and Sharon Osbourne, Mick Jagger, KISS, Shania Twain, Sting, and the Rolling Stones) and while luck certainly played a part in his success, Frangioni wouldn't have gotten there without the talent, dedication to quality, and passion to back it up.
Not only is he an expert music technologist, Frangioni is also incredibly passionate about helping musical artists pursue their dreams. He co-founded the IDA (Inspire & Develop Artists) Program alongside legendary producer Rudy Perez (as well as Jon Secada and Mark Hudson), which immerses aspiring musicians in a creative boot camp. With many industry professionals onboard, IDA is now in its second year and has already helped many singers take their career to the next level.
Frangioni was kind enough to set aside some time to chat with me about how Audio One works, while sharing some great stories about what it was like appearing on MTV's The Osbournes and how fun it was to design a custom audio system for Steven Tyler's Hennessey Venom GT Spyder.
Photo Courtesy of David Frangioni
Mila Pantovich: Considering you get so many clients through word-of-mouth, not having to necessarily go out of your way to promote yourself certainly seems like a high mark of success.
David Frangioni: You still have to hustle; it won't do the work for you but it will definitely help. I look at it like the wind in a sail — you still have to build the boat, you still have to get in the water, you still have to be a great sailor, and you still have to know what you're doing. If you know how to get in the right places where the winds are best, you're going to sail a lot better!
MP: How does your process work when you get a new client?
DF: I always like to present the company; we have a presentation that we give that I think is really important. I look at it as an introduction. It's not so important for me to know a lot about the client, other than what they want from my services, but it's important for them to know a lot about me. Once they're signed on, we have a job schedule and a process for completing whatever work we're doing for them.
Photo Courtesy of David Frangioni
MP: What do most people want in a home theater system?
DF: I think video quality is first, and I think sound quality is probably third. Ease of use is right up there as well, so that would be a tight battle for number one and whichever one is first, the other would be second.
People tend to buy the most that they can afford. When someone is dedicating that much valuable real estate in their home to a theater, there's an intention behind it — they're going to entertain, they're going to use it for themselves, or both. It's an important room and it's not just for people that are discerning audio or videophiles — it's not just for people who necessarily are experts in any way on what the best quality picture or the best sound is. You don't have to be. To enjoy a great theater, you just have to have the playback be such that you have a great experience.
I'm the translator for them between what it is that they want to spend, what the room size is that we have, and what their expectations are in terms of what they want their experience to be.
Photo Courtesy of David Frangioni
MP: Do you work closely with interior designers, architects, and builders?
DF: All the time. I give them valuable feedback in terms of how the room's going to sound and look the best, but I let them do their thing on what the aesthetic needs to be. We work hand-in-hand and there's a lot of give and take. What makes a room sound the best and what materials we need to use on the inside of the room and on the inside of the walls for installation purposes, all of these different things have to work in concert with what the look has to be. There's a lot of interaction.
Photo Credit: s_bukley/Shutterstock
MP: Who has been your favorite client to work with and why?
DF: I wouldn't say I could pick a favorite, but I've had a longstanding relationship with Aerosmith that continues to this day, especially Steven Tyler who I consider a dear friend, and as well Sharon and Ozzy Osbourne. I have a lot of great memories, a lot of neat moments; especially when The Osbournes was going on.
It was a very exciting time, there were cameras everywhere, we were building Ozzy's studio at the time and I stayed on after, and did a bunch of session work for Ozzy in the studio. They filmed an MTV Osbournes Christmas Special that I was on. It was incredible!
I was a big fan of the show and had watched the seasons prior to when I started working with Ozzy. So to end up on the show was totally surreal. The second thing that was amazing about it was just how awesome that family is and how warm and welcoming, and how many memories were created. They all have such wit and charm that it's just incredible to be around them. Once in a lifetime moments.
Photo Courtesy of David Frangioni/Ron Elkman
MP: What has been the biggest customization job you've done?
DF: We did a 10,000-square-foot, four-story penthouse in a building in Miami. It was one of the most amazing projects I've ever been a part of. There's five powder rooms [and three guest bathrooms], and all of them had mirror TVs, with custom mirrors and custom TVs, that we integrated and designed the installation around. [We] integrated custom speakers and a touch panel on the wall. When you walked into any of them, the room would know you were there and before you did anything, the lights would dim, the sound would start playing, the TV would come on, and the touch panel would [turn on]. When you left, within two minutes of no motion, it would shut everything off.
We had custom motorized drapes and shades for these giant windows — two of the floors had windows that went from the ceiling of the second floor to the floor of the first floor. You see the entire bay, Miami Beach, downtown, it was incredible. So you hit a button and all of the window treatments would open and close. The stairs were lighted so when you walked up the stairs of each floor in the apartment you could see the changed lights — like a KISS concert. What I'm describing sounds fancy, and it is, but it was done in a really modern style.
MP: If you could build your dream theater, what would it entail?
DF: My dream theater would be the world's greatest front projection projector with 2.35 anamorphic lens on a sled and it would have CineCurve screen. For the most part I have a theater like this, but if [cost was no object], I would have the best projector, Runco, and I would seat enough people where I could have friends and family come over and enjoy it.
Photo Courtesy of Venom GT
MP: You recently worked on a custom audio system for Steven Tyler's Hennessey Venom GT Spyder; what was that like?
DF: They only had made like a half dozen of those cars in the world, ever. It was the first time anything like this was done on the car. I never change my standards, so when I worked on that project, my standards were constantly being challenged. You're dealing with a highly fine-tuned automobile where the weight distribution is a big part of the performance of the car, so there's a lot on engineering that goes into it and now all of a sudden the audio guy comes along and says, "Okay, we need to add 25 pounds of speakers and the subwoofer and this and that." On top of that, you have very little space in that car and unlike most cars, it wasn't designed around having a sound system.
We had a lot of considerations that were brand new to the car and I wouldn't relax my standards. Thank god for John Hennessey, who built the car. He was really supportive and worked with me, helped me get the best sound system without any compromise and get the car to still perform the way he wanted to. It was very hard, but it worked out great; Steven loved it!
Photo Courtesy of Venom GT
MP: Did you get to drive it?
DF: I got to drive in it, but I never drove it and thank god, because the car will kill somebody if you're not careful! I say that not because I can't drive a racecar, because I actually can believe it or not, but because I would be so focused on the sound that it would be dangerous. All I was thinking about in this car was how to get the performance I wanted and it was such a long journey from where we started to where we ended up.
Photo Courtesy of David Frangioni
MP: Clearly you are an insider when it comes to home theater technology, tells us what the future holds; are there any ideas or products on the horizon that have you excited?
DF: A lot of really cool stuff coming up! We're looking at doing some very large-scale condominium projects where we would outfit the technology for literally hundreds of units. The way that would scale, [how] the people could use that technology, and the way it would change the lifestyle of the residents living there, I'm really excited about.
I'm involved in a couple of social media apps and a really exciting website that's going to launch that's going to be a big deal. A lot of really cool stuff. 2014 is really shaping up to be a really big year with a lot of new and exciting projects!
You can contact Audio One through their official site or by calling (954)-THEATER
Photo Courtesy of Audio One
Photo Courtesy of Audio One