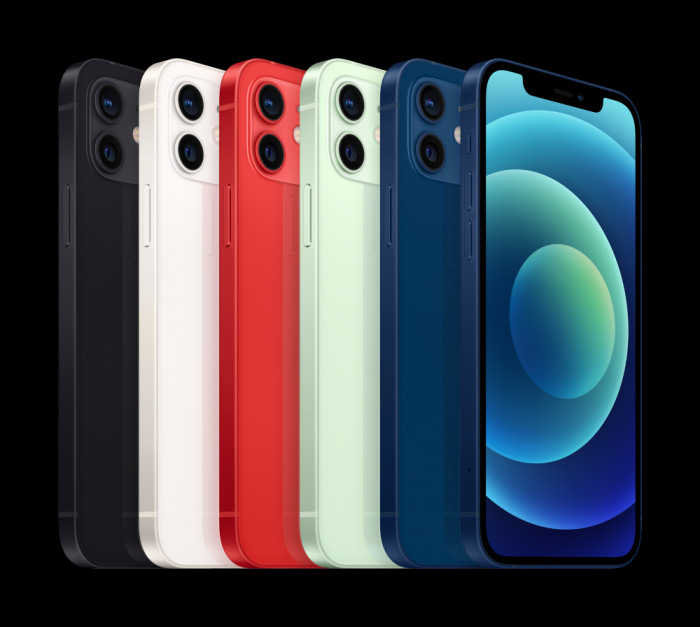 Apple
The iPhone 12 represents the largest shift in Apple's smartphone line since the 2017 iPhone X. It features the same all-screen design of the transformational iPhone X, but the flat aluminum sides are reminiscent of 2010's iPhone 4, or 2012's iPhone 5. These combine for a look that is crisp and improves upon the design of 2019's iPhone 11 in multifarious ways. First, in comparison with its predecessor, the iPhone 12 has thinner bezels but the same-sized 6.1-inch screen, making it 4.2 mm shorter and narrower, 1.1 ounces lighter and 1.3 mm thinner. Second, the flatter sides, along with the greater traction offered by the coating on the glass back, make the iPhone 12 much easier to grasp and use with one hand.
The screen technology has undergone an upgrade, too: The older LCD technology has been superseded by newer OLED technology, which had previously been the preserve of the iPhone Pro models. Moreover, the display is brighter and more vibrant, with conspicuously superior blacks, and a higher pixel density, rendering everything sharper. It is unquestionably one of the best displays available on any current smartphone. As a bonus, it features a new cover, called the Ceramic Shield, which Apple says has four times the drop resistance of previous glass on iPhones. In case you're wondering how Apple's new Ceramic Shield may affect display quality, it doesn't alter any of the viewing aspects of the screen. The new tech has tiny ceramic crystals embedded in the glass, but the crystals are smaller than the wavelength of light, which makes the material highly transparent.
Apple also has made significant changes to the iPhone's refueling process. The phone has Apple's natty new MagSafe technology—a ring of magnets hidden in the back of the phone on to which accessories can snap into alignment, including the MagSafe wireless charger, although any standard Qi-compatible wireless charger will also work. The big advantage of using a MagSafe charger ($39, sold separately) is that it doubles the amount of wattage you can transfer wirelessly into the phone, dramatically accelerating the charging process. To take advantage of that convenience, you must connect the phone to a 20-watt USB-C power adapter ($19). Having said that, the new iPhone still features the old Lightning port on its base, rather than the newer USB-C port.
In the roster of Apple's new phone offerings for 2020, the new iPhone 12 (from $799) sits in between the slightly smaller iPhone 12 Mini ($699) and the iPhone 12 Pro ($999) and the 12 Pro Max ($1,099)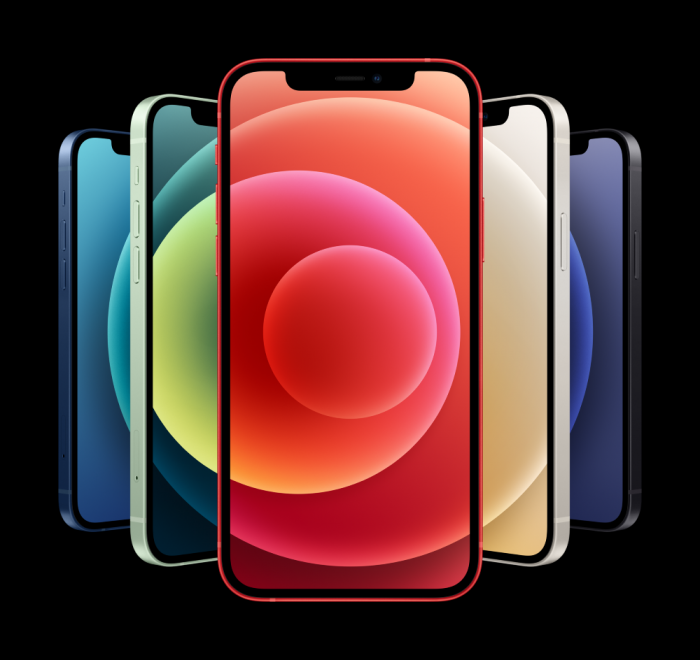 Apple
Exceptional performance, long battery life
The iPhone 12 line is the first of Apple's smartphones to be equipped with 5G—a huge boon once 5G has been fully rolled out.
The iPhone 12 contains the same A14 Bionic processor as used to great effect in the new iPad Air and the iPhone 12 Pro. It is an extremely powerful chip that trounces most of the competition and can handle anything you might demand of an iPhone—including graphically intensive gaming—and will continue to do so for years. Everything feels slick and snappy, and it will feel like a significant step up from older models.
Battery life is another area of big improvement. The phone lasts about 40 hours between charges with the screen used for well over six hours in that time, which is longer than most similarly sized rivals. To provide context, I turned on my phone at 6 am on day one, and it lasted until just after 8 pm on day two. During that time it spent around five hours on 5G and the rest on WiFi, while I used a variety of social and fitness apps, several hours of Spotify, Chrome, Gmail, Google Maps, four hours of Apple Music over Bluetooth headphones, half an hour of Netflix and shot about 50 photos and half a dozen videos of my kids. It is worth noting that 5G had little impact on battery life in real-world usage outside of dedicated speed testing, which is a cause of battery drain on any connection.
It takes 25 minutes to charge the battery to 50%, and 90 minutes for a full charge using a 20W USB-C charger. Fully charging using Apple's new MagSafe wireless charger takes more than three hours connected to the same 20W USB-C charger.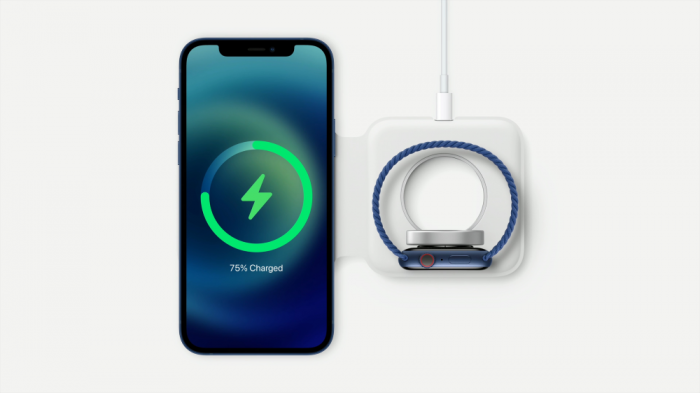 Apple
Sustainability
Apple is serious about sustainability, and the emphasis the company places on reducing its environmental footprint is discernible across the board, from the raw materials to the manufacturing process. The iPhone 12 uses 100% recycled tin in the solder of its mainboard, 99% recycled tungsten, 98% recycled rare earth elements and at least 35% recycled plastic in multiple other components. Apple is also employing renewable energy for the final assembly of the machine and examines the phone's environmental impact in its report.
Apple does not provide an estimated lifespan for the iPhone 12's battery but it can be replaced for £69. Apple's iOS has a nifty battery optimization feature that lengthens its lifespan by inhibiting the battery from sitting at 100% charge for a prolonged period overnight.
Apple offers trade-in and free recycling schemes, including for non-Apple products. As part of its sustainability push, Apple no longer includes a power adapter to charge the phone, nor headphones, for that matter - in the box with its latest models, helping to reduce its carbon footprint.
iOS 14.1
The iPhone 12 comes with iOS 14.1, which runs on all Apple's smartphones from 2015's iPhone 6S onwards. Released in September 2020, iOS 14 instituted a visual overhaul, rendering previously full-screen functions such as calls and Siri, amongst others, more unobtrusive and streamlined. The big new change isthe appearance of widgets on the home screen, which helps organize apps into a more manageable library view and getting picture-in-picture video. Widgets display more information and functionality than simple app icons and give you more opportunities to personalize the look of your home screen.It is the biggest visual change to the home screen in years and helps to remove clutter on the home screen by deleting an app and having it sit in an automatically organized list on the right-most page of the launcher.
Face ID works well, effortlessly recognizing you and unlocking the phone faster than ever, except when you're wearing a mask, so expect to have to put your pin or passcode in.
Apple's Translate app has also been added, along with WhatsApp-like notifications in iMessage. New privacy tools around the sharing of location, activation of cameras, and access of the clipboard are also pleasing additions.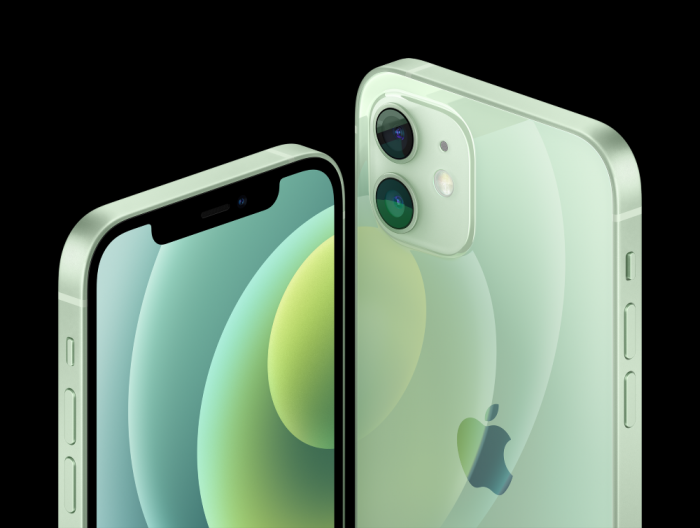 Apple
Camera
The iPhone 12 boasts a dual 12-megapixel camera on the rear and a 12-megapixel selfie camera on the front, like the iPhone 11 but with enhancements to the main camera and a few new software features. The camera app is intuitive to use, with options to tweak certain parameters before shooting hidden behind a small menu. Generally, it is possible to point and press, and let the camera take care of the rest.
The main wide camera has a more rapid f1.6 lens, which lets in 27% more light for enhanced low-light performance and less noise than its predecessor, but most of the improvement lies in the software. The new Smart HDR 3 system boosts dynamic range in photos, especially for landscapes mixing the sky with land in shade. Moreover, Apple's night mode can now be used on all three cameras, which significantly enriches low-light ultrawide and selfie shots.
The still camera on the iPhone 12 overall constitutes a meaningful improvement over the iPhone 11, with discernibly better detail and reduced noise in poor light. It is still one of the very best point-and-shoot cameras on the market – on par with rivals such as Google's Pixel 5. Indeed, in terms of video, the iPhone 12 is very much the frontrunner, capturing smoother, superior, and more versatile video even in lower light levels than most rivals, including the addition of Dolby Vision HDR recording in 4K, if you want to start making more than home movies.
Conclusion
The iPhone 12 marks a significant design improvement on the last three years of iPhones. It is a wonderful admixture of the past decade of iPhones—incorporating the superlative design of the iPhone 4 and the Face ID, all-screen front and gesture system of the iPhone X.
Compared with its immediate predecessor, it is slimmer, lighter, and narrower, which makes holding and using it single-handedly much easier, whilst its smash-resistant 6.1-inch screen is vastly superior to that of previous models. Strong performance is coupled with long battery life, and in general, the new iPhone is more durable while including more recycled constituents. The iPhone 12 also features an excellent camera and is more future-proofed long software support and its 5G capability.
The iPhone 12 is a perfect amalgam of the designs of the iPhone X and the celebrated iPhone 4, and in its newest iteration, is slimmer and feels fresh. With 5G, a stronger, smash-resistant screen and better cameras, there are many compelling reasons to upgrade to this model.
Specifications
Screen: 6.1in Super Retina XDR (OLED) (460ppi) Processor: Apple A14 Bionic RAM: 4GB Storage: 64, 128 or 256GB Operating system: iOS 14 Camera: dual 12MP rear cameras with OIS, 12MP front-facing camera Connectivity: LTE, wifi 6, NFC, Bluetooth 5, Lightning, ultra wideband and location Water resistance: IP68 (6 metres for 30 mins) Dimensions: 146.7mm x 71.5mm x 7.4mm Weight: 162g
Price
The iPhone 12 costs $899 for 256GB of storage.