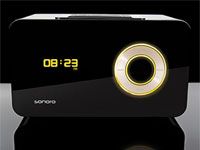 Luxury Electronics:
The world of high-end luxury audio equipment is a vast and complex world. There are so many choices with so many options it can be quiet overwhelming for the unknown consumer. Recently at the ICFF in New York City, German-based designer and engineer Sonoro Audio announced the availability of element W and eklipse.
Element W, an internet/FM radio, and eklipse, an all-in-one compact audio system, both feature an Apple iPod dock and handcrafted curved-corner solid wood box with luxurious high glass back and white lacquered finishes. Both are also designed with a distinguishing brushed metal navigation ring with an appealing golden glow and an OLED display that is the highest in the industry.
Sonoro element W brings radio into the 21st century by allowing listeners to hear over 10,000 stations from around the world. Stations can be selected by country of origin or genre of music and all that is needed is a LAN cable connection or a WiFi connection. The element W can also play libraries of music directly from an iPod or computer and with the addition of eDock, element W has the capability of recharging an iPod, as well as playing it.


The all-in-one eklipse plays everything from CDs, MP3 players, am/fm radio, and features an alarm clock. The eklipse also has iPod recharging capabilities and will fit nicely on a desktop, an all-inclusive device.

Each element W and eklipse also includes a matching radio frequency (RF) remote, which allows listeners to switch between CD, AM/FM, and AUX. Using the remote, they can even navigate through their iPod and playlists.

Sonoro Audio is known for its uniquely distinctive minimalistic design that both captivates and intrigues users. With industry-leading audio quality and bar-setting design, the new element W and eklipse are the perfect desktop audio systems for any music lover.

For JustLuxe Carly Zinderman

Sonora element W

Sonora eklipse