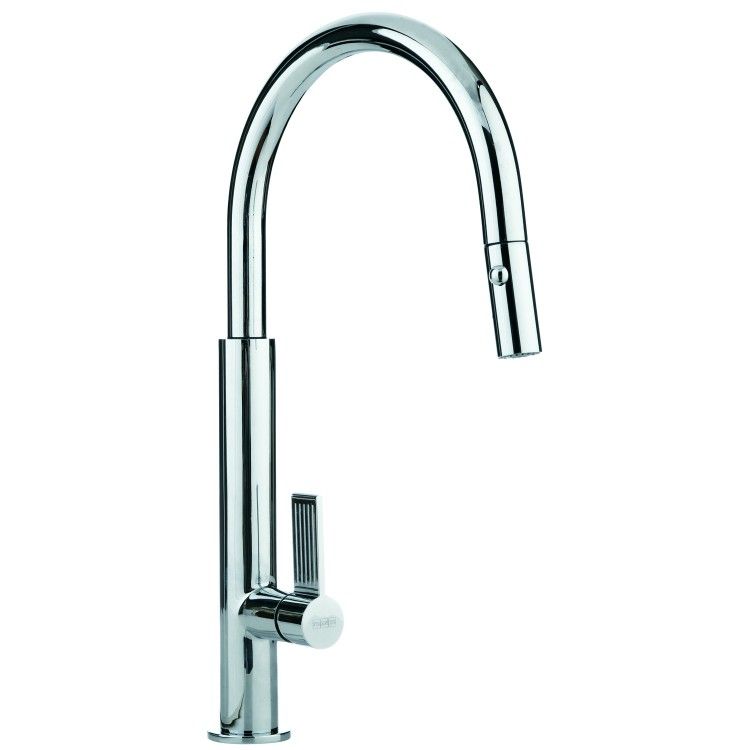 Photo Courtesy of Franke
Now that you have decided to install a Franke Peak luxury sink, it's time to talk accessories to complement your new modern kitchen.
We decided to install the FF2700 single lever pull-out faucet with push-button dual-jet spray for its sleek contemporary look. The stylish polished chrome faucet (also available in satin nickel) has an ergonomic ridged handle, tall arc and a pull-out nylon mesh hose for greater accessibility.
We recently chatted with Franke's Product Manager Melissa Evans for tips on choosing the right faucet.
JustLuxe: How can you go about choosing a faucet that is best for your kitchen?
Melissa Evans: First, you should start by determining if you want a particular style for the kitchen and then decide whether decorative or functionality is most important. There are many things to take into consideration when picking out a faucet from the height of the faucet to where you are going to put it, if there will be a backsplash, or if it will be installed in an island. These are all practical things that determine what to choose.
JL: Can you easily go from a two-handle faucet to a single?
ME: Yes, a two-handle faucet can easily be replaced by a single. For the second hole, you can add a soap dispenser or you can place a hole cover over it. It is a cleaner look to have a single-hole faucet.
JL: What special care needs to be taken to keep the faucet looking clean and new?
ME: You can just use soap and water along with a soft cloth, nothing acidic.
Be sure to further complement your new sink with Franke's custom cutting boards made of Iroko wood, which is harvested from sustainably managed rainforests. The cutting board is designed to fit perfectly right over the sink for optimum use and accessibility during food preparation. The dense wood does not require regular treatment with oil. To clean, simply wash the board with a moist cloth and mild soap and rinse with warm water only.
Franke uses Iroko wood for its durability and sustainability (Iroko is also used to make boat parts, outdoor furniture and custom cabinetry). To maintain its look, you can occasionally treat the board with mineral oil to help prevent the wood from absorbing too much water or liquids from foods.